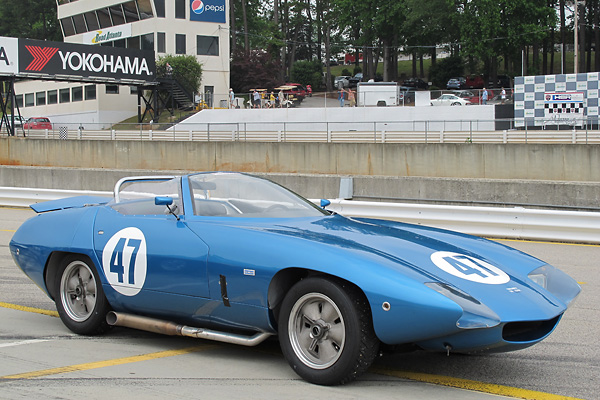 The Hart Family's 1968 Triumph TR250K Vintage Race Car
Owner: The Hart Family
City: Seattle, Washington
Chassis: based on TR4A
Engine: Triumph 2.0L inline six
Race prepared by: Tony Garmey
The Shape of Things to Come?
In late 1967, Triumph's North American Competition Manager partnered with a top-flight stylist to create a one-off racecar with provocatively modern and aerodynamic styling. Their racecar was specifically built to compete in the 1968 running of the Sebring 12 Hours of Endurance race, but the two men candidly hoped their car's success would shift Triumph toward leading edge product styling. Dubbed "TR250K", the car featured a Triumph 2.5L six-cylinder engine mounted in a modified TR4A chassis and clothed in entirely custom aluminum bodywork.

The "K" in TR250K alluded to R.W. "Kas" Kastner who hand-carried a rendering by his friend Peter Brock to England and used it to secure Triumph's authorization. The ace in Kastner's pocket was that he'd already shown the same sketch to Car and Driver magazine and quietly secured a promise that the Triumph would be featured on their cover if the car were completed and entered at Sebring. Triumph alloted Kastner a $25,000 budget for the whole project, including race expenses. TR250K's chassis was assembled in Triumph's Competitions Department workshop by Kastner, Jimmy Coen and Bob Avery. The car's custom aluminum bodywork was fabricated by a local shop named Borth and Rose, and the body was married to the chassis and completed in Brock's race shop. Brock personally spent a lot of time chasing down parts and sponsorship. Dave Kent applied show-quality paintwork shortly before TR250K's public unveiling.

The TR250K is one of many influential designs to come from the drawing board of Brock. His career started at General Motors' Styling Division, where in 1957 he proposed a treatment that ultimately became known as the Corvette Stingray. Brock left General Motors when that company decided to retreat from racing. Working for Shelby-American in the early sixties, Brock styled the Daytona Cobra Coupe. Later, when Ford took over the GT40 program from Shelby-American, Brock struck out on his own to form Brock Racing Enterprises (BRE). One of his early projects at BRE was the Hino Samurai GT (circa 1967), which was the first GT racecar to feature a moveable rear spoiler.

Through the mid-sixties, Kas Kastner's path crossed frequently with Peter Brock's. In those days, Brock lived just ten minutes from Kastner's home in Manhattan Beach (in southwestern L.A. county). The two men enjoyed getting together to talk about cars. It was the Space Age, and Kastner wished Triumph would pursue much more modern styling. Besides helping with their sales and brand image, streamlined bodywork would help Triumph drivers win races.

The TR250K's design reflects a 1967 idea of aerodynamics. Priority was given to a low hood line and radically swept back windscreen. That low hood went hand-in-glove with another important feature: TR250K was built on a lightly modified Triumph frame but its six-cylinder engine was shifted rearward by over nine inches compared to a standard Triumph TR250¹ engine installation to improve fore/aft weight distribution. Creation of aerodynamic downforce wasn't a design priority, but Brock certainly realized that the car's overall shape would create lift. A moveable rear spoiler (similar to the Samurai GT's) was chosen to help mitigate lift.


Just One Race
TR250K was built for exactly one race: the Sebring 12 Hours of Endurance to be held on March 23, 1968. Obviously, it was imperative that the car be completed on time.

Sebring race records show TR250K was officially entered by "Leyland Motor Corporation - Teaneck, New Jersey". It was assigned racing number 47, and was classified to compete in Sports Prototype (Group 6) Class 10. Team drivers were Jim Dittemore of Redondo Beach CA, Bob Tullius of Falls Church VA, and Mike Rothschild of Milburn NJ. Exactly five cars were entered in Class 10: TR250K plus the four Porsche 907 works entries. (Porsches finished 1st and 2nd overall.) Incidentally, the works MGC GTS was placed in Class 11 due to its larger (2968cc) engine.

Construction of TR250K came right down to the wire, and the team was left with only one day of testing at Willow Springs Raceway in Rosamond, California. The team then packed up the car and headed for Sebring Florida. In practice at Sebring, the team discovered cooling problems. It turned out to be a simple issue of header tank plumbing, but mistakes in the Sebring garages kept the team scurrying around through the evening before the race. The team managed to qualify 39th quickest of 68 starters with a lap time of 3:20.200 around the 5.200 mile circuit for an average speed of 93.506mph.

The TR250K's original wheels had been sourced from the Chaparral Cars racing team, and had to be specially modified to fit Triumph hubs. These modified wheels proved to be the TR250K's weakest link: one of the rear wheels tore apart at its stud circle just two and a half hours into the twelve hour endurance race. The car spun around, and came to a stop. Although there was no body damage, the accident caused suspension damage that the team wasn't equipped to repair at the racetrack. TR250K's race came to a premature end.



IMPORTANT ANNOUNCEMENT
BritishRaceCar.com will have to cut back plans for continued growth if we can't find more financial support.
If you like what you've found here, and you want to see more, please click here and follow the instructions.
Readers like you keep BritishRaceCar.com online and growing through voluntary financial contributions.



True to their word, Car and Driver magazine's April 1968 edition featured TR250K on its cover. Inside, Leon Mandel heaped praise on the TR250K even while heaping criticism on Triumph management. Under a title that read "TR-250K: Salvation of an Empire" Mandel wrote "It's absolutely the sexiest, wildest appeal to visceral response since mini skirts. Right now it's strictly a racer, but it's designed to be a production car as well. It should be." He concluded the article: "And they're not building it."

From Sebring the car was whisked off to the Detroit Auto Show and then continued touring around the nation's car show circuit. After that, it went to Peter Brock who only briefly kept it before selling it on.²

At some point, TR250K was painted red and it became part of the Blackhawk Museum's reserve collection. TR250K drifted into obscurity only to reappear gloriously in vintage racing some thirty years later. Pat and Bill Hart purchased TR250K from the museum and commissioned Tony Garmey of Horizon Racing in Maple Valley, Washington to restore the car to its present condition.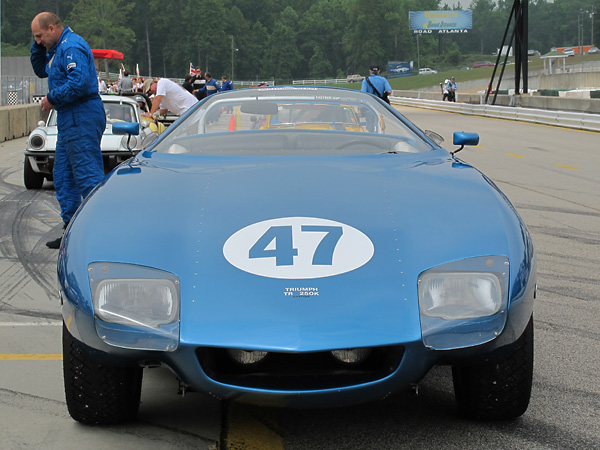 TR250K's windshield was a leftover from Brock's previous Hino Samurai GT project (circa 1967).



Features and Specifications (as currently presented)
Engine:
rebuilt and race prepared Triumph 2.0L six-cylinder engine (originally raced at Swbring with 2498cc, 2.9" bore, and 3.7" stroke engine.) ATI Super Damper harmonic balancer. Triple Weber 45DCOE carburetors. Fabricated intake manifolds. Mallory Unilite distributor. MSD Blaster ignition coil. Taylor Spiro Pro 8mm silicone spark plug wires. Deep sump finned aluminum oil pan. NAPA Gold 1622 oil filter, mounted on a Moroso remote filter mount.

Cooling:
Harrison aluminum crossflow radiator. Electric cooling fan. Setrab 50-618-7612 aluminum oil cooler.

Exhaust:
custom 6-2-1 stainless header.

Transmission:
Triumph gearbox, rebuilt with close ratio gears. Girling 3/4" master cylinder.

Rear end:
Triumph rear end with TR4A (not TR5/TR250) style mounting bracket.

Front Susp.:
unequal length dual wishbone front suspension. stock Triumph TR4A Alford & Alder forged uprights. KONI telescoping shock absorbers. Adjustable anti-sway bar.

Rear Susp.:
Hypercoil coil springs. KONI telescoping shock absorbers. Adjustable anti-sway bar mounted on aluminum pillow blocks.

Brakes:
(master) dual Airheart Brake 7/8" resin composite master cylinders with bias bar.
(front) Wilwood aluminum calipers. Vented rotors.
(rear) Wilwood aluminum calipers. Vented rotors.

Wheels/Tires:
custom aluminum racing wheels, knock-off mounted. Cobra Racing (Torrance, California) XK2004S stainless steel wingnuts. Hoosier Speedster radial tires (205/60R15).

Electrical:
Universal Power Group UB12550 sealed lead acid battery. Delco-Remy 12SI style alternator. Gear reduction starter.

Instruments:
(left to right) Smiths tachometer (0-8000rpm), Stewart Warner water temperature gauge (100-265F), Stewart Warner oil temperature gauge (140-325F), Stewart Warner ammeter (60-60A), Stewart Warner oil pressure gauge (5-100psi), and below is a VDO fuel pressure gauge (0-15psi).

Fuel System:
custom fabricated aluminum fuel tank. Facet Bendix-style electric fuel pump. Holley adjustable fuel pressure regulator.

Safety Eqmt:
Willans cam-lock safety harness. Quick release steering wheel hub. SPA Design FireSense fire suppression system. SPA Design side view mirrors.

Body:
original! (Repainted, of course.)

Weight:
2210# with 5 gallons of fuel.

Racing Class:
vintage CP.

Engine Installation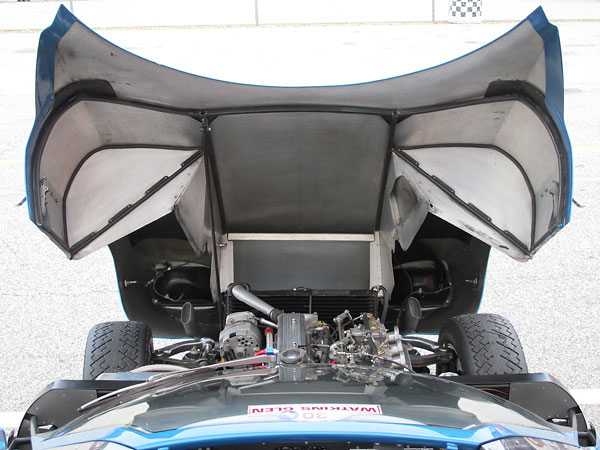 To achieve a low hood profile and to minimize frontal area, the Triumph 2.5L six-cylinder
engine was shifted over nine inches rearward compared to a regular Triumph TR250 and a
very compact and efficient Chevrolet Corvette radiator was used.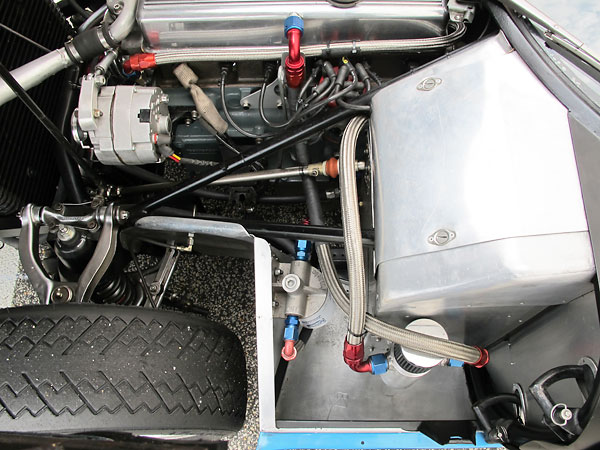 This is an aftermarket (clone) Delco-Remy 12SI alternator, set-up with simplified "one-wire" connection
and with a non-standard fan and pulley. Delco pioneered internal voltage regulators with their 10SI
range, which was first introduced on the 1969 Chevrolet Corvette. The 12SI range dates to 1983.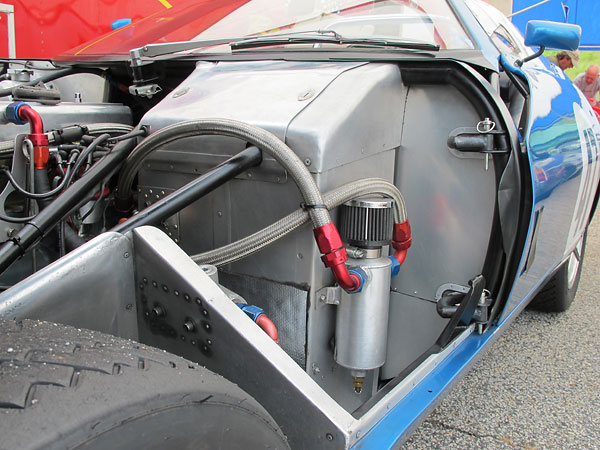 Aluminum paneled firewall and footbox.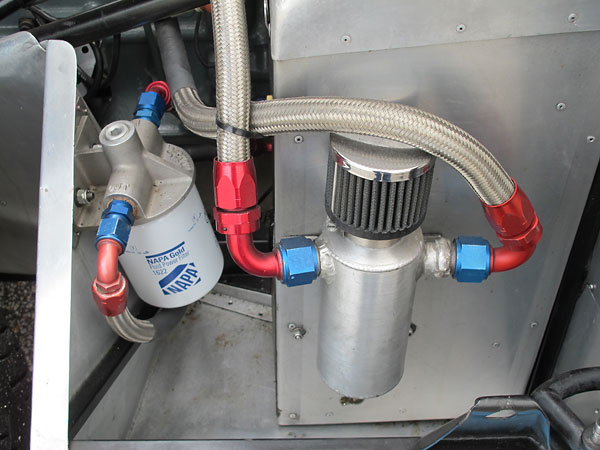 NAPA Gold 1622 oil filter, mounted on a Moroso remote filter mount.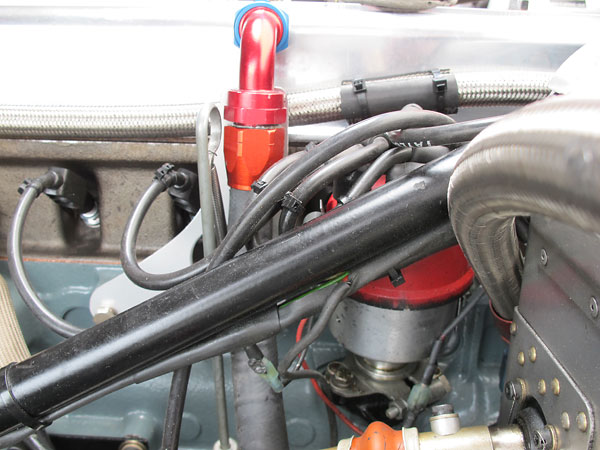 Mallory Unilite distributor.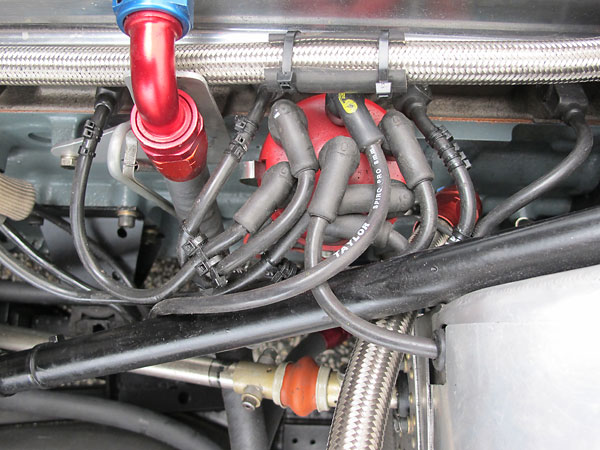 Taylor Spiro Pro 8mm silicone spark plug wires.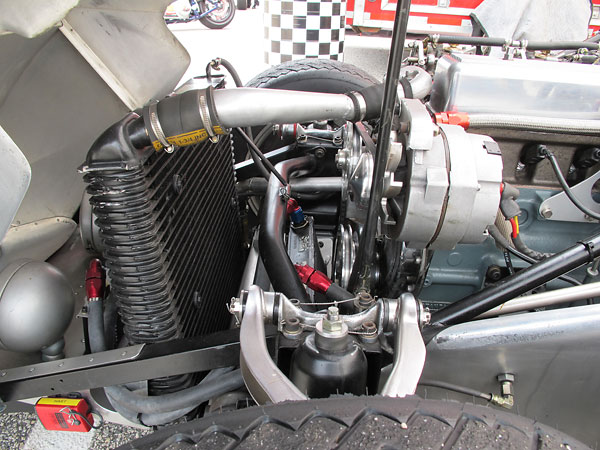 Chevrolet Corvette aluminum radiator.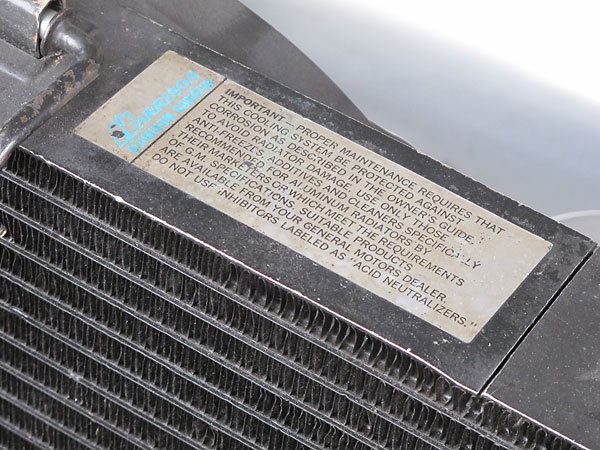 Harrison Aluminum Radiator
Important - Proper maintenance requires that this cooling system be protected against corrosion as
described in the owner's guide. To avoid radiator damage, use only those anti-freezes, additives and
cleaners specifically recommended for aluminum radiators by their marketers or which meet the
requirements of G.M. specifications. Suitable products are available from your General Motors
dealer. Do not use inhibitors labeled as "acid neutralizers."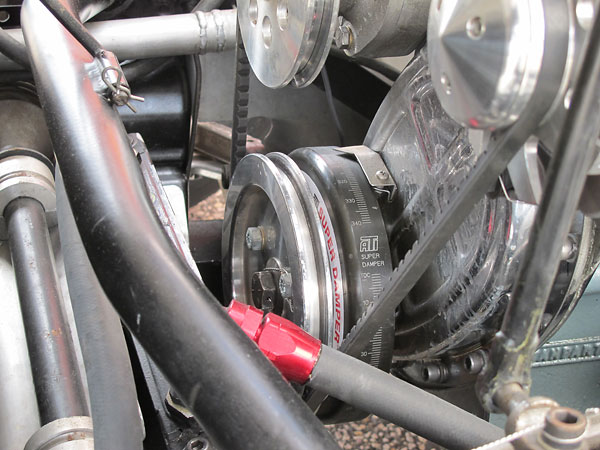 ATI Super Damper harmonic balancer.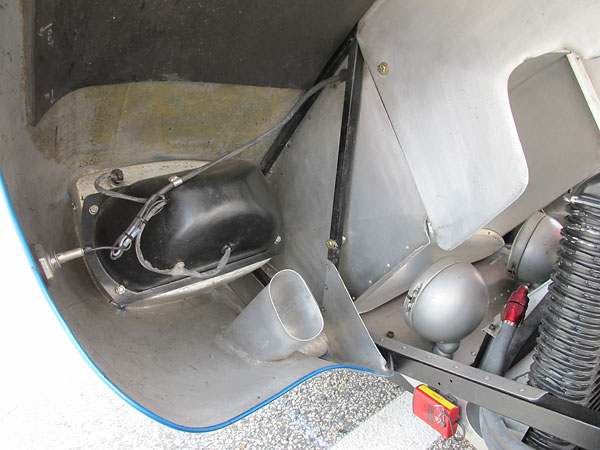 TR250K's original bodywork was hand-formed from 0.050" thick aluminum.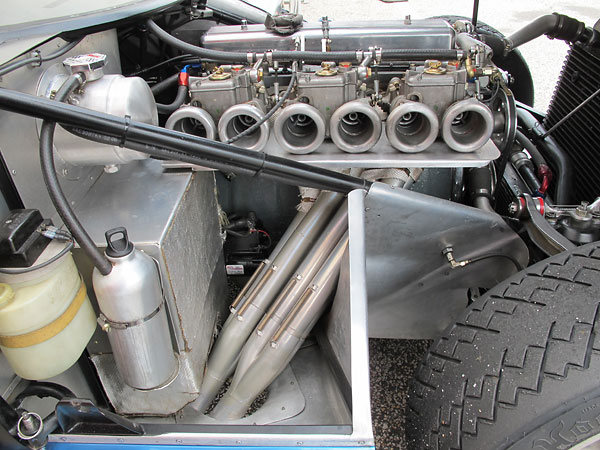 TR250K's original exhaust system was built by George Boskoff.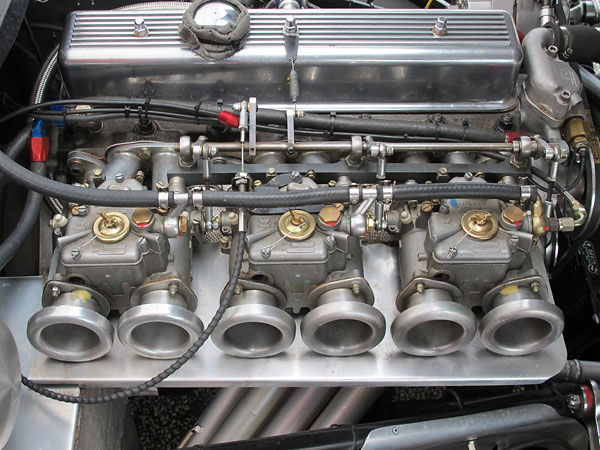 Triple Weber 45DCOE carburetors.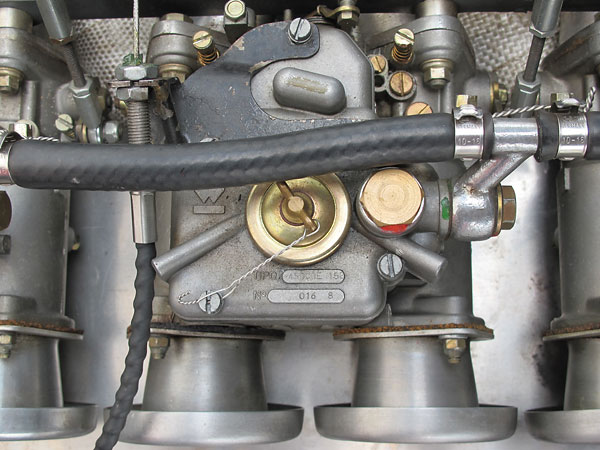 Tipo 45DCOE 152 - No 016-8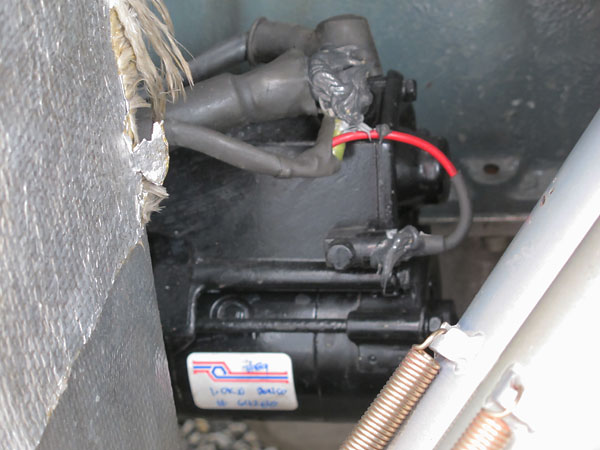 Lightweight gear reduction starter.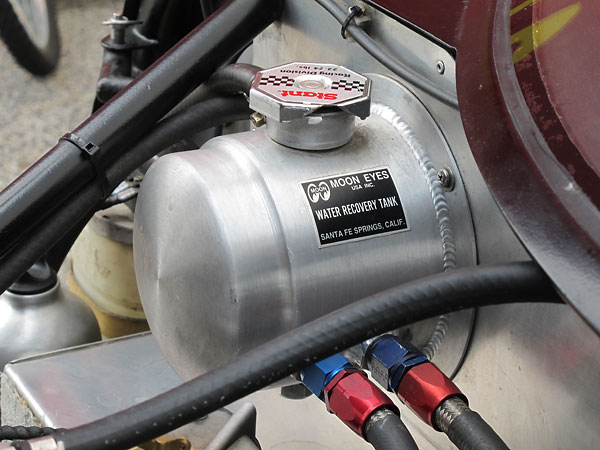 Coolant header tank labeled "Moon Eyes USA Inc. - Water Recovery Tank - Sante Fe Springs, Calif."
Pressure cap labeled "Stant - Racing Division - 22-24 lbs."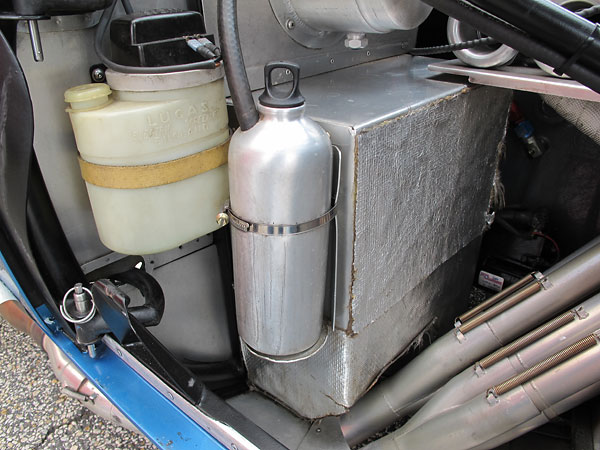 Left: windshield washer bottle labeled "Lucas - Electric Screenjet - England".
Right: coolant overflow tank.


Front Suspension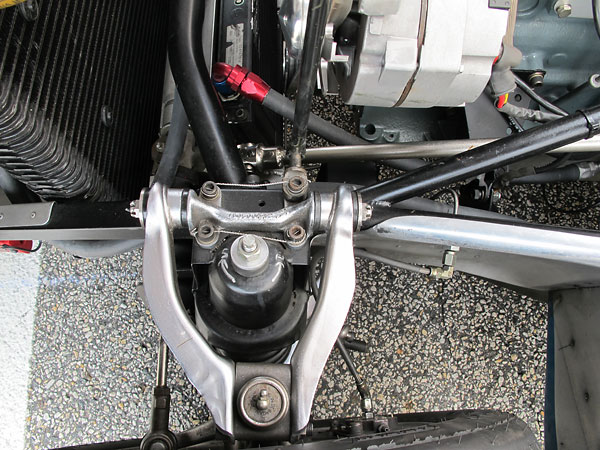 TR250K's unequal length dual wishbone front suspension is comprised of Triumph TR4A
components, with a handful of tweaks straight from Triumph's Preparation Handbook.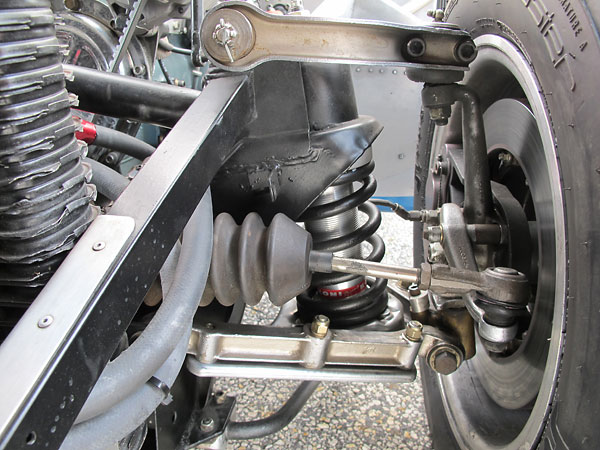 Stock Triumph TR4-A forged uprights, manufactured by Alford & Alder.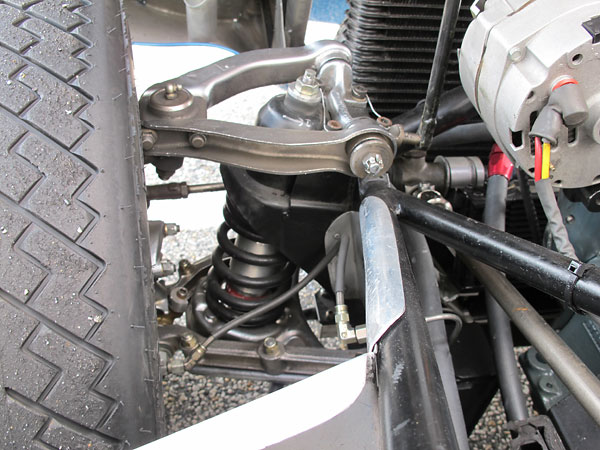 KONI telescoping shock absorbers.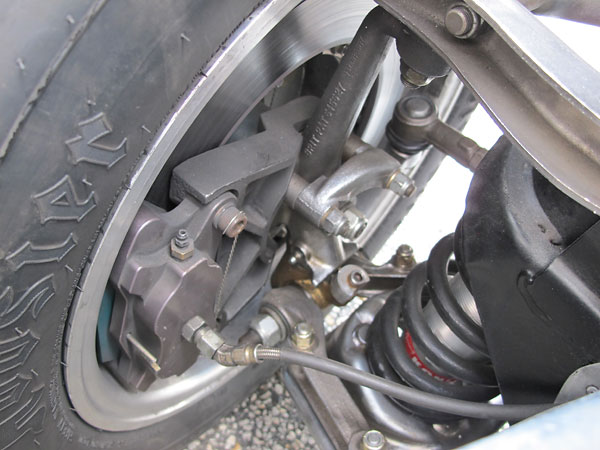 Wilwood aluminum brake calipers. Vented rotors.


Enjoying this article? www.BritishRaceCar.com is partially funded through generous support from readers like you!
To contribute to our operating budget, please click here and follow the instructions.
(Suggested contribution is twenty bucks per year. Feel free to give more!)
Rear Suspension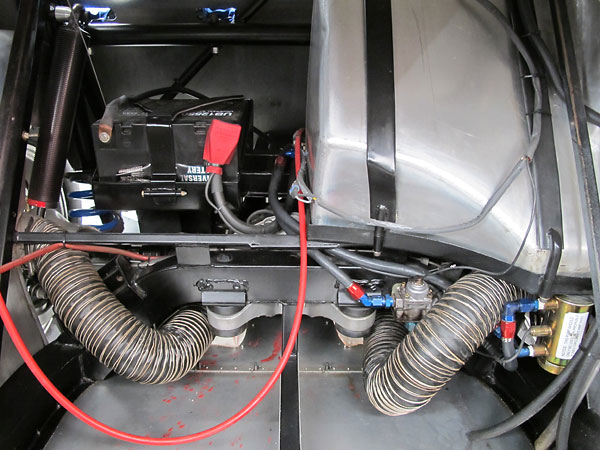 Triumph rear end with TR4A (not TR5/TR250) style mounting bracket.
Hypercoil coil springs. KONI telescoping shock absorbers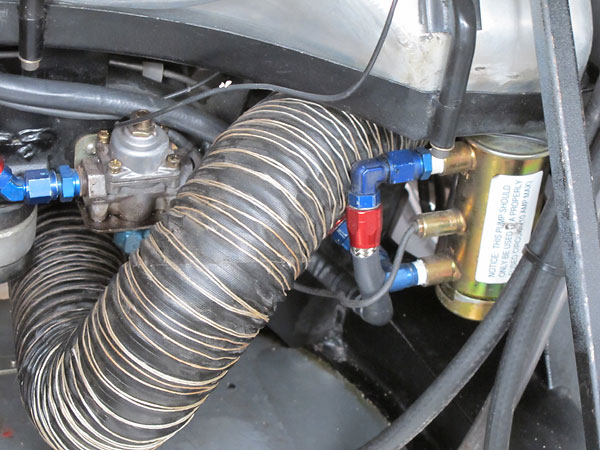 Holley adjustable fuel pressure regulator. Facet Bendix-style electric fuel pump.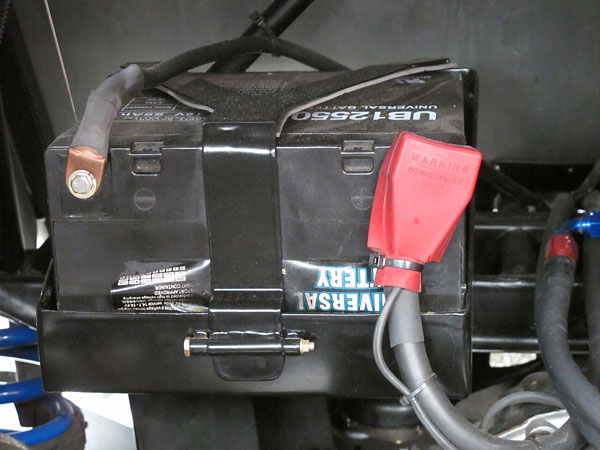 Universal Power Group UB12550 sealed lead acid battery.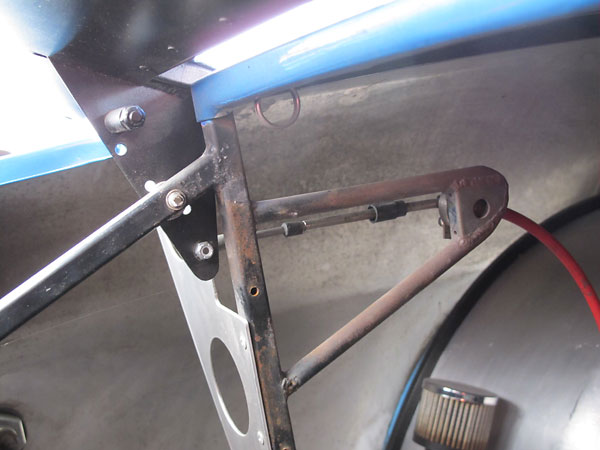 Cable-operated spoiler tilting mechanism, remotely operated from a lever on the transmission tunnel.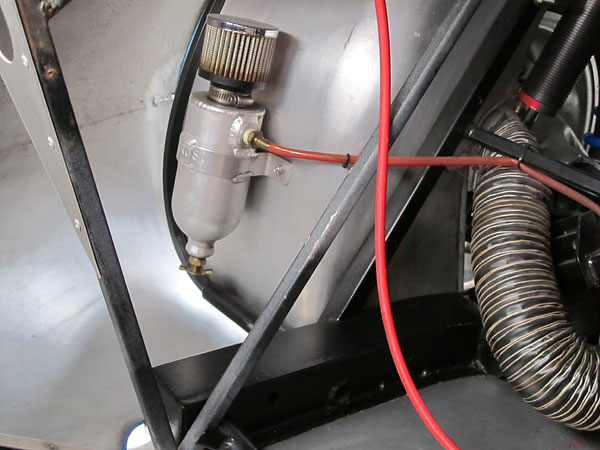 A Moroso aluminum breather tank for the differential housing.


Interior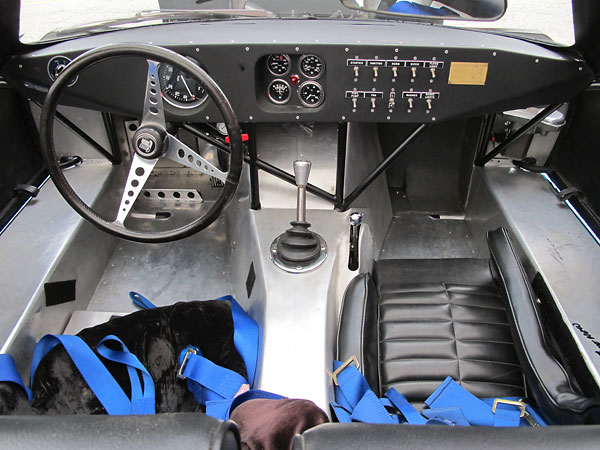 TR250K was equipped with a smaller diameter, three-spoke, non-perforated steering wheel
at Sebring but it had this style of steering wheel for car shows and photo shoots.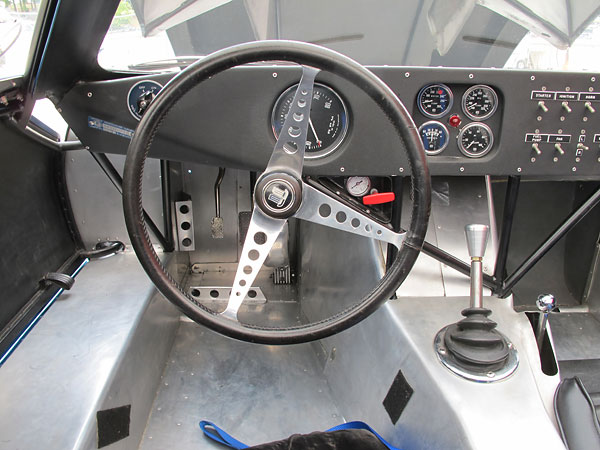 To the left of the steering wheel: a Lucas batter disconnect switch mounted with a Cole-Hersee
identification plate. Below that: a State of California Assigned Identification Number plate.
Below and to the right: a VDO fuel pressure gauge and a fire suppression system pull knob.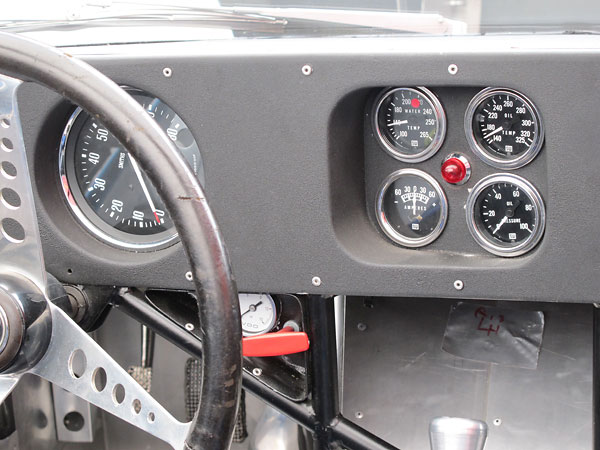 Instruments: Smiths tachometer (0-8000rpm). Stewart Warner water temperature gauge, oil
temperature gauge, ammeter, and oil pressure gauge. VDO fuel pressure gauge (below).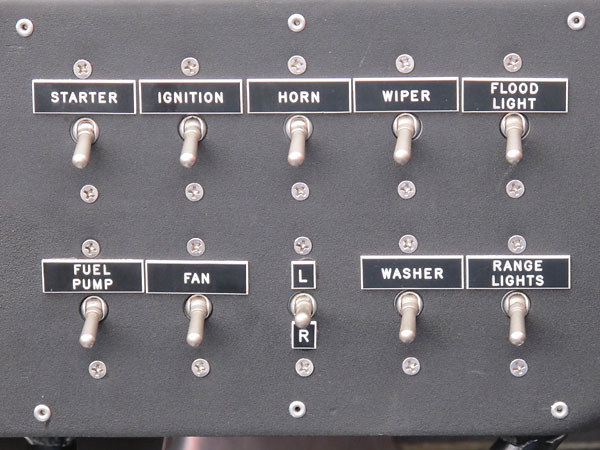 Ten toggle switches.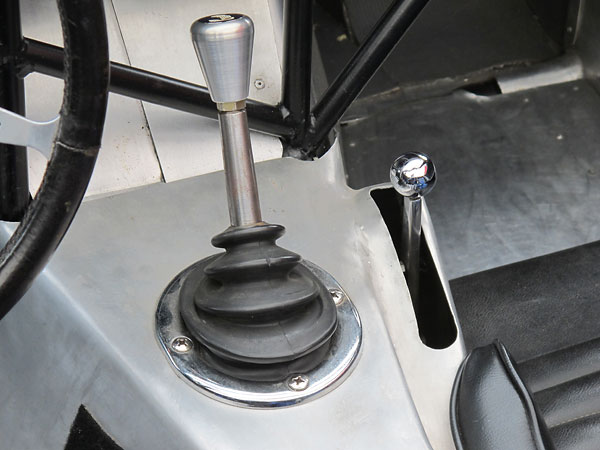 To the right of the gear selector: a lever for adjusting the rear spoiler's angle of attack.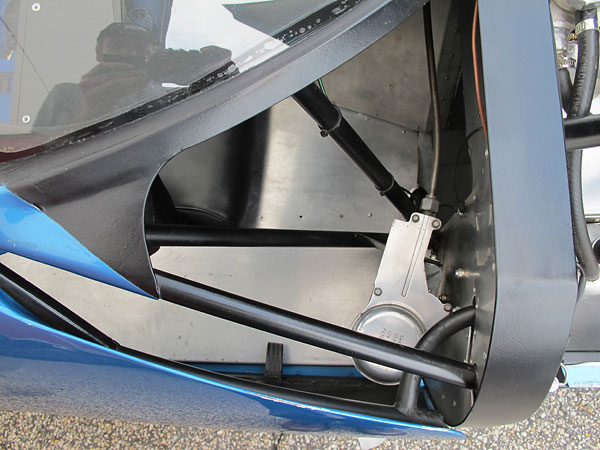 Lucas windshield wiper motor.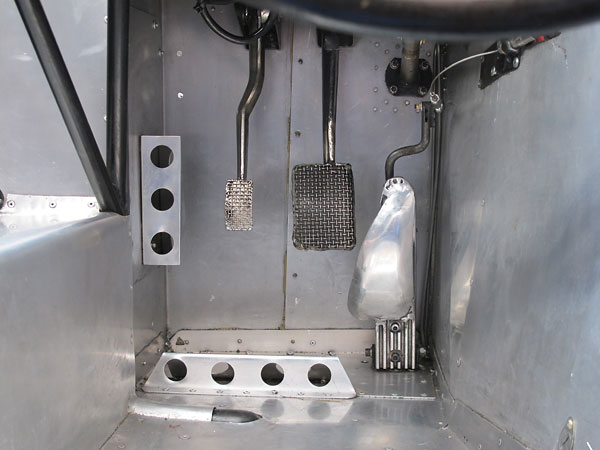 Bespoke fabricated pedals.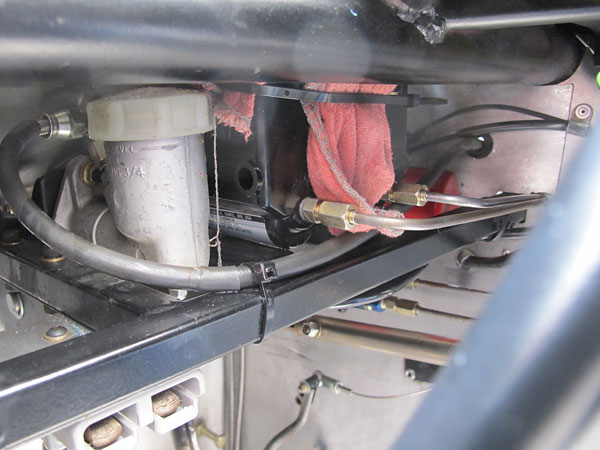 Dual Airheart 7/8" resin composite brake master cylinders (part# 31000410), with bias bar.
Girling 3/4" aluminum clutch master cylinder.


Exterior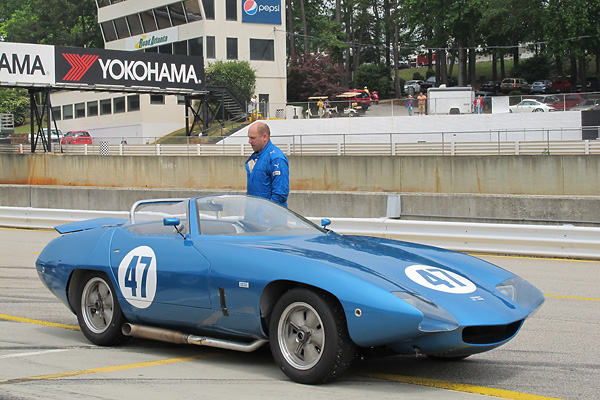 Tony Garmey of Horizon Racing restored the Triumph TR250K and now has the pleasure of driving it.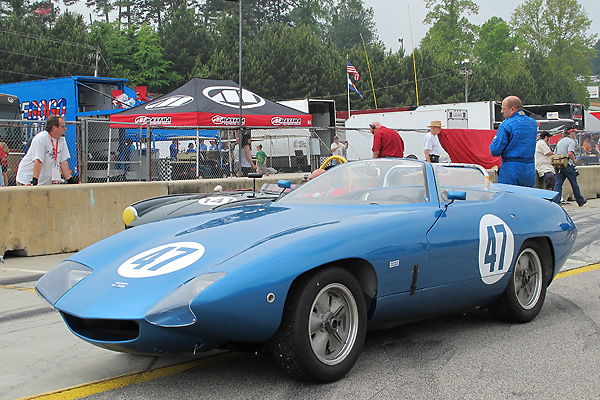 We enjoyed watching Tony handily win the "Kas Kastner All Triumph Feature Race" during the
2012 The Mitty race weekend at Road Atlanta. Tony led the eight lap race from start to finish
and drove the quickest lap recorded. His 1:47.502 circuit of the 2.54 mile circuit averages
out to 85.059mph. Thirty-one Triumph vintage racecars contested the race.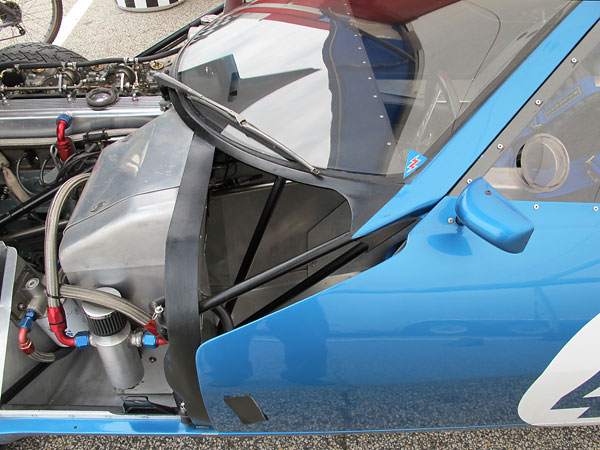 A fabrication shop called "Borth and Rose" was hired to fabricate TR250K's aluminum body.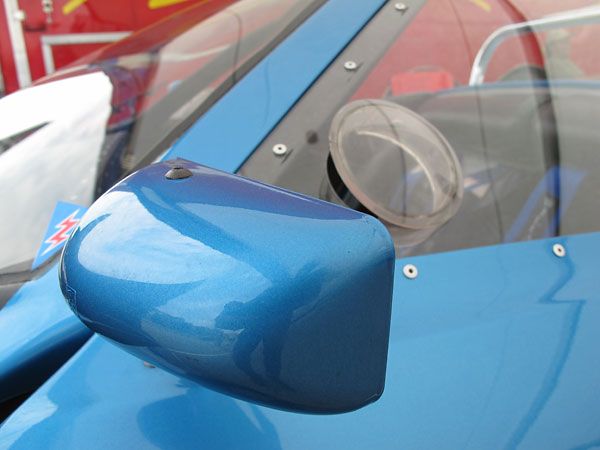 TR250K now has SPA Design side view mirrors mounted on both doors. At Sebring in 1968,
it was equipped with dual fender-mounted side view mirrors.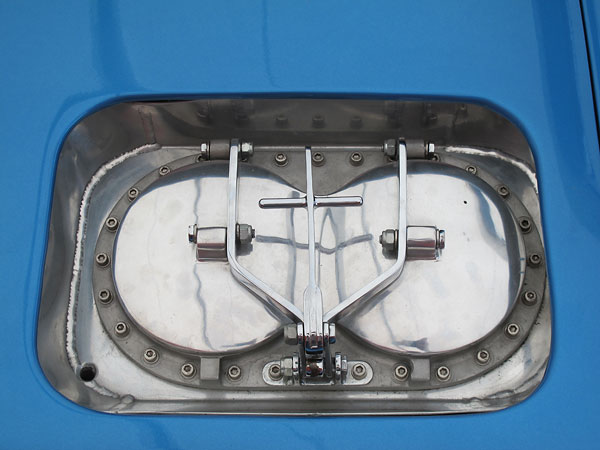 Double fuel filler cap.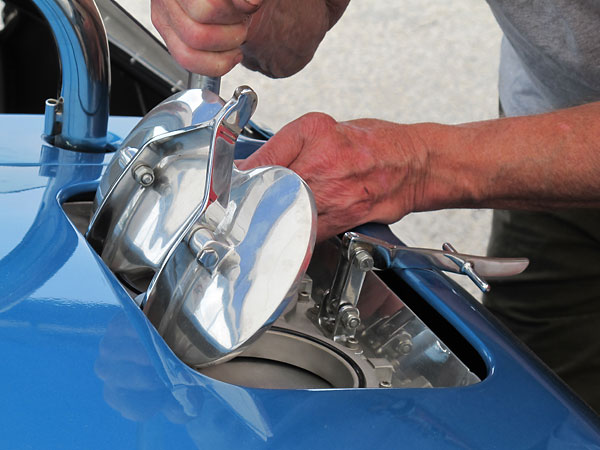 Topping off fuel in the paddock.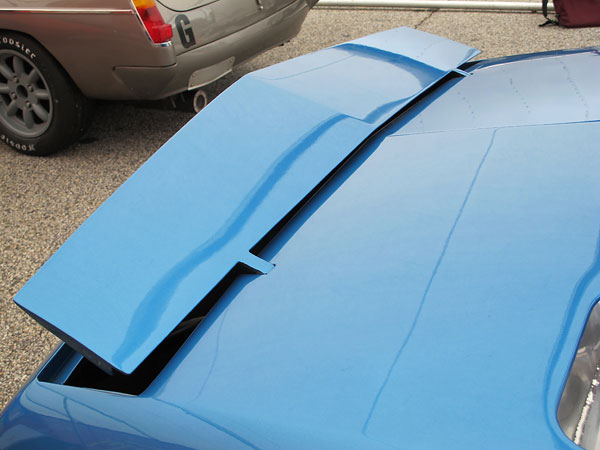 In principle, the rear spoiler should allow a team to tune aerodynamic performance for
specific race tracks. In practice, the spoiler is always fully up when the car is raced.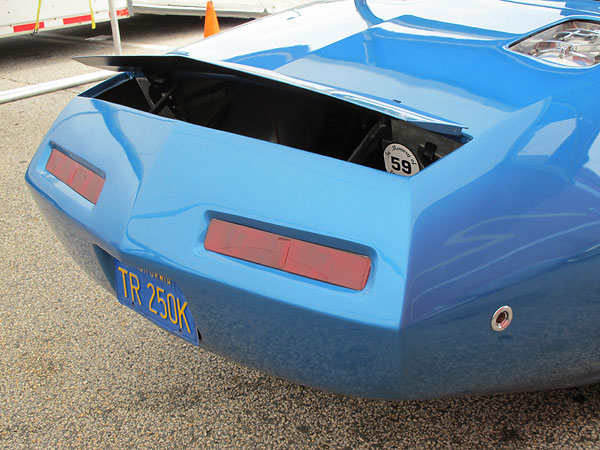 "In Memory of Uncle Jack" sticker. Jack Drews (1936-2008) was a very well loved racer and
tuner of Triumph sportscars. He used to drive a handsome blue and white Triumph TR4 (#59).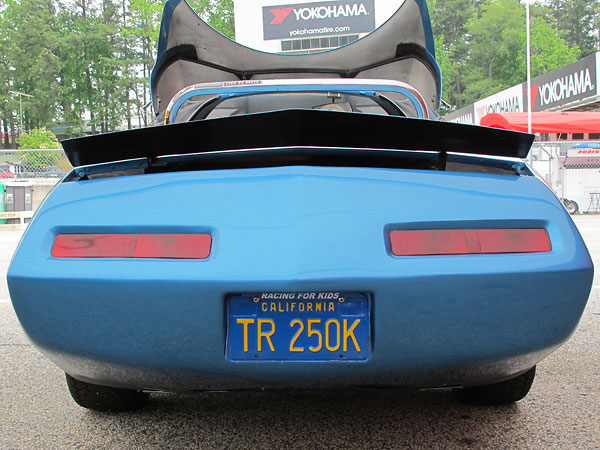 At Sebring in 1968, TR250K wore California license plate number "E92 677". It now displays
plate number "TR 250K" in a Racing for Kids frame. Since 1989, the Racing for Kids
charity has raised nearly $5 million to help hospitalized children.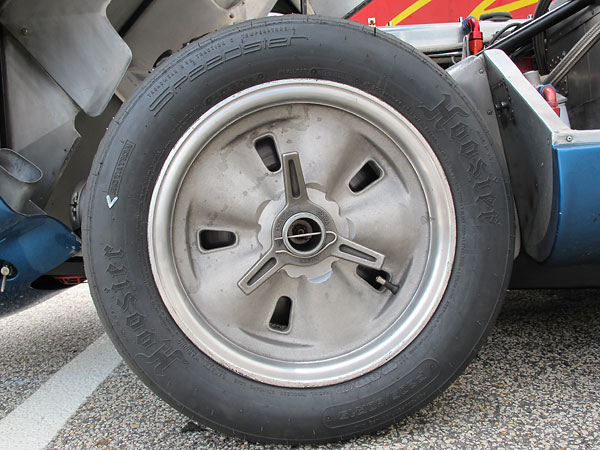 Custom aluminum racing wheels mounted with Cobra Racing stainless steel wingnuts.
When raced at Sebring, the TR250K had bolt-on wheels (with a 5x4.0" lug pattern).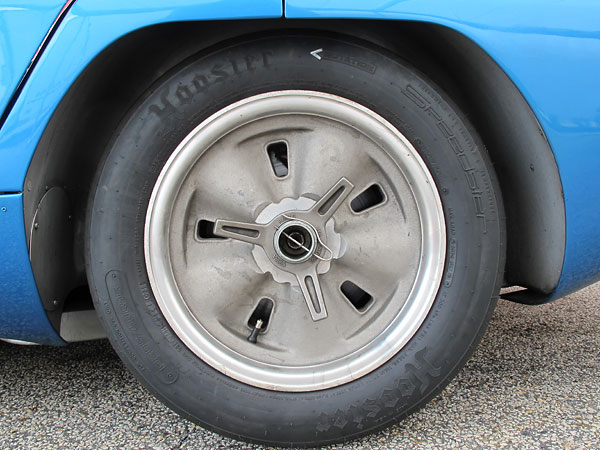 Hoosier Speedster radial tires (205/60R15).


Notes:
(1)
The TR250 model name reflected a temporary deviation from the company's standard naming convention, so readers may be excused for not knowing how it fits in among the more obvious progression of TR2 through TR8 models. In a nutshell, the TR4 had been a successful four-cylinder roadster in North America from 1961 through 1965. During 1965, Triumph began providing the TR4 with independent rear suspension. Even though live axle rear suspensions remained available as optional equipment, later model TR4's were labeled "TR-4A". When a mechanically fuel-injected six cylinder engine variant became available, Triumph decided to badge it as a TR5. Their North American dealers baulked at fuel injection, so Triumph provided a carbureted version. Triumph used the name TR250 to differentiate the North American specific version of the TR5 which featured twin Zenith-Stromberg side-draught carburetors in lieu of fuel-injection. Why 250? To emphasizing the model's new 2.5 liter engine displacement!

In production tune, the carbureted TR250 engine was only rated 111bhp. That's fully 39bhp less than the fuel injected version, even though the build specifications were otherwise identical. As an interesting but trivial aside, Kas Kastner recalls that the TR250K team actually had a TR5 (fuel injected) engine in their shop for evaluation and chose to use it in the TR250K, but the team removed the engine's fuel injection system and installed triple Weber carburetors.


(2)
To this day, Peter Brock is still bitter about how the TR250K project panned out. As of December 2012, his website includes these remarks: "Instead of buying the design, British Leyland decided to do a re-design and produce a shoddy reproduction known as the Triumph TR7. The car failed and the company went bankrupt. The American and British press, knowing of the TR250K's origins wrote glowing articles at the time speculating on how if the original TR250K had gone into production it likely would have saved the company."

Shoddy reproduction? Except for being essentially doorstop shaped, TR7 and TR250K were nearly as different as two sportscar designs could be. TR7 featured unit-body construction in contrast to the TR250K's body-on-frame chassis. It featured a four cylinder engine in contrast to the TR250K's inline six. Moreover, TR7 was conceived as a steel-roofed coupe. A convertible version was produced as an afterthought. TR7 featured pop-up headlights instead of Perspex headlamp fairings. TR7 sat low to the road whereas TR250K sat oddly high in front and channeled airflow under the car. The TR7 bonnet and windscreen were essentially flat and rectangular, whereas TR250K's shapely one-piece front clip opened like a clamshell (a la Jaguar XKE, difficult to protect with a bumper and expensive to repair,) and its wrap-around windscreen was radically swept-back. TR7's rear deck sat much lower than TR250K's. Triumph never offered a rear spoiler for TR7, whereas TR250K's rear spoiler was arguably its single most memorable feature.

The car failed and the company went bankrupt? Combined production of Triumph's TR5, TR250, and TR6 models totaled up to just 106,046 cars spanning ten model years whereas TR7 production reached 141,232 cars (112,368 coupes plus 28,864 convertibles) in seven years. Triumph survived more than twelve years beyond introduction of the TR250K show car.

In the April 1968 Car and Driver article, Kas Kastner expressed enthusiasm for "the BOP V-8 engine" as a possible alternative for a commercialized version of TR250K. That classic all-aluminum 3.5L V8 was ultimately offered by Triumph in the TR8 model which shared bodywork with TR7. A decade after the TR250K, Triumph TR8s dominated their classes in both road racing and rallying.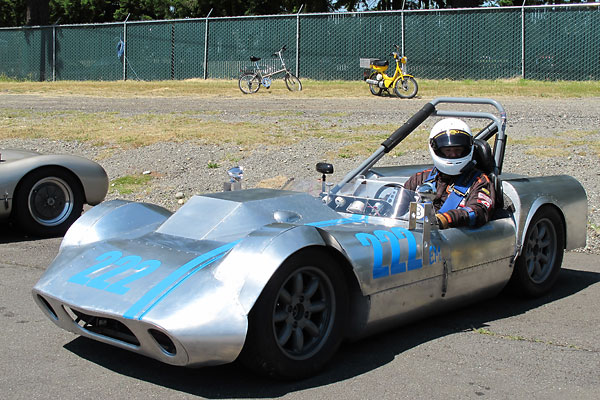 Bill Babcock's Triumph Peyote Mk2, as photographed by Curtis Jacobson for BritishRacecar.com

Did you enjoy this article? We currently have eighty more in process, featuring about 6000 new photos.
But it takes a lot of time and expense to turn photos into articles, and to publish them on the internet.
Please consider making a contribution. Your donation will help us publish more and better articles!
While you're at it, tell us which racecars interest you most. We value the opinions of our funders.




All photos are from April 28-29, 2012 when we viewed the car at "The Mitty" at Road Atlanta in Georgia. All photos by Curtis Jacobson for BritishRaceCar.com, copyright 2012. All rights reserved.



Notice: all the articles and almost all the photos on BritishRacecar.com are by Curtis Jacobson.
(Photos that aren't by Curtis are explicitly credited.) Reproduction without prior written permission is prohibited.
Contact us to purchase images or reproduction permission. Higher resolution images are optionally available.