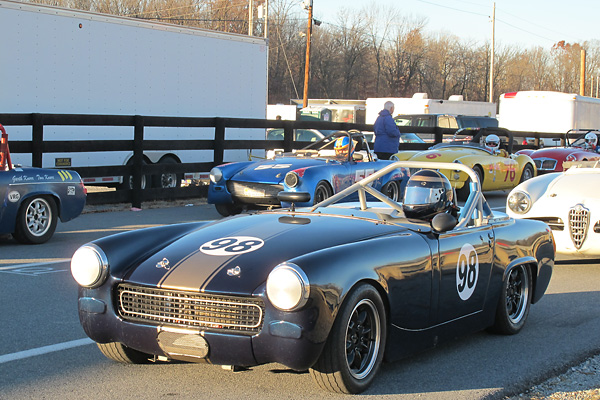 Chuck Pitt's 1968 Spridget (Sprite/Midget) Racecar
Owner: Chuck Pitt
City: Warminster, Pennsylvania
Model: 1968 MG Midget / Austin Healey Sprite
Engine: 1275cc BMC A-series
Built by: Craig Chima, CC Motorsports
Testing SCCA's Limited Prep Specifications
Although it's been rebuilt with steel fenders for vintage racing, this is the very same MG Midget Craig Chima built and raced successfully in 2006. With it, Craig entered and won five races before heading to Heartland Park (Kansas) for the 2006 SCCA National Championship "Runoffs". At the runoffs, in SCCA's H-Production class Craig qualified for pole position with a best lap time about 1.5 seconds quicker than the rest of a competitive field. The main event turned out to be one of the most memorable and talked about races in recent Production class racing history. It has been discussed for two main reasons. Firstly, Craig's interpretation of car preparation rules was thoroughly contested. SCCA judges ruled Craig's Midget was within the rules in all the various aspects questioned, but the rules were rewritten for 2007 to explicity ban some of Craig's modifications. Secondly, in the championship race Craig thrilled racing fans with three spin-outs and was still quick enough to manage a second place finish.

Why was there so much controversy about this racecar in 2006? SCCA tries to keep Production-class racing competitive and popular by allowing car builders two different levels of preparation per car model. "Full-prep" cars are permitted to have very extensively modified engines and suspensions, whereas "limited prep" cars must generally stay within a list of specifically defined performance modifications. For example, where a full-prep Production racecar might use custom fabricated wishbones and adjustable coilover shock absorbers, a limited prep car might be required to use stock/unmodified suspension mounting points on the car's body and might also be required to use stock shock absorbers and/or stock front uprights.

The net effect of these rules is that many sportscar models such as 1275cc MG Midgets may be raced in two different classes. Craig had built full tilt racecars before, but he decided there were gaps in the limited-prep specification list that could be exploited. Racing tradition holds that gaps in rulebooks are there to be filled. This car was conceived from the beginning as a limited-prep Midget and thus it should run in the H-Production championship race. If his modifications hadn't been judged legal, he would have been disqualified or at least pushed into F-Production with the full-prep Midgets. In photos and captions below, we'll present Craig's suspension modifications in more detail.

How did the race unfold? We've gotten the story from several sources. According to Craig, he came to Heartland Park with the car set up much too stiff and therefore tending toward oversteer. Over the race's first three laps the car was running well and Craig built a lead of about one second per lap. At about that time someone blew their engine and dumped oil at turn six. Craig drove into the oil slick and spun out, which cost him the lead. By driving aggressively he was able to claw his way back and retake the lead in just three or four laps. However, his car's handling was going from tight to loose as his rear tires heated up. Craig spun a second time at the rough transition onto Heartland Park's long front straightaway. Again rejoining the race, Craig tried hard to reel in the leader. He might have done so, had he not spun again at the entrance to the straightaway on about lap 17 (of 20). He perservered, and managed to finish in second place.



IMPORTANT ANNOUNCEMENT
BritishRaceCar.com will have to cut back plans for continued growth if we can't find more financial support.
If you like what you've found here, and you want to see more, please click here and follow the instructions.
Readers like you keep BritishRaceCar.com online and growing through voluntary financial contributions.


Features and Specifications
Engine:
1275cc Spridget engine with 0.040" overbore, built-up by Steel Wings. 12:1 static compression ratio. APT crankshaft, pushrods, and lifters. Carrillo rods. Comptune camshaft. Cylinder head prepared by ACME Speed Shop. Mallory distributor. MSD6AL capacitive discharge ignition system, with 7500rpm rev-limiter chip. MSD High Vibration ignition coil (part# 8222). Accel Hi-Temp Super Stock 8mm spark plug wires. Warneford 6" intake manifold (part# 3047). Weber 40DCOE carburetor. Shorty velocity stacks with screen-type filters. Specially modified (baffled / deep sump) oil pan. Accusump oil accumulator. Mocal remote oil filter mount. NAPA 1647 oil filter.

Cooling:
Ron Davis dual-pass aluminum radiator. 16-row aluminum oil cooler.

Exhaust:
through-the-tunnel exhaust system. Long center branch, ceramic coated header. Flowmaster muffler.

Transmission:
rib-case 4-speed dog-ring gearbox with 1.83:1 first gear and 1:1 fourth gear, built-up by Rick Haynes. Quartermaster flywheel. Tilton 7.25" single disc clutch. Stock driveshaft. Girling master cylinder (0.625").

Rear Axle:
Spridget axle housing. 3.9:1 rear axle ratio. Tran-X limited slip differential.

Front Susp.:
Craig Chima developed fully adjustable (Heim jointed) front suspension. Hypercoil coil springs. Adjustable lever shocks absorbers from World Wide Auto Parts. 7/8" anti-sway bar, mounted on aluminum pillow blocks and connected with 3/8" Heim joints.

Rear Susp.:
custom three-link rear suspension plus Watts linkage for lateral axle location. Modified Flexi Form fiberglass leaf springs. Carrera steel body telescoping shock absorber. 5/8" anti-sway bar.

Brakes:
(master) Girling dual master cylinders (0.626" front and 0.75" rear) with adjustable bias bar.
(front) stock rotors and calipers.
(rear) stock drum brakes.

Wheels/Tires:
VTO 13x6 aluminum wheels with Hoosier Street T.D. 185/60 tires.

Electrical:
Odyssey Yellow Top battery. Taylor aluminum battery box. Gear reduction starter.

Instruments:
(left to right) Traqmate Shift-I progressive gear shift and RPM range indicator. AutoMeter FAST Tach Pro-Cycle tachometer (0-10000rpm). AutoMeter Pro-Comp Ultra Lite gauges: oil pressure gauge (0-100 psi), coolant temperature gauge (100-280F), oil temperature gauge (100-280F) fuel pressure gauge (0-15psi).

Fuel System:
ATL 5-gallon fuel cell. Dual Facet solid state fuel pumps. Holley fuel pressure regulator.

Safety Eqpmt:
Simpson 5-point cam-lock safety harness. Custom leather driver's seat by Gary Maucher. Suede covered ergonomic steering wheel, mounted on a quick release hub. S.P.A. Technique FireFighter centralized fire suppression system. S.P.A. rear view mirror. Vitaloni side view mirror (part# 30009).

Weight:
1483# or more, per class rules.

Racing Class:
F-Production (vintage), or limited prep H-Production (SCCA).


Please support the sponsoring companies who make www.BritishRaceCar.com possible, including:

Engine Installation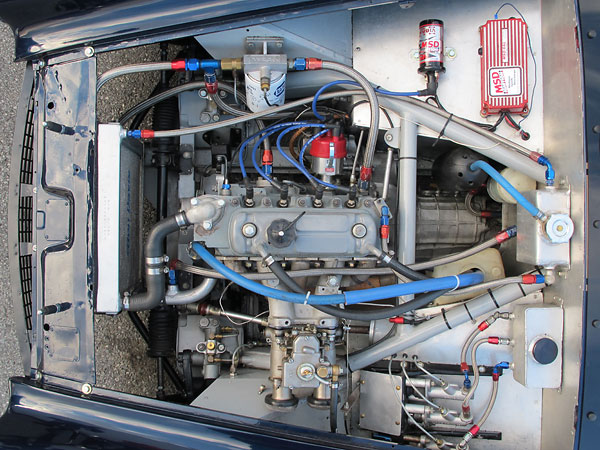 1275cc Spridget engine with 0.040" overbore.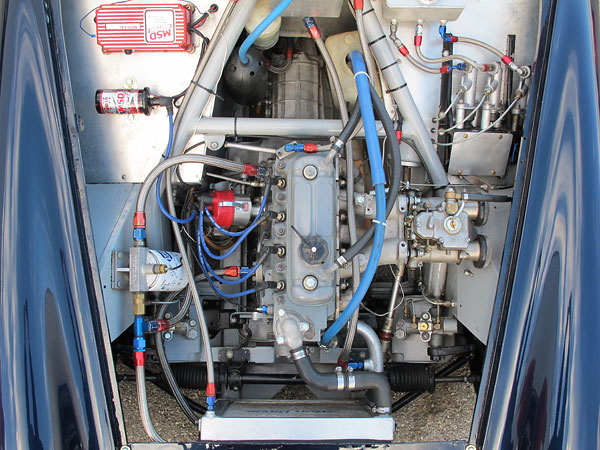 4-speed dog-ring gearbox with 1.83:1 first gear and 1:1 fourth gear.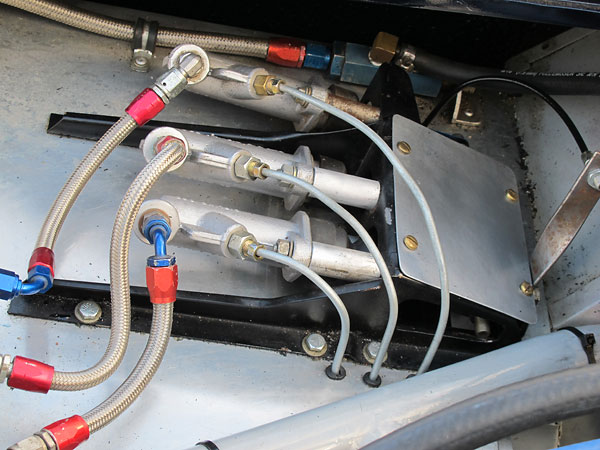 Girling master cylinders (0.625" front brakes, 0.75" rear brakes, 0.625" clutch.)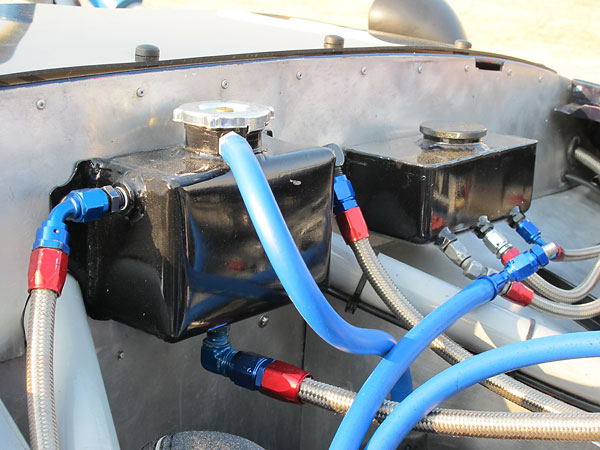 Custom fabricated aluminum coolant header tank (left) and brake fluid reservoir (right).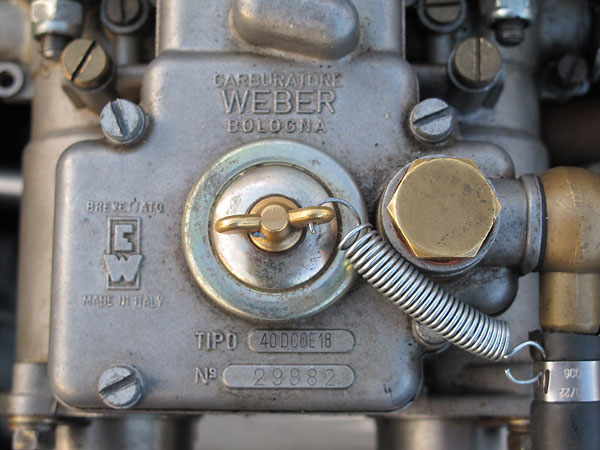 Weber carburetor: Tipo 40DCOE18, Number 29882 - mounted on a Warnerford intake manifold.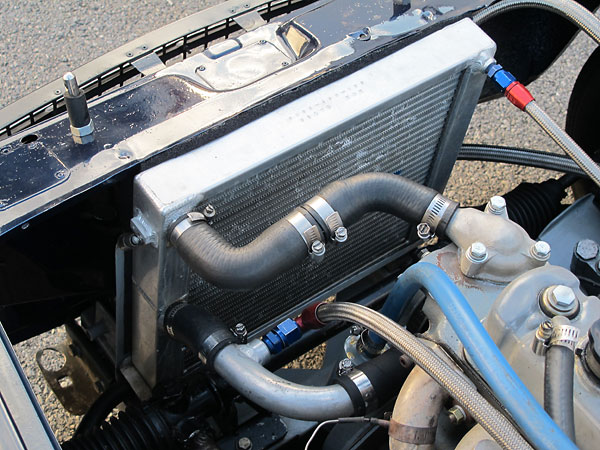 Ron Davis dual-pass aluminum radiator.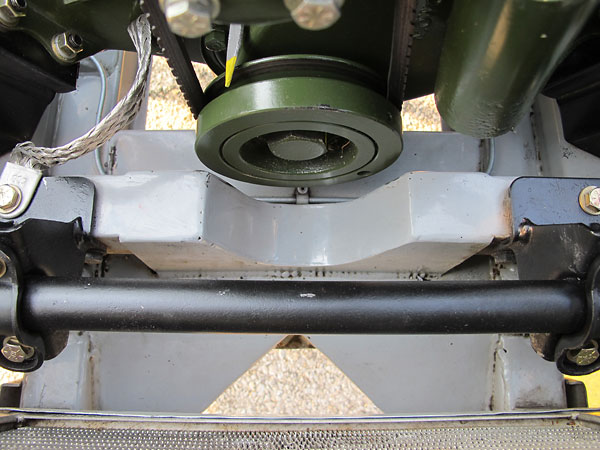 Front crossmember modified to provide convenient access to the harmonic balancer bolt.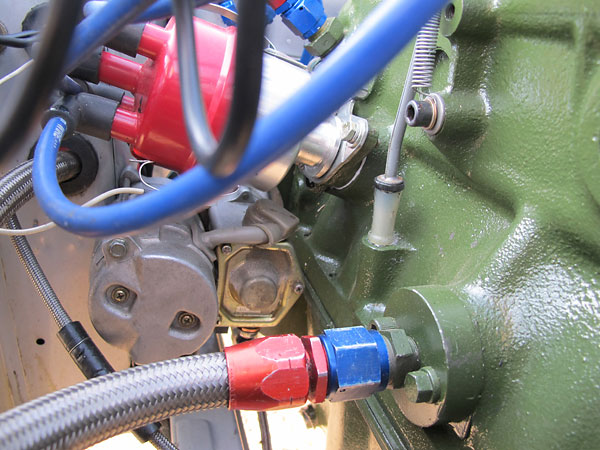 Vintage racing rules generally prohibit crank-fired ignition systems, so a Mallory distributor
has been installed in lieu of the Electromotive system Craig used for SCCA racing in 2006.
(This is a big performance compromise!) Note the modern gear reduction starter. The bendixs
of original Spridget starters are particularly notorious for jamming into engagement during
the heat of battle. Gear reduction starters are lighter and work better with small batteries too.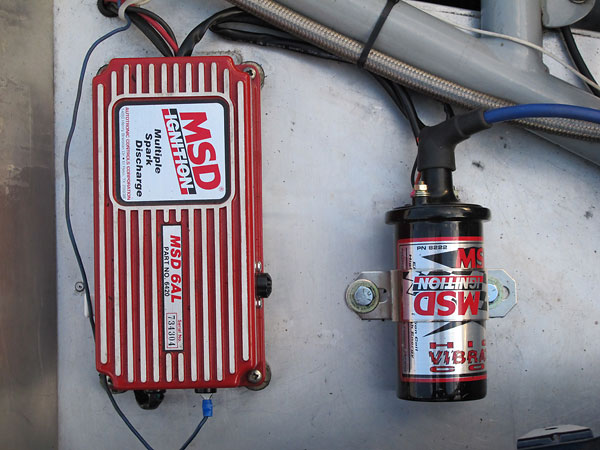 MSD6AL capacitive discharge ignition (with 7500rpm rev-limiter) and MSD High Vibration ignition coil.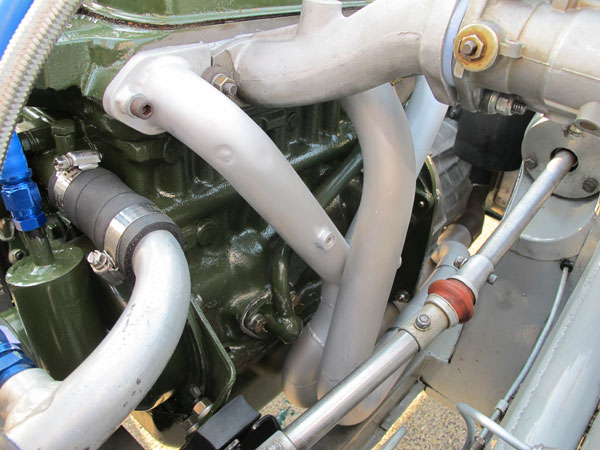 Pyrometer probe holes have been welded-up and the headers have recently been ceramic coated.
Besides lasting good looks, ceramic coatings help minimize heat transfer into the engine bay.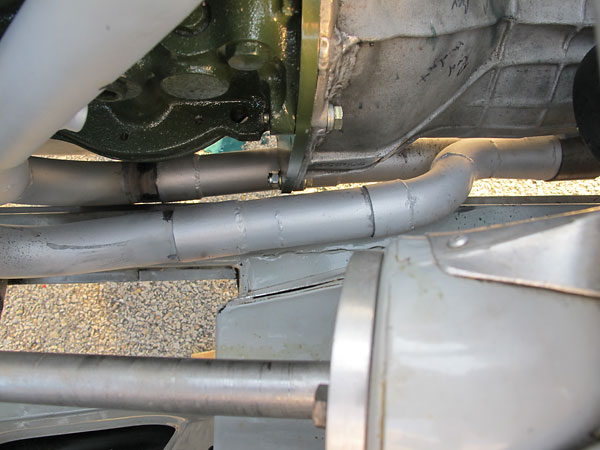 The second and third exhaust ports on a BMC A-series cylinder head are "siamesed". In other words,
they merge within the cylinder head to share a common outlet. The header tube that connects to this
shared outlet is deliberately made long and is connected downstream of the convergence of the #1
and #4 header tubes. The resulting part is known as a "long center branch" header.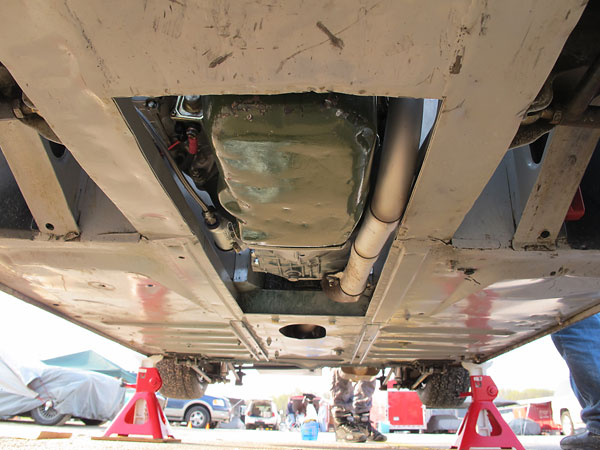 One of the keys to building competitive Spridget racecars is getting ride height down low.
The first step toward a really low ride height is relocating exhaust into the driveshaft tunnel.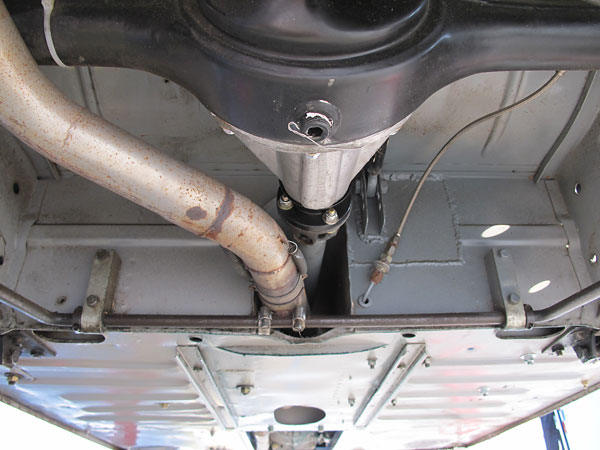 MG Midget "banjo" rear axle, with an excellent Tran-X state-of-the-art limited slip differential inside.
In 2006 Craig tried a Tran-X differential in one race, but used a welded differential for the balance
of the season. Welded axles tend to understeer on trailing throttle (i.e. on corner entry), but that
suited Craig's situation because other aspects of his suspension set-up tended toward oversteer.
There are many pros, cons, and variables to consider; not the least of which is driver preference.
A properly set-up limited slip is generally considered easier to drive, better suited for use on a
wet track, and is certainly much more convenient to push around in the paddock.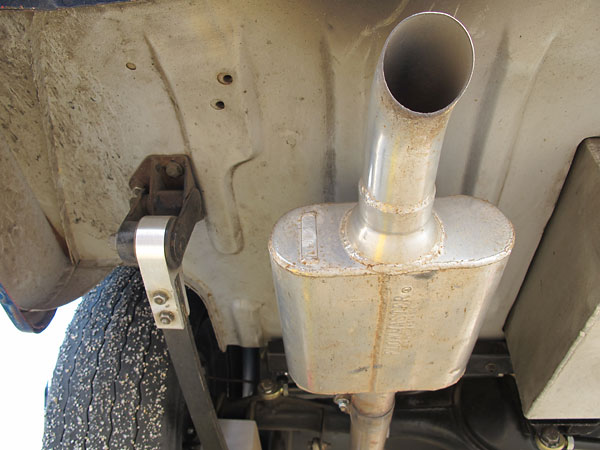 Flowmaster muffler.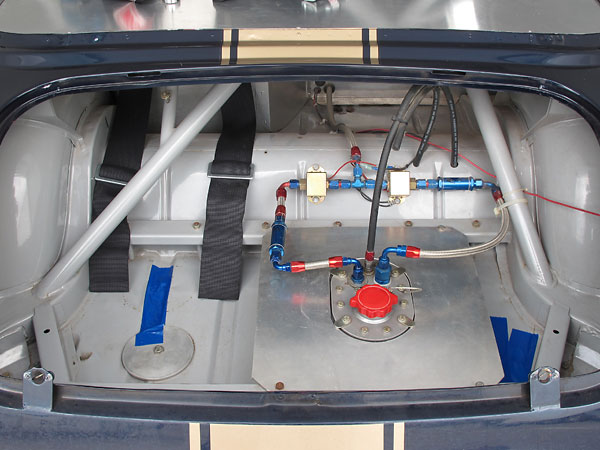 ATL 5-gallon fuel cell.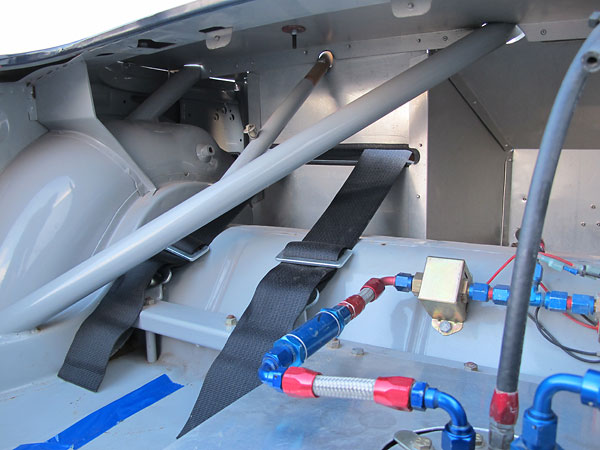 Dual Facet solid state fuel pumps.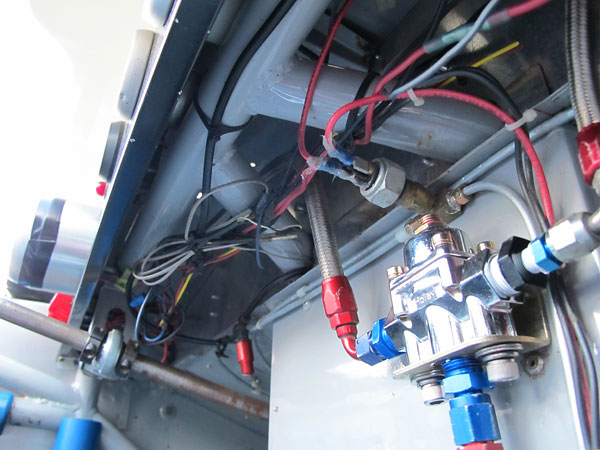 Holley fuel pressure regulator.



Front Suspension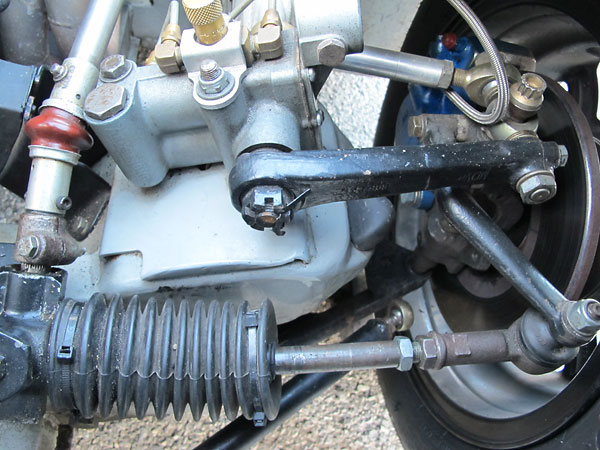 To comprehend the design of this uniquely modified front suspension, you must first have a basic
knowledge of the original Spridget design. Instead of a telescoping shock absorber, Spridgets have
lever-arm shocks. However, unlike MGAs and MGBs, Spridget front shocks have just one arm. The
arm connects to a trunnion at the top of a kingpin, which runs top-to-bottom through a swivel axle.
The horizontal axis of the top trunnion is outboard of the kingpin. The bottom of the kingpin
features an integral knuckle where a very conventional lower wishbone attachs. The horizontal
axis of the knuckle is inboard of the kingpin's verticle axis. Simple, right?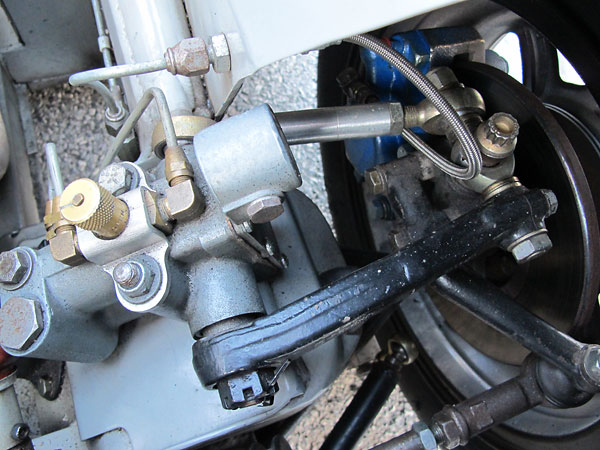 Replacing lever shock absorbers with triangulated upper control arms would be blatently outside
limited-prep rules, so Craig developed supplemental Heim-jointed adjustable radius rods. The
inboard ends of these supplemental links are attached to bosses on the roll cage. In lieu of the
original cast iron trunnions, heavily modified (double-ended!) Heim joints connect the lever arms
and supplemental links at the top of the Midget swivel axle. Craig reasoned that his supplemental
links were essentially "traction bars" for the Midget front end. (Traction bars for rear suspensions
are extremely common and clearly within limited-prep rules.) Importantly, the horizontal axes of
connection to the swivel axles have been relocated at least an inch inboard.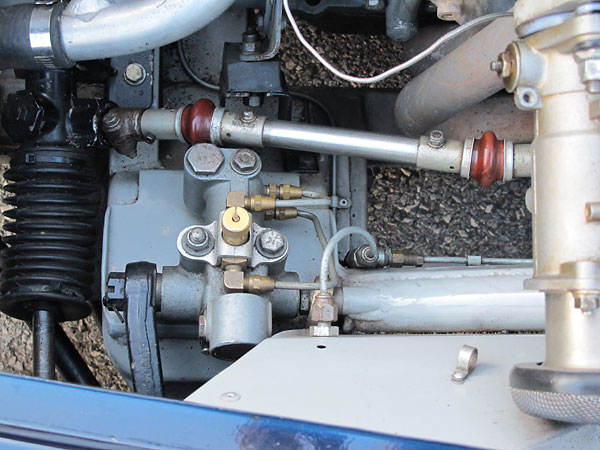 Peter Caldwell of World Wide Auto Parts rebuilds Armstrong lever shocks absorbers.
Peter also produces excellent adjustable versions of these shocks, as shown here.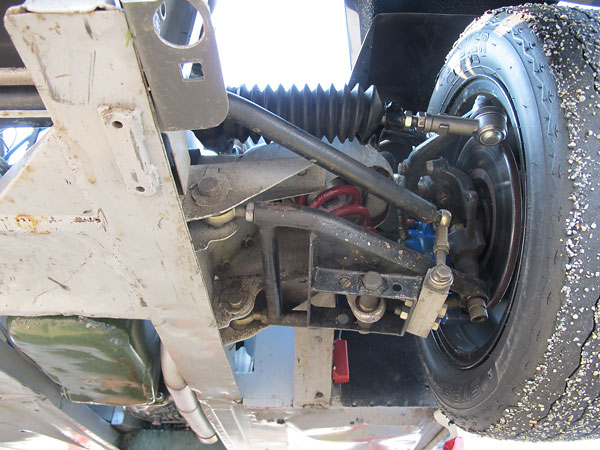 Custom, highly adjustable lower control arms, designed and fabricated by Craig Chima.
Original Midgets have contiguous kingpins through their uprights (a.k.a. swivel axles). The
kingpins have integral knuckles at their bottom, offset to the inboard side. In 2006,
SCCA's rules didn't say anything about MG Midgets retaining stock kingpins, so Craig
threw his away. This freed him to put swivel axle connection points where he wanted them.
(Evidently Craig wanted the bottom wishbones to connect both lower and further outboard.)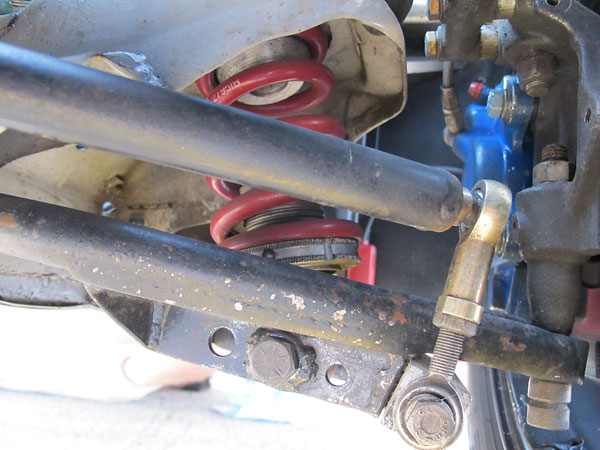 Ride height and corner weights can be precisely adjusted by turning the spring bases.
Note that a standard diameter "coilover" spring is used, which means a remarkable variety
of spring rates, lengths, and coil spacings are available and are cost effective to try out.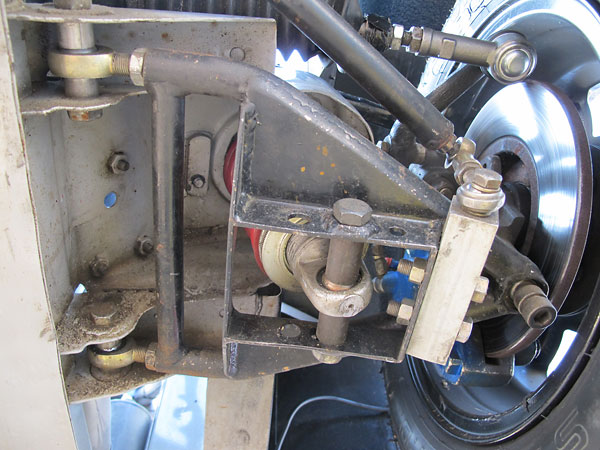 Although suspension mounting points on the body are perfectly stock, Craig's front suspension
geometry is modified enough to significantly alter the suspension's camber change characteristics.
The whole point: to better maintain traction where the rubber meets the road while cornering!



Rear Suspension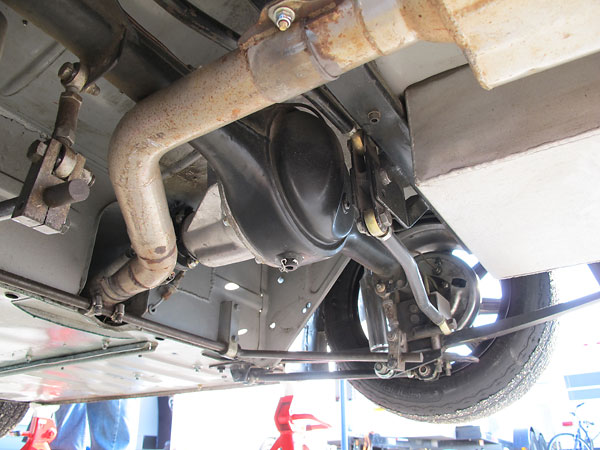 Three link rear suspension utilizing leafsprings, plus Watt's linkage to restrain side-to-side movement.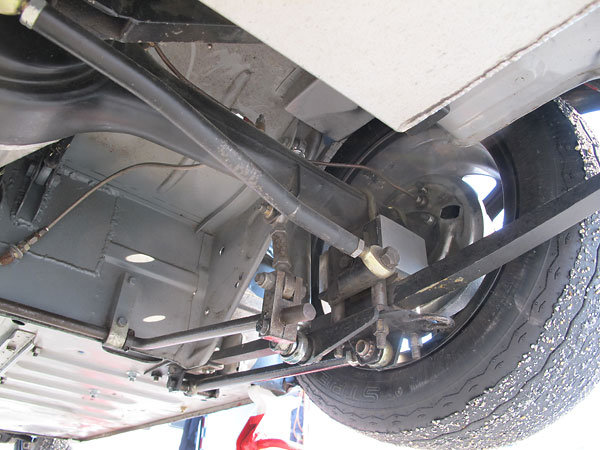 Fiberglass leafsprings (made by Flexi Form of Anderson, SC) are substantially lighter than steel springs.
These springs were originally rated 150lb/in, but numerous racers have found that they tend to run stiffer.
Craig didn't use them as they came out of the box. Instead, he used a milling machine to carefully and
strategically shave them so that their spring rate as installed on this car is about 120-130lb/in.



The bellcrank of this Watt's linkage pivots on a frame-mounted bracket, and then radius rods connect
to opposite outboard ends of the rear axle. The suspension can move up and down, and the body can
rotate about its roll center, but side-to-side motion of the body is restrained.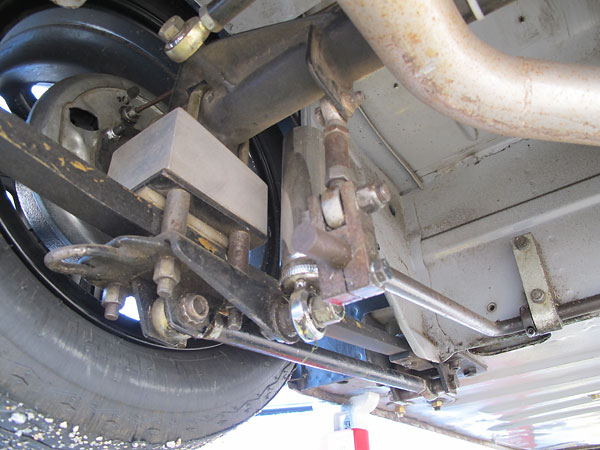 Spacers have been installed on the u-bolts so the axle doesn't bind in relation to the leafspring.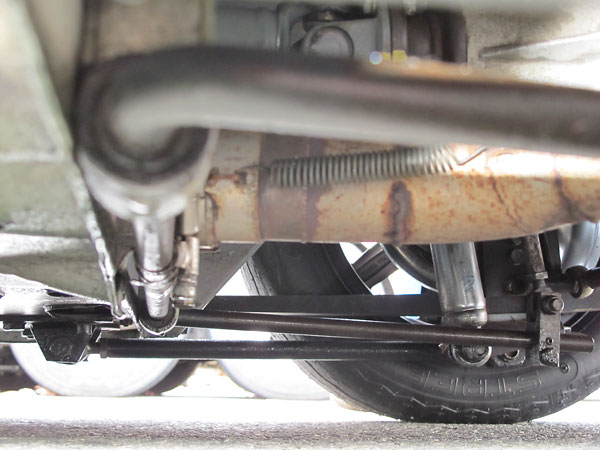 Telescoping rear shock absorbers were specifically disallowed by SCCA's limited-prep rules,
so this car had World Wide's adjustable lever shocks on it for the 2006 season. Most vintage
racing organizations don't restrict rear shock absorbers, so the car now wears Carrera telescoping
shock absorbers. This adjustable rear anti-sway bar was custom made by Craig Chima.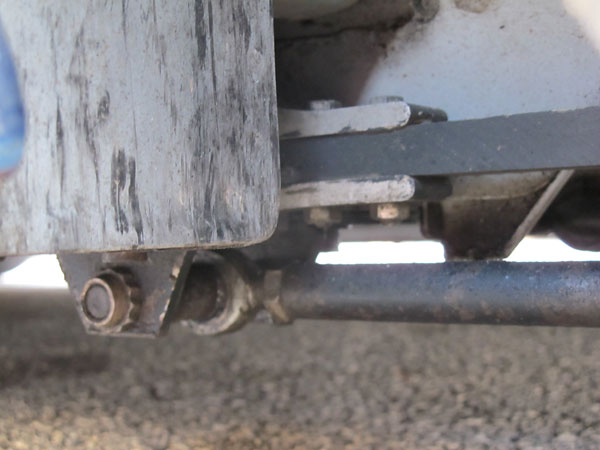 In this three-link suspension, two of the links are parallel to the leafsprings. The
third link is mounted above the differential and slightly off-center, for clearance.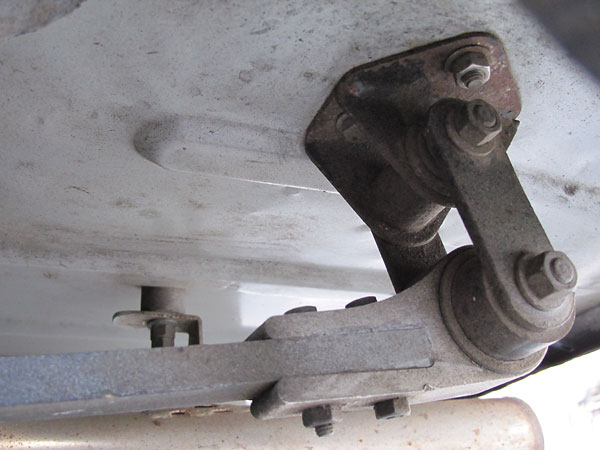 Notice that the springs are approximately half the width of stock Midget leafsprings. With their
installation shifted to the inboard sides they add almost an inch of room for wider tires.


Interior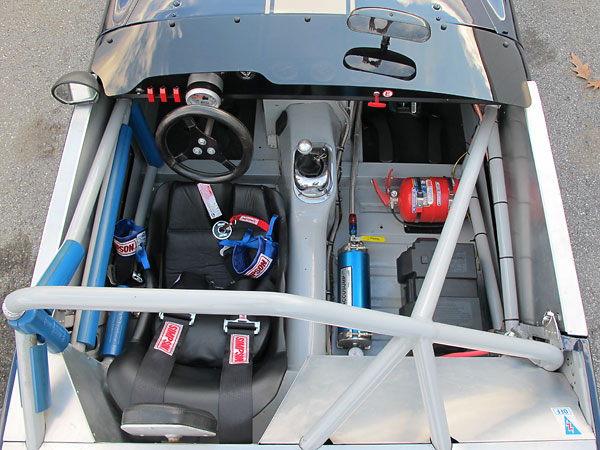 Roll cage.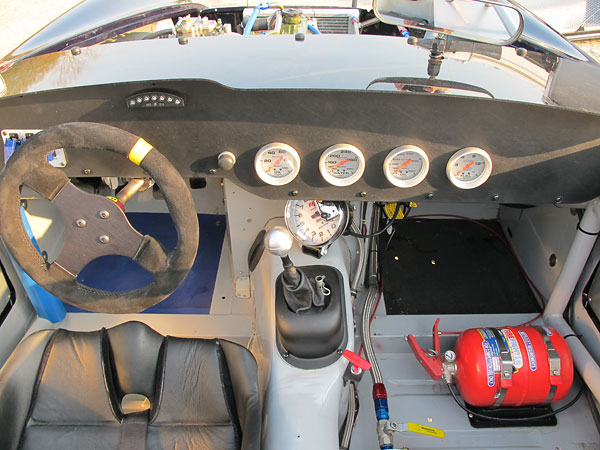 Very low profile plastic windscreen.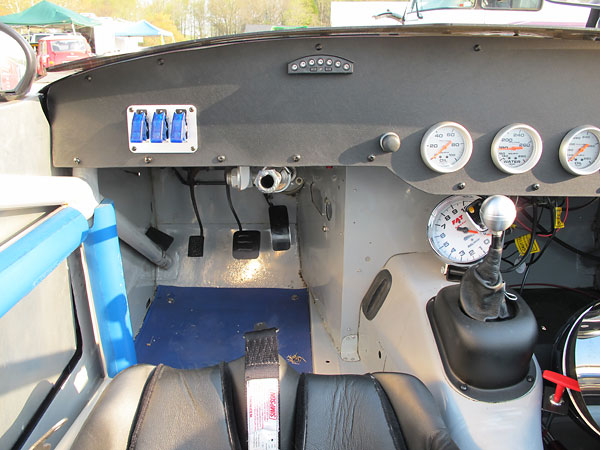 Chuck's most important "gauge" is his Traqmate Shift-I progressive gear shift and RPM range indicator.
Its bright seven L.E.D. display is programmable to suit the power curve of his engine.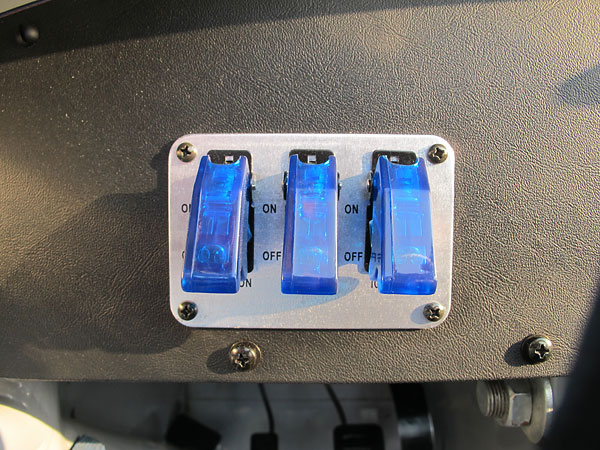 Three toggle switches, under plastic covers to prevent accidentally turning them "on".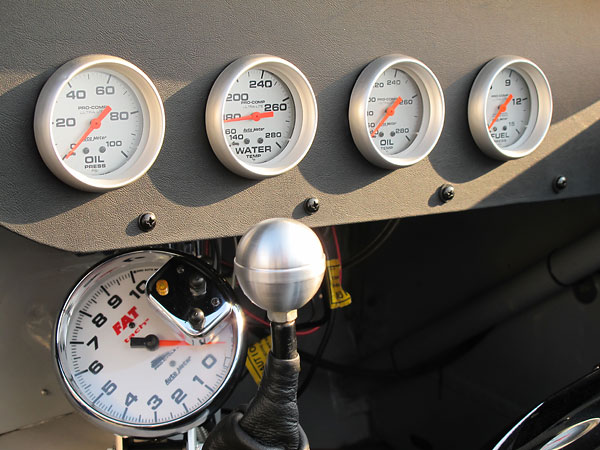 AutoMeter FAST Tach tachometer (0-10000rpm), and AutoMeter Pro-Comp Ultra Lite gauges:
(left to right) oil pressure, coolant temperature, oil temperature, and fuel pressure.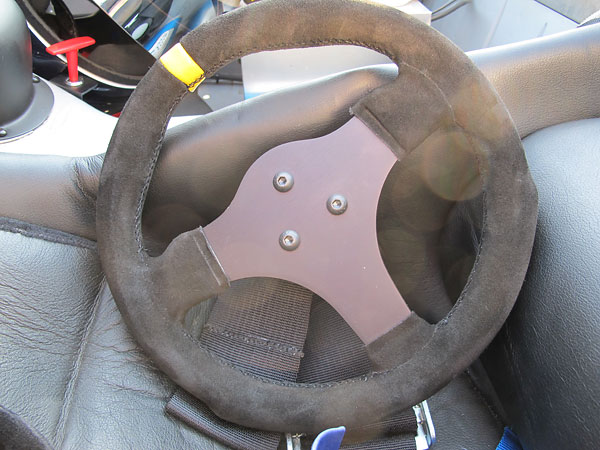 Suede covered ergonomic steering wheel...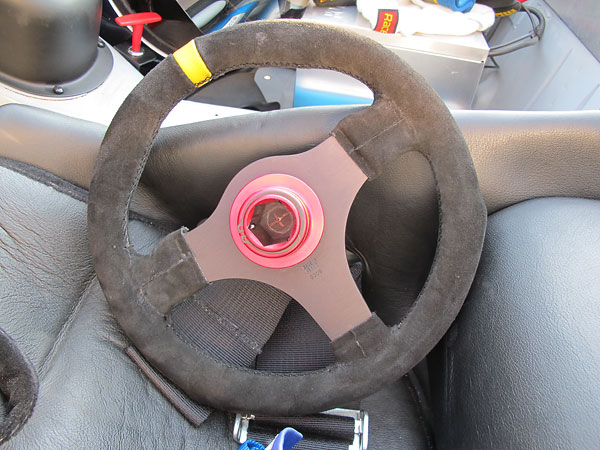 ...mounted on a quick release hub.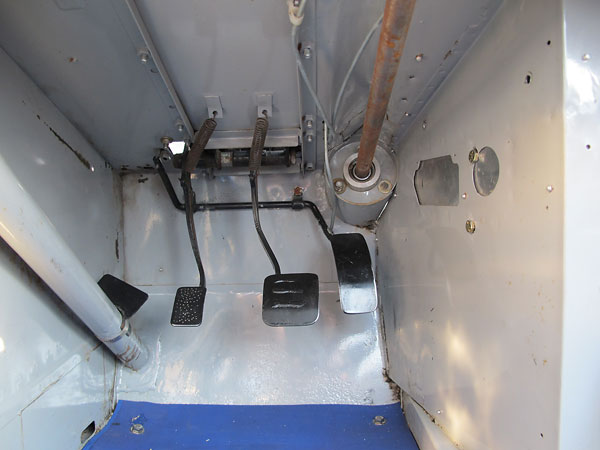 Neoprene rubber floor padding on the driver's side.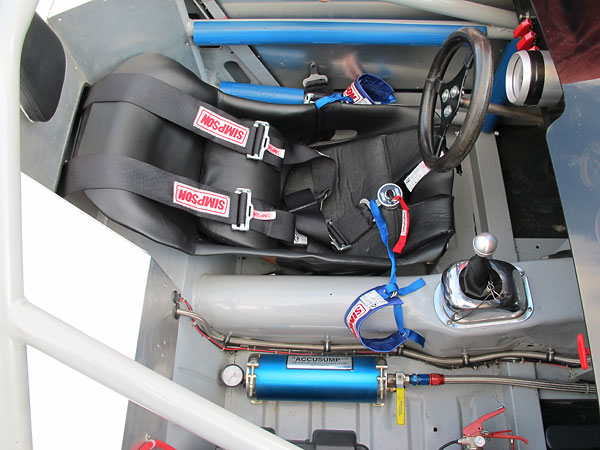 Cushy custom leather driver's seat.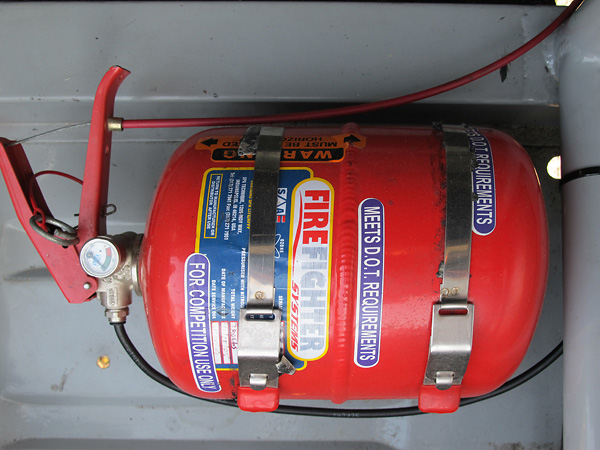 S.P.A. Technique FireFighter centralized fire suppression system.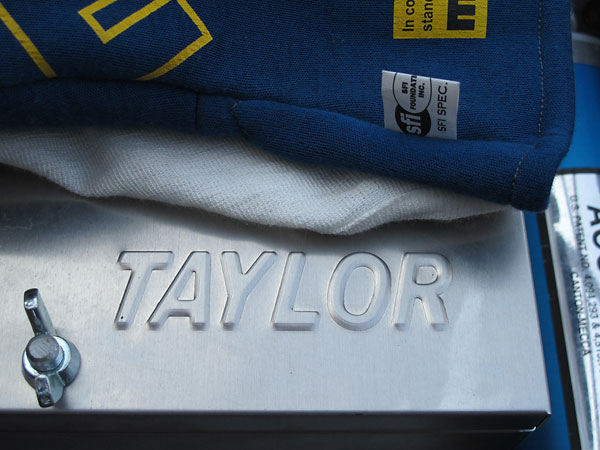 Taylor aluminum battery box.



Enjoying this article? www.BritishRaceCar.com is partially funded through generous support from readers like you!
To contribute to our operating budget, please click here and follow the instructions.
(Suggested contribution is twenty bucks per year. Feel free to give more!)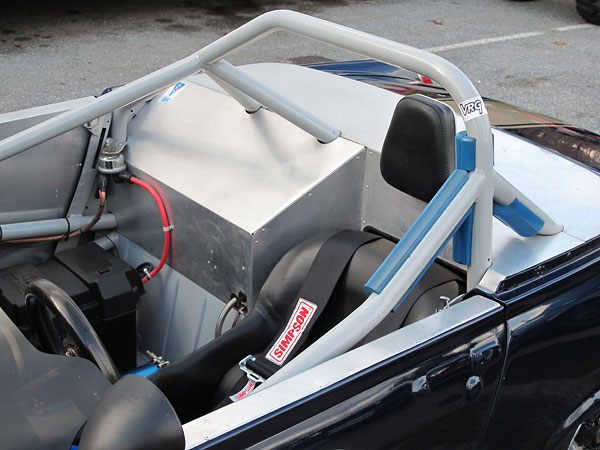 Head rest and roll hoop padding.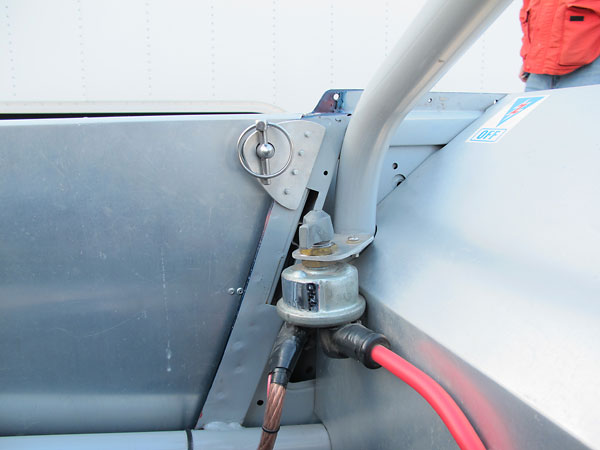 Joseph Pollak marine / heavy duty battery disconnect switch.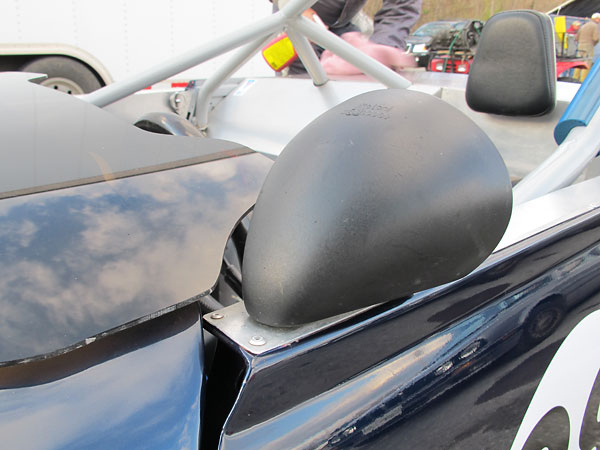 Vitaloni side view mirror (part# 30009).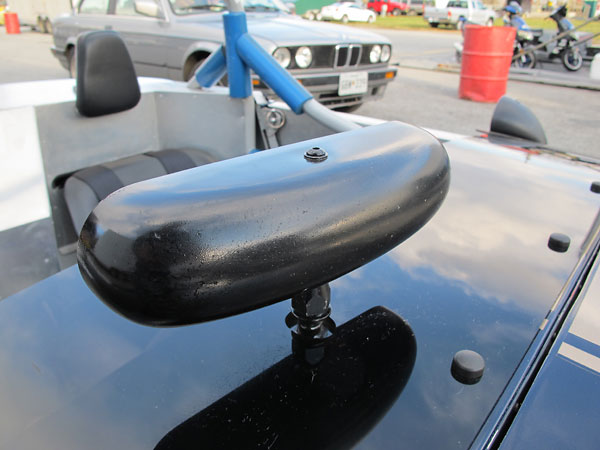 S.P.A. rear view mirror.


Exterior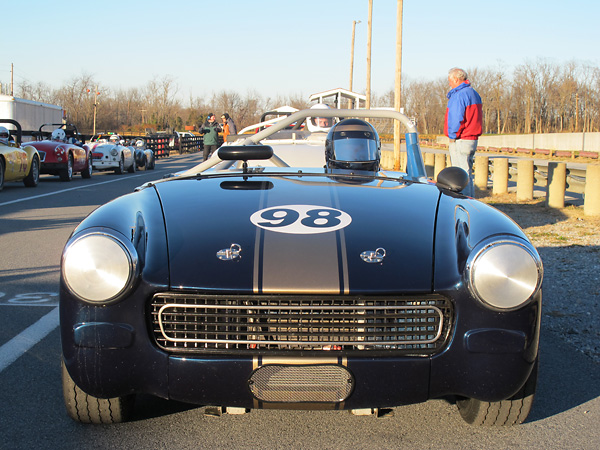 Chuck Pitt has been very successful at motorcycle racing, and is now turning his attention
to sportscars. We photographed Chuck's Spridget at two of his first two race weekends, and we
look forward to following his progress as he advances up the learning curve with the car.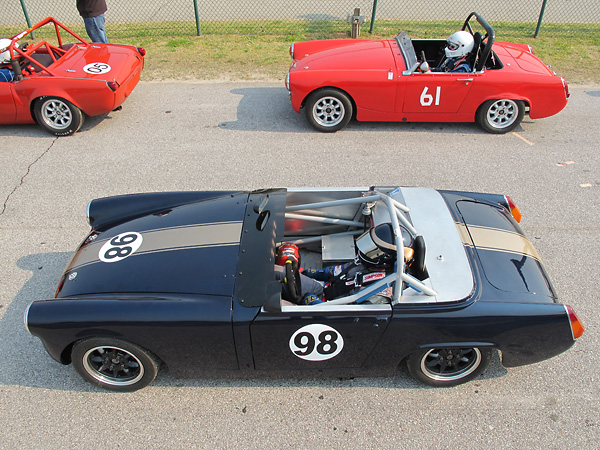 Chuck's Spridget was built up by Craig Chima, who famously used it to contest the 2006 SCCA
H-Production class National Championship. Craig then converted it to vintage racing specs.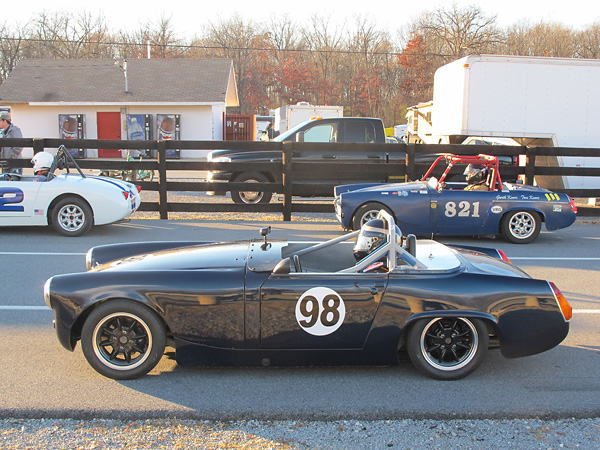 One of the big advantages this Spridget has is its very low ride height, which is
partly facilitated by its through-the-tunnel exhaust system.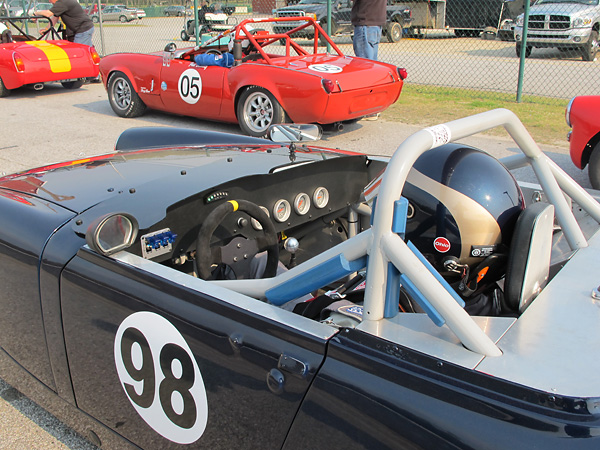 Its unique suspension is also a very big advantage. People who win SCCA national championships
don't dismiss the importance of suspension geometry or the ability to make very precise adjustments.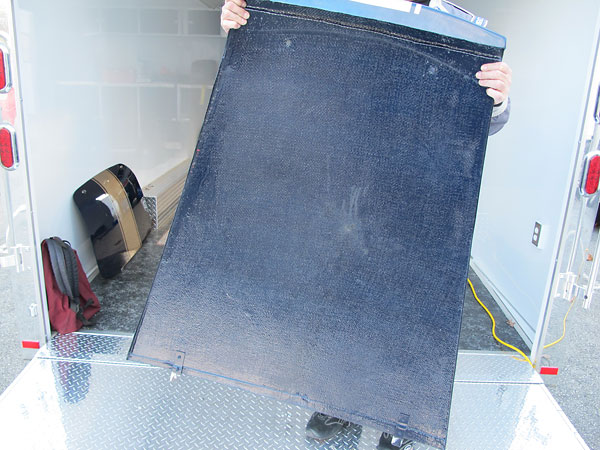 Lightweight fiberglass bonnet.



Flat metal tabs retain the back end of the bonnet (here) and the front end of the boot lid (below).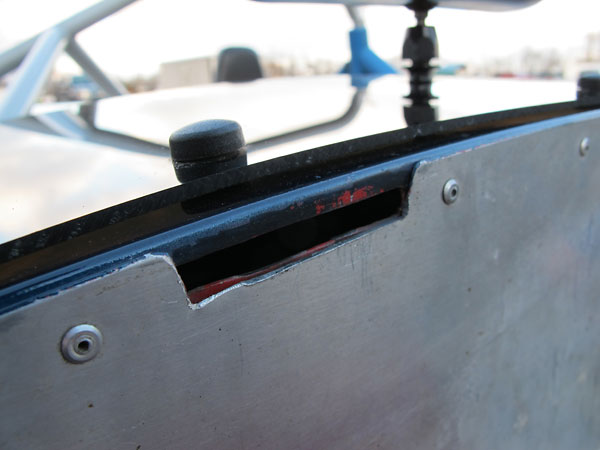 The flat tabs slide neatly into small slots, which have been cut into the car's bodyshell.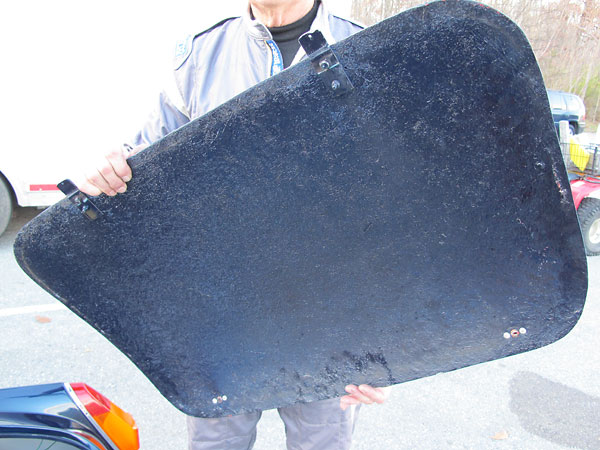 This very lightweight boot lid (e.g. trunk lid) is just an unreinforced fiberglass "skin".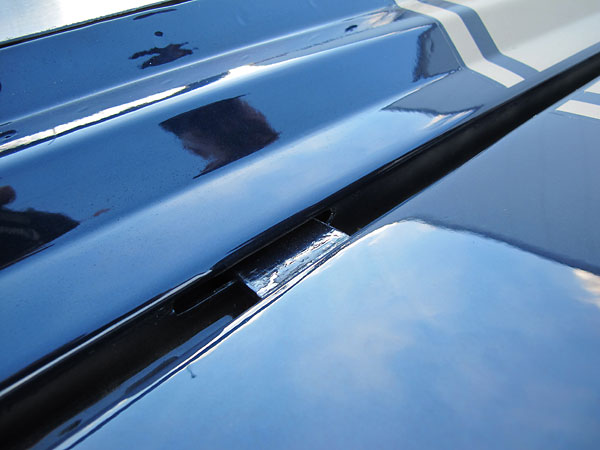 Like the bonnet skin, the boot lid is also mounted with flat tabs that slide into thin slots.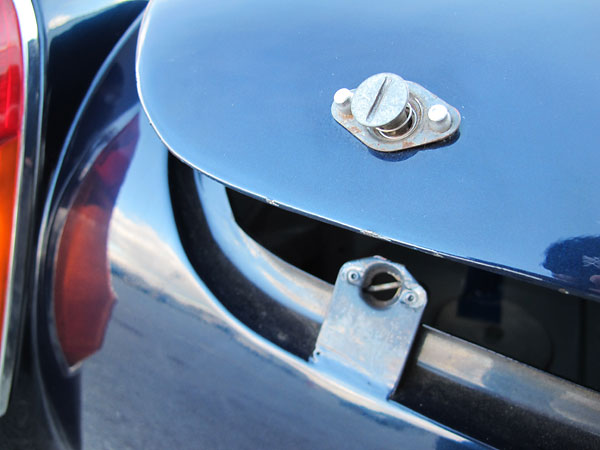 Dzus quarter-turn fasteners retain the back end of the fiberglass boot lid.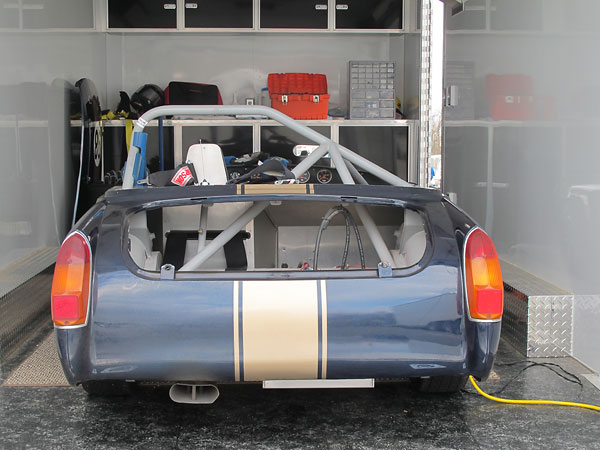 Oval tailpipe.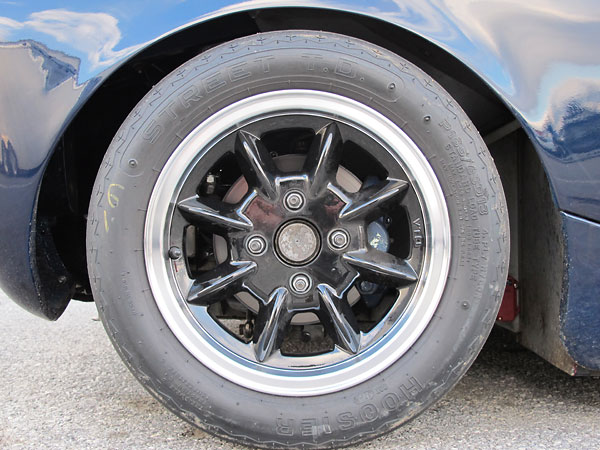 VTO 13x6 aluminum wheels.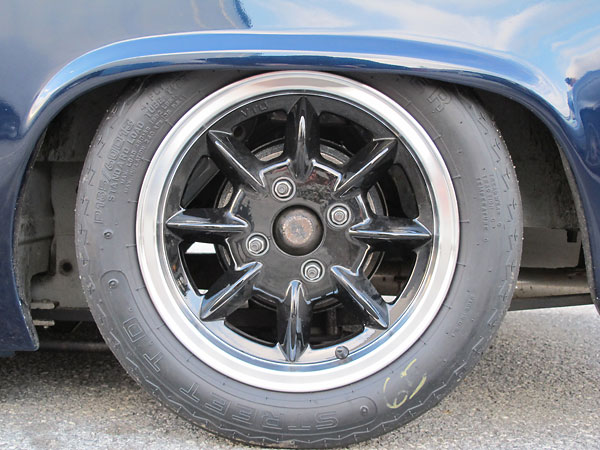 Hoosier Street T.D. 185/60 tires.


Photos shown here are from November 2010 when we viewed the car at the Vintage Racer Group's annual Turkey Bowl at Summit Point West Virginia or from April 2011 when we viewed the car again at their Wild Hare Run at Virginia International Raceway. All photos by Curtis Jacobson for BritishRaceCar.com, copyright 2011. All rights reserved.



Notice: all the articles and almost all the photos on BritishRacecar.com are by Curtis Jacobson.
(Photos that aren't by Curtis are explicitly credited.) Reproduction without prior written permission is prohibited.
Contact us to purchase images or reproduction permission. Higher resolution images are optionally available.