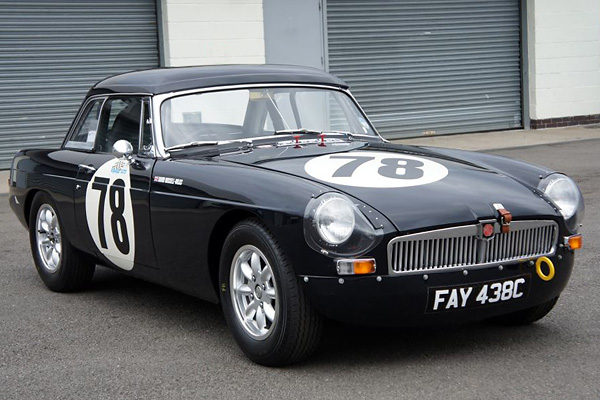 (Photo by David Russell-Wilks. Used here by exclusive permission.)


David Russell-Wilks' 1965 MGB Vintage Racecar
Owner: David Russell-Wilks
City: Weston Favell, Northampton, England
Model: 1965 MGB
Engine: 1950cc four cylinder
Race prepared by: owner


Built on Heritage
Back in early 2007, David Russell-Wilks and a colleague were offered a secondhand but never built-up Heritage bodyshell along with an assorted collection of MGB bits. They quickly began building a racecar. David explains: "We made good progress at the start, commencing with the addition of a Custom Cages rollcage and dry-fitting of components. We sourced a good engine block, cylinder head, and a flat steel crankshaft..." However, the partners began to realize they had different goals and expectations for the project. "In June 2009, after I sold my road MGB, it was decided I would buy my colleague's half and run the racecar project entirely."

Meanwhile, David had started to work part time at Lone Pine Garage. They're known for painting Pebble Beach Concours d'Elegance winning Aston Martins. "I worked for free, hoping to gain some experience in order to complete my project. I painted some of the MGB bodyshell at home to save money, but I was never all that happy with the finish. Besides, the underside had previously been stone-chipped and sealed. I decided to take the plunge and have the bodyshell acid dipped and E-coated.¹ The car came back much lighter weight, an ideal starting point for building a competitive racecar."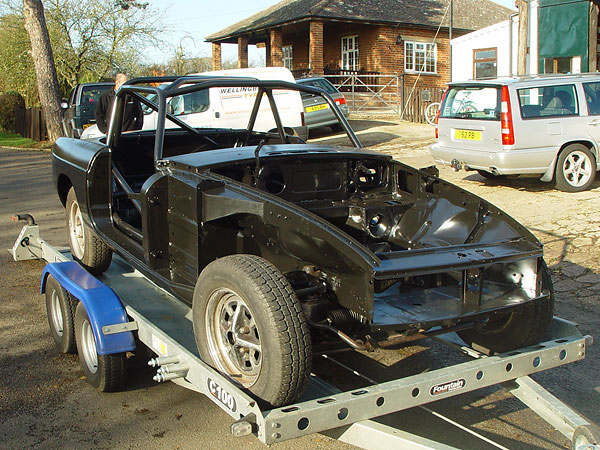 David's Heritage MGB upon arrival at Lone Pine Garage in October 2009.
(Photo courtesy of David Russell-Wilks. All rights reserved.)


"In October 2009 I took the car to Lone Pine Garage where I completed the build with their guidance and help. Working there allowed me to complete more ambitious modifications. For example, we created and installed aluminium door skins and an aluminum rear valance. I worked on the car nearly every day. By July 2010, the body work and rolling chassis were complete."

David's next step was to turn his attention to the engine. Again, he found a local shop with great expertise that he would enjoy working with and learning from. Rob Selby of Selby Engineering in Olney, Buckinghamshire specializes in A-Series engines, but has built B-Series race engines too. Rob built and balanced David's engine, gas flowed its cylinder head, ran the assembled engine in, and fine-tuned the engine on his dyno.

Everything came together in February 2011, and David tested his newly completed racecar at Silverstone in March of that year. Since then, David has enjoyed racing his MGB with "ecurie GTS", a British racing series for small displacement, pre-1966 FiA-homologated production sports cars. Administered by The MG Car Club, ecurie GTS visited six of England's best circuits in 2013. David serves on the ecurie GTS Drivers Steering Group.



Features and Specifications
Engine:
BMC B-Series four cylinder engine. Bored ~0.106" over to raise displacement from 1798cc to ~1950cc. ~10.9:1 static compression ratio. Steel connecting rods. ARP cylinder head studs. Aftermarket valve cover, with vent. Weber 45 DCOE carburetor. TWM Induction 9.5cm intake manifold. Lucas distributor. Pertronix Ignitor breakerless ignition trigger. Pertronix ignition coil. Magnecor Electrosports 80 spark plug wires. NGK B8EGV spark plugs. K&N HP-2004 oil filter. Baffled deep sump oil pan. Alloy Racing Fabrications crankcase breather tank. Alloy Racing Fabrications aluminum fuel cell. Facet Bendix-style fuel pump.

Cooling:
stock MGB copper-and-brass radiator. Samco "Classic Silicone" hoses. Stock MGB oil cooler. No cooling fan.

Exhaust:
Tourist Trophy all stainless steel system (featuring three-into-one header and single muffler).

Transmission:
Hardy Engineering straight cut, close ratio gear set (1st 3.64:1, 2nd 1.62:1, 3rd 1.27:1 and 4th 1:1.) Fiberglass gear selector cover. Helix Autosport 8.5" organic clutch.

Rear Axle:
original banjo-style housing. 4.1:1 rear axle ratio. Limited slip differential.

Front Susp.:
Moss 660lb/in front springs. Rebuilt lever shock absorbers. SuperFlex polyurethane wishbone bushes. Moss 7/8" anti-sway bar, mounted on aluminum pillow blocks. Moss quick ratio steering rack.

Rear Susp.:
Moss parabolic two-leaf 100#/inch leaf springs (de-arched to give a suitable ride height.) Adjustable lever shock absorbers.

Brakes:
(master) single circuit master cylinder.
(front) stock rotors and calipers. Mintex pads.
(rear) stock drum brakes.

Wheels/Tires:
eight spoke (Minilite replica) 5.5J-14 aluminum wheels. Dunlop Racing CR65 204 Mark II (5.50L-14) tires.

Body:
Heritage bodyshell. Aluminum front valance (standard 10.5" height.) Aluminum bonnet. Leather bonnet tie-down strap. Sebring style Perspex headlamp covers. Cibie H4 halogen headlamps. Aluminum door skins. Drilled door hinges and boot lid hinges. Aluminum battery box cover.

Safety Eqmt:
Custom Cages welded-in roll cage. OMP Ecolife AFFF centralized fire suppression system. Ridgard RS9 steel-frame drivers seat, mounted on OMP aluminum brackets. Willans safety harness. Moto-Lita leather wrapped steering wheel.

Instruments:
Smiths dual oil pressure (0-100psi) and water temperature (30-110C) gauge, Smiths speedometer (0-120mph), Smiths tachometer (0-8000rpm), and Smiths oil temperature (40-140C) gauge. Farringdon Instruments FD20 data logger, mounted in glove box. Farringdon Instruments RCA60 lap timer display, mounted to radio blanking plate. Speed Systems programmable shift light.

Electrical:
Lucas alternator, with oversized aluminum pulley. Single Lucas 12V lead acid battery (size L002, weighs 10kgs.) Moss gear reduction starter.

Weight:
838kg (1847#) without fuel.

Comments:
races in ecurie GTS class 4 (for cars up to 2000cc).


Engine Installation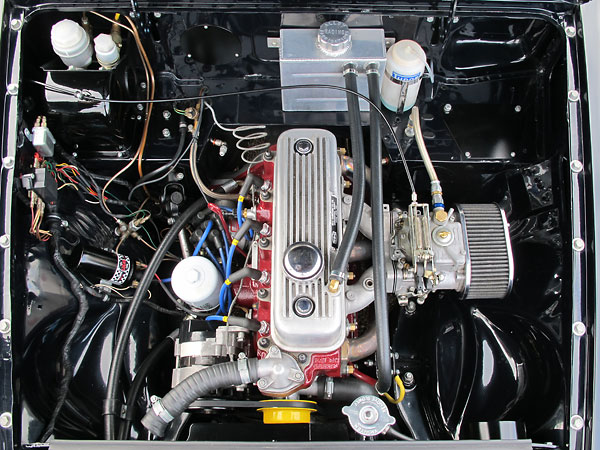 Rob Selby of Selby Engineering built and balanced David's engine.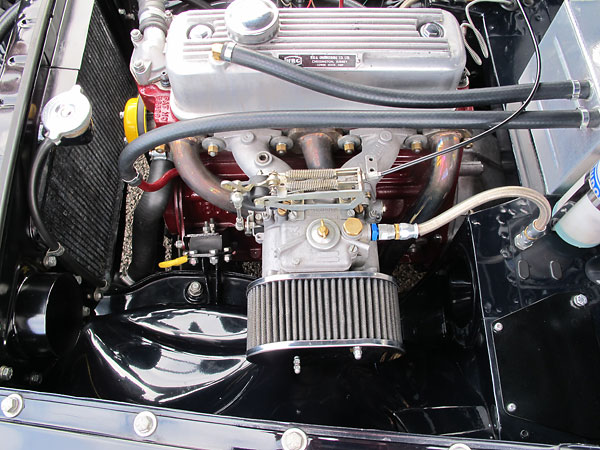 Weber 45 DCOE carburetor. TWM Induction 9.5cm intake manifold.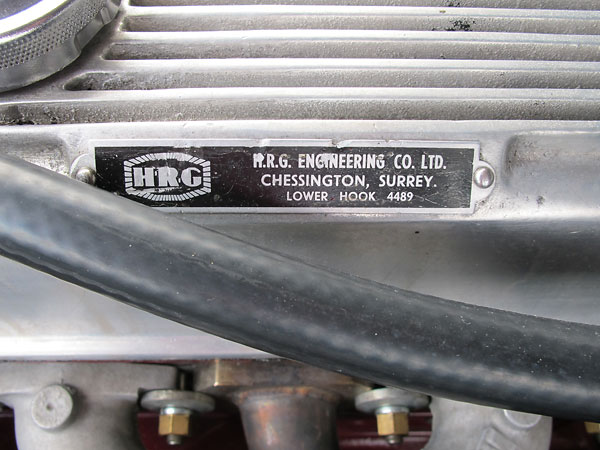 H.R.G. Engineering Co. Ltd., Chessington Surrey, Lower Hook, 4489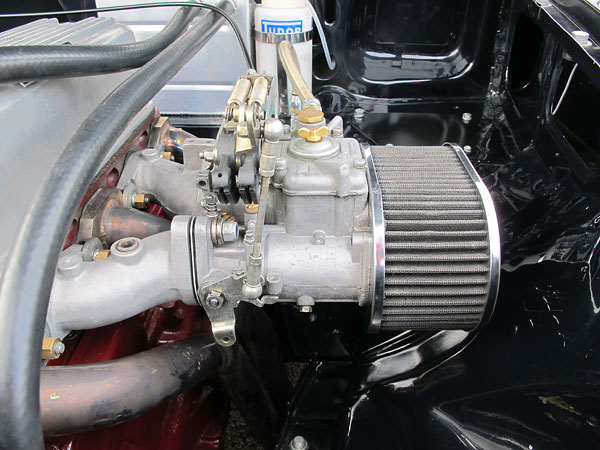 The fuel system pressure runs about 4psi without any regulator installed.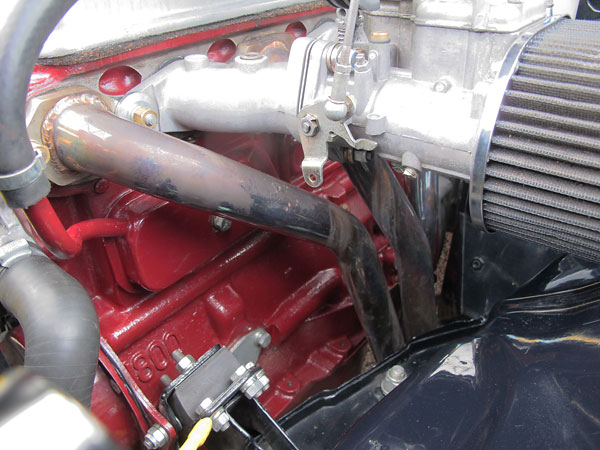 This three-into-one header is part of a Tourist Trophy stainless steel exhaust system.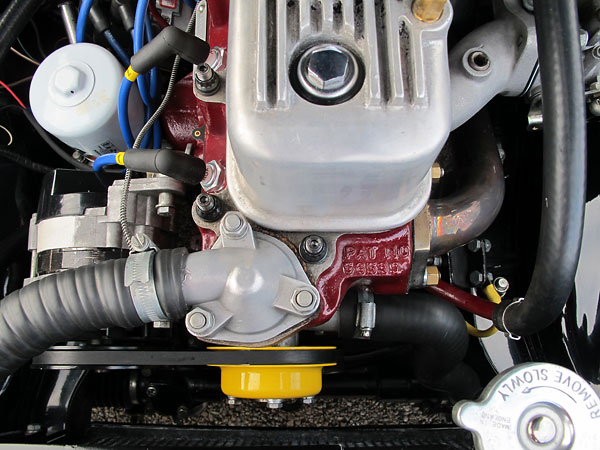 Samco "Classic Silicone" hoses. ARP cylinder head studs.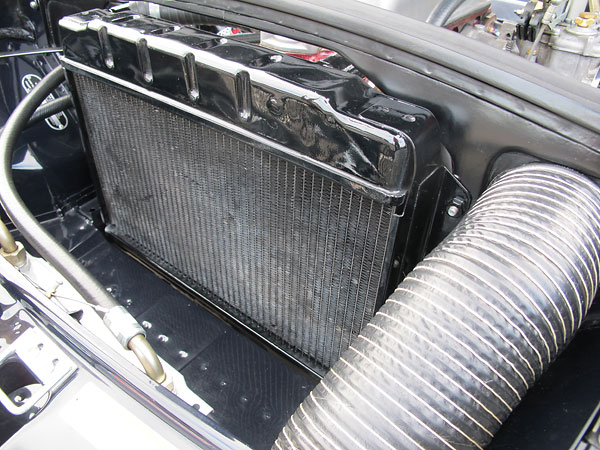 Stock MGB copper-and-brass radiator.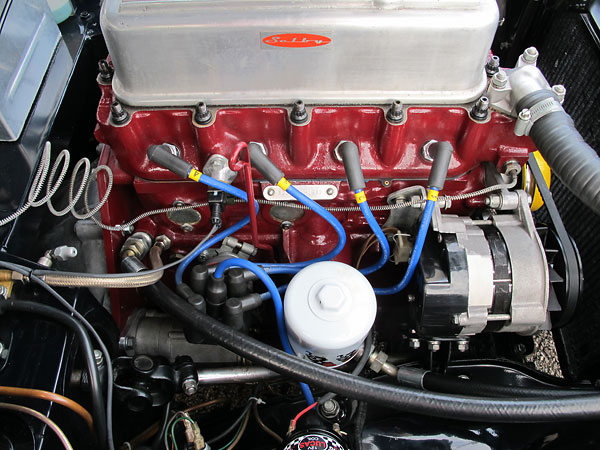 A Pertronix Ignitor electronic ignition module has been installed inside the Lucas distributor in lieu
of traditional breaker points and condenser. It uses a Hall effect sensor to detect the passing
of tiny magnets. This solution is more precise and also less sensitive to mechanical wear.
(Note: Lumenition's equivalent is called "Magnetronic". Don't confuse it with Lumenition's
"Optronic" system which utilizes an optical sensor and an externally mounted amplifier.)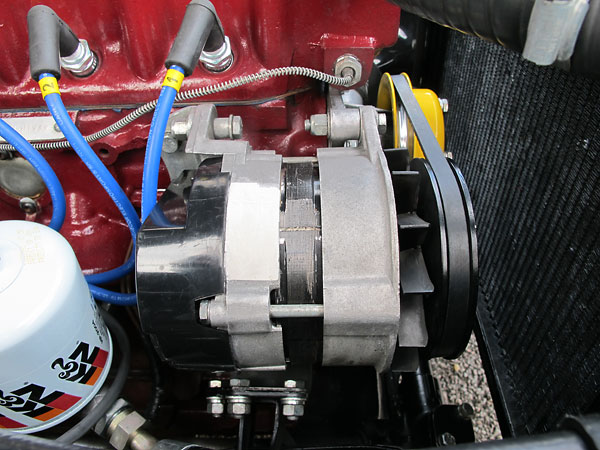 This Lucas alternator has been fitted with an oversize aluminum pulley to make it spin
a little slower than usual. (Note: MG upgraded from generators to alternators in 1968.)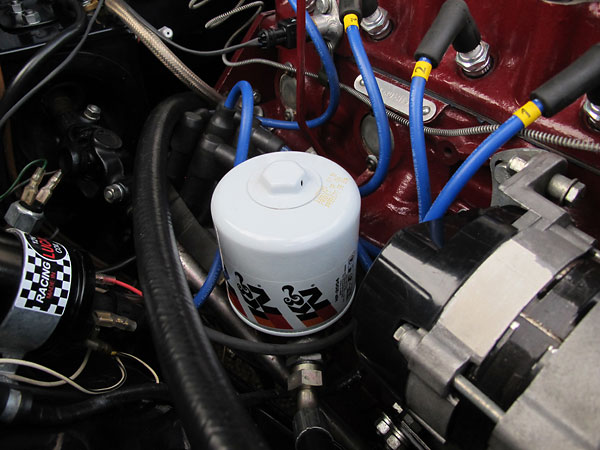 K&N HP-2004 engine oil filter, inverted. (MG used inverted spin-on filters from March 1970 through
November 1973 and again from 1976 through 1980. Early MGBs used canister oil filters.
1974 and 1975 MGBs used hanging spin-on filters.)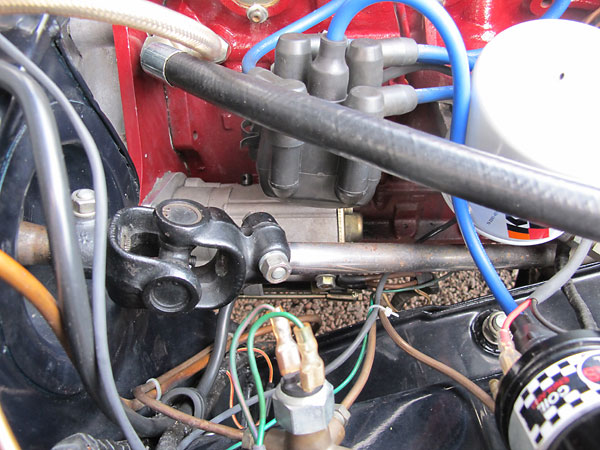 A modern gear reduction starter is lighter than stock and also turns the engine over faster.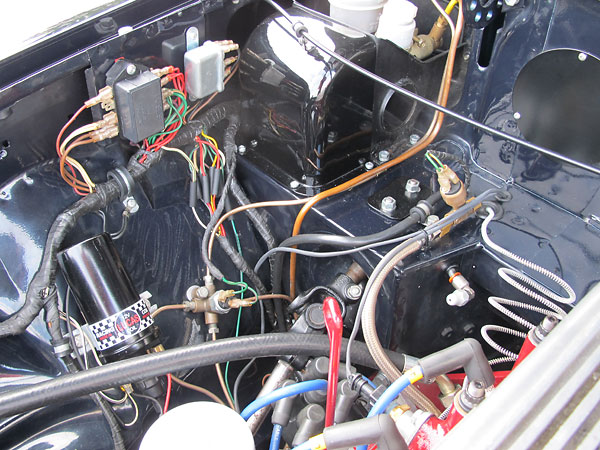 Pertronix ignition coil. (A Lucas decal on the bracket lends a period look.)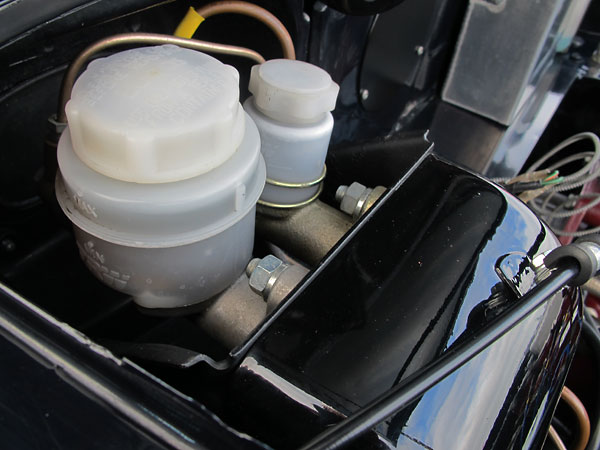 Transparent nylon reservoirs make it easy to verify fluid level. Both of these master cylinders
(brake and clutch) are aftermarket designs specifically made for MGB. Factory-installed single
circuit brake master cylinders - and clutch master cylinders - had fabricated steel housings.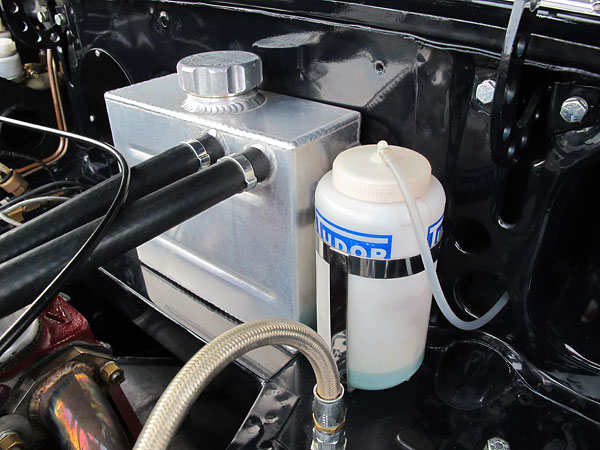 Alloy Racing Fabrications crankcase breather tank.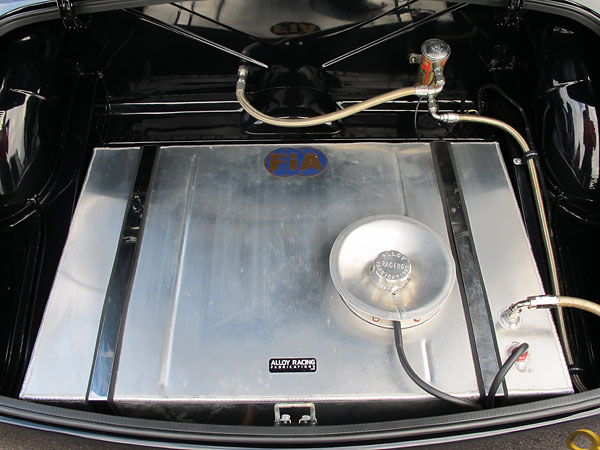 Alloy Racing Fabrications aluminum fuel cell.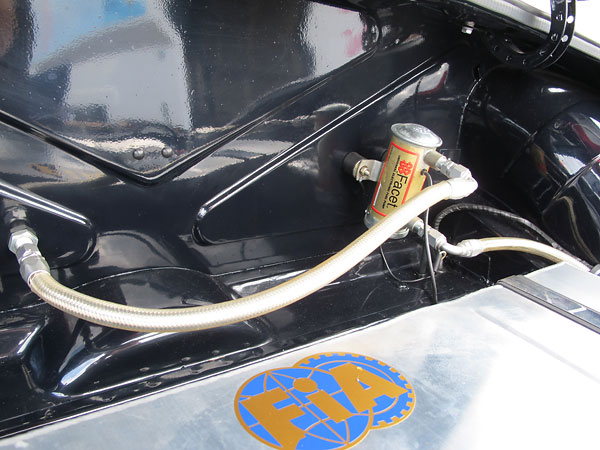 Facet Bendix-style electric fuel pump.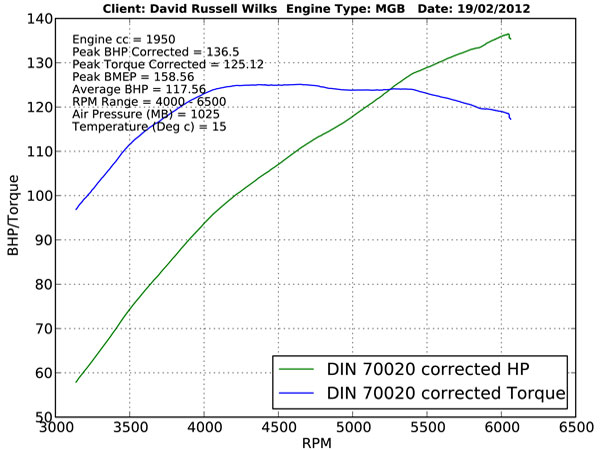 Haven't You Been Mooching Long Enough?
The least you could do is toss some change in our tip jar. Give as little or as much as you like.
Right now is the right time. Your donation will help keep BritishRacecar alive and growing.
Simply click here and follow the instructions.


Front Suspension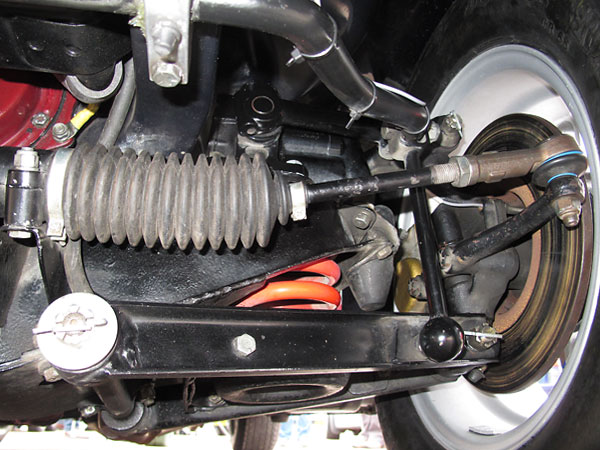 Moss 660lb/in front springs give a ride height of ~12.5" at the front. "I have been meaning
to experiment with a set of 800lb springs from MG Motorsport, but found the handling quite
acceptable as is." The car has not been corner-weighted, but it will be for 2014.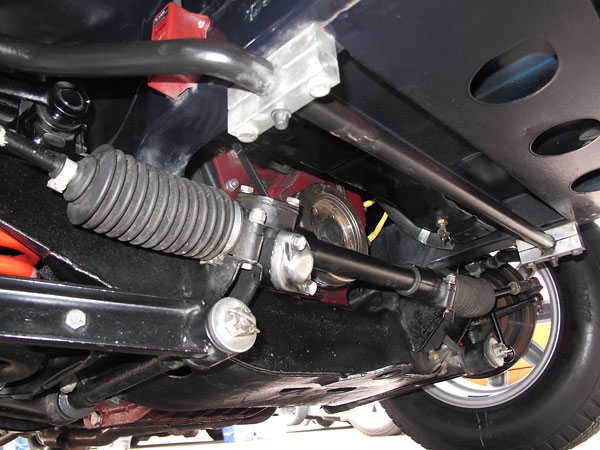 Moss 7/8" anti-sway bar, mounted on aluminum pillow blocks.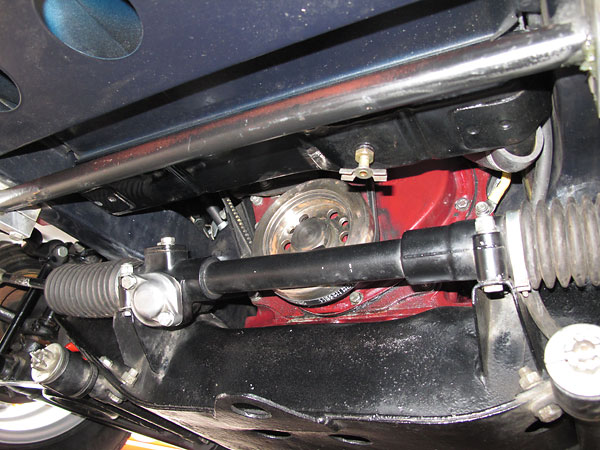 Unmodified front crossmember. Moss quick ratio steering rack. Aluminum front pulley.


Rear Suspension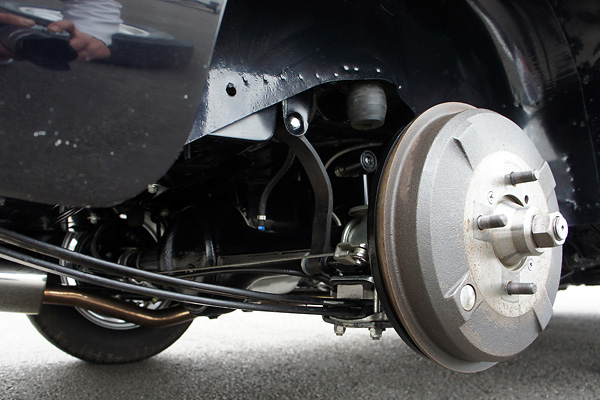 Parabolic two-leaf 100#/inch leaf springs. "When originally fitted they made the rear end of the
car very high, so I had them recurved to give a ride height of 10.5 inches. At the moment,
they are in their lowest position. This can be adjusted with aluminium shims."
(Photo courtesy of David Russell-Wilks. All rights reserved.)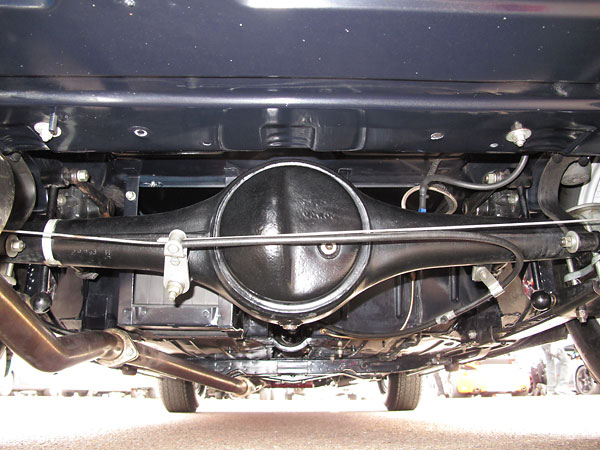 David uses a 4.1:1 gear set for all races. "Some people use 4.3:1, but this can be a
bit short for the longer circuits like Silverstone and Snetterton."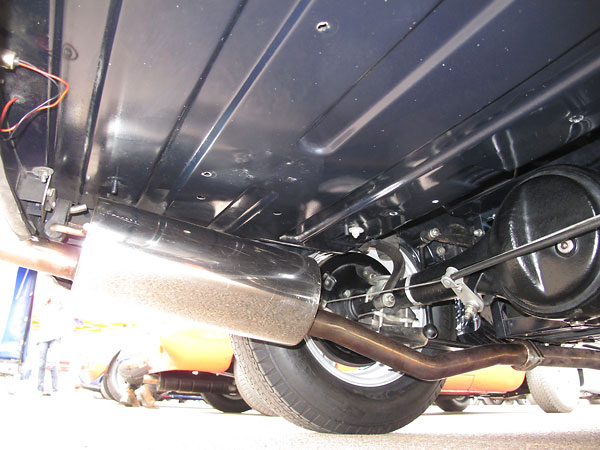 This Tourist Trophy stainless steel muffler helps David comply with noise restrictions.
Usually the limit for U.K. races is 105dB, and the limit for European races is 99dB.


Interior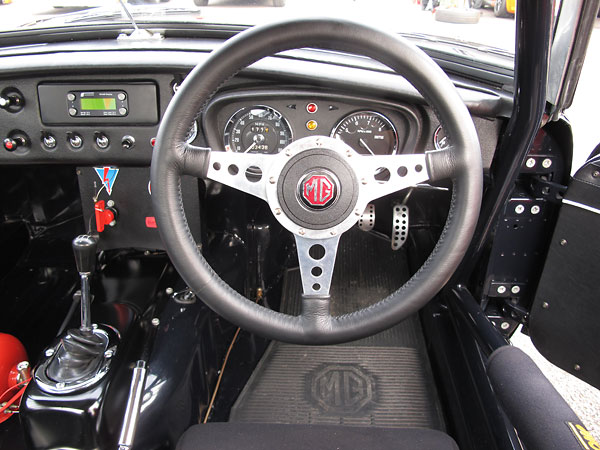 A Farringdon Instruments RCA60 LCD display is mounted in the radio blanking plate.
Its the driver interface for a lap timer and data acquisition system. (More info below.)
Four numbered buttons on its face toggle various functions and settings. The small
print says: "Set Up 1 & 2. Recall 3 & 4. Clear Laps 1 & 4. Clear Time 2 & 3."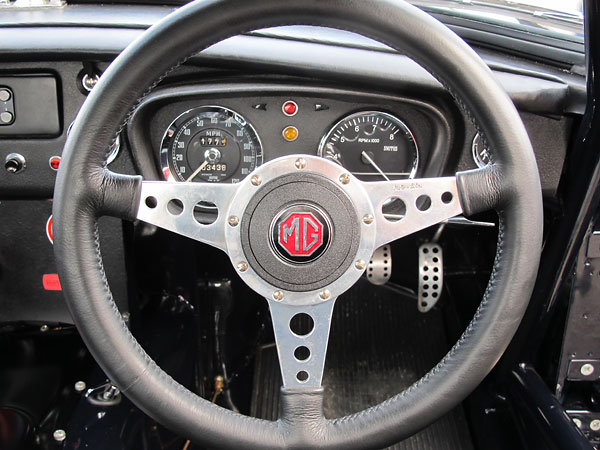 Moto-Lita leather wrapped steering wheel.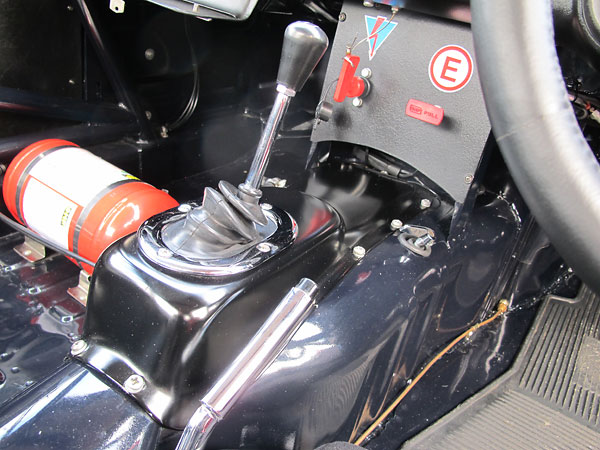 This aftermarket gear selector cover from Clark & Clark is fiberglass instead of steel. To the
right and forward of the shifter, a reverse lockout pin replaces one of the detent springs
in the gearbox to prevent the driver from shifting into reverse gear by mistake.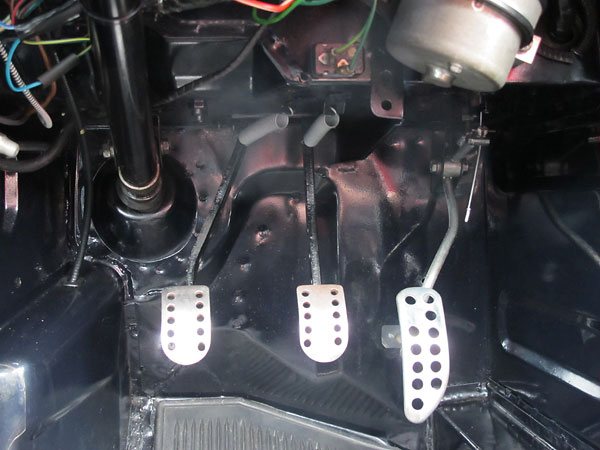 Rubber floormats are ONLY in place when David's car is in the paddock or at home in the
garage. They protect paint, but while racing they could slide around and impair David's driving.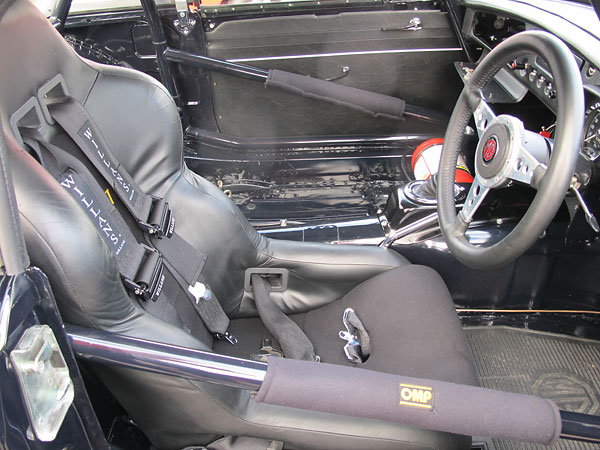 This is a robust rollcage with extra tubes across the door sills and behind the dashboard.
While showing it to me, David observed that U.K. rulemakers once seemed to prefer bolt-in
door bars but now they prefer welded-in bars. Possibly they believed bolt-in bars would
facilitate extraction of drivers after accidents. Welded-in bars are appreciably stronger
in most instances. David paid: £700 for cage material plus £700 for fabrication labour.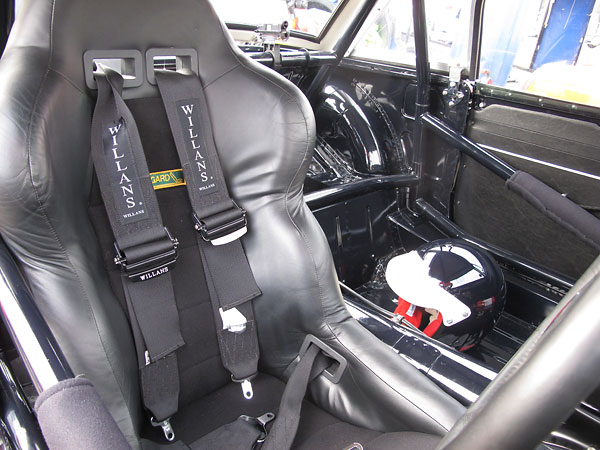 This model of Ridgard seat has a steel frame. Its production date isn't labeled, so it
doesn't meet FiA rules for racing on the European mainland but it's acceptable for racing in
England and its label will never expire. The Willans safety harness is date coded, of course.



Seriously, for the cost of a beer you can make a real difference.
Your donation will help keep the BritishRacecar staff motivated to publish more.
Larger donations will tangibly help us travel to races, maintain camera equipment, etc.
Simply click here and follow the instructions.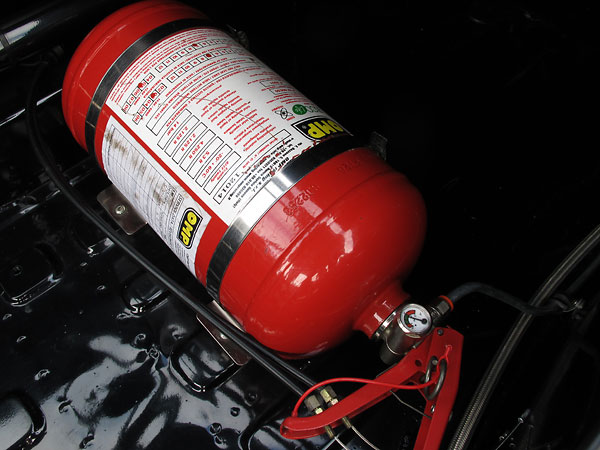 This OMP Ecolife AFFF centralized fire suppression system has a 5.3L bottle, which is
rather large for an MGB. For 2014, David plans to install a smaller fire extinguisher
(and also a lighter weight battery) to approach the 830kg weight limit for his class.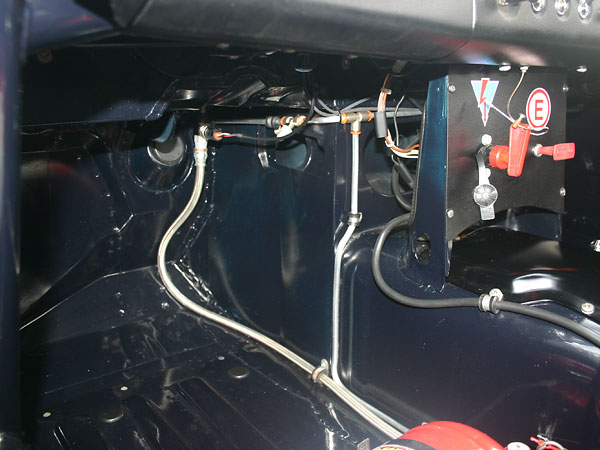 This MGB features the narrow ("three synchro") transmission tunnel which is characteristic
of Mk1 cars. Press tooling for the narrow tunnels was destroyed decades ago, after MG
transitioned to a larger tunnel to suit a larger gearbox. This tunnel was cut from a donor
car and provided to British Motor Heritage; then they built a new bodyshell around it.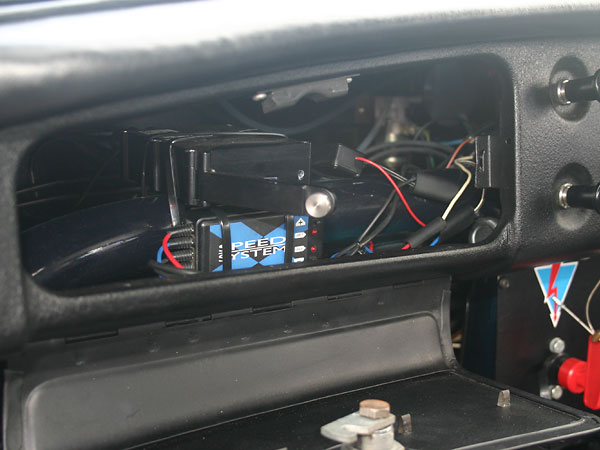 The rollcage features a robust behind-the-dashboard crossbrace. A Farringdon Instruments
FD20 data logger is tie-wrapped atop the tube. We can also see a Speed Systems soft cut
rev-limiter, which David has programmed to come in around 6,800rpm. The Speed Systems
device includes a programmable shift light feature too.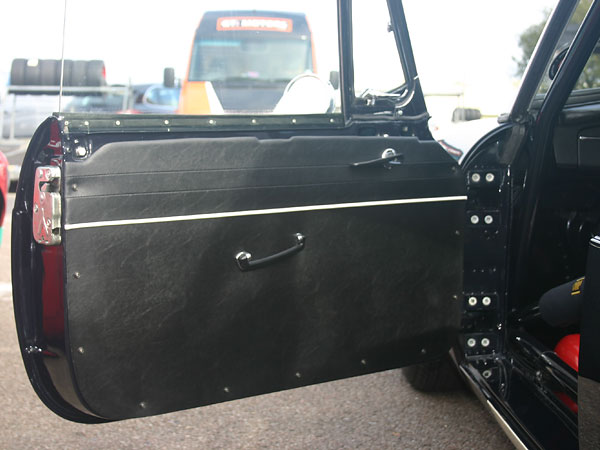 Nicely upholstered door card. This MGB is competitive in its class, but it remains street legal.
David tries to keep it reasonably drivable too. Example: rather than a racing clutch, he uses
a Helix Autosport 8.5" organic clutch. It's proven robust enough for two racing seasons.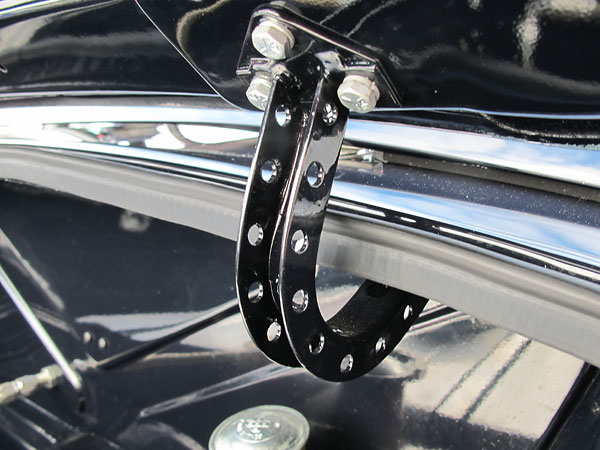 David was working at Lone Pine Garage in Olney when he started building this racecar.
During tea breaks David used their shop equipment to shave grams here and there.


Exterior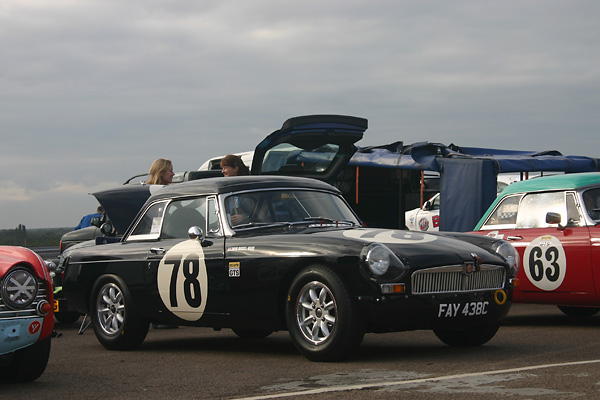 Opened in 1951, Snetterton is one of several venerable racetracks built on WWII bomber bases.
During the war, the base was principally used by United States B17s. It's located 18 miles south-west
of Norwich. From 1956, it was the home of the Jim Russell Driving School. In the late sixties and
early seventies, Snetterton was the home track of Team Lotus. From 1973 to 2002, Snetterton was
the home of Van Dieman International, Ltd., a leading manufacturer of Formula Ford racecars.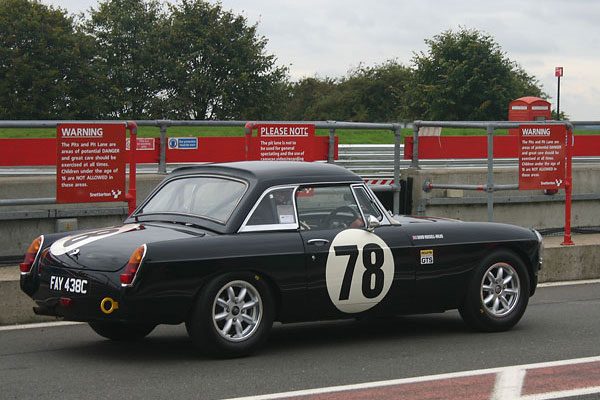 We enjoyed watching David contest an ecurie GTS series race at Snetterton in October 2013.
Based on Saturday's Qualifying Race results, David started seventh of thirteen cars in
Sunday's race and advanced to finish fifth overall with a best lap time of 1:33.454,
averaging 74.43mph around the challenging 1.9840 mile circuit.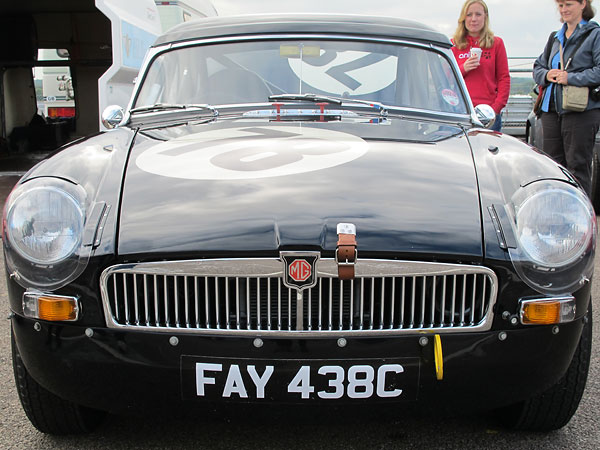 ecurie GTS is a British racing series for small displacement pre-1966 FiA homologated production
sports cars. Administered by The MG Car Club, ecurie GTS visited six of England's best circuits
in 2013. ecurie GTS rules mirror FiA's Appendix K, with just a few pragmatic exceptions.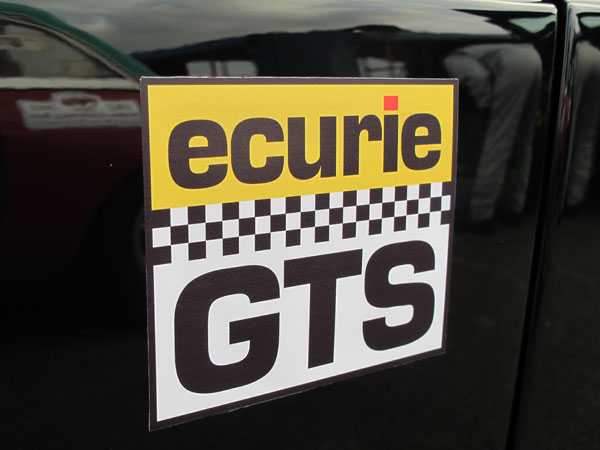 Nineteen makes of classic sportscars are eligible to compete in ecurie GTS events. They're
divided into five classes by displacement. Group 4 is by far the most populous. MGB, Elva
Courier, and TVR Grantura race there. At Snetterton, two Triumph TR4s contested Group 5.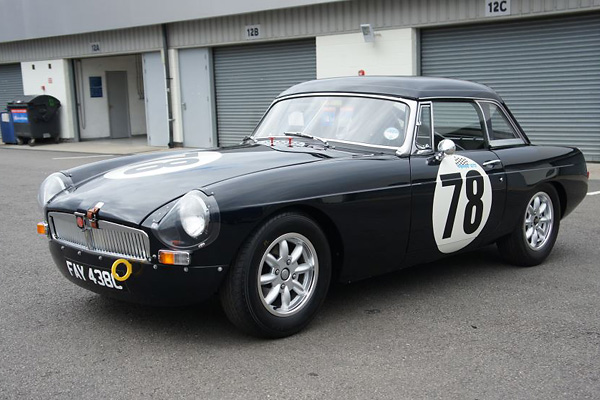 One of the easiest ways to speed up an MGB is to reduce airflow underneath the car with
a spoiler or air dam, but they're prohibited by ecurie GTS. In fact, deep section
front valances have now been prohibited too. Valances must have a crease to retain
original MGB styling. Valance material may be steel, aluminum, or fiberglass.
Holes for an oil cooler are allowed, but brake cooling ducts are prohibited.
(Photo by David Russell-Wilks. Used here by exclusive permission.)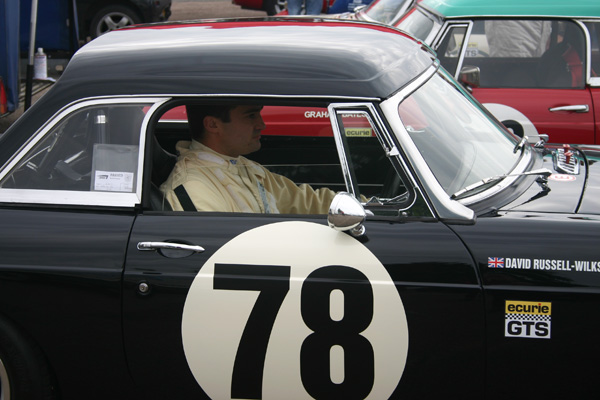 For MGBs, the rulebook says: "All cars must run with closed cockpits using an original
factory hardtop." Hardtops were prevalent on MGBs raced in England in the early sixties,
and were also fitted to the works team MGBs, but the main rationale for the rule is
probably that hardtops hide modern safety equipment: rollcages, tall racing seats, etc.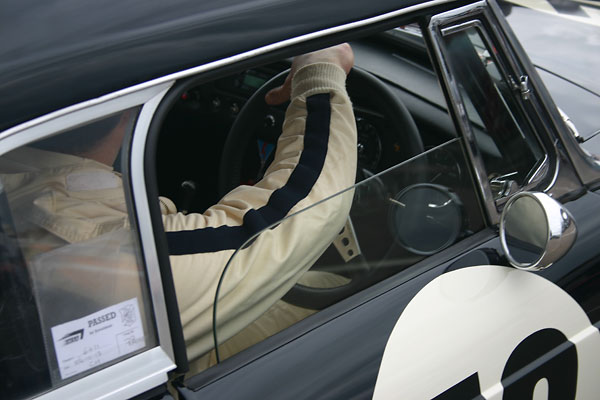 This "Midnight Blue" is a 1965 BMC color, although not offered on MGBs that year.
It's very dark! My photos don't do it justice; this car is stunning in person.
David gives Lone Pine Garage the credit for his car's excellent paint job.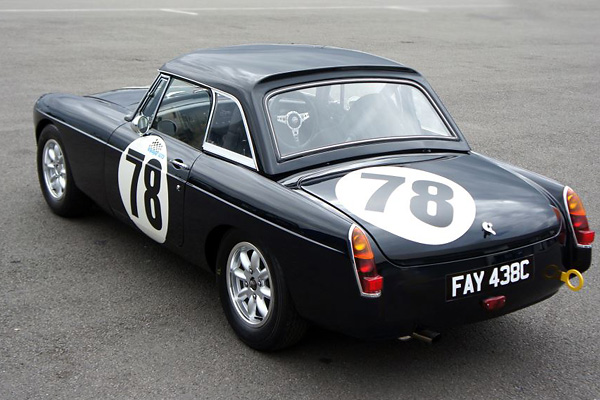 Rain light from a 1960s motorbike, installed upside down to also serve as a license plate lamp.
(Photo by David Russell-Wilks. Used here by exclusive permission.)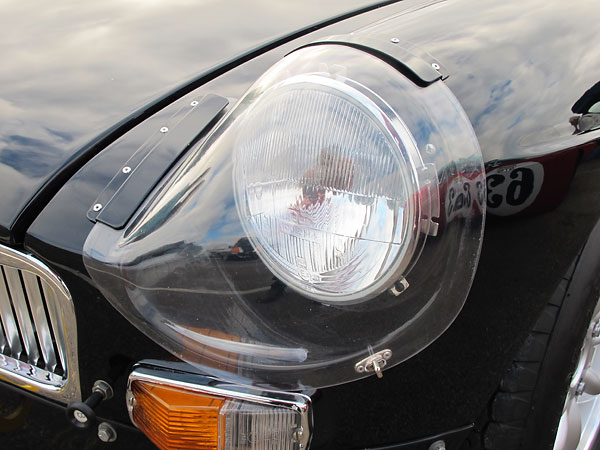 Sebring style headlight fairing. Cibie H4 halogen headlamp.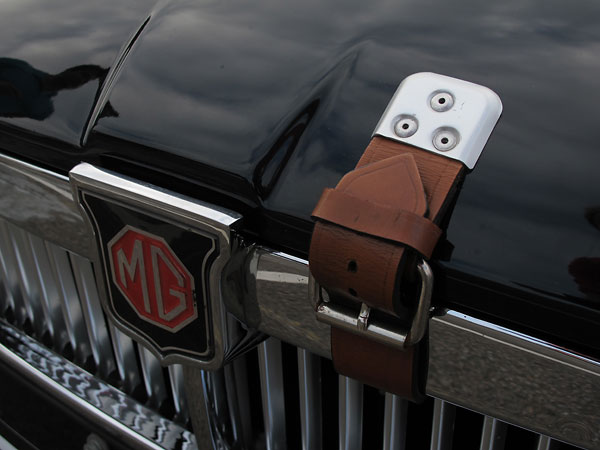 Leather bonnet hold-down strap.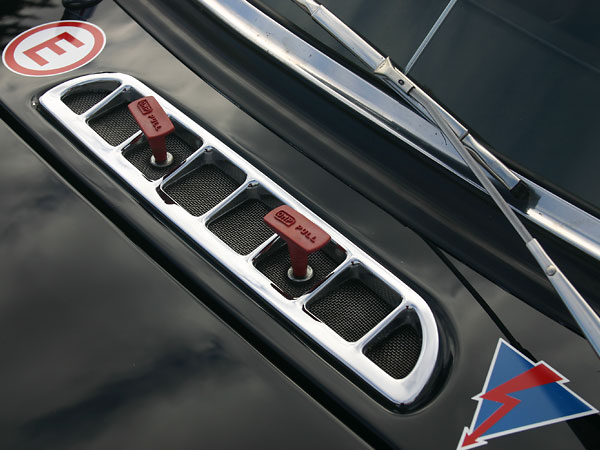 Stickers: "E" for extinguisher and "spark" logo for the master cut-off switch. FiA spec
cut-off switches turn off the engine's ignition system and also disconnect the battery.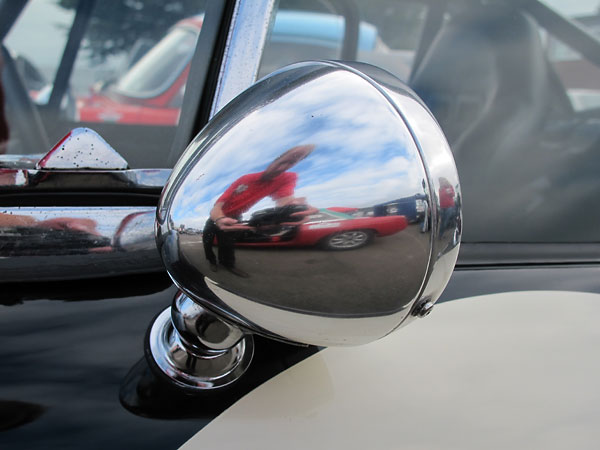 Raydot replica side view mirror: "I changed to a convex mirror to see a bit more.
The driver's side is okay, but I struggle to see anything from the passenger side."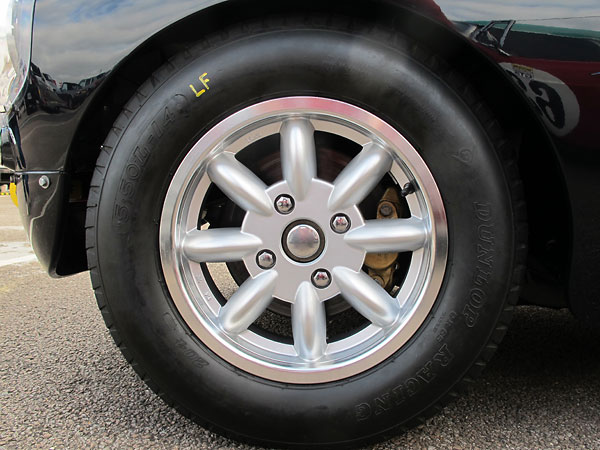 Ecurie GTS rules for wheel and tire selection are rather specific. Wheels must be the
exact size originally fitted by the OEM, and must retain a period-correct appearance.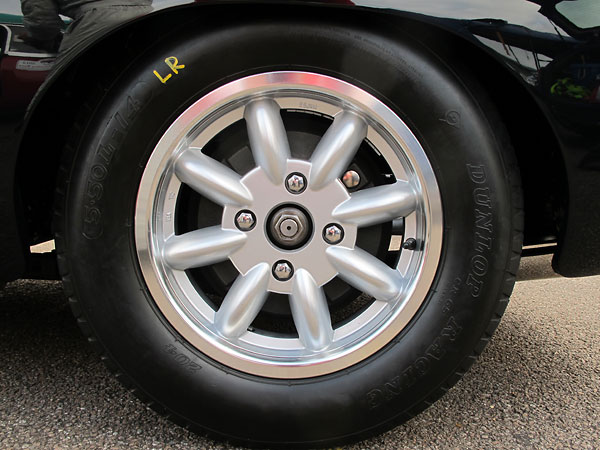 For 2013, ecurie GTS mandated use of Dunlop Racing's CR65 tires and racers were
allowed to select between L and M section widths. However, the M's won't fit a
standard MGB without rolled wheel arches so pretty much everyone uses L's.


Notes:
(1)
The most obvious selling points of Heritage bodyshells are that they don't come with corrosion or collision damage and they don't come with significant metal fatigue either. Less obvious advantages include: (1) they're built with better quality steel than MG had access to, and (2) they're treated to provide categorically superior corrosion resistance and paint adhesion. E-coat is a subclass of electrophoretic deposition painting; it's a technology by which very high quality epoxy primer is electrically bonded to every surface of car bodies via immersion in a chemical bath. (The primer is then oven cured.) E-coat is used by every modern automotive manufacturer worldwide. British Motor Heritage has E-coated Heritage bodyshells since their production commenced in 1988. For additional corrosion protection, in 1993 British Motor Heritage began using galvannealed (not galvanized) zinc-coated steel sheet.

Disillusioned after his first attempt at painting and unhappy about previously applied undercoatings, David took his bodyshell to Surface Processing Ltd. in the West Midlands. SPL's stripping process starts out with "advanced dehydration". By that, we think they mainly mean "heat". Their second stage is an alkaline bath, which removes any organic contaminants such as grease, oil, and most old paint including the E-coat primer described above. Stage three is the famous "acid dip". A dilute solution of inhibited hydrochloric acid will remove rust and any remaining traces of coatings. Depending on concentration and cycle time, the acid may thin and lighten the steel bodyshell somewhat. SPL's fourth stage is an "agitated alkaline neutralisation and passivation immersion" rinse. Finally, they complete their work with an eleven stage E-coat treatment that includes a Zn/Mn/Ni phosphate layer before deposition of PPG electrophoretic epoxy primer.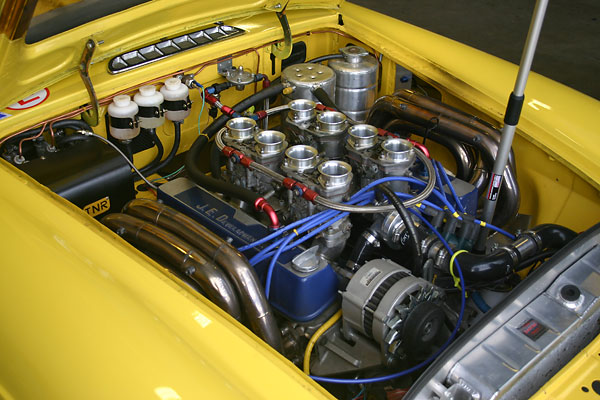 Ollie Neaves' MGB GT V8 Racecar, as photographed by Curtis Jacobson for BritishRacecar.com

Did you enjoy and learn from this article? We have over 10,000 more racecar photos to
publish. But first, we need more readers to pitch-in and help cover this website's
expenses. Please consider making a contribution today. Any amount is helpful.
(A complete list of previous contributors may be found here.)


Except for four photos explicitly credited to David in their captions above, the photos in this article are from October 2013 when we viewed David's MGB at The MG Car Club's Autumn Race Meeting at Snetterton, near Norwich England. Photos by Curtis Jacobson for BritishRaceCar.com, copyright 2013. All rights reserved.



Notice: all the articles and almost all the photos on BritishRacecar.com are by Curtis Jacobson.
(Photos that aren't by Curtis are explicitly credited.) Reproduction without prior written permission is prohibited.
Contact us to purchase images or reproduction permission. Higher resolution images are optionally available.