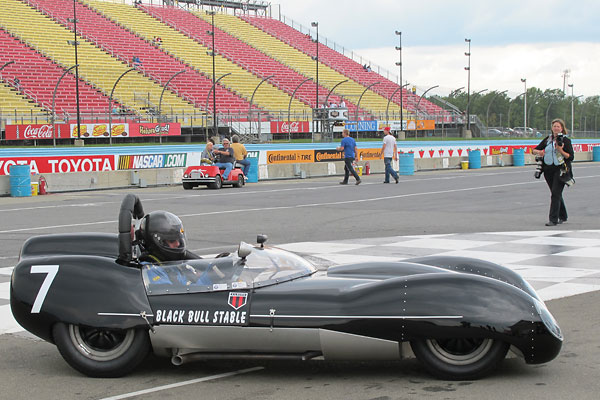 Dudley Cunningham's 1959 Lotus 15 Series 3 Racecar
Owner: Dudley Cunningham
City: Carlisle, Massachusetts
Model: 1959 Lotus 15 Series 3
Engine: Climax FPF 2L four cylinder
Prepared by: KTR Racing


A Lotus Sports Racer for Larger Displacement Racing Classes
Colin Chapman looked to build on the tremendous success of his Lotus Eleven model by developing a similar chassis, except suitably upgraded to accommodate larger displacement and therefore more powerful engines. The Lotus 15 wasn't intended as a replacement for the Eleven; instead, it widened Lotus' product range to cover additional racing classes.

The availability of Coventry Climax's FPF engine series in new and larger displacements was one of the catalysts which propelled the Lotus 15 project. The FPF engine had been conceived for Formula Two, and its production started in late 1956 with a 1.5L (1475cc) version. Soon thereafter, 2.0L (1960cc and 2015cc,) and 2.2L (2205cc) versions arrived. In late 1958 a substantially uprated 2.5L (2495cc) version was announced. Variants of the FPF were competitive in Formula One racing from 1959 through 1961.

In combination with the FPF engine, Lotus also designed the 15 around their own distinctive "Queer Box" transaxle. This was a sequential-shift five speed gearbox and a ZF limited slip differential in a common magnesium housing with a dry sump lubrication system of its own. Like a motorcycle transmission, constant mesh gears and a simple fore-and-aft gearchange mechanism promised very quick gear changes. On the plus side, the design was extremely light and compact. The whole system: gearbox and differential assembly, inboard disc brakes, and halfshafts totaled up to just 85 pounds - all of them behind the driver! The downside was that the gearbox gave many drivers problems; it developed a reputation as "a gearbox full of neutrals."

On first impression, the Lotus 15 looked quite a bit like an Eleven, but a larger radiator opening and a distinctive new low-height, full-width windscreen are two styling cues that set the new model apart from the beginning. Series 2 and 3 examples of the model feature a distinctive bonnet scoop. All Lotus 15s featured all-aluminum bodies by Williams & Pritchard Ltd. Underneath, 15s featured a new but familiar looking spaceframe chassis. The 15 was the first Lotus sports racer to feature four wheel independent suspension, but few of the components were really new: the front suspension mostly carried over from the Lotus Eleven Series 2, and the Chapman Strut rear suspension largely carried over from the Lotus 12 Formula Two racecar.

Lotus had worked hard to minimize the frontal area of the Lotus 15 model although some contemporary magazine reports wildly exaggerated success in that regard. The two models used similarly sized tires spaced apart the exact same distance and covered by similarly profiled fenders. To achieve a low bonnet and scuttle height, Lotus did initially set the Fifteen's Cosworth FPF engine over at a radical angle - ~28° from vertical! - but that quickly proved to be a mistake. After building a half dozen cars, Lotus reverted to an engine installation angle of about seventeen degrees in time for the 1958 24 Hours of Le Mans race. (Coventry Climax engines in Lotus Eleven racecars were leaned over ten degrees from vertical.) Lotus initially angled the FPF engine about 7.5 degrees away from chassis centerline in plan view, to make extra room for the driver seat.

To get the driver as low as possible, the Lotus 15 came with only about a quarter inch of padding in the seat and the backrest was laid-back far enough for some drivers to complain. A carefully contoured wrap-around windscreen was designed to meet the letter of Appendix C rules, while causing minimal air disturbance. Early magazine reports lauded a remarkably low scuttle height of just 24 inches, but perhaps a more important measure of limbo-winning success what that windscreen height relative to the floorboard was 1.25" lower than on the Eleven.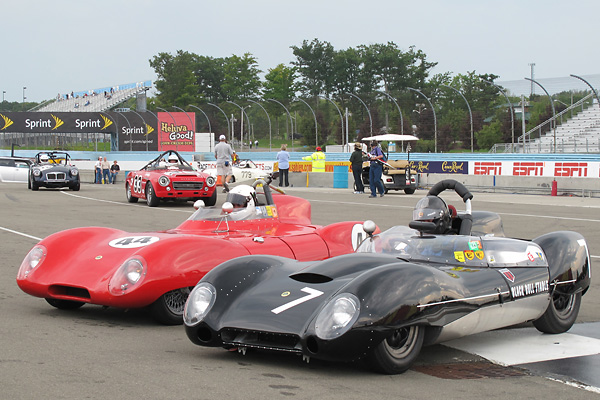 Dudley Cunningham's Lotus 15 shares victory lane with Glenn Stephens' Lotus Eleven.


Production Was Divided Between Three Series Classifications
The Lotus 15 model debuted at Goodwood on 7 April 1958, with Team Lotus driver Graham Hill setting a new lap record before dropping out due to gearbox problems. Queer Box problems seemed to be the model's Achilles heel, so Lotus quickly developed an alternative specification. The Lotus 15 Series 2 featured a BMC B-series four-speed transmission in lieu of the Queer Box. Nine Series 1 cars were built by July 1958 when the Series 2 became available, and eight Series 2 cars were built between July and the end of the year.

A Lotus 15 Series 3 variant was developed for 1959. It featured a somewhat beefed up frame, a differently configured front suspension, and updated bodywork. The Series 3 could be purchased with either a Queer Box five speed (now recommended for 1.5L engines only) or a BMC four speed (recommended for larger displacement cars and export markets.) Other gearboxes were possible too, either on a special-order basis or as an after-the-fact upgrade. At least one customer is known to have special-ordered a ZF five-speed. It's estimated that seven Series 3 cars were built during 1959. Production of the Lotus 15 ceased at the end of 1959.

Total production of the Lotus 15 model has been reported as 28 cars. That's the number you get by simply comparing the first and last serial numbers assigned. However, serial numbers were assigned to replacement frames and to car kits. The Lotus 15 was available fully assembled (at an advertised base price of £2885), or as a kit (advertised from £2395). Sometimes kits were used to repair damaged racecars.

Lotus 15 racecars won some significant races, but they were unlucky at the very highest level of competition. At the 1958 24 Hours of Le Mans race, Cliff Allison and Graham Hill were forced to retire after just three laps due to a head gasket problem with their 2.0L FPF. American drivers Jay Chamberlain and Pete Lovely were entered in the 1.5L class, but Chamberlain wrecked on the 40th lap (of 305). Lotus brought a 2495cc powered 15 to Le Mans in 1959. Co-drivers Graham Hill and Derek Jolly both complained of gearbox problems. Ultimately, Derek Jolly missed a shift and over-revved the engine on the 120th lap (of 323).

In retrospect, the Lotus 15 is certainly one of the last important racecars of the front-engine era. Its career in professional international racing was curtailed because the mid-engined Cooper Monaco came along. After that, front-engined sports racers like the Lotus 15 were obsolete. Lotus turned its attention to developing its own mid-engined sports racer, the type 19 (a.k.a. "Monte Carlo") of 1960.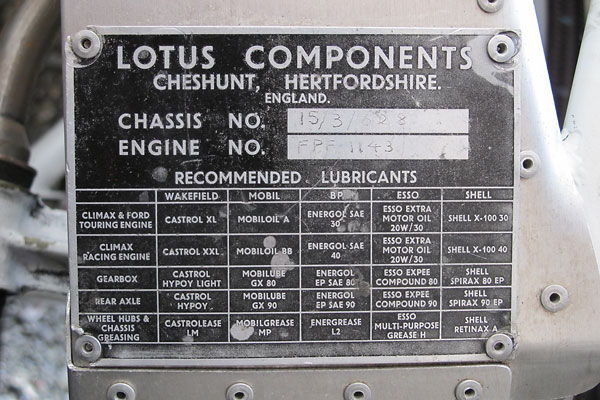 LOTUS COMPONENTS - Cheshunt, Hertfordshire. - England.
Chassis No.: 15/3/628 - Engine No.: FPF 1143


Dudley Cunningham's Lotus Fifteen (chassis number 15/3/628)
Lotus serial number "15/3/628" is believed to be the final Lotus 15 racecar built. (22 are known to survive, and at least five of them are vintage raced in North America.) This car was originally owned by John Posselius who retained a driver named John Charles "JC" Kilburn to race it in the central U.S. and at Nassau in the Bahamas.

During the 1959 Nassau Speed Week, on 4 December 1959, Kilburn's gearbox blew up and he failed to complete the 54 mile Governor's Trophy race. Posselius and Kilburn arranged to have a Borg-Warner T10 four-speed gearbox installed and it has remained in the car ever since!

During the 1960 Nassau Speed Week, on 4 December 1960, Kilburn wrecked in practice for the 242 mile Nassau Trophy race.

Posselius sold the Lotus to Ralph Darlington in 1961. Darlington chose Bill Wadell as his driver. Sometime in this period, Lotus 15 number 628 was repaired and fitted with a Buick 215 dry sump motor. With that motor installed, Wadell won the C-Modified race at Grayling Michigan on September 17, 1961. The team traveled to the Bahamas for 1961's Nassau Speed Week, where Wadell wrecked during practice for the Preliminary Governor's Trophy race (S+2.0). The car flipped over and burst into flames. Extensive repairs were necessary.

There were several more owners. By the late sixties, Lotus 15 number 628 had been registered for street use, and we understand it appeared at many car shows in the Upper Midwest region. Bob Tamsen owned chassis 628 from 1975 until 1993, and he freshened it up while retaining the Buick engine.

Herb Wetanson acquired Lotus 15 number 628 in 1993 and arranged to have KTR Racing restore it. Wetanson purchased a 2 liter Climax FPF from Crosthwaite & Gardiner to replace the Buick 215, and he had KTR Racing substantially alter the chassis in a failed attempt to get number 628 to handle. Ultimately though, the car didn't seem to be a good fit for Herb's needs, so he decided to sell it and purchase a Cooper Monaco.

Early in 2006, fellow KTR Racing customer Dudley Cunningham leapt at the opportunity to purchase number 628. He wanted to restore it as correctly as possible, and to this end he worked closely with Lotus 15 registrar and guru Bill Colson. Colson provided copies of original drawings without which KTR would have been lost, and he even came over from England to supervise key aspects of the restoration.

When Dudley Cunningham arranged to purchase number 628, he had already been racing a Lotus Eleven Series 2 for nearly 30 years. He initially found the 15 to be much less sure-footed, but it wasn't clear what specific changes were needed. Lap times were slower in the 15 despite a substantial power advantage. However, KTR's John Brundage has now figured out how to set up the car so it handles better than ever. Now it's much more toss-able and it does a far better job of delivering power out of corners. Dudley Cunningham has picked up ten seconds per lap at Watkins Glen in just the last year or so! Now that Cunningham knows what the car can do, he doesn't expect he'll ever let it go.


Features and Specifications
Engine:
Coventry Climax FPF (DOHC) 2.0L four cylinder engine. Dual Weber 48DCO 2S/P carburetors. Custom fabricated aluminum intake manifolds. K&N pleated oiled-gauze air filters. Lucas distributor. Lumenition breakerless ignition module. Lucas AB14 (part# DAC4104) electronic ignition amplifier. Lucas Sport ignition coil. Moroso Blue Max 8mm spark plug wires. Baldwin Filters B253 oil filter on a Mocal remote filter mount.

Cooling:
custom aluminum crossflow radiator, painted black.

Exhaust:
custom stainless steel tri-y headers. (Bung for O2 sensor on secondary collector.)

Transmission:
Borg Warner T10 4-speed. Hurst shifter. Girling 5/8" bore master cylinder.

Rear End:
BMC final drive housed in a custom housing. Limited slip differential

Front Susp.:
dual wishbone front suspension, although with anti-sway bar arms serving as the rearward legs of the upper control arms. KONI double-adjustable aluminum bodied coilover shock absorbers. Hyperco springs. Alford & Alder forged uprights. 47" track.

Rear Susp.:
KONI double-adjustable steel bodied coilover shock absorbers, mounted in Chapman Strut fashion. Hyperco springs. (A single low-mounted trailing link in combination with the halfshaft completes wheel location.) 48" track. 88" wheelbase.

Brakes:
(master) dual Girling (3/4" bore) master cylinders with adjustable bias bar.
(front) Girling AR 2" bore aluminum brake calipers with 9.5" solid rotors, mounted outboard.
(rear) Girling NR 1.5" bore aluminum brake calipers with solid rotors, mounted inboard.

Wheels/Tires:
Lotus magnesium wobbly-web 6-lug wheels. Dunlop Racing tires (5.00L-15 front & 5.50L-15 rear, CR65 MkII tread pattern, 204 compound.)

Electrical:
Enersys Genesis (Yuasa) NP33-12 sealed lead acid battery. Hitachi gear reduction starter, part number B114-264TP.

Instruments:
(left to right) Smiths oil temperature guage (40-140C), Smiths dual oil pressure (0-100psi) and water temperature (80-230F) gauge, Stack tachometer (0-8000rpm), and Smiths ampmeter (+/-30 amps).

Fuel System:
Facet (Bendix Style) electric fuel pump. Mr Gasket adjustable (1-6psi) fuel pressure regulator. 19 Imperial gallon aluminum fuel tank, custom built to original Lotus engineering drawings.

Safety Eqmt:
Schroth Racing 6-point cam-lock safety harness. SPA Firesense AFFF (15 pound, 2 liter) centralized fire suppression system. SPA quick release steering hub, mounted on a RaceTech steering wheel.

Weight:
~980 pounds, dry.


Engine Installation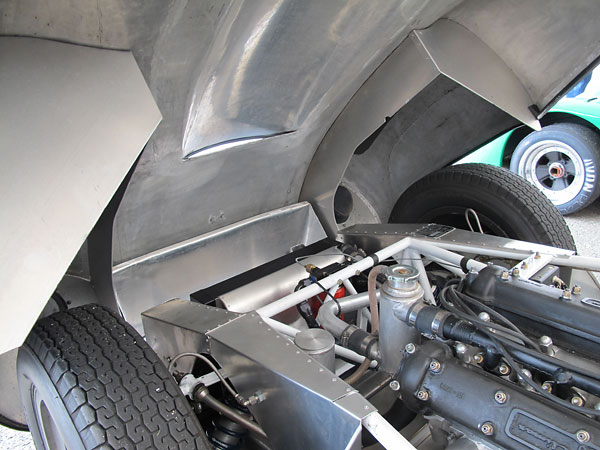 Coventry Climax FPF (DOHC) 2.0L four cylinder engine with dual Weber 48DCO 2S/P carburetors.
The engine features gear driven dual overhead camshafts, with valves installed at a 66° angle.
The aluminum engine block holds wet iron liners.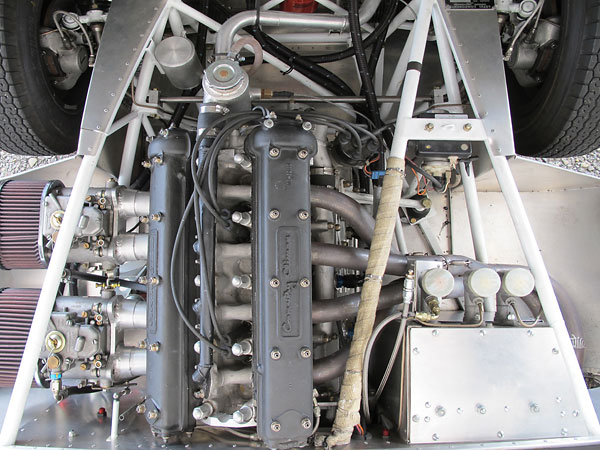 Although initially conceived for Formula Two, with development the FPF engine came to dominate 2.5L
Formula One. For the 1961 Formula One season, maximum engine displacement was restricted to
1.5L, so the FPF continued into the new era. Claimed output dropped from 239bhp to 151bhp.
With an FPF-powered Cooper, Jack Brabham won the 1959 and 1960 championships.
FPF-powered Lotus racecars won three Formula One championship races in 1961.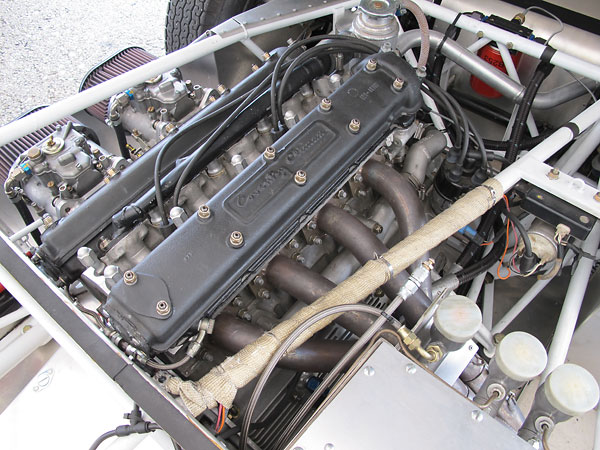 In this view you can just see the aluminum gearbox adapter plate to which a Borg Warner T10 4-speed
transmission is mounted. The T10 was installed in early 1960 after the original BMC 4-speed failed
at Nassau. Dudley would rather have a different transmission but this one seems to be plenty
durable and he's getting used to it. "It's about as good as you can make it." The Lotus 15
originally came with a hydraulic clutch, and this example still has one.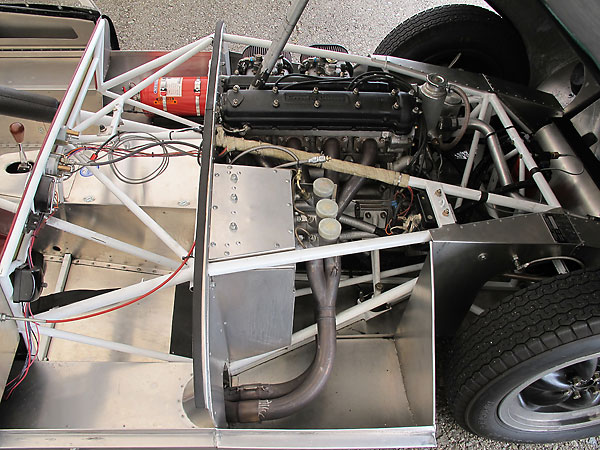 The Climax FPF engine is relatively lightweight for its output. In final 1961 Formula One
trim it weighed approximately 255 pounds, dry.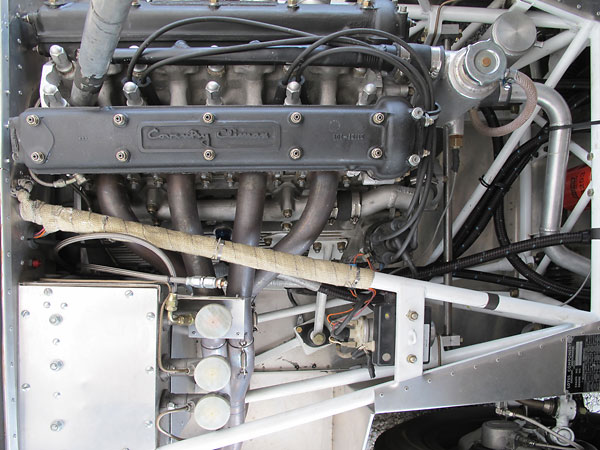 After 1961 the FPF engine was no longer competitive in Formula One. The technological trend
favored V8 engines, which revved faster without sacrificing reliability. At the height of its
development, the FPF was good to ~7500rpm. The Climax FWMV V8 which replaced it in
1962 was good to 8500rpm, and was uprated for 10,500rpm operation by the 1965 season.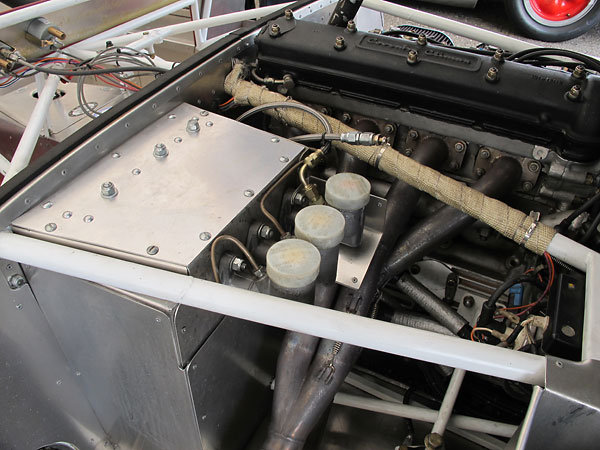 Dual Girling 3/4" brake master cylinders and Girling 5/8" clutch master, all with integral reservoirs.
Original Lotus 15s came with a single brake master cylinder, but they were the first Lotus racecars
to come standard with hydraulically operated clutchs.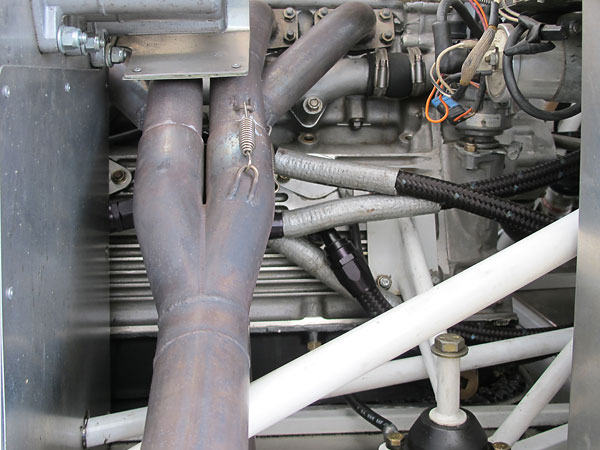 Custom stainless steel tri-y exhaust header, built by KTR Racing.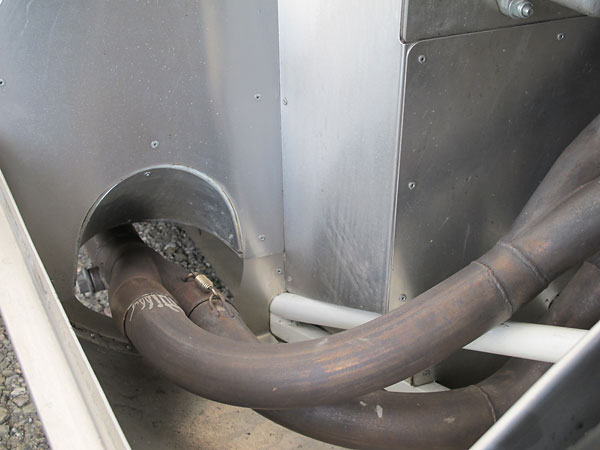 An oxygen sensor bung has been welded on, beyond the secondary exhaust collector. In combination
with an air/fuel ratio gauge or data acquisition system, a wideband oxygen sensor is an exceptionally
helpful tuning tool. Since they're conspicuously modern, vintage racers typically remove them for races.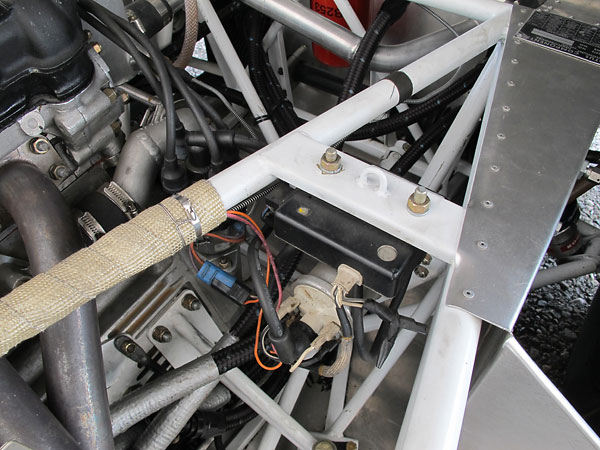 Lucas AB14 "constant energy ignition" box (part# DAC4104, '93 Jaguar XJS spec)
and Lucas Sport ignition coil.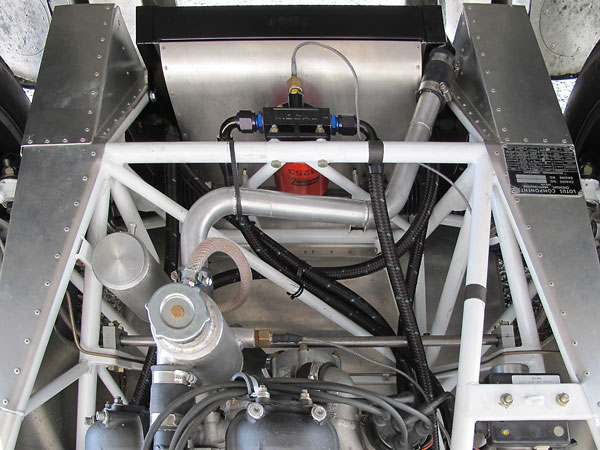 Baldwin Filters B253 oil filter on a Mocal remote filter mount.



IMPORTANT ANNOUNCEMENT
BritishRaceCar.com will have to cut back plans for continued growth if we can't find more financial support.
If you like what you've found here, and you want to see more, please click here and follow the instructions.
Readers like you keep BritishRaceCar.com online and growing through voluntary financial contributions.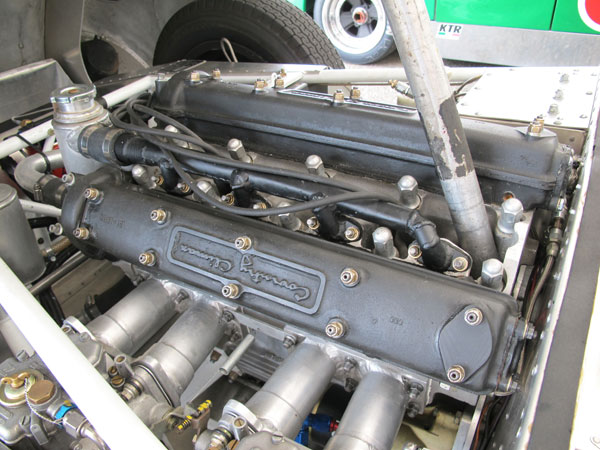 Coventry Climax had developed the FPF engine for Formula Two, and designed a dry sump lubrication
system for it from the beginning. Lotus redesigned much of the system (oil pan, pickups, pump, etc.)
plus other installation parts (e.g. intake manifolds) to lay the FPF engine over about ~28° from
vertical. Getting engine mass low in the chassis was a laudable goal, but it came at great expense in
terms of reliability. After building six cars, Lotus reverted to a seventeen degree installation angle.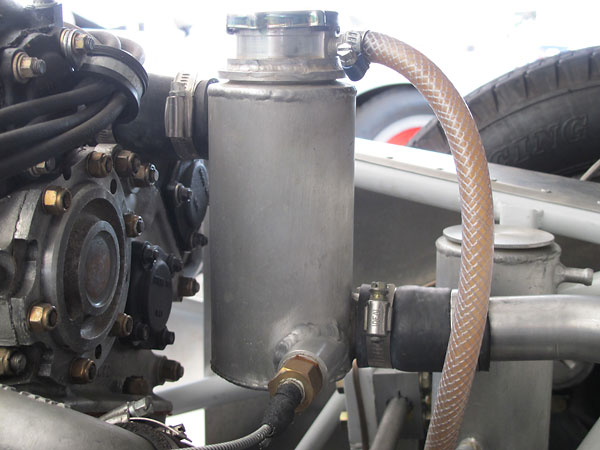 Custom fabricated coolant header tank / swirl pot.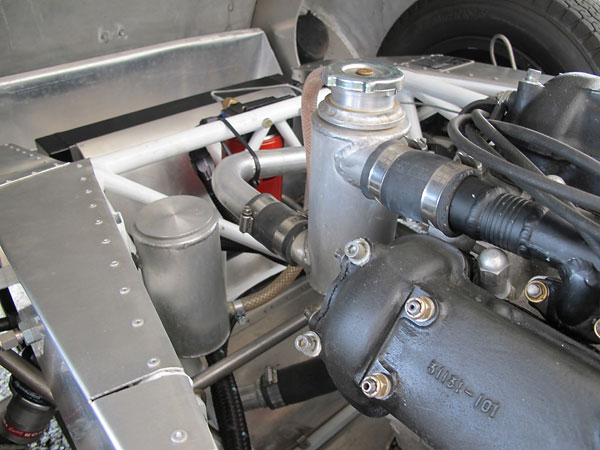 If coolant pressure rises too high, the system will vent into the overflow tank at left.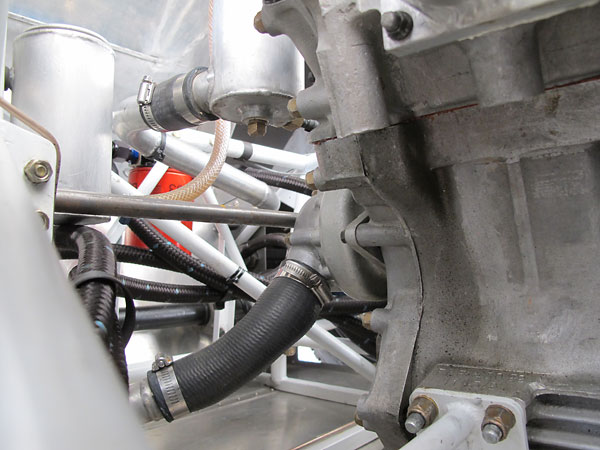 Water pump and lower radiator hose.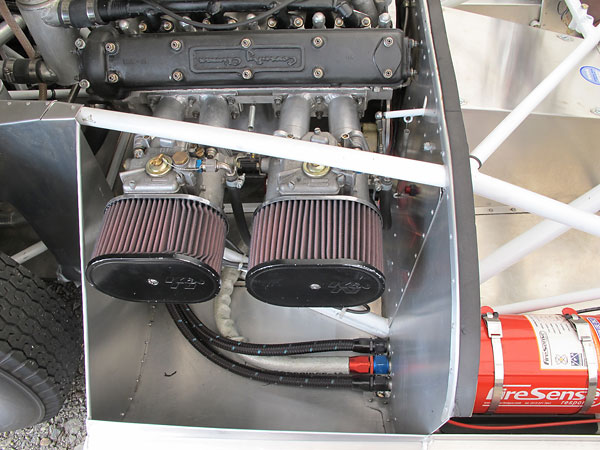 K&N pleated oiled-gauze air filters. Hoses to and from a rear-mounted engine oil reservoir.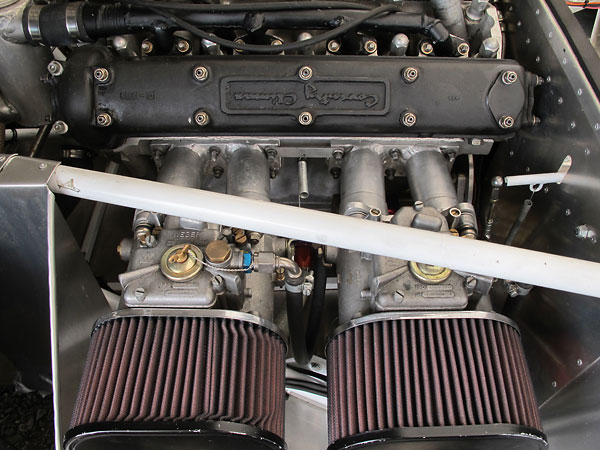 Dual Weber carburetors mounted on custom fabricated aluminum intake manifolds.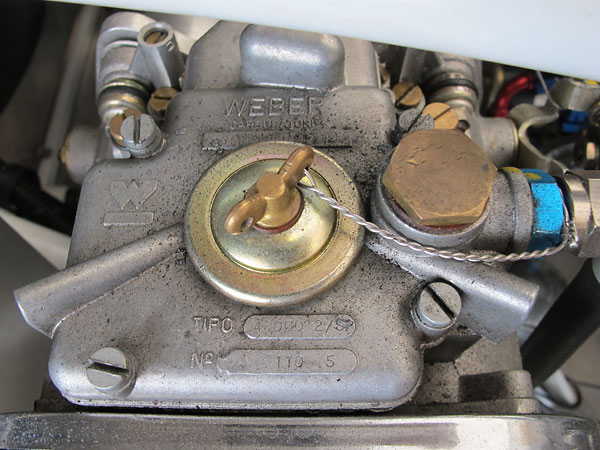 Weber Type 48DCO 2S/P carburetor, number 110 5.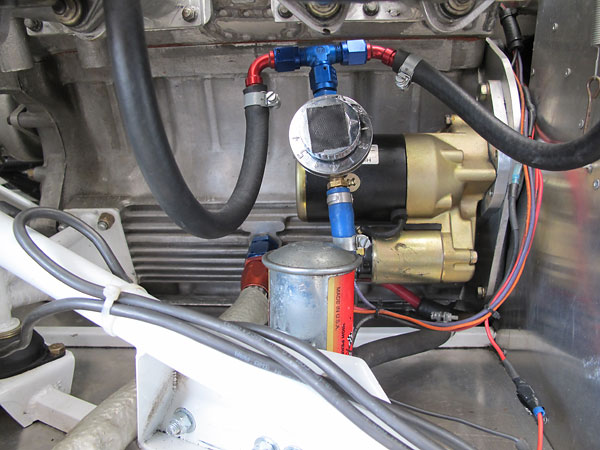 Facet (Bendix Style) electric fuel pump and Mr Gasket adjustable (1-6psi) fuel pressure regulator.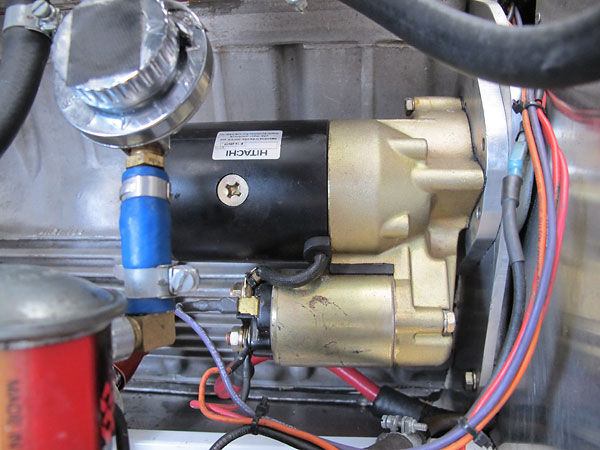 Hitachi gear reduction starter, part number B114-264TP. Note aluminum adapter.
Back in the day, a large Lucas starter was used.


Front Suspension / Etc.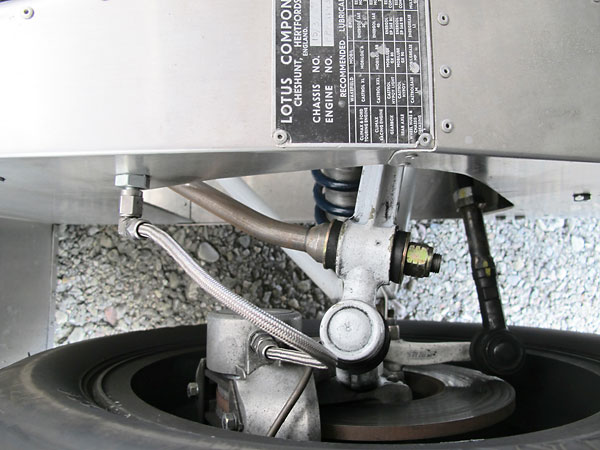 Lotus initially utilized the Eleven Series 2 front suspension on the Lotus 15. Nominally this was
a dual wishbone front suspension. However, to minimize weight Lotus configured anti-sway bar arms
to also serve as the forward facing legs of the upper control arms. As shown here, for the Lotus 15
Series 3 Lotus simply flipped that idea around so that the anti-sway bar were mounted on the
rearward side. This change was reportedly made to provide more room for radiator installation.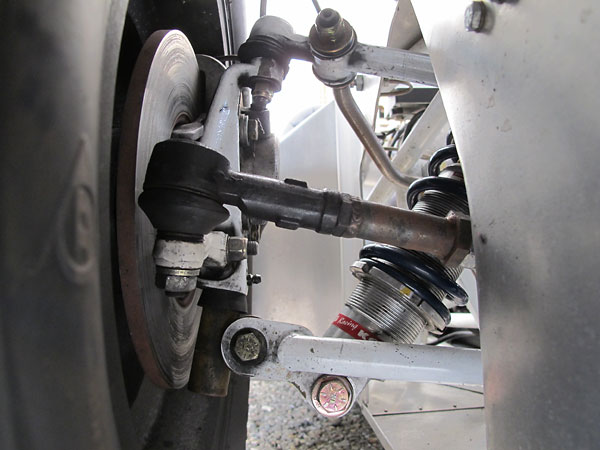 Alford & Alder forged uprights. KONI double-adjustable aluminum body coilover shock absorbers.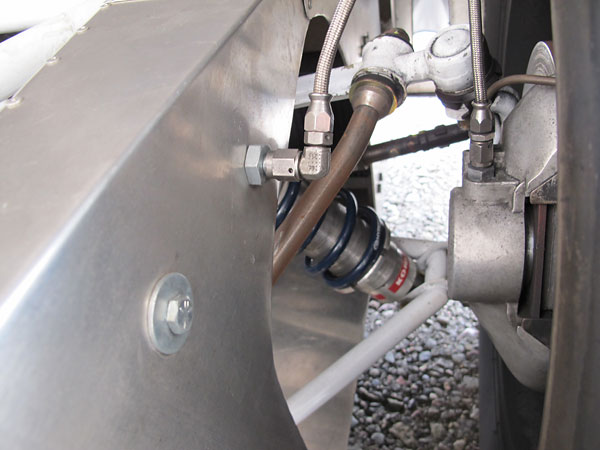 Using an anti-sway bar as a suspension link is inherently problematic. The bar inevitably flexes
and binds, causing odd suspension behaviors which can be difficult to diagnose or correct. This
Lotus 15 Series 3 was originally built with a 1/2" diameter front anti-sway bar. Handling
improved dramatically when it was upgraded to a 5/8" diameter bar.
Altered roll stiffness was only part of the result.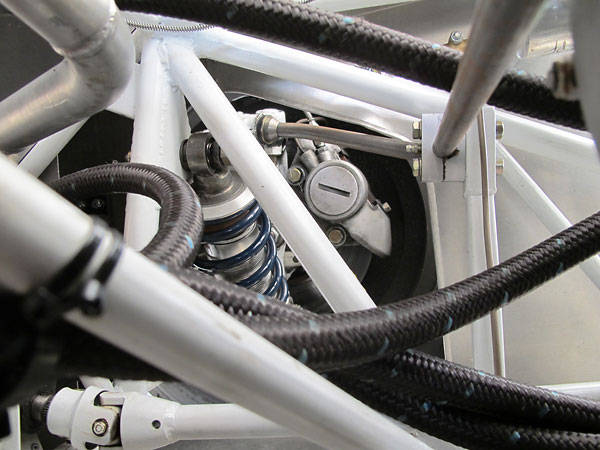 Girling AR 2" bore aluminum brake calipers with 9.5" solid rotors, mounted outboard.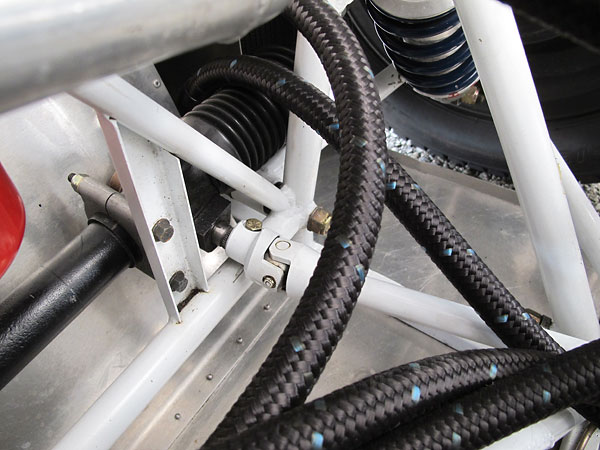 Steering rack mounting details. Note also that lower control arm mounting points are widely spaced
to better absorb braking reaction forces.


Enjoying this article? www.BritishRaceCar.com is partially funded through generous support from readers like you!
To contribute to our operating budget, please click here and follow the instructions.
(Suggested contribution is twenty bucks per year. Feel free to give more!)
Rear Suspension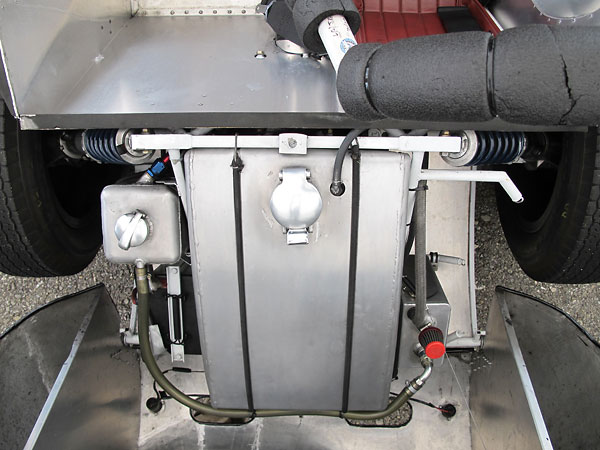 The Lotus 15's Chapman Strut independent rear suspension is remarkably simple and lightweight. In
principle, the strut is simply a coilover shock absorber with its bottom end rigidly connected to
the hub carrier. It's the associated lower link which distinguishes a Chapman Strut: there's no
lower control arm and instead a fixed length halfshaft determines the suspension's track width.



On bump or roll, as the coil spring and shock absorber compress, the top of the tire tends to angle
inward producing a camber gain effect. Chapman promoted this as stability enhancing, and additionally
noted that it automatically compensates for the changing traction available due to reduction in fuel
weight over a long race. Although this design was generally carried over from the Lotus 12 F2
car, one detail difference is that the shocks are angled more inward for greater camber gain.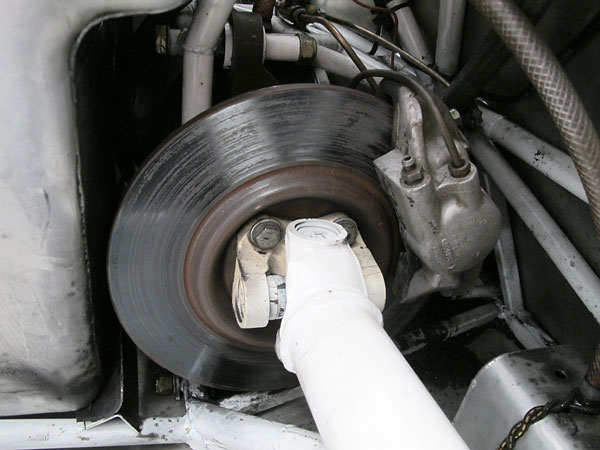 Girling NR 1.5" bore aluminum brake calipers with solid rotors, mounted inboard to
minimize unsprung weight and thereby improve road holding and ride quality.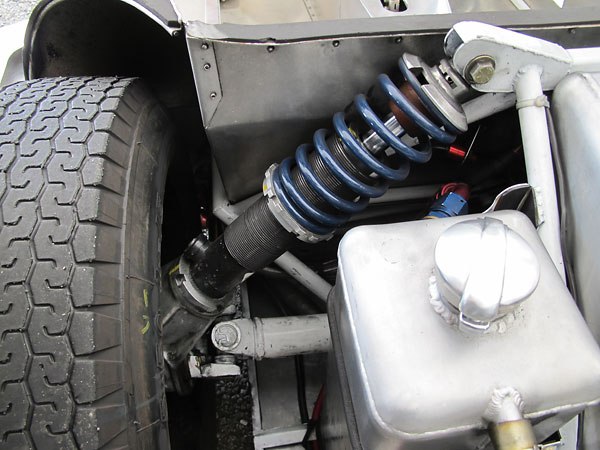 Unfortunately, our photos don't show the single dog-legged trailing link (a.k.a. radius rod) which
connects very low on the hub carrier and routes forward and inboard parallel-to but a couple inches
above the floorboard to control fore/aft wheel movement. It's a rather short trailing link, so its
rotational movement causes significant toe-in on bump and thus a noticeable roll understeer effect.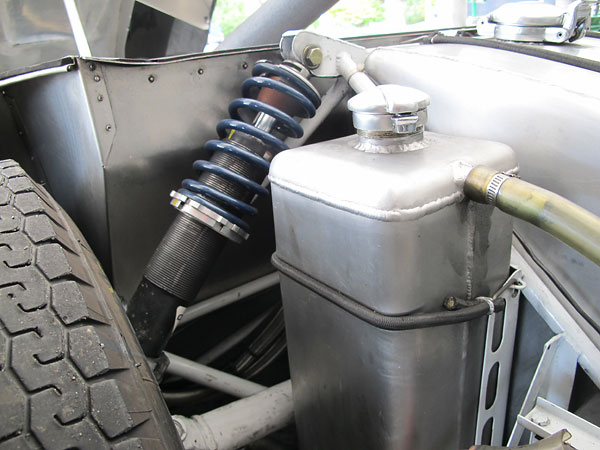 Colin Chapman advocated use of soft spring rates in combination with relatively firm shock absorber
valving. The original shocks were made by Armstrong, and they didn't have threaded perches for easy
ride height adjustment. These are newer and far more sophisticated KONI double-adjustable shocks,
with Silasto bump rubbers which have been engineered to provide a rising-rate through their range
of compression. Foreground: custom aluminum engine oil reservoir. On cars equipped with Lotus'
Queer Box transmission, a gearbox oil reservoir would also be mounted in this space.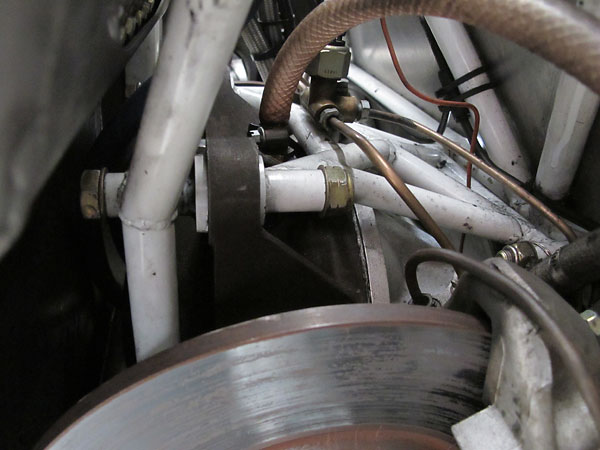 A BMC-pattern differential and gear set are housed inside this light alloy housing. This design
was available off-the-shelf; it had previously been developed for the Lotus Elite sports car.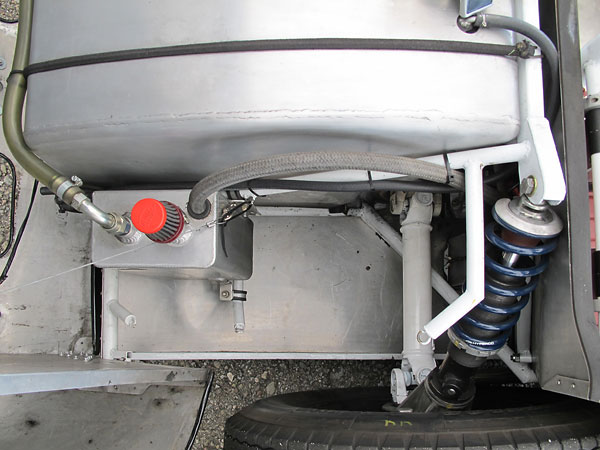 Le Mans rules have traditionally required that racers carry spare tires. On the 15, Lotus
placed the spare tire upright and projecting into the headrest fairing. Here you can see
the three tubular support brackets Lotus provided for the spare tire.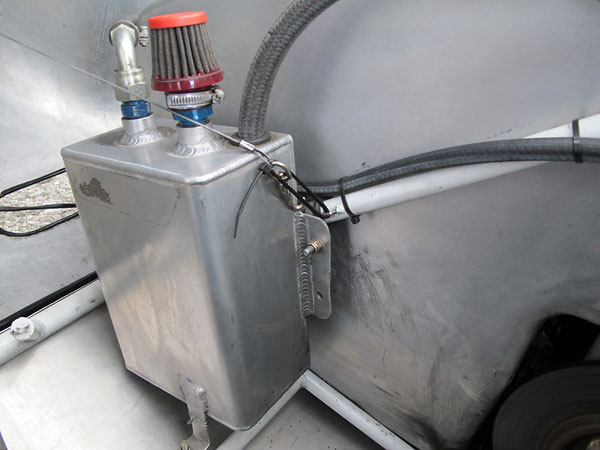 This custom fabricated aluminum overflow/breather tank is a modern addition.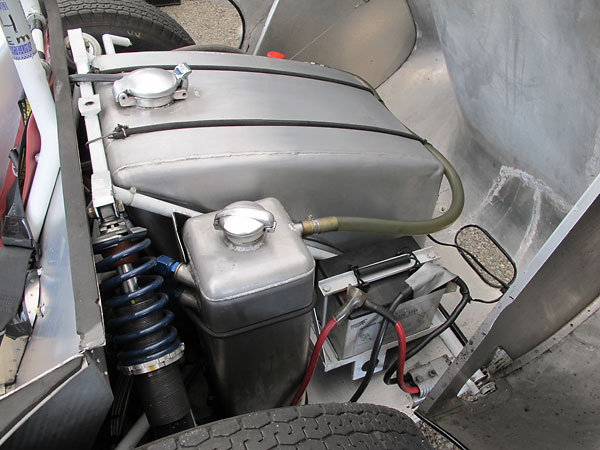 Enersys Genesis (Yuasa) NP33-12 sealed lead acid battery.


Interior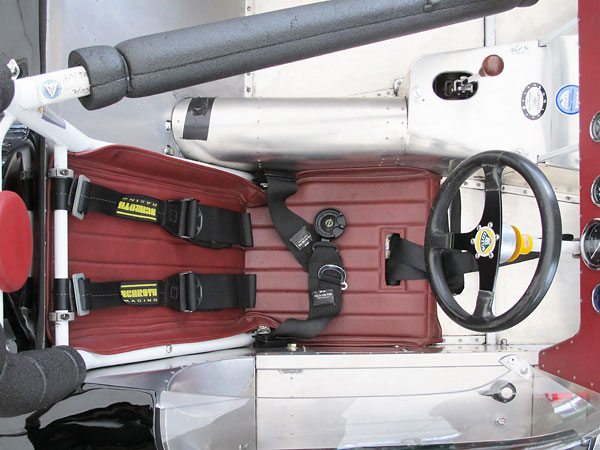 Very thin seat cushions are part of a strategy of placing the driver as low as possible.
The shoulder straps of this Schroth Racing 6-point cam-lock safety harness are narrow for
compatibility with new head and neck support (HANS) devices.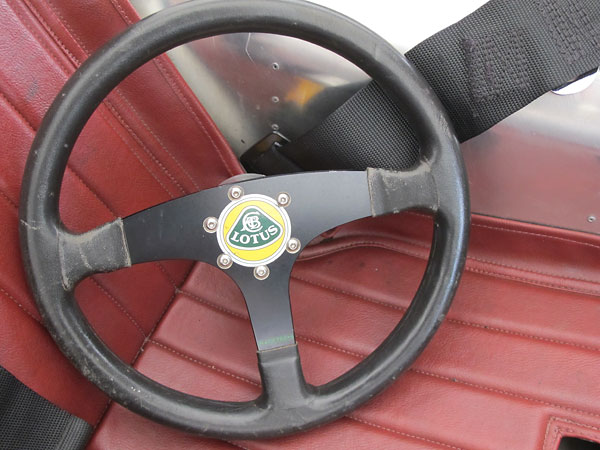 RaceTech leather wrapped aluminum steering wheel.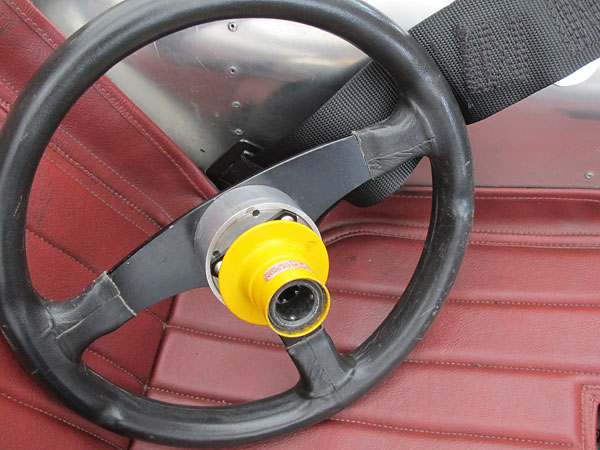 SPA quick release steering wheel hub.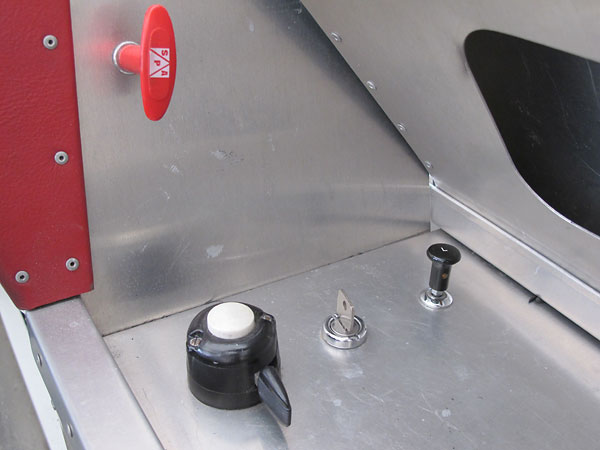 Horn and dip switch? (Is that what it's used for now?)
Does the key switch control the starter too?
What is the knob at right for? (Lights?)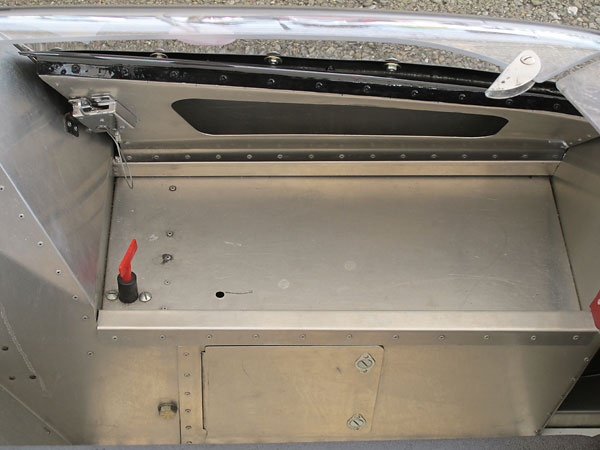 What's behind this access panel? (Plumbing to the dry sump? What else?)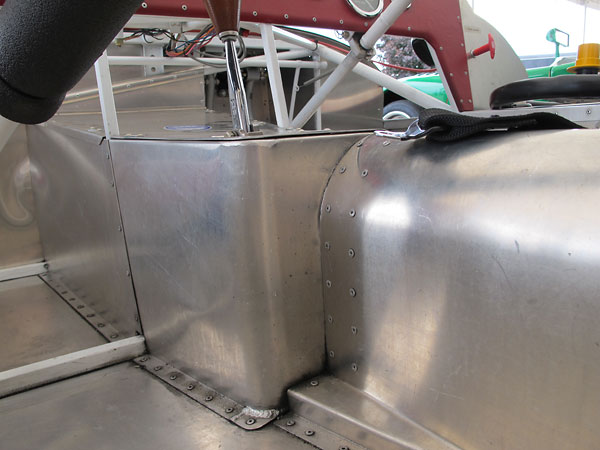 This Lotus 15 originally came with an MGA four speed, but that gearbox failed while original owner
JC Kilburn was racing at Nassau in December 1959. Evidently looking for a more robust alternative,
Kilburn had a Borg Warner T10 four speed installed. A Hurst shifter mounts to its lefthand side.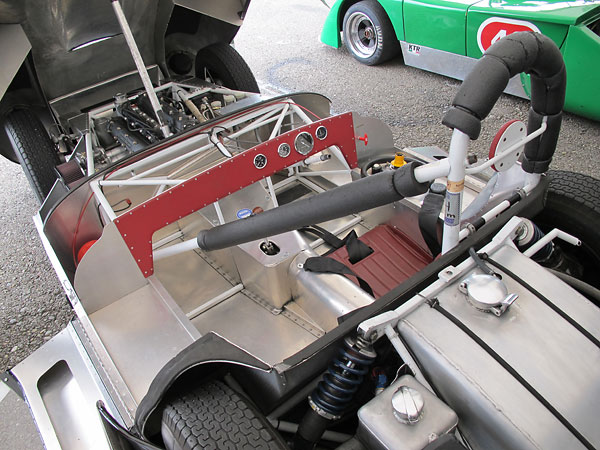 If this particular Lotus 15 had a Queer Box five-speed, the shifter mechanism would look different.
The main shifter moved fore and aft. From neutral, the driver would pull the lever rearward to
engage first (for starting from a stop only.) To upshift, he'd snap the lever forward repeatedly,
once for neutral, twice for second, etc., up to fifth. Reverse had its own lever, projecting
from the back wall between the seats, and operated by the driver's left elbow.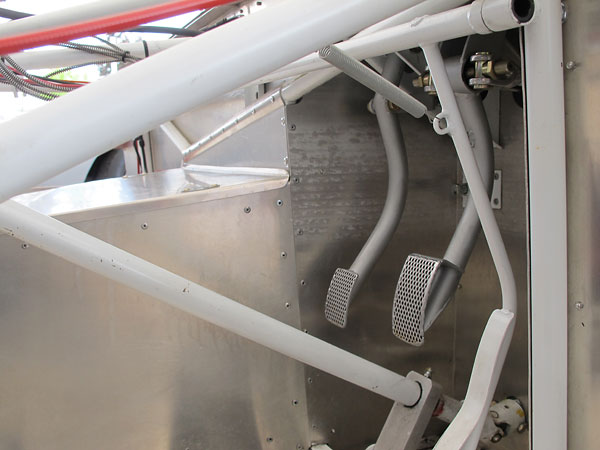 The earliest Lotus 15s had single circuit brake plumbing, and no means for adjusting front to rear
brake bias. By introduction of the Lotus 15 Series 2, dual master cylinders were a standard feature.
Here, you can see the threaded rod that distributes pedal force between the two master cylinders.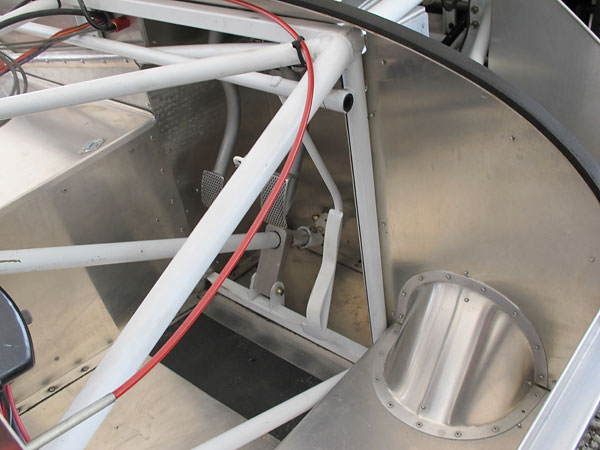 Instead of a cable, the Lotus 15 features a nice, simple, and robust mechanical throttle linkage.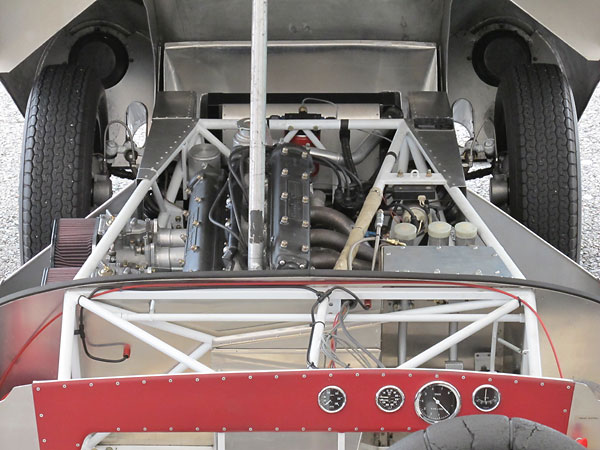 Series 3 cars have one piece front clips which extend all the way from the grille back to the dashboard.
Series 1 and 2 Lotus 15s have a shorter front clip and a separate, fixed cowl similar to Lotus Elevens.
The two tubes that drop from the dashboard straight down to the floor and the transverse tubes they
meet there are also distinctive features of the Series 3 model.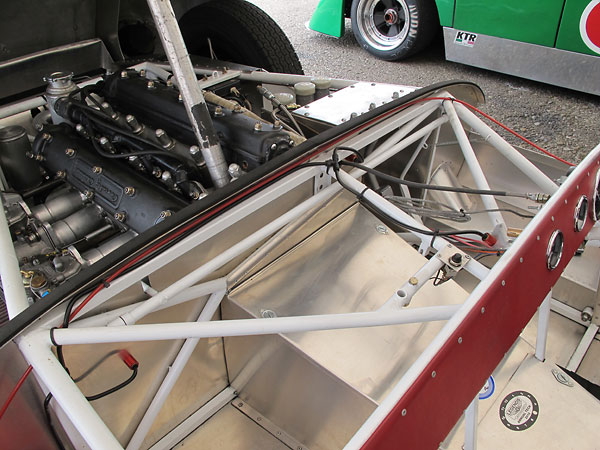 Lotus 15 frames were constructed from a selection of 18 and 20 gauge steel tubing. The main tube
size used was 1.75" diameter round. Square section steel tubing was used in some places too.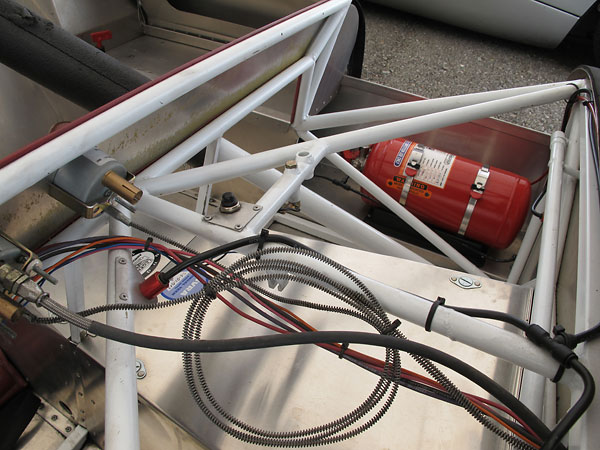 This pushbutton switch actuates features of the Stack electronic tattle-tale tachometer.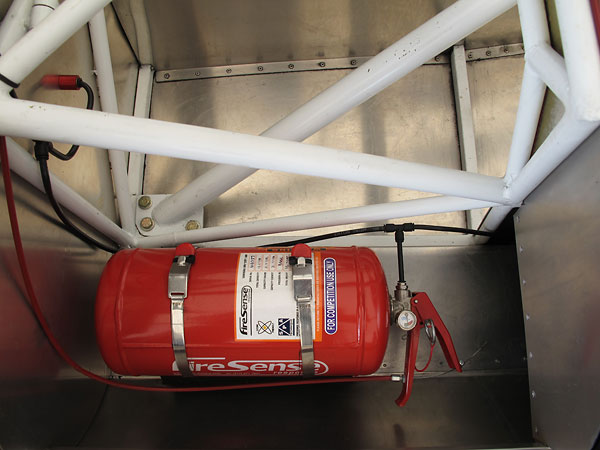 SPA Firesense AFFF (15 pound, 2 liter) centralized fire suppression system.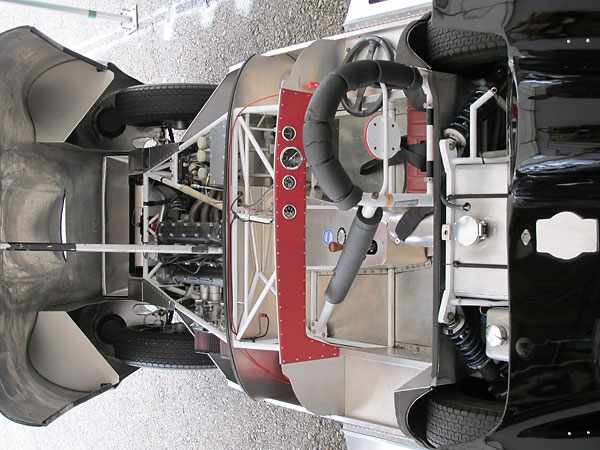 The standard equipment 19 Imperial gallon fuel cell seems huge, but the Lotus 15 was largely designed
for endurance racing. For those events, typically a four or five gallon tank would be added where the
FireBottle is now. Additionally, a saddle tank would have been added behind the dashboard for Le Mans.


Exterior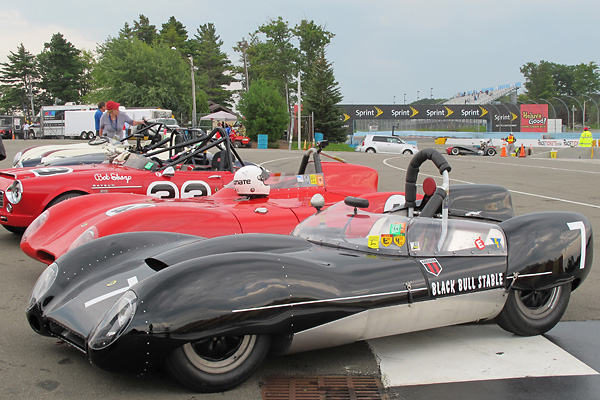 We enjoyed watching Dudley race his Lotus 15 at the 2011 U.S. Vintage Grand Prix of Watkins Glen,
where his best lap was 2:16.713, for an average of 89.5mph over the challenging 3.4 mile circuit. He
won SVRA's Group 3 / Group 4A feature races by comfortable margins on both Saturday and Sunday.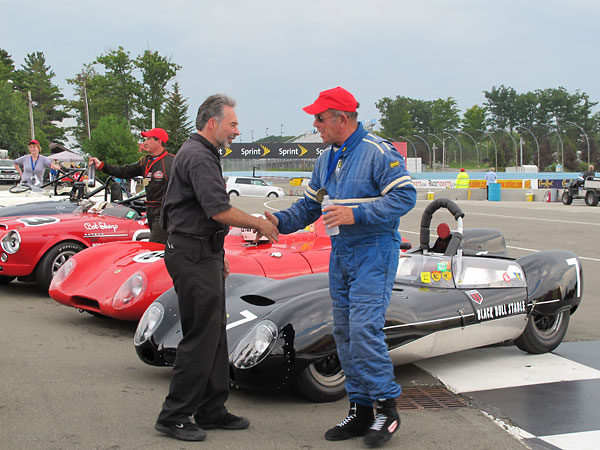 John Brundage congratulates Dudley Cunningham on another fine victory.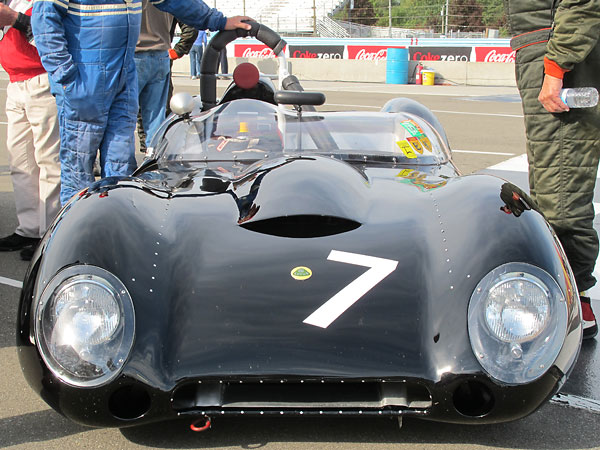 Whereas the design of the Lotus Eleven body is always credited to Frank Costin, the Lotus 15 body isn't
usually credited to a specific designer. It's clearly a derivative of its more famous predecessor, and
Frank Costin did apply for a patent on the "high tail" body feature. Other details may have been
sketched by Lotus head Colin Chapman himself. In any event, construction was entrusted to
one of the preeminent coach builders of the day: Williams and Pritchard Ltd.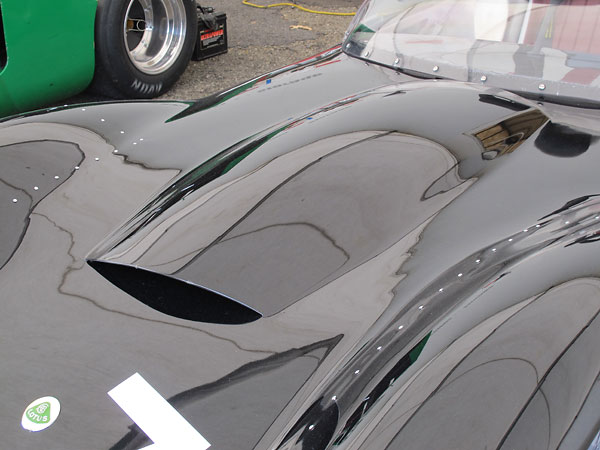 The Lotus 15 proved attractive for engine swaps. Jean Pierre Kunstle of California installed a 2.0L
Ferrari four cylinder, and raced as early as 7 June 1959. Gene Bosman of Pretoria, South Africa
installed a bored-and-stroked (1.5L) Alfa four cylinder in October 1960, and raced successfully.
Dizzy Addicott's Buick 215 aluminum V8 powered car achieved excellent results in England
through the 1962 racing season. It's recently been restored with classic Buick engine in situ!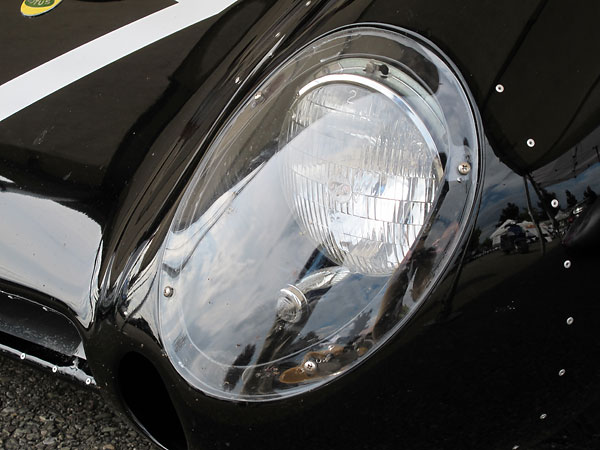 Some race fans see sports racers, and can't help but wonder "What if?" Several Lotus 15s have been
registered and used as street cars - including this one - after it was fitted with a Buick 215 V8 in or
around 1962. In this form, it made frequent appearances at car shows in the Upper Midwest.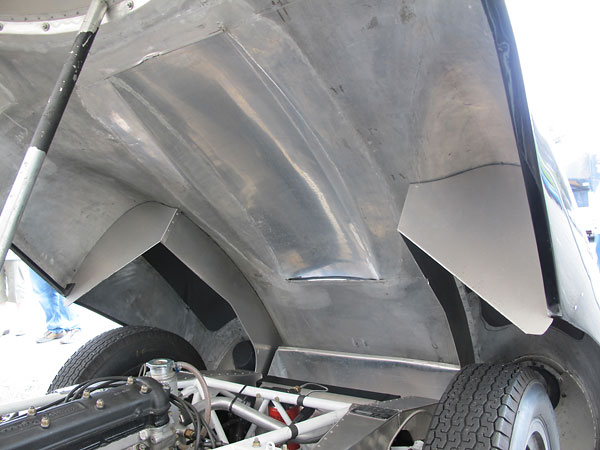 Riveted-on splash guards are part of the original Lotus 15 design. On some cars the rivet heads
have been painted over, but if it's original bodywork it will certainly have rivets.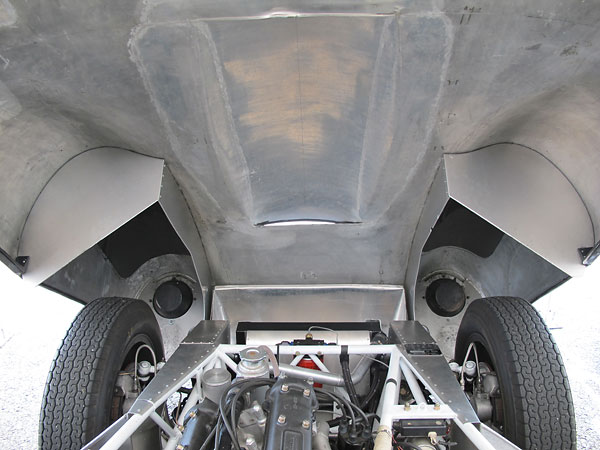 After the earliest cars were built, Lotus decided to shift the FPF more upright in the Lotus 15 chassis.
At that time, a hood scoop was added to accommodate the taller engine installation.
Later Series 3 cars have the scoop opening toward both the front and the rear.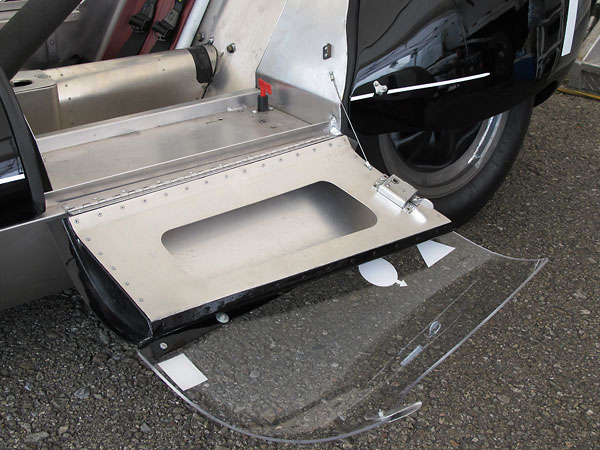 Operable doors were required by Le Mans rules. Be extra careful stepping over these: their
wrap-around Perspex windscreens make them especially vulnerable to damage in the paddock.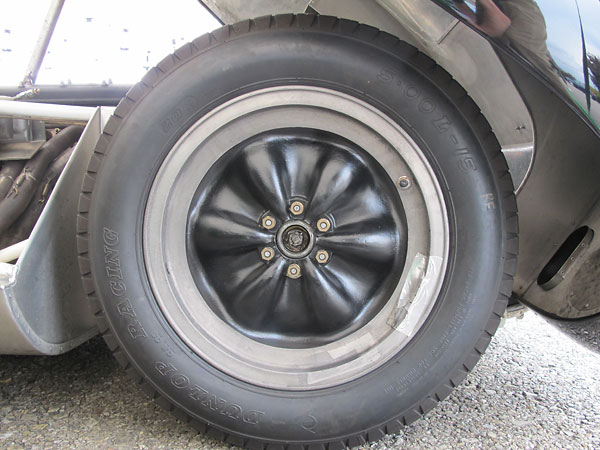 Lotus magnesium wobbly-web 6-lug wheels were standard equipment on the Lotus 15, but probably
better than half of the cars produced were equipped with spoke wheels because (a) they were
less expensive and (b) they could be changed quickly during an endurance race. However,
the magnesium wheels were significantly lighter weight.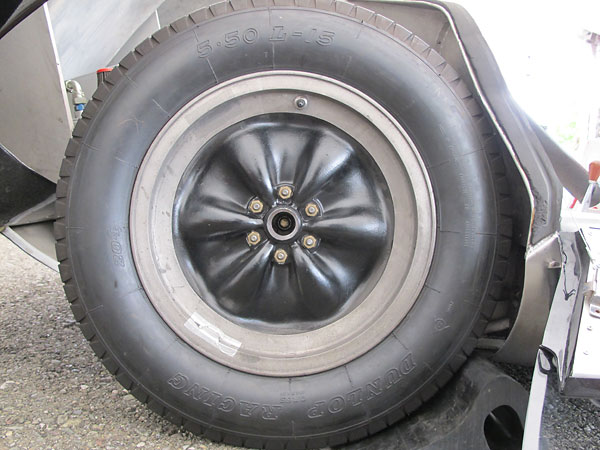 Dunlop Racing tires (5.00L-15 front & 5.50L-15 rear, CR65 MkII tread pattern, 204 compound.)


All photo shown here are from September 2011 when the car appeared at The US Vintage Grand Prix at Watkins Glen. Photos by Curtis Jacobson for BritishRaceCar.com. Copyright 2012. All rights reserved.



Notice: all the articles and almost all the photos on BritishRacecar.com are by Curtis Jacobson.
(Photos that aren't by Curtis are explicitly credited.) Reproduction without prior written permission is prohibited.
Contact us to purchase images or reproduction permission. Higher resolution images are optionally available.