Kurt DelBene's 1964 B.R.P. (BRP-BRM) Grand Prix Race Car
Owner: Kurt DelBene
City: Redmond, Washington
Chassis: BRP 64/2 replica
Engine: BRM 1.5L V8
Race prepared by: Byron Sanborn at Vintage Racing Motors
The British Racing Partnership
After a Brands Hatch directors dinner meeting in November 1957, Stirling Moss' father Alfred and his manager Ken Gregory took an opportunity to talk shop. After many years of supporting Stirling's career, both men realized they'd soon have extra time on their hands because Stirling Moss had recently signed on to two premier works racing teams: Vanwall and Aston Martin. It occurred to the two men that they should establish their own racing team, as a partnership.

Their idea was to purchase suitable cars and hire up-and-coming drivers. Perhaps Stirling would occasionally find time to drive for them between other commitments. It would be fun for all concerned. It might even make a little money. (The partners would be satisfied if it broke even.) These were sportsmen of the noblest type: plucky underdogs who occasionally punched well above their weight. Alfred Moss put up £2000 and also offered his farm as a physical base. After just a couple months, Ken Gregory repaid £1000 pounds from entry fees, prize money and contengency fees (paid by fuel and tire suppliers, etc.). From then on they were equal partners. The new team was named British Racing Partnership.

British Racing Partnership was active from 1958 through 1964. Over that period BRP entered 157 different cars in 275 different races, employing 32 different drivers including three world champions.

BRP's first car was a Formula 2 Cooper, chassis number F2-10-58, with Climax FPF engine number 1041. Their first employee was their Chief Mechanic, Tony Robinson. Robinson had been with Stirling Moss and Ken Gregory since 1953. Stuart Lewis-Evans was the first of BRP's many drivers, and with him they were off to a promising start: a fine fourth place finish in the Lavant Cup.

One of BRP's big challenges was that drivers tended to jump from car to car so frequently. (Like Stirling Moss, Lewis-Evans also drove for Vanwall and Aston Martin.) This affected scheduling and planning, sometimes in dramatic ways. Lewis-Evans died tragically before the end of the 1958 season of burns incurred after an accident in his Vanwall. BRP employed a number of outstanding drivers in those early years, only to lose them too soon.

BRP entered Stirling Moss in two Grand Prix races during the 1959 season. The story behind those entries is an interesting digression: BRM was trying to recruit Stirling Moss to drive their P25 model car, but he wasn't comfortable with BRM's team management. Alfred Moss negotiated a deal where Stirling would drive a loaned BRM P25 but it would wear BRP livery and would be maintained and entered by BRP. Stirling Moss ended up suffering a disqualification at the French Grand Prix, but recovered to place second two weeks later at the British Grand Prix. A schedule conflict prevented Moss from driving the P25 at Berlin in the German Grand Prix, so Hans Herrmann drove it instead. Herrmann had a spectacular accident. (The BRM P25 had its rear brake installed on its propshaft where it was subject to an acute vibration, with an unfortunate result being that it severed a brake pipe and had a total brake failure.) The car was written off, which ended the agreement between BRM and BRP. The BRM P25 was an exception to a rule though; generally, BRP was a loyal Cooper Car Company customer.

1960 was arguably the most important year of British Racing Partnership history because it was the year that Yeoman Credit Finance bankrolled BRP's efforts. "Yeoman Credit Racing" was the first totally sponsor-funded team in the history of motor racing. No team had ever before been sponsored by an outside company. BRP was given a sum of £40,000 just to buy their equipment plus £20,000/year to operate the team. With that much invested, it seemed they could compete on an even footing with any of the works teams. There would still be great difficulties. The team suffered two tragic driver fatalities that year: Harry Schell at Silverstone and Chris Bristow at Spa. Yeoman Credit's sponsorship of BRP wasn't renewed.

In 1961 BRP signed a major sponsorship agreement with United Dominions Trust, who among various holdings owned Laystall Engineering, the principle supplier of crankshafts to the British automotive and aviation industries. The name "BRP" was still used for the management company, but the team's race entries were filled out "UDT-Laystall Racing."

The generous UDT sponsorship deal seemed threatening to BRP's rivals, who frankly feared a bidding war for top drivers. The works teams seemed to feel especially threatened, but they had a way to level things back out. They could decline to sell BRP competitive cars. So it was that when Ken Gregory sat down with his very close and long time friend Charlie Cooper to discuss BRP's needs for the new Grand Prix season, he was told Cooper's supply of gearboxes were already committed, and therefore Cooper wouldn't be able to supply BRP a single complete Formula One racecar until July. (Other teams, including Reg Parnell's, were already scheduled to be served first.)

Ken Gregory did what he had to do; he turned to Colin Chapman for a supply of Lotus racecars. The timing is interesting. Chapman had just signed up driver Jim Clark, so perhaps he didn't feel BRP was such a danger after all. Chapman sold BRP a mixed bag of cars, and they fielded a diverse mix of drivers. The purchase included three Lotus 18 (Formula One) racecars, three Lotus 19s, and one Lotus Elite. (By swapping between Climax four cylinder engines, BRP was able to race the Lotus 19s in four different classes.) In 1961 Grand Prix championship races UDT-Laystall was represented by four different drivers from four nations. They had hoped that Cliff Allison would drive throughout the whole season, but he had a bad accident, and suitable replacement drivers had various schedule conflicts. Lucien Bianchi, Masten Gregory, and Henry Taylor also drove for BRP in 1961 championship series Formula One races. (Juan Manuel Bordeu practiced at the French Grand Prix, but didn't start the race.) Additionally, Stirling Moss, Jo Bonnier and Carl Hammarlund drove for BRP in non-championship Formula One races. Then there were the lesser formulae. It was a busy year with only occasional and moderate success.

For 1962 the UDT-Laystall team was more focused. They committed to fielding just two Grand Prix drivers and to keeping each of them in a specific car for the entire Grand Prix season. (By and large this worked out, although BRP was obliged to use back-up cars occasionally.) UDT-Laystall's star driver would be Innes Ireland, who had recently been dropped hard by Colin Chapman. Their second car would be driven by American driver Masten Gregory. UDT-Laystall procured two new Lotus 24s for the season. Ireland's Lotus 24 was powered by a Coventry Climax V8, whereas Gregory's Lotus 24 car was powered by the newly introduced BRM V8.

Despite focus, the 1962 season went horribly for UDT-Laystall. It started on the wrong foot, with Innes Ireland having an accident at Zandvoort in the first of nine championship races. He would fail to finish four others due to breakdowns. There were other highs and lows. Ireland arrived too late to qualify at London's Formula One (non-championship) Crystal Palace Trophy Race and was thus obliged to start at the back of the grid, yet he sling-shotted past the entire field to grab a magnificent victory. Ireland also demonstrated his quickness by qualifying third fastest at the British Grand Prix. (Ireland lost first and second gear in the lap from the pits to the starting line and thus drove the whole British Grand Prix without low gears. He finished the race fourteen laps behind his personal rival, Jim Clark.) Ireland's best 1962 championship series result was in the season's final race, the South African Grand Prix, where he finished fifth but not before being lapped by 1962 champion Graham Hill. At the end of 1962, UDT withdrew their sponsorship.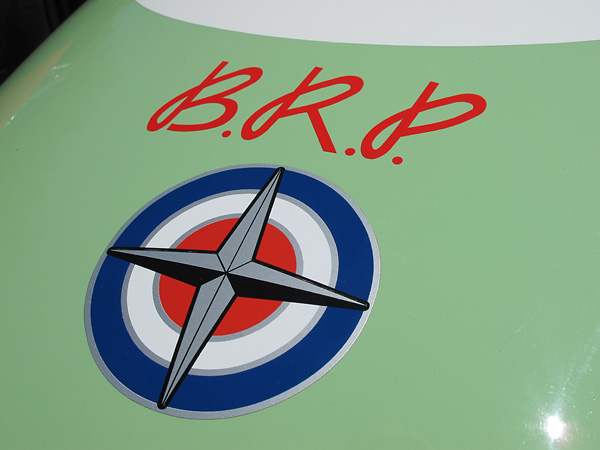 BRP-BRM
British Racing Partnership built their own racecars for the 1963 and 1964 Grand Prix seasons.
For these cars, BRP used British Racing Motors brand engines. BRM's logo is a stylized compass.


Origin of the BRP-BRM Design: a racecar for the monocoque era.
BRM, Cooper and Lotus had obvious conflicts of interest. Each of these companies sold racecars to outside customers and then raced against them with their own works racing teams. Inevitably, this situation led to difficulties. At the start of the 1962 season, Colin Chapman aggressively promoted the Lotus 24 as a brand new design, without telling his customers it would be obsolete by the second round of the Grand Prix championship. The Lotus 24 debuted at the non-championship1962 Pau Grand Prix on April 23rd, and the Lotus 25 debuted at the Dutch Grand Prix on May 20. When the Lotus works team appeared with their new monocoque chassis, Lotus customers such as BRP were understandably peeved. Whereas the Lotus 24's steel spaceframe weighed about 130 pounds, the Lotus 25's aluminum tub only weighed about 70 pounds. Furthermore, the Lotus 25 was reckoned to be much stiffer. Lotus claimed 1000lbft/degree torsional stiffness rising to ~2400lbft/degree with engine installed. Adding insult to injury, Chapman was very clear that the Lotus 25 wouldn't be available to outside customers - not even for the following season!

When the Lotus 25 arrived, many people assumed tube-frame racecars were racing toward a dead end. Indeed, the revolution was coming, but not as quickly as they feared. Brabham won the 1966 and 1967 championships with a steel spaceframe chassis. But BRP strongly believed they needed a monocoque chassis to stay in the race against Lotus, and none was available for purchase, so they drafted their Chief Mechanic Tony Robinson into the role of designer. His brief was simple: "Just like Lotus, take Lotus 24 front and rear suspension parts off the shelf and mount them on a dual-pontoon aluminum tub." (BRP already had a large stock of Lotus 24 spares. If they hadn't, they would have fabricated their own suspension components as in fact they did for the following season.)

Who was this new designer? As a young man, Tony Robinson started a mechanic's career at a London Ford dealership and then served 18 months compulsory service in the RAF. His next job was maintaining trucks for a glass merchant, but in actuality he spent most of his time working on trials and rally cars for the company's principal. In late 1952, Robinson answered a classified ad in Autocar magazine to be a mechanic for Ray Martin Motors. Stirling Moss' Chief Mechanic, Alf Francis, conducted the interview. Ray Martin Motors were building a Cooper-Alta for Moss to drive for the 1953 Grand Prix season. A falling out between Alf Francis and Ray Martin Motors resulted in the project being removed to John Cooper's shop. Robinson moved with the project, becoming an employee - not of Cooper Cars - but instead of Stirling Moss Limited and reporting to Ken Gregory. Robinson would continue working with Gregory for another dozen years.

Robinson summarized how the original BRP-BRM concept came together in a Vintage Racecar magazine interview (Nov./Dec. 2007): "I thought it was time we looked at building our own car. If we were to do that it would have to be a monocoque car, not tubular. We had to keep up with the new trend. A meeting was convened at Papa Moss' dental surgery, in the Strand. [Actualy on Chandos Place, behind St Martin-in-the-Fields church.] I'm not a pen and paper man; just practical. I'm a builder. During the course of the season I kept a look out at how the Lotus 25 was constructed. I began to realize it wasn't too difficult to do. I made up a small section, a cross-section of the tub about 10 inches wide, and took it along to the meeting.

"We could use the suspension parts of the 24's; we had plenty of spares. We could simulate a monocoque chassis, in the style of the 25. It was to use a known factor rather than a direct copy. The suspension, wheels, and other parts were all known to us, too. I didn't make any detailed drawings of the car, just a few sketches to help me. My advantage was having a Lotus 24. I designed our first BRP around that, but using monocoque technology. I used the 24 shape to help with pick-up points for suspension and the like, the front bulkhead and driver positions.

"To manufacture the tub, I needed a good bunch of blokes around me, who were pretty good. I had Jim Chapman and George Woodward (both of whom went to Lola after the demise of BRP), Peter Downing (who went on to power-boat racing), Stan Collier (who went on to RALT), an apprentice named Bruce McIntosh (later responsible for much of McLaren's 'F1' road car, the Mercedes SLR McLaren, etc., before joining Gordon Murray as Head of Engineering and he additionally serves as FIA's Technical Representative for the GP2 racing series.), and Rod Gueran (who had previously served in the RAF as an airframe fitter). A good bunch of lads!"

When the BRP-BRM debuted at Spa in the 1963 Belgian Grand Prix, its appearance was very noteworthy because after the Lotus 25 it was only the second monocoque chassis of the modern era. Right out of the box, Innes Ireland qualified seventh quickest, one place ahead of Jim Clark in the Lotus 25 (with a time of 3:56.9 vs. 3:57.1).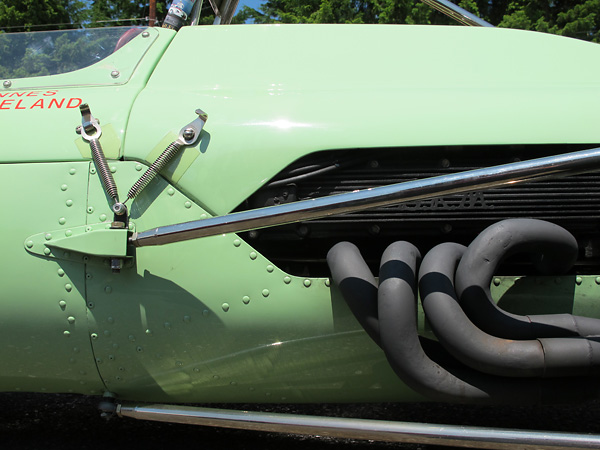 In lieu of a tubular steel frame, BRP created an elaborate fabrication of thin NS4-spec aluminum panels.



IMPORTANT ANNOUNCEMENT
BritishRaceCar.com will have to cut back plans for continued growth if we can't find more financial support.
If you like what you've found here, and you want to see more, please click here and follow the instructions.
Readers like you keep BritishRaceCar.com online and growing through voluntary financial contributions.


BRP-BRM Formula One Results
Charismatic and popular British driver Innes Ireland drove BRP-built racecars in five of ten 1963 Grand Prix championship races and seven of ten 1964 championship races, plus seven non-championship Formula One races. Throughout the 1963 season, Ireland's BRP teammate Jim Hall drove an older car: a BRM powered Lotus 24, but for 1964 Jim Hall moved on and was replaced by Trevor Taylor. Taylor was provided a second-generation BRP-BRP racecar, and he drove it in seven of the 1964 season's ten championship events plus four non-championship races.


BRP's 1963 Grand Prix Championship Results ¹
| | | | | | |
| --- | --- | --- | --- | --- | --- |
| | Race / Venue | Date | Winning Car | Ireland's Result (in BRP-BRM) | Jim Hall's Result (in Lotus 24) |
| 1 | Monaco Grand Prix | May 26 | BRM | (Lotus) retired, accident, Q5 | retired, gearbox, Q13 |
| 2 | Belgian Grand Prix (Spa) | June 9 | Lotus-Climax | retired, gearbox, Q7 | retired, accident, Q12 |
| 3 | Dutch Grand Prix (Zandvoort) | June 23 | Lotus-Climax | 4th, Q7 | 8th, Q18 |
| 4 | French Grand Prix (Reims) | June 30 | Lotus-Climax | 9th, Q9 | 11th, Q18 |
| 5 | British Grand Prix (Silverstone) | July 20 | Lotus-Climax | retired, ignition, Q11 | 6th, Q13 |
| 6 | German Grand Prix (Nürb.) | Aug.4 | Ferrari | retired, accident (1st lap), Q11 | 5th, Q16 |
| 7 | Italian Grand Prix (Monza) | Sept.8 | Lotus-Climax | 4th (engine failed at end) | 8th, Q17 |
| 8 | U.S. Grand Prix (Watkins Glen) | Oct.6 | BRM | withdrawn (injured) | 10th, Q10 |
| 9 | Mexican Grand Prix (Mex.City) | Oct.27 | Lotus-Climax | withdrawn (injured) | 8th, Q15 |
| 10 | South African Grand Prix (P.G.) | Dec.28 | Lotus-Climax | didn't participate | didn't participate |
| | | | | | |
| | | Final: | Lotus (Clark) | 9th in points | 13th in points |
BRP's 1964 Grand Prix Championship Results ²
| | | | | | |
| --- | --- | --- | --- | --- | --- |
| | Race / Venue | Date | Winning Car | Innes Ireland's Results | Trevor Taylor's Results |
| 1 | Monaco Grand Prix | May 10 | BRM | DNS (accident in practice) | retired, fuel leak, Q14 |
| 2 | Dutch Grand Prix (Zandvoort) | May 24 | Lotus-Climax | didn't participate | didn't participate |
| 3 | Belgian Grand Prix (Spa) | June 14 | Lotus-Climax | 10th, Q16 | 7th, Q12 |
| 4 | French Grand Prix (Rouen) | June 24 | Lotus-Climax | retired, accident, Q11 | retired, accident, Q12 |
| 5 | British Grand Prix (Brands) | July 11 | Lotus-Climax | 10th, Q10 | (Lotus 24) retired, unwell, Q18 |
| 6 | German Grand Prix (Nürb.) | Aug.2 | Ferrari | didn't participate | didn't participate |
| 7 | Austrian Grand Prix (Zeltweg) | Aug.23 | Ferrari | 5th, Q11 | retired, suspension, Q16 |
| 8 | Italian Grand Prix (Monza) | Sept.6 | Ferrari | 5th, Q13 | DNQ |
| 9 | U.S. Grand Prix (Watkins Glen) | Oct.4 | BRM | retired, gearbox, Q10 | 6th, Q15 |
| 10 | Mexican Grand Prix (Mex.City) | Oct.24 | Brabham-Climax | 12th, Q16 | retired, overheating, Q18 |
| | | | | | |
| | | Final: | Ferrari (Surtees) | 14th in points | tied for 19th in points |
Podium finishes eluded the BRP team through the two championship seasons, but Innes Ireland did drive his BRP-BRM to victory in the opening race of the 1964 season, the Daily Mirror Trophy at Snetterton.³ Except for Ferrari, all the top teams and most of the top drivers participated. Driving through heavy sleet and in snow, Ireland came from seventeenth place to take the checkered flag in a race that was flagged early due to inclement weather. Only thirty-five of the scheduled fifty laps were run.



Sorting Out the Various B.R.P. Formula One Racecars
The BRP team designed and constructed exactly three Formula One racecars, and all were built for the team's own use. No additional or spare monocoque tubs were built by BRP. The first car of the type, chassis number 63/1, was built specifically for Innes Ireland to drive through the 1963 Formula One season. 63/1 featured a BRM B56 V8 engine and a Colloti Type 32 five speed gearbox, although BRP later updated it to a BRM six speed gearbox.

BRP 63/1 still exists, sort of. After BRP was done with it, 63/1 passd to Alf Francis who in mid-1966 was employed by Scuderia Serenissima to develop a one-off Formula One entry which was to be powered by one of Giovanni Volpi's V8 engines. BRP 63/1's monocoque tub was used, though highly modified with entirely retrograde suspensions at both front and rear. Inboard front suspension was replaced with outboard. Independent rear suspension was replaced with a deDion set-up. Testing went badly. The resulting car unsuccessfully contested one Austrian hillclimb in 1970 before being retired. Photos and additional documentation of 63/1's reincarnation can be found here.

For the 1964 Formula One season, the team built two additional BRP racecars: 64/2 was built for Innes Ireland and 64/3 built for Trevor Taylor. Both 64/2 and 64/3 were built with BRM B56 engines, mated to BRM's excellent six speed transaxles.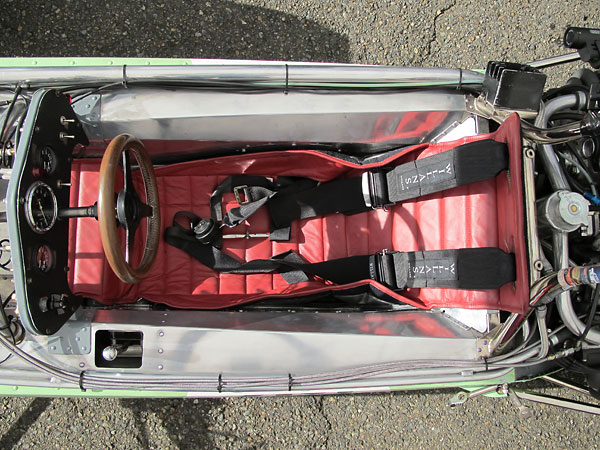 The three BRP-BRM racecars were built around distinctly different NS4 aluminum monocoque tubs. All
three featured a dual pontoon ("bathtub") layout with various thicknesses of aluminum. The pontoons
were generally D-shaped in cross section and about 12" tall by 6" wide, but their shape and dimensions
through the cockpit area varied in detail. 63/1 was 11.0" wide at the pedals, it tapered out to 16.50" wide
at the instrument panel, then it continued rearward with parallel sides along the driver's torso. 63/1's inner
panels were 16 gage and its outer skin was 18 gage. 64/2 and 64/3 were tailored to fit Innes Ireland and
Trevor Taylor respectively. Both of these cars were 9.5" wide at the pedals, tapered out to 13.5" wide, but
to suit Trevor Taylor's wider hips, 64/3 was widened approximately 1" on either side with inset pocketed
panels. To reduce weight on the 1964 cars, inner panels were 18 gage and the outer skin was 19 gage.


How else did 64/2 and 64/3 differ from the original BRP-BRM (63/1)? Firstly, Tony Robinson redesigned front and rear suspensions to utilize lower, wider wheels and tires. Except for the four suspension uprights, Lotus 24 spare parts were no longer suitable, instead BRP specially designed and fabricated their own parts or else at least procured parts from other sources. They were now a constructor in their own right. A detailed look at the BRP design can be found below.

After its original Grand Prix career, BRP chassis number 64/2 passed to John Willment Automobiles, who entered it in one Formula One race in the 1966 season. This was of course after Formula One rules changed to permit larger engines, so Tony Robinson was hired to install a Climax 3.0L V8 engine. At the International Gold Cup, held on 17 September 1966 at Oulton Park, John Campbell-Jones qualified tenth, but was black flagged due to an oil leak.

BRP 64/2 reappeared again in 1969 after conversion to Formula 5000 specification with a Ford 4798cc V8 engine and a Colotti-Francis gearbox. Amateur British driver Kaye Griffiths entered his BRP in the final six rounds of the inaugural British Formula 5000 season, then transported the car to New Zealand where he entered the first three rounds of the 1970 Tasman Series.4 After a broken rear upright caused a wheel to come off during qualifying for the car's third Tasman Series appearance, Griffiths sold 64/2 to local New Zealand driver Peter Hughes, who repaired it and entered one additional Tasman Series race before putting the car into storage, where it suffered severely from neglect.

In 1985 the well known New Zealand fabricator and constructor Ferris de Joux, assisted by ex-McLaren mechanic Peter Bruin (of Goodwood Engineering in Auckland), restored 64/2 using the few remaining original parts found by a friend of Ferris on the back of a truck heading for the scrapyard. Ferris explained: "When I got the original tub it was just $150 worth of rubbish with the nose cone broken off a few inches ahead of the front bulkhead, no roll over bar, pedals, radiator, or brackets, or engine mounts. We pulled it apart and used it for patterns. The centre bulkhead, radius rod mounts, dashboard and frame, mounts for the rear leg of the bottom front wishbone, outer skins for the front section of the tub, and the front suspension rockers were the only usable parts. Peter made the front bulkhead. It was very expensive. I cut out the rear bulkhead and Peter welded it." Later, Ferris wrote: "The engine (block, at least) was one of BRP's as was the gearbox (62/9)5, dash panel, outer skin, center bulkhead, dash frame, front rockers, and suspension brackets. I built the inner skin, engine cover, and the front half of the nose cone."

While building a new monocoque tub and incorporating in it a few reusable components mentioned above (e.g. center bulkhead, outer skins for the front section, etc.), Ferris de Joux also built an additional tub to the same pattern. This second tub was originally assembled with a Ford 'Kent' four cylinder engine and a Hewland transaxle, but they've been removed. Allen McGregor of Scotland bought the two de Joux racecars (i.e. the restored 64/2 and the replica made from it) and campaigned them in the UK. Rob Fowler of Hall&Hall was hired to rebuild the replica to a far more representative specification (e.g. BRM 1.5L engine, stroked to 2.0L, and BRM six speed transaxle, as seen here). Microsoft President Kurt DelBene subsequently bought the cars. The more-original Innes Ireland 1964 season car (chassis 64/2) retains a 1.5L BRM engine, and makes occasional racing appearances in England and Europe. Its livery is identical to the replica shown here, except that it wears racing number 9 instead of number 41. This replica is kept in Redmond, Washington and makes occasional appearances at North American events.

What happened to the third of the three original BRP-BRM racecars? Stirling Moss Auto Racing Team retained 64/3 and entered it in the 1966 South African Grand Prix with Richie Ginther driving. Ginther spun out the car and was broadsided by Jo Bonnier (in a Rob Walker Lotus-Climax.) The resulting damage meant BRP 64/3's racing days were over, but it was returned to England and sold to Jim Russell. Russell had a contract to supply cars for John Frankenheimer's classic movie "Grand Prix" (circa 1966). For that use, 64/3 was modified by former Lotus racing mechanic Ted Woodley. According to some reports, it was fitted with an early (non crossflow) Ford Kent engine and a Hewland transaxle. There are conflicting reports about 64/3's precise role(s) in the movie. After filming, whatever remained of 64/3 was scrapped.


Features and Specifications (as currently presented)
Engine:
BRM "B56" 1.5L V8 engine, stroked to 2.0L Dual overhead camshafts (i.e. two per cylinder bank), gear driven. Single plane crankshaft. Lucas mechanical fuel injection (Mk1 8-cylinder). Lucas 3SC transistorized electronic ignition (disable. A late model Lucas ignition box is hidden under the seat, with a rev limiter.) Belden spark plug wires. Dry sump lubrication system.

Cooling:
aluminum radiator with integral (side-by-side) engine oil cooler.

Exhaust:
bespoke sand-bent four-into-one headers.

Transaxle:
BRM 6-speed transmission, without reverse.
Clutch type limited slip differential. Roller bearing / universal jointed half shafts.

Front Susp.:
dual wishbone front suspension. Coilover KONI model 8212 double adjustable shock absorbers actuated through (upper) rocker arms. Lotus magnesium front uprights (part number 1988). Non-adjustable anti-sway bar. Track = 52.5".

Rear Susp.:
inverted lower wishbones, single top links, and twin radius arms. Lotus Type 18 (F1) through 21 magnesium rear uprights (part number 8318-2.) Coilover KONI model 8212 double adjustable shock absorbers. Non-adjustable anti-sway bar. Track = 55.0". (Wheelbase = 91.0".)

Brakes:
(master) dual Girling master cylinders with adjustable bias bar.
(front) Girling AR brake calipers and 10.5" solid rotors.
(rear) Girling AR brake calipers and 9.5" solid rotors.

Wheels/Tires:
reproduction Lotus "wobbly web" style six-lug front wheels. H&H four-lug rear wheels. Dunlop Racing 5.50-L13 CR65 MkII (front) and 7.00-L15 CR65 (rear) tires.

Electrical:
alternator. Odyssey Extreme Racing 30 battery (part number 9750M6746, AGM, 20.0lb, 450CCA). Ark Racing lightweight gear reduction starter motor.

Instruments:
(left to right) Racetech dual fuel pressure (0-160psi) and coolant temperature (30-120C) gauge, Smiths tachometer (0-12,500rpm), and Racetech dual oil pressure (0-160psi) and oil temperature gauge (30-120C).

Fuel System:
two new fuel bags, with combined capacity of 14 gallon. Facet low pressure electric fuel pump. Bosch high pressure electric fuel pump. FueLab 535-series fuel pressure regulator. Lucas fuel injection metering unit.

Safety Eqmt:
Willans six point cam-lock safety harness. RaceTech quick release steering wheel hub. Lifeline Zero 2000 centralized fire suppression system.

Racing Class:
1.5L Formula One (except with a Tasman Series spec engine. (In other words, a longer stroke crankshaft has been installed to increase displacement to ~2.0L.)

Engine Installation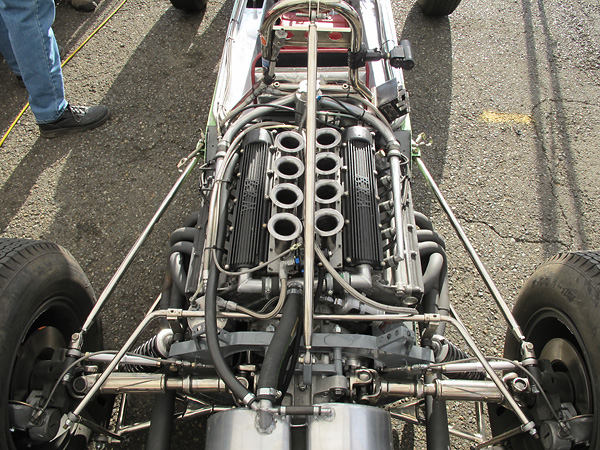 The BRM "B56" 1.5L V8 engine was first introduced in October 1961.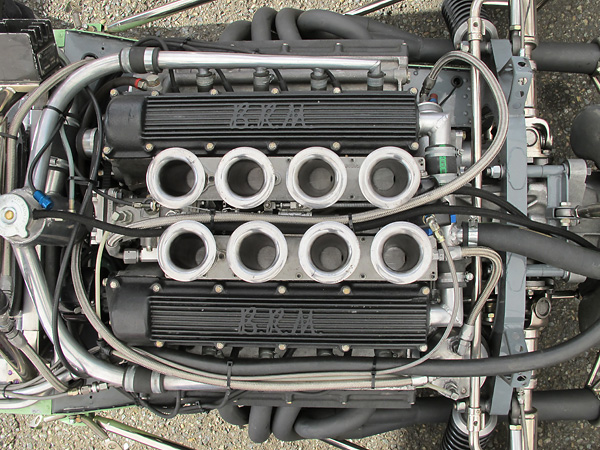 In Formula One trim, its 68.5mm bore and 50.5mm stroke combined for a displacement of 1498cc.
The BRM B56 engine was rated 205hp at 11,000rpm. Of course, performance varied by installation.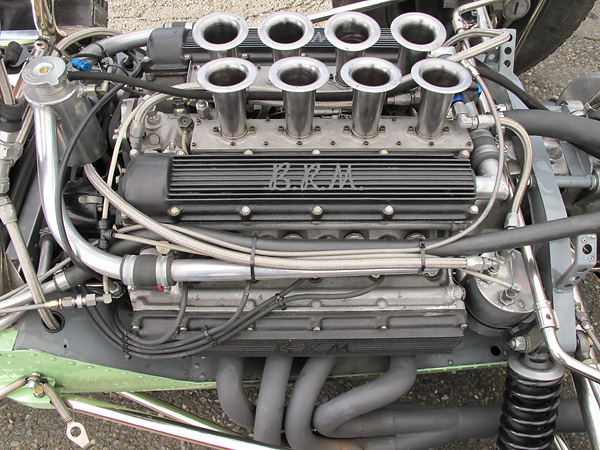 The BRM engine's camshafts were gear driven. Rival Climax V8s used chain-driven camshafts.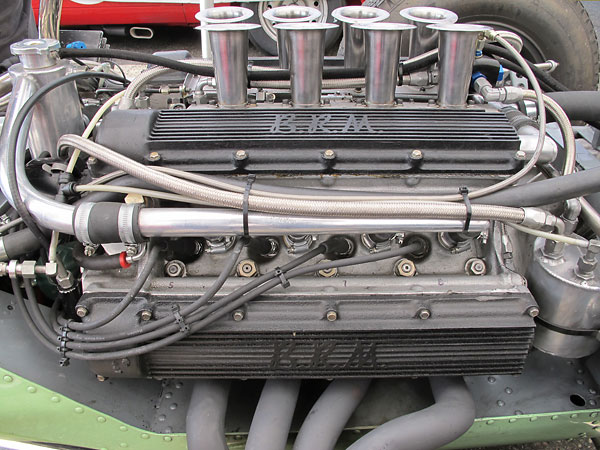 The BRM engine also featured a single plane crank. Climax started with dual-plane cranks on their V8s,
but switched and used single plane cranks from ~September 1964. One major advantage of a dual-plane
crankshaft is that its better balanced, which can improve engine durability and reduce bearing wear.
Single plane cranks use a different firing order, and that firing order simplifies exhaust optimization.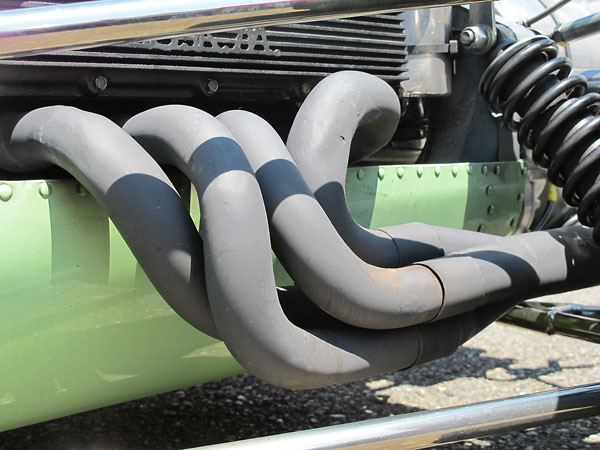 Hand-crafted, sand-bent, four-into-one exhaust headers.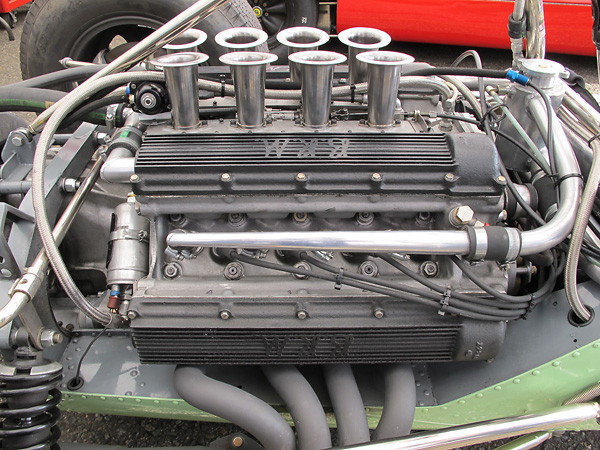 BRM offered various differently configured cylinder heads for these engines. For example, the BRM
works team chose center-exhaust cylinder heads for their 1964 BRM P261 racecars. In other words,
their exhaust ports exited into the engine's valley, and intake ports were routed between camshafts.
Tony Robinson: "BRM team personel were very helpful to work with, but Innes, Masten, and
Trevor often complained that our engines lacked the performance of the works cars."



A Facet (Bendix type) low pressure electric fuel pump fills an intermediary tank.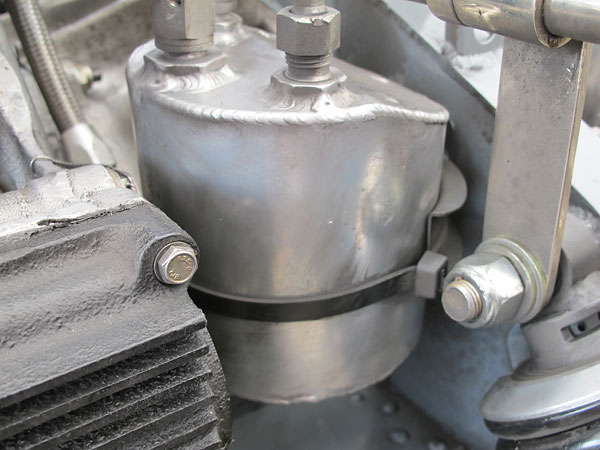 This is the intermediary "make up" fuel tank.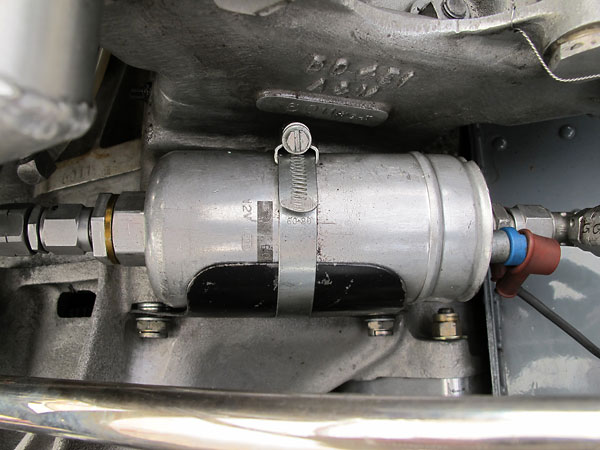 This is a relatively modern Bosch high-pressure electric fuel pump, but it is installed in
the same position as the original Lucas fuel pump. The Lucas fuel pumps used by BRP
and some of their contemporaries were commonly referred to as "bombs." That's a
pretty clear hint why they're better suited for car museums than for vintage racing.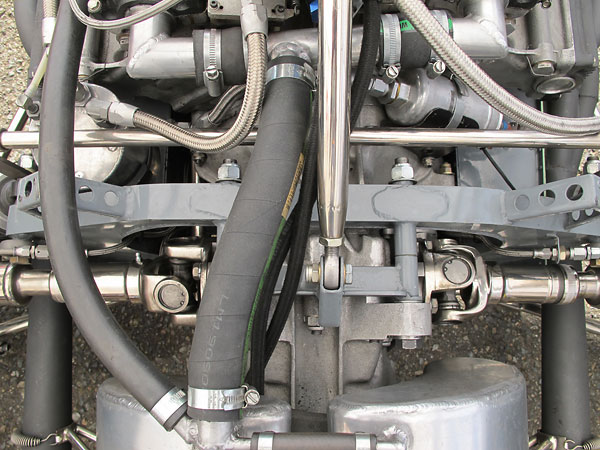 The Lucas pumps were tall, and on the BRP-BRM their size necessitated a hole right
through the top of the engine cover. The hole is missing on this car, but does exist
on the sister car. These BRP-BRMs have never used engine-driven fuel pumps.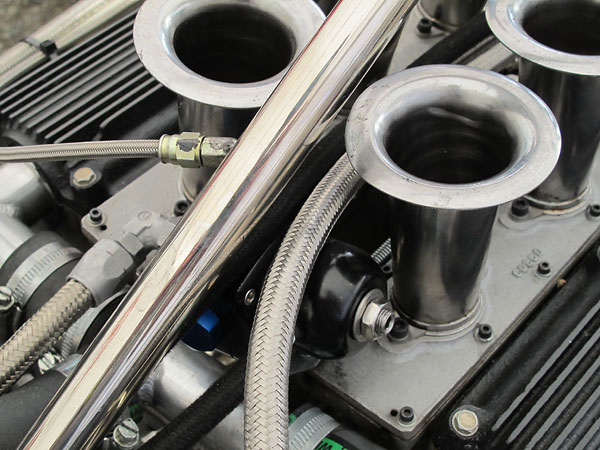 Modern FueLab 535-series adjustable fuel pressure regulator (in situ).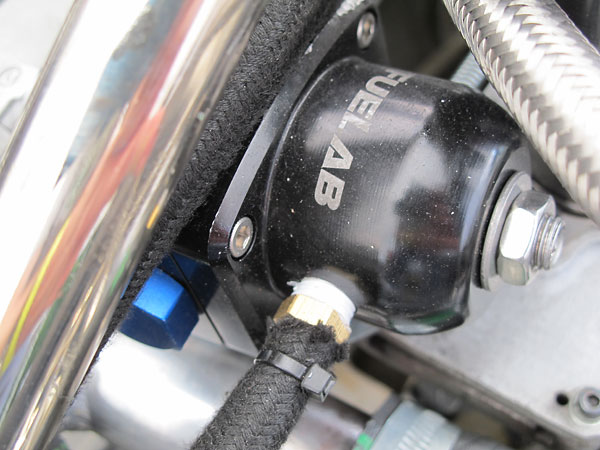 The high pressure fuel pump can deliver as much as 120 psi whereas the Lucas reciprocating
shuttle fuel metering and distribution system requires about 100psi. This adjustable
fuel pressure regulator restricts the high end, for more consistent performance.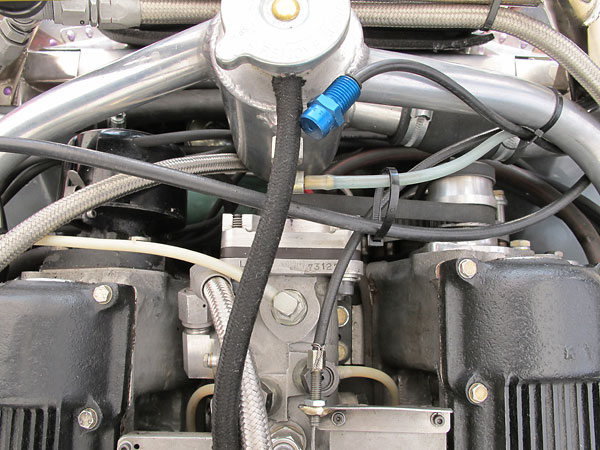 This is the period correct Lucas mechanical fuel injection metering unit. BRP could easily
compare carburetion and fuel injection in 1963 because they ran carbs on Jim Hall's Lotus-BRM
through mid season. Hall reported a big torque improvement after upgrading to fuel injection.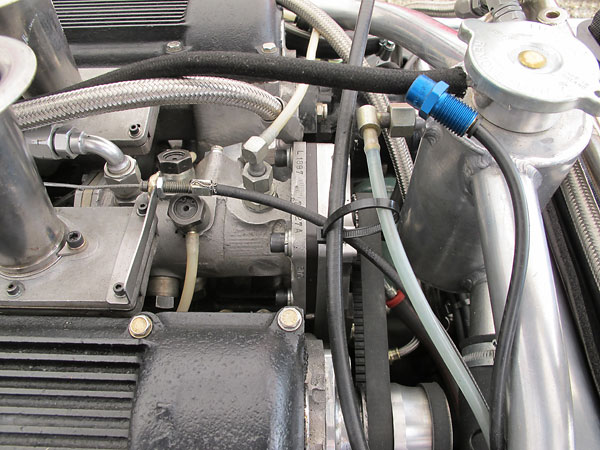 This Lucas metering unit is stamped: L1897 73127A 5175.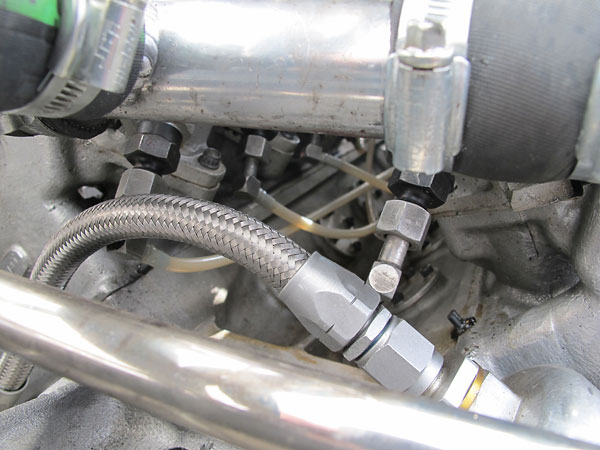 Fuel is injected through simple jets, mounted just downstream of the throttle slides.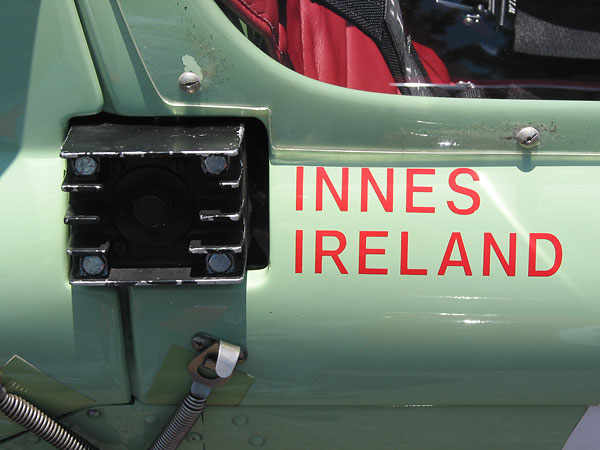 The Lucas transistorized (electronic) ignition system was introduced simultaneously on the BRM V8 and
also on the rival Coventry Climax V8. BRP mounted their Lucas transistorized ignition modules outside
where airflow would help keep them cool. The Lotus team mounted theirs in the V of the Climax engine,
vulnerable to failure due to overheating.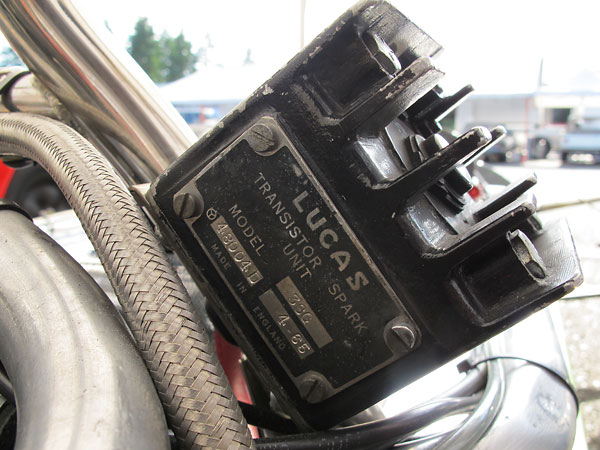 Lucas Transistor Spark Unit / Model 3SC, Serial No. 48004D, Date Code: 4-65 / Made in England.
The Lucas ignition system provided a tremendous high RPM performance improvement over any
breaker point based system and it was also more effective than the magneto ignition systems
available at the time. The issue is one of precision: for best performance, spark plugs must fire at
exactly the right time relative to the compression cycle, and without variation between cylinders.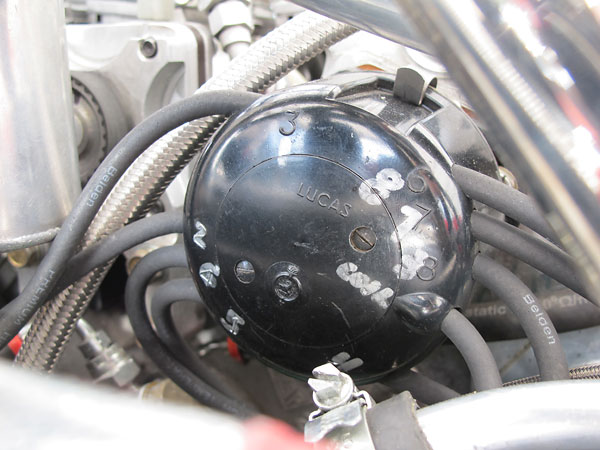 The trigger mechanism employed four magnetic pole pieces mounted on a camshaft-driven flywheel.
It's a simple system: without any sort of "advance" mechanism as would be required for a street car.
In other words, spark plugs were timed to fire at 33 degrees before maximum compression (i.e. piston
"top dead center" position) - always - without consideration of engine RPM or load. This was suitable
for engines that typically ran at 11,000rpm whenever they were on track. At less than 6000rpm, the
engines certainly didn't run well, and they were a bear to start or drive through the paddock. For this
reason, for vintage racing the original electronics are actually disconnected and a more modern
electronic ignition module has been hooked-up underneath the driver's backrest.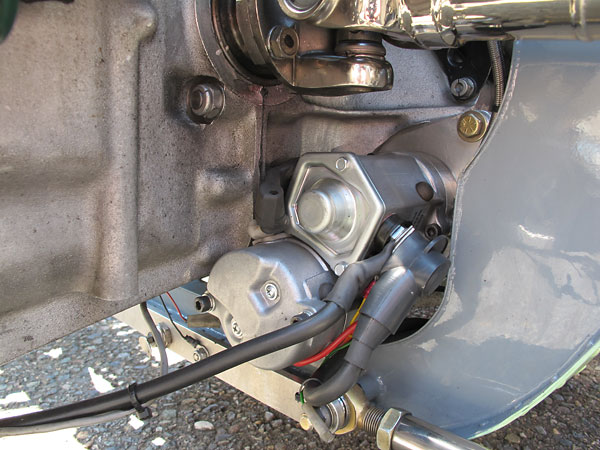 Ark Racing lightweight gear reduction starter motor.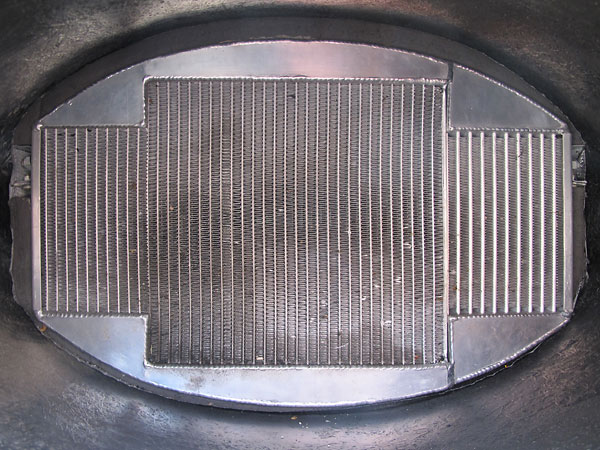 Aluminum radiator with integral oil cooler. (In this view, the oil cooler is on the righthand side.)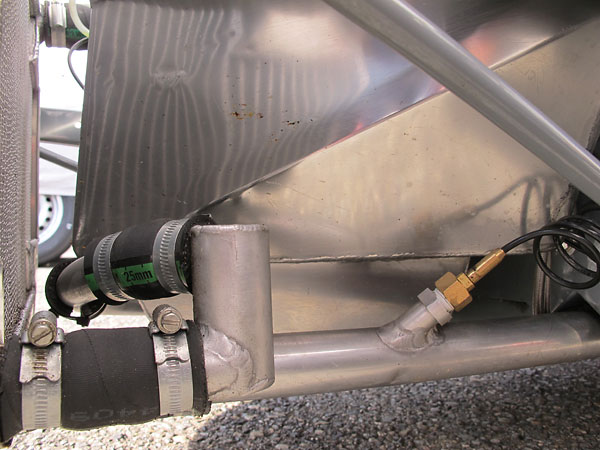 Coolant and oil return lines route underneath the chassis rather than through it.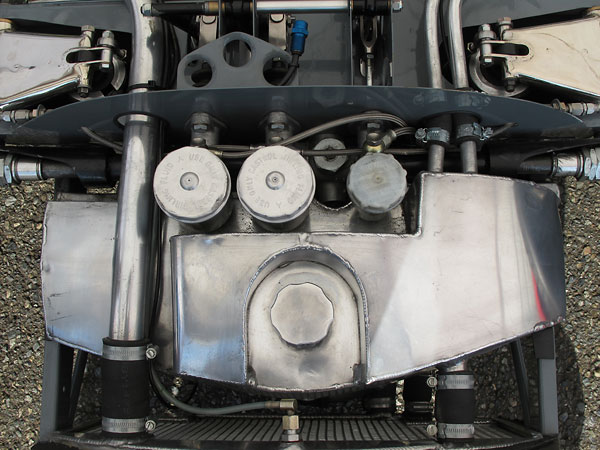 The engine is dry sumped, and its oil is stored in this large aluminum tank..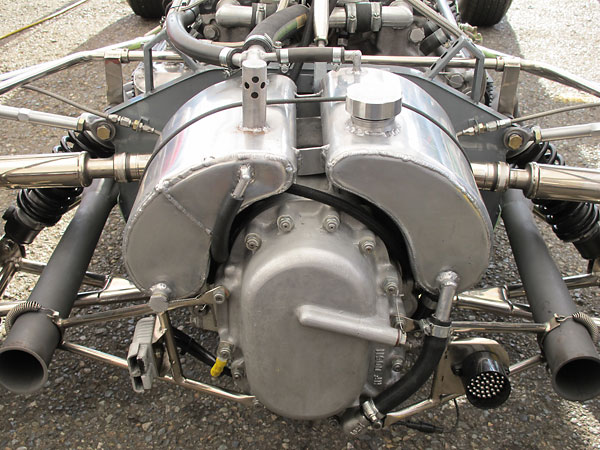 Left: crankcase breather/overflow tank. Right: oil reservoir for the transaxle, which is dry sumped.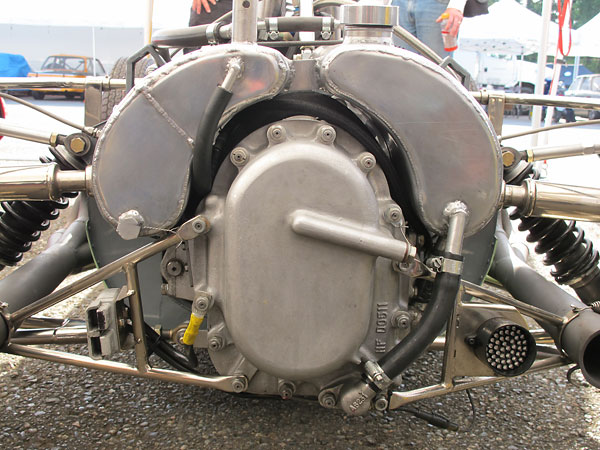 No rule required 1.5L Formula One cars to have a reverse gear, so the BRM transmission didn't have one.
It did have an early limited slip differential, although not a very good one by modern standards.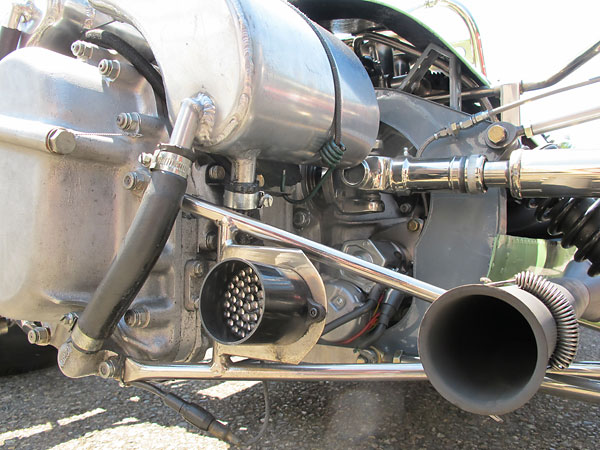 A rain light is required for vintage racing. This one features light emitting diodes.


Front Suspension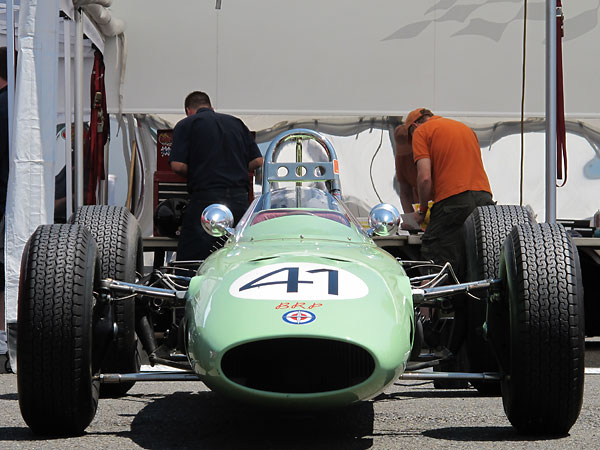 BRP initially carried over the familiar Lotus 24 front suspension to their own chassis. Then, BRP
worked to develop the car to suit wider and lower wheel and tire sizes as they became available.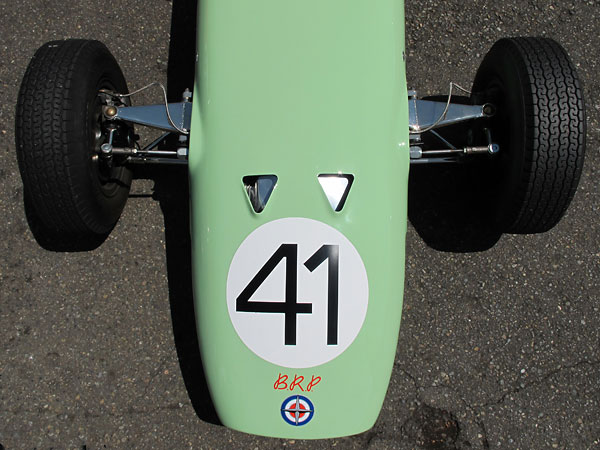 Dunlop was the dominant supplier of Formula One tires through this car's era, and they continuously
improved their product. Compound and manufacturing changes improved grip and durability, while
sidewall height was coming down and tread width was getting wider. The L-section tires this car wears
for vintage racing hold it back from dramatically quicker lap times it could achieve with different tires.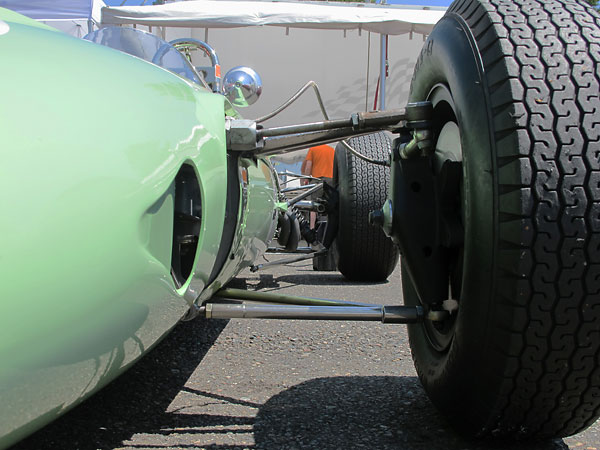 Inboard front suspension and front brakes tucked neatly into wheel cavities: Formula One designers
hadn't yet begun to seek aerodynamic downforce, but by 1963 they were quite good at streamlining.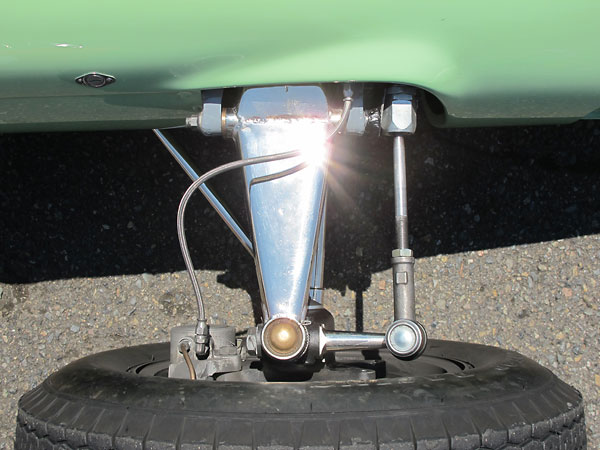 Shock absorbers, springs, and the anti-sway bar are all actuated by rocker arms.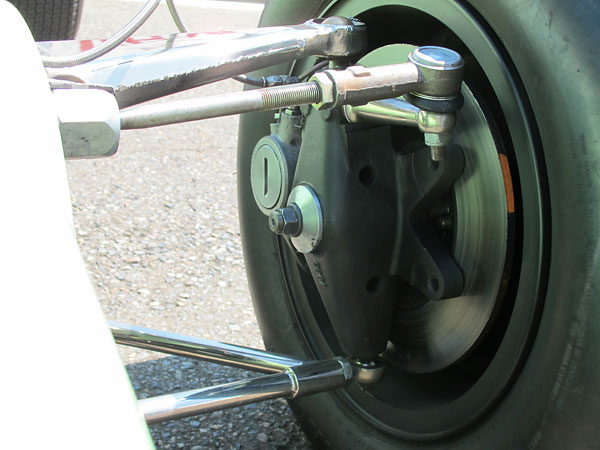 Lotus Elektron (magnesium alloy) front uprights, part number 1988.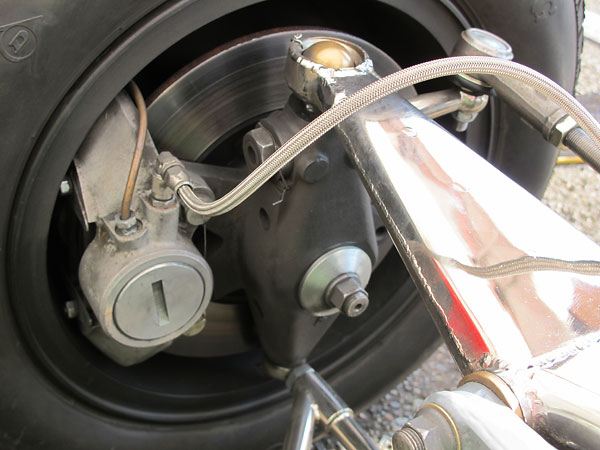 Girling AR brake caliper and solid 10.5" rotor.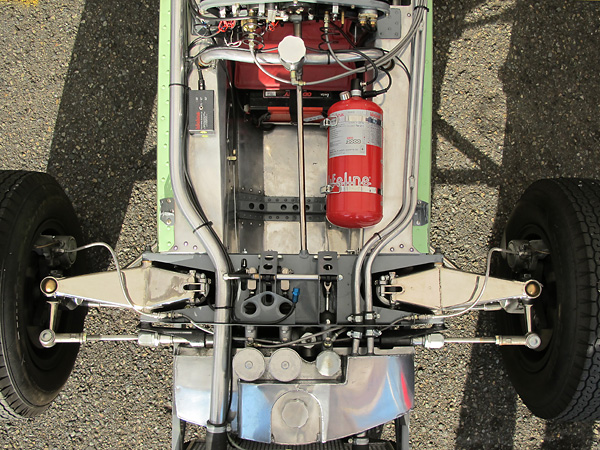 This early bathtub-style monocoque chassis could have been stiffer if its designers had taken simple
steps to brace across the large openings of its top, but it must have seemed incredibly stout in its day.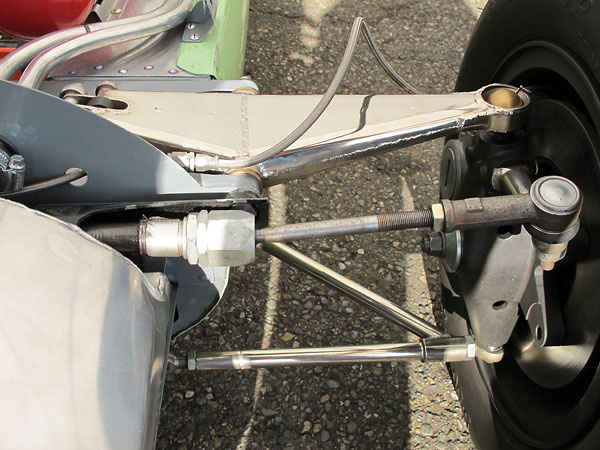 BRP didn't make their own steering racks. Instead, they used a Lotus rack on the first racecar (63/1)
and BRM steering racks on the last two (64/2 and 64/3).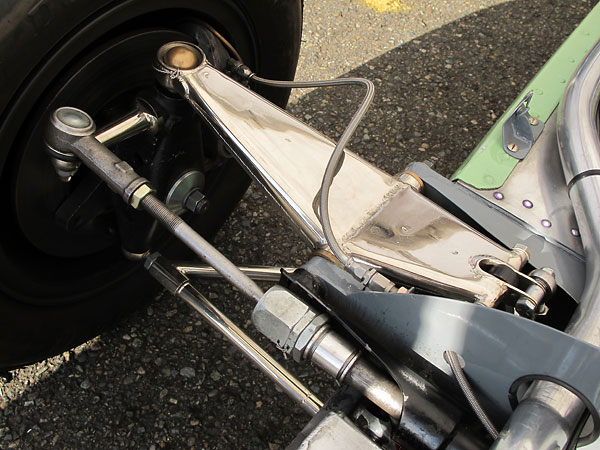 The front anti-sway bar is non-adjustable, difficult to swap out, and impossible to see in this photo.
However, you can see the Heim joint and part of the link which connect it to the righthand rocker arm.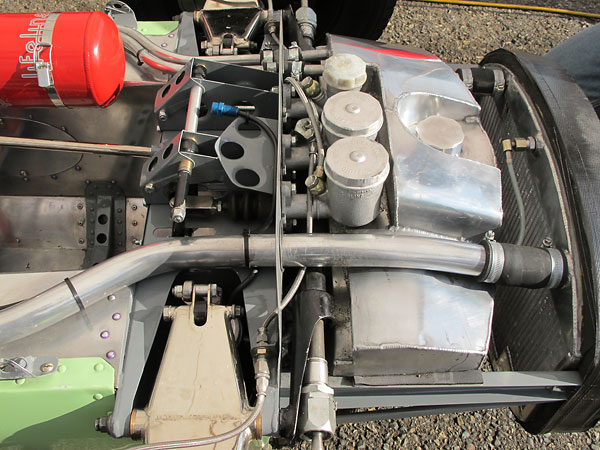 Girling brake and clutch master cylinders with integral reservoirs.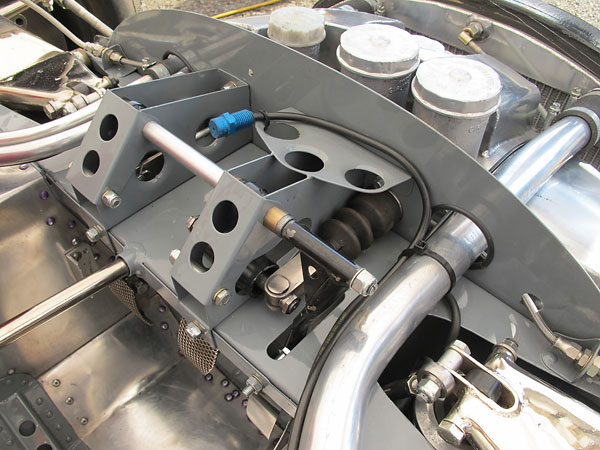 A lot of fabrication work went into elimination of flexing at the pedals and master cylinder mountings.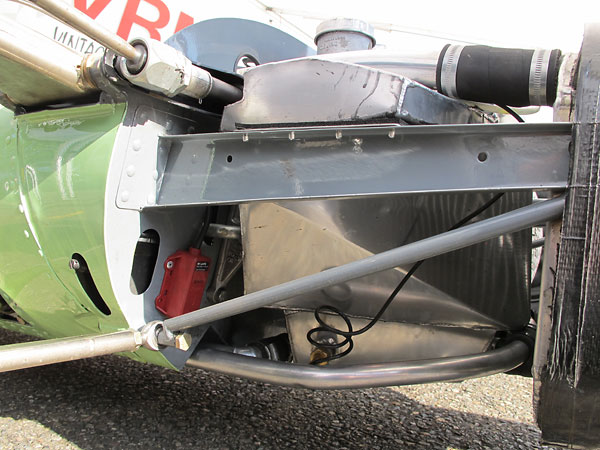 The red plastic device at left is a transponder, which is part of a modern timing/scoring system.
To the left of that are two holes in the tub through which shock adjustments can just barely be made.
Below the transponder, we see one of two V-section longitudinal channels for routing plumbing.
This is also the best photo we have of the structure that supports the radiator and oil reservoir.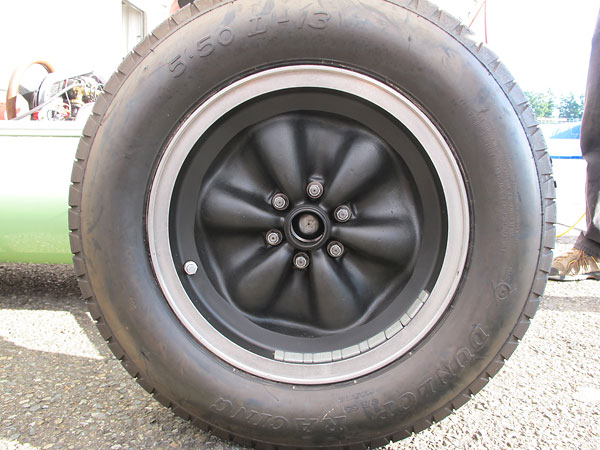 Dunlop center-lock wheels were on BRP-BRM 63/1 when it arrived at Spa for its first race in 1963 but
were swapped out with Lotus wobbly web magnesium wheels for the race, and from then on BRP
used Lotus wheels through 1963. (15x6.0 at the front and 15x7.0 at the rear.)


Enjoying this article? www.BritishRaceCar.com is partially funded through generous support from readers like you!
To contribute to our operating budget, please click here and follow the instructions.
(Suggested contribution is twenty bucks per year. Feel free to give more!)
Rear Suspension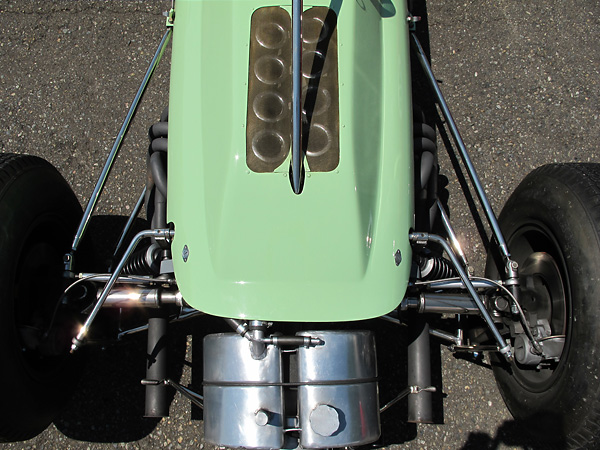 Inverted lower wishbones, single top links, and twin radius arms.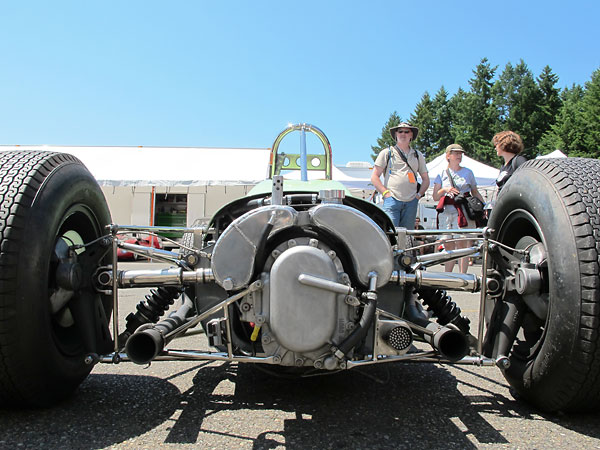 These were small cars. Rear track was just 55.0" and wheelbase was only 91.0".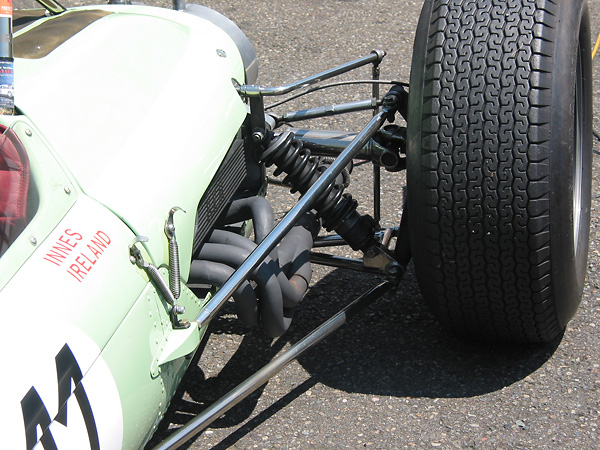 On the Lotus 24, rear shock absorbers had been mounted behind the halfshafts. On the Lotus 25
and the BRP-BRM, the rear shock absorbers are located forward of the halfshafts.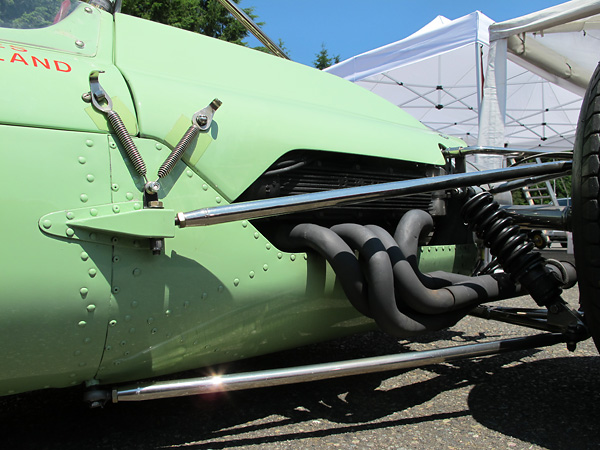 On the BRP, the BRM engine block is a stressed member.
It contributes significantly to chassis strength and stiffness.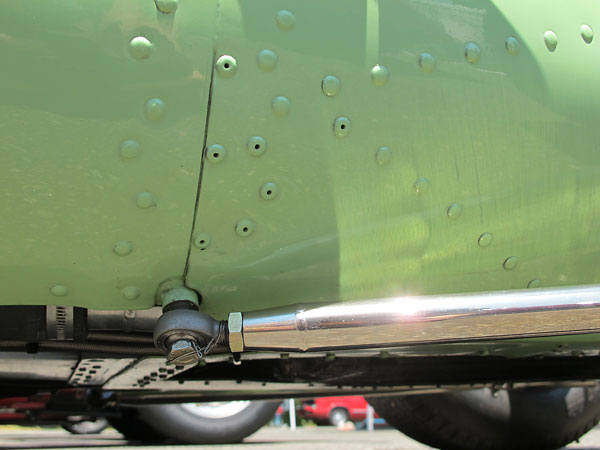 Safety wire, because things could get ugly if this bolt came loose.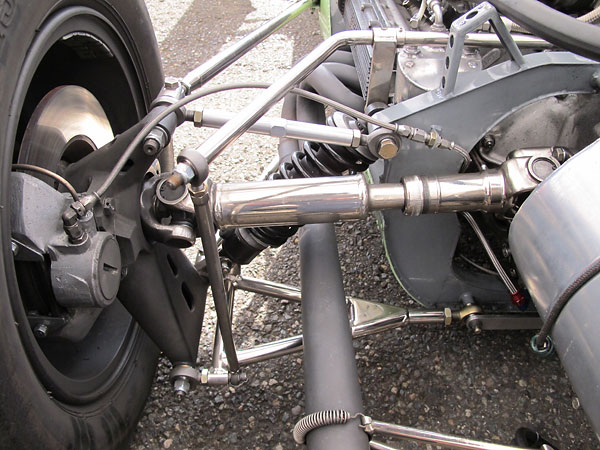 Roller bearings in the half shafts accomodate plunge.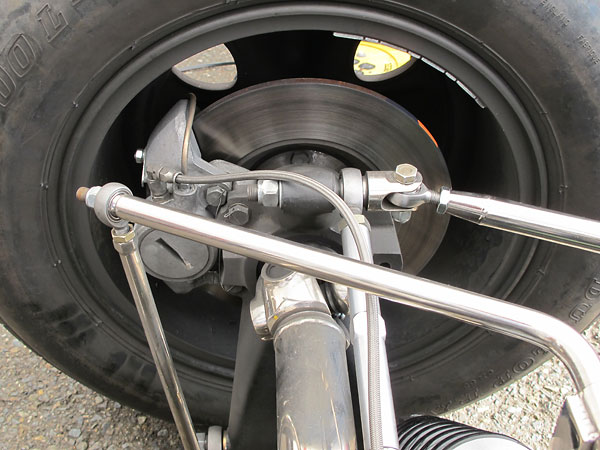 Non-adjustable rear anti-sway bar.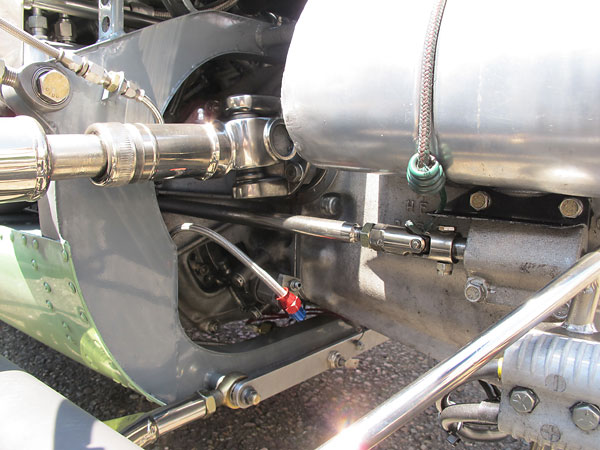 Rear bulkhead, shifter linkage, and clutch slave cylinder details. Notice that someone has added
an aluminum bar between the lower control arm mounts. This is a sensible and elegant design
refinement, but it doesn't appear in any old photographs of the car we've studied.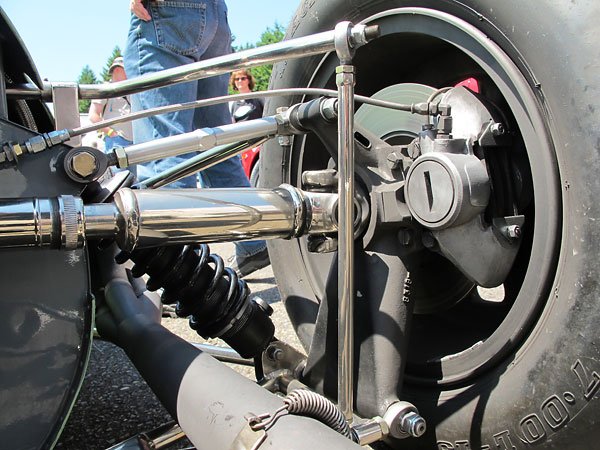 Lotus Type 18 through 21 magnesium rear uprights, part number 8318-2.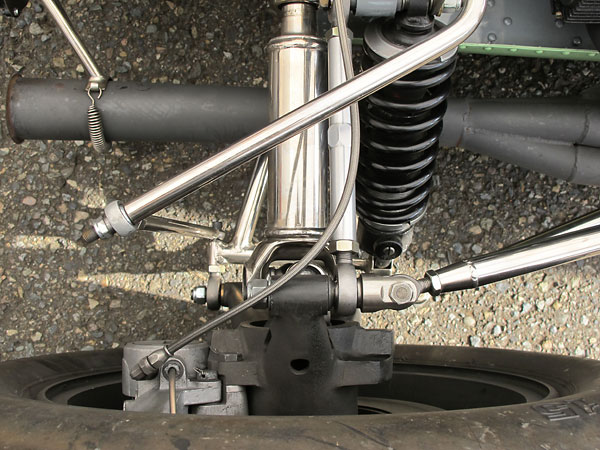 Coilover KONI model 8212 double adjustable shock absorber (not original).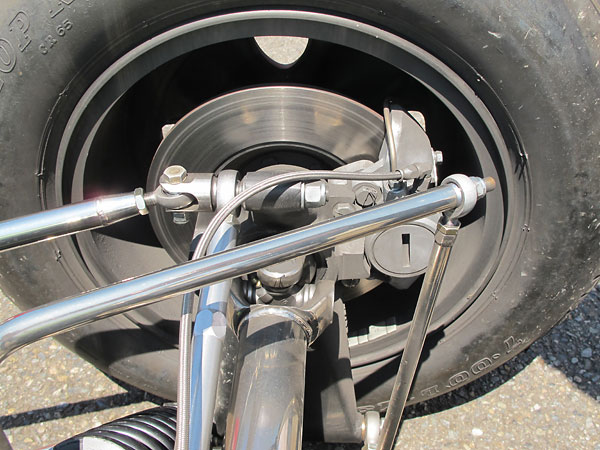 Girling aluminum racing brake caliper. This is the AR size. Girling made larger versions called
BR and CR respectively. They also made a somewhat smaller version which was called NR.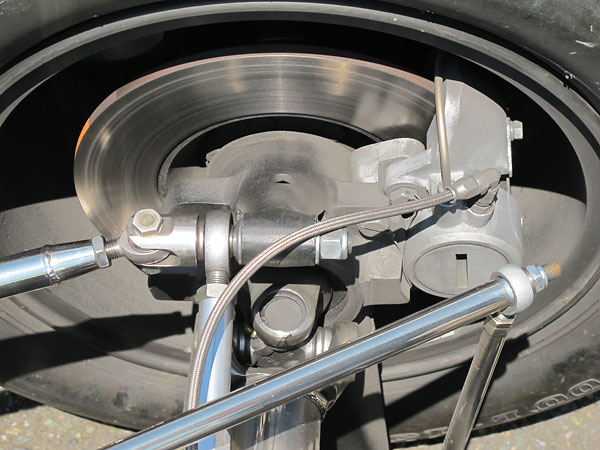 Temperature indicating paint on the edge of the brake rotor changes color when it gets hot.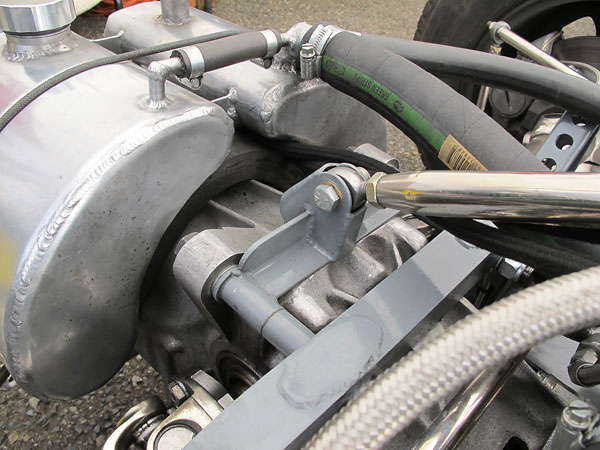 The rearward roll hoop brace is modern, and pains have been taken to make its installation "reversible."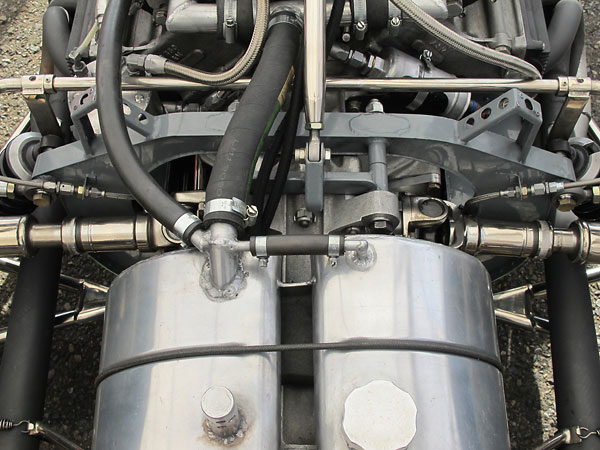 A detailed look at the rear bulkhead, from above.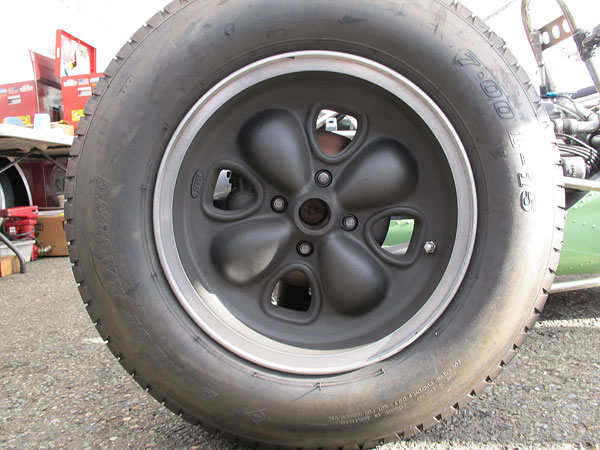 The most important technical change BRP made for 1964 was the switch to wider, smaller diameter
tires. This wasn't a simple swap because suspension geometry had to be altered significantly, and
of course new wheels were required. BRP used Lotus six-stud 13x7.0 front wheels, but appropriate
Lotus wheels for the rear weren't available so instead they used Brabham four stud 13x8.5 wheels.
(The currently-installed wheels don't accurately represent what BRP used in either 1963 or 1964.)


Interior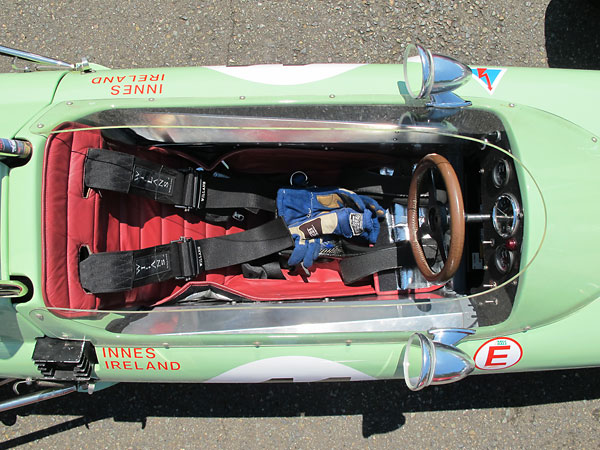 The cozy cockpit of the BRP-BRM Formula One racecar.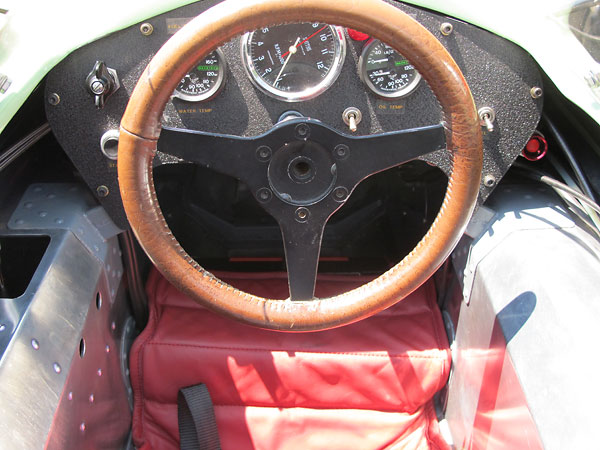 Leather covered steering wheel.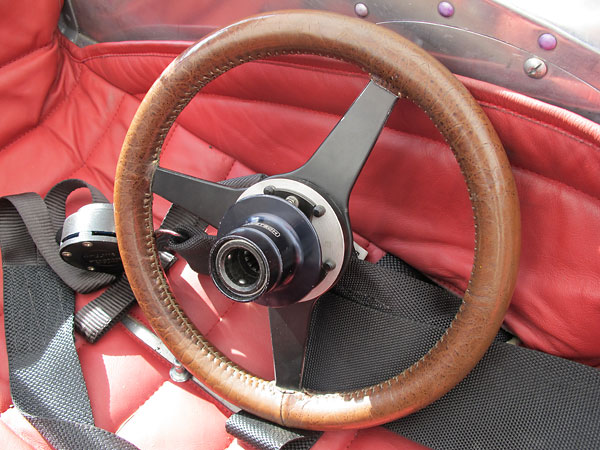 This RaceTech quick release steering wheel hub is a modern era innovation, and an important
safety feature. Before it was installed, getting into or out of the car was a contortionist's act.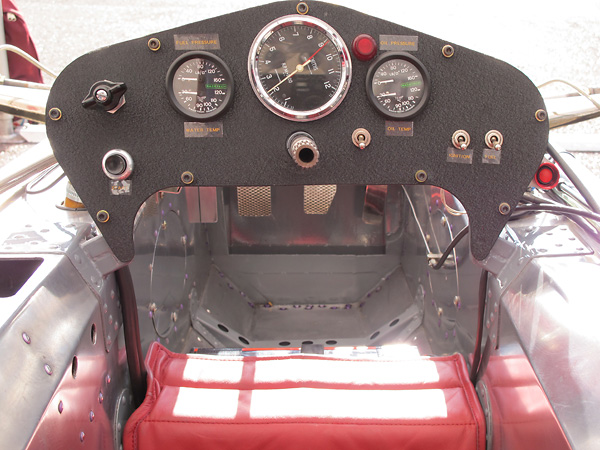 Left to right: Racetech dual fuel pressure (0-160psi) / coolant temperature (30-120C) gauge, Smiths
tachometer (0-12500rpm), and Racetech dual oil pressure (0-160psi) / oil temperature gauge (30-120C).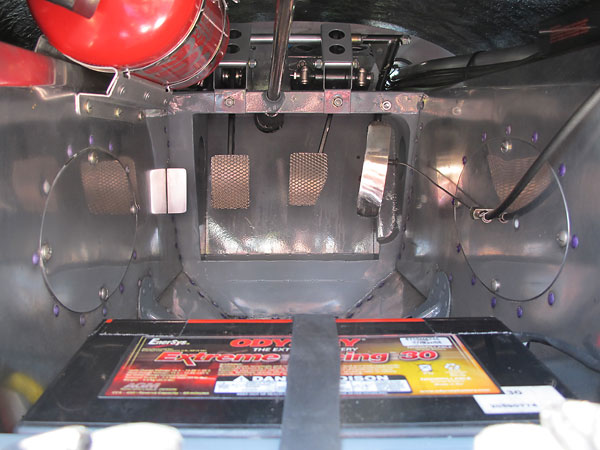 Odyssey Extreme Racing 30 battery (part number 9750M6746, AGM, 20.0lb, 450CCA).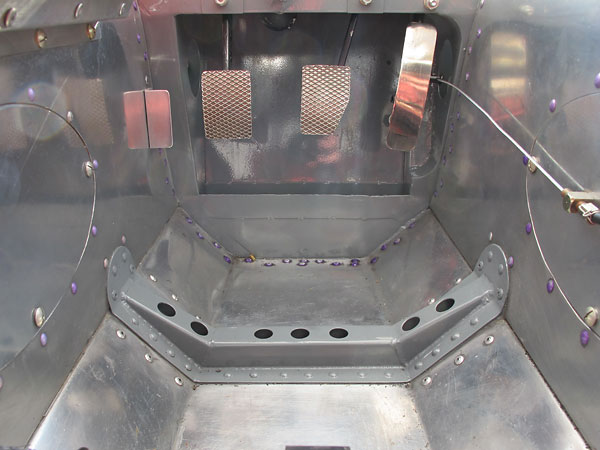 A stiff steel brace helps transfer suspension loads across the floor panel. Although the tub's
main panels are aluminum, bulkheads and baffles and brackets were mainly fabricated from
18 and 19 gage mild steel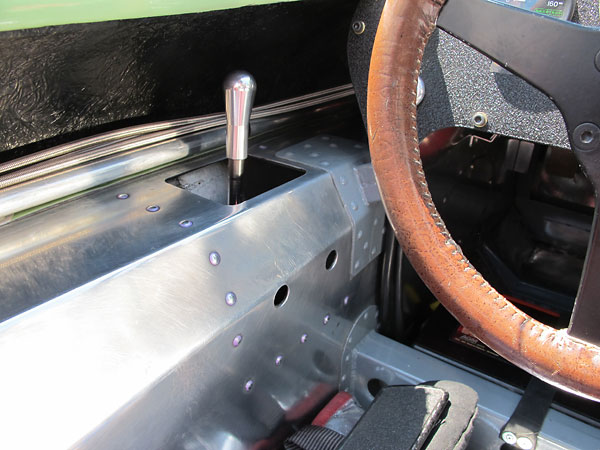 Six speeds forward selected from a double-H pattern, but no reverse gear.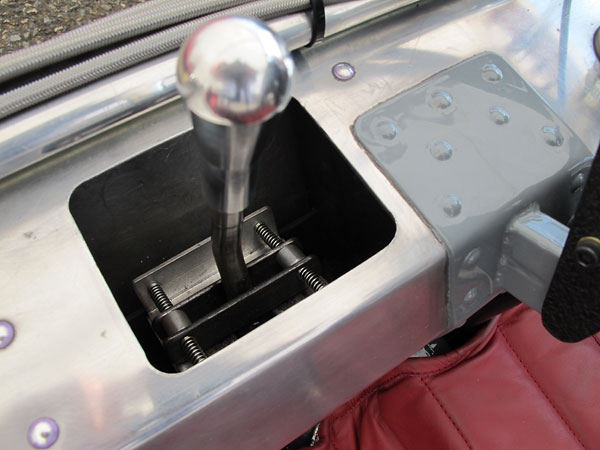 Number 9 car has a shifter plate whereas number 41 doesn't, but they have identical levers and knobs.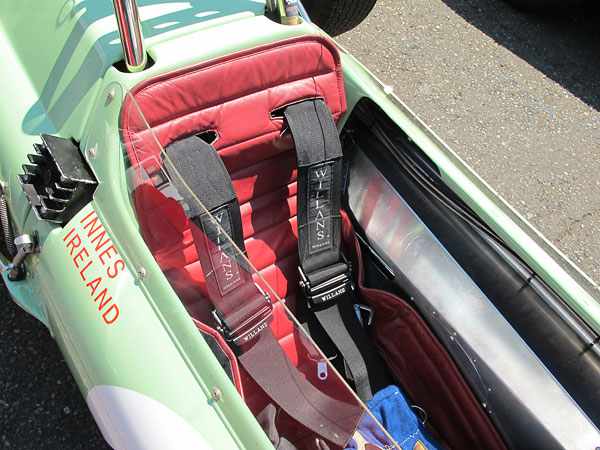 Willans six point cam-lock safety harness.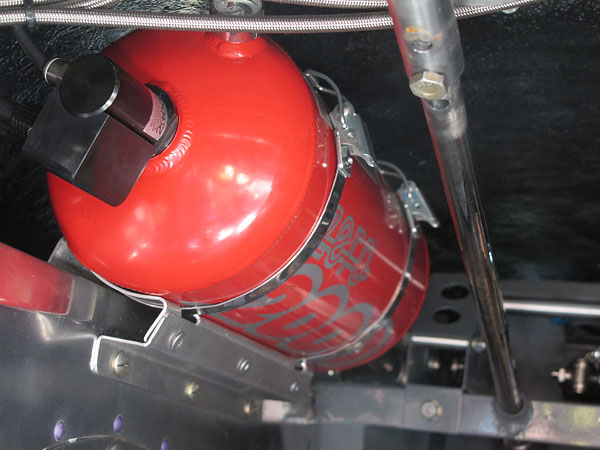 Lifeline Zero 2000 centralized fire suppression system.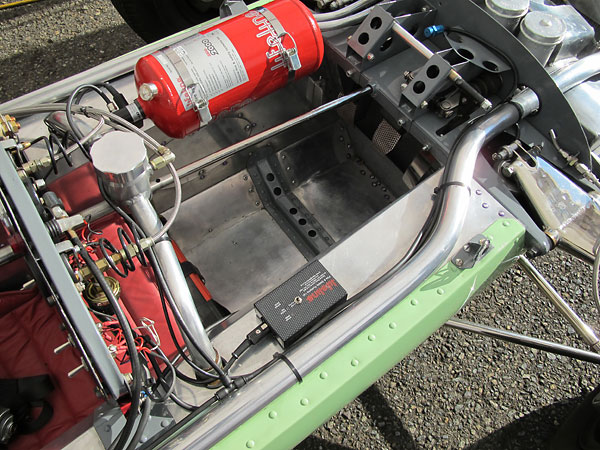 The fuel filler is only accessible for refueling when fiberglass bodywork is removed for access.
Foreground: electronic control module for the Lifeline fire suppression system.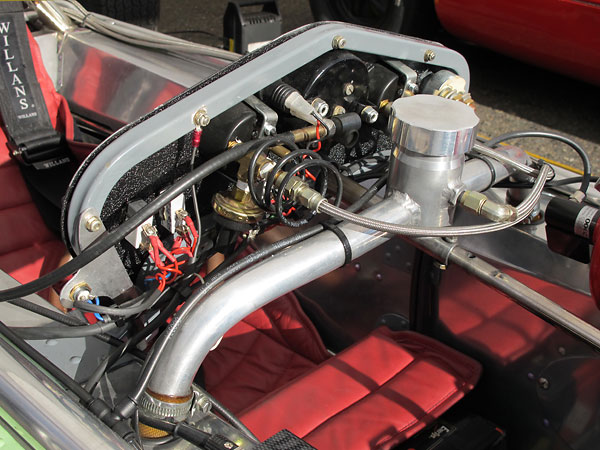 The BRP-BRMs were originally built with three Maston-Excelsior rubber fuel bladders - two in the
pontoons plus a 4.5 gallon cell under the seat - for a combined capacity of ~27.5 gallons. As
prepared for vintage racing, smaller dual fuel bladders provide this car a capacity of ~14 gallons.
Fuel economy? These cars burn about six gallons per half hour session.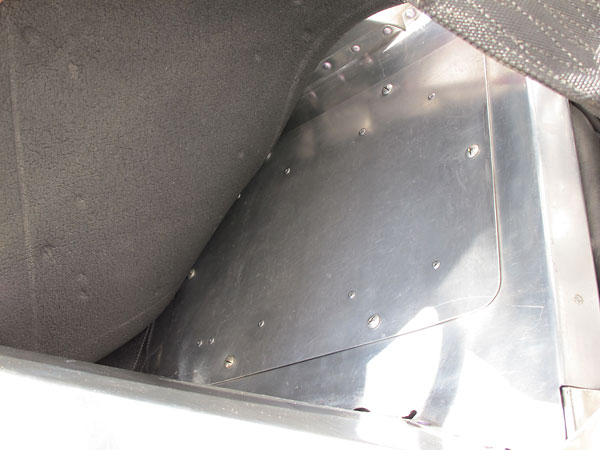 A late model Lucas electronic ignition box is now hidden under the seat, along with a rev limiter.
There's also some fuel plumbing, and access to the oil filter.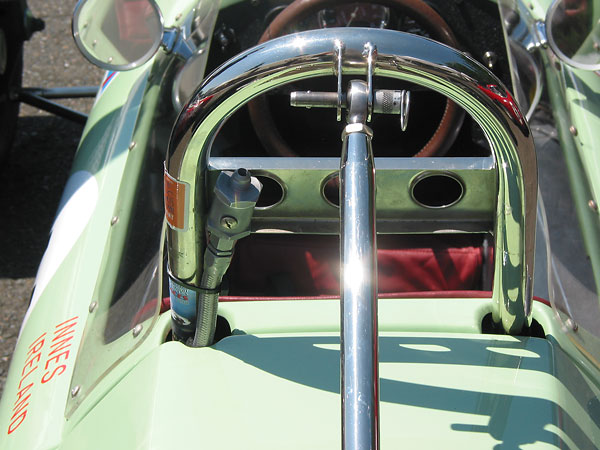 Modern tall roll hoop with formed sheetmetal headrest bar and rearward brace. (The original
BRP-BRM racecars had lower hoops with tubular crossbraces, and no rearward braces.)


Exterior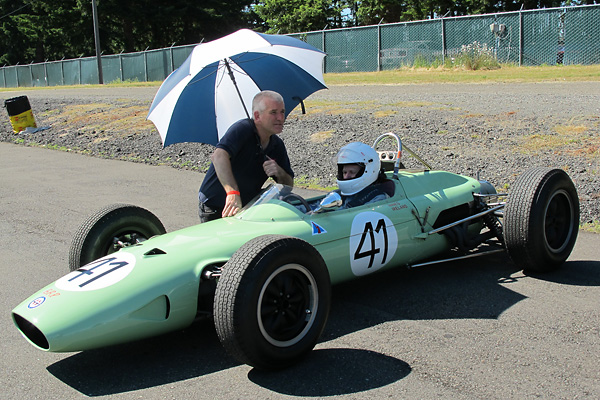 Byron Sanborn holds an umbrella for Kurt DelBene as the pre-grid fills.
(at the 2011 Pacific Northwest Historics, Pacific Raceways in Kent, Washington.)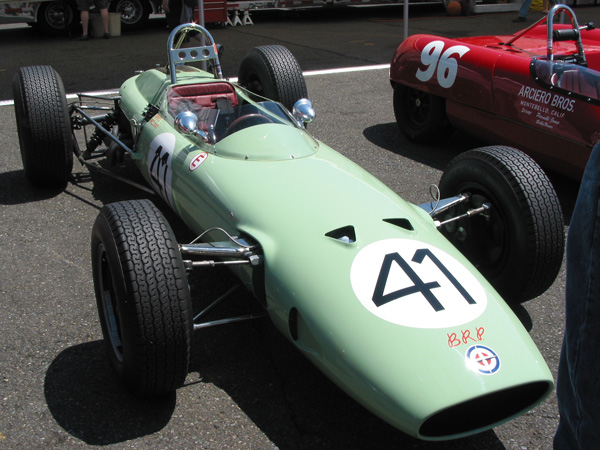 The BRP-BRM was the second car of Formula One's new generation to feature monocoque
construction. That it was developed so quickly and proved both reliable and quick right out of
the box is a tremendous credit to the small, well coordinated team which pulled together to build it.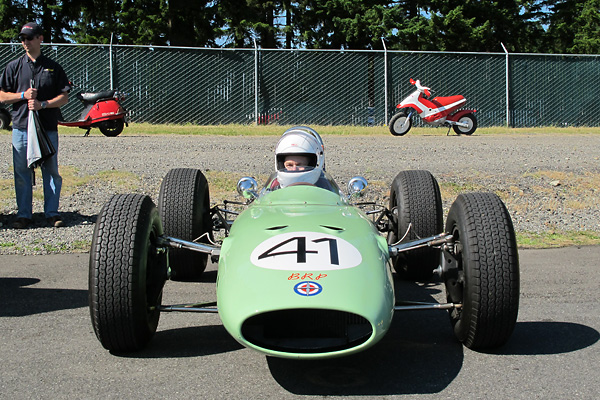 In the BRP-BRM's era, the entire Formula One field ran on Dunlop R6 tires. In 1963, R6s had
a taller aspect ratio than they did in 1964. Racing on L-section tires, 1.5L F1 cars had less
grip than even late sixties era Formula Fords.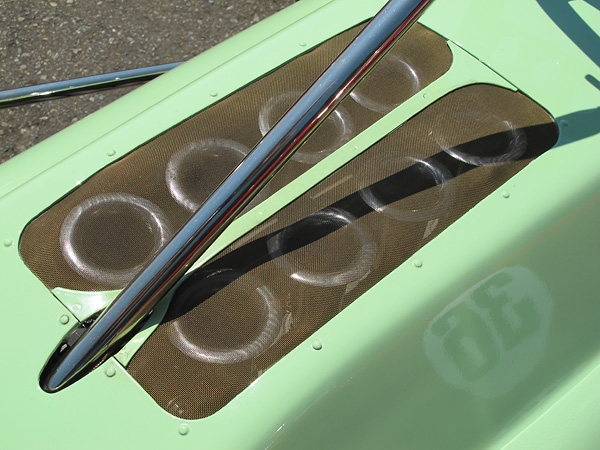 Easiest way to tell a BRP-BRM from a Lotus 25 at high speed? The velocity stacks on the BRP
fitt neatly under the engine cover. The Lotus, with its Climax engine, used taller stacks.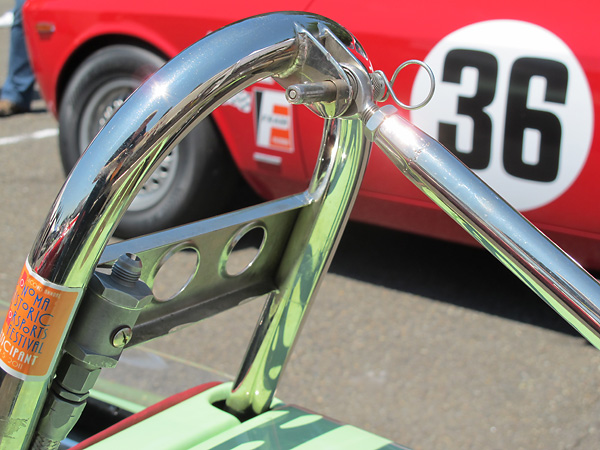 British Racing Partnership's team cars were some of the most recognizeable of their era because of
their distinctive "meadow green" paint color. The color was selected by team co-owner Alfred Moss.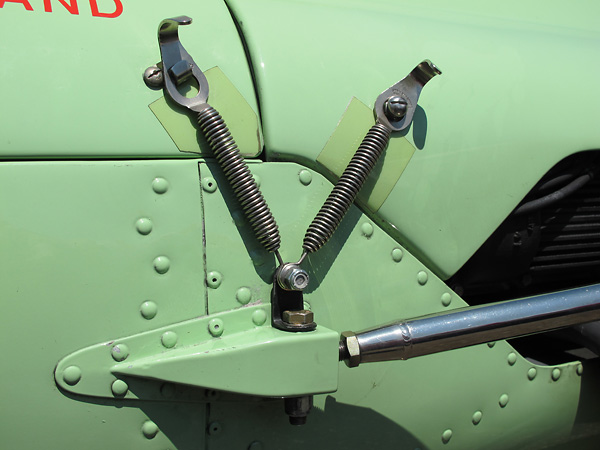 Alfred Moss (Stirling's dad) had been a racing driver in his own right. His first notable victory was in
the Private Competitors' Handicap race during the 1923 Easter meeting at Brooklands. His car was a
Sporting Crouch powered by an Anzani four cylinder engine. In it, he averaged about 65mph. Just
one year later he managed to secure a seat for the Indianapolis 500, where he piloted one of three
Barber-Warnock sponsored racecars for Louis Chevrolet's team to a 16th place finish at 84mph.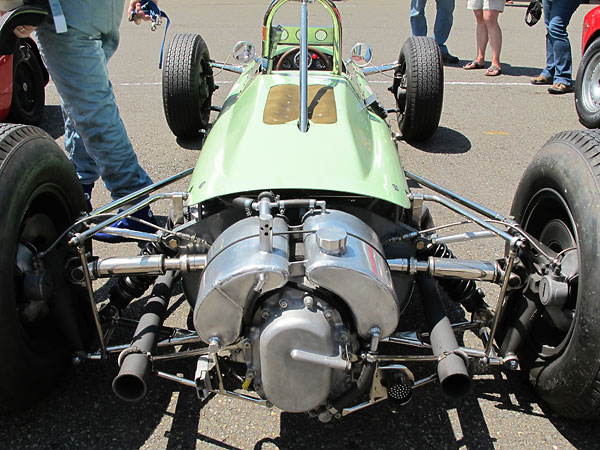 BRP's departure from Grand Prix racing was assured in 1964 when the team was blackballed by Lotus
Ferrari, and ultimately BRM in their attempt to join the Formula One Constructors Association. Although
Cooper and Brabham supported BRP's bid for membership, the other three member companies blocked
BRP's application on grounds that they weren't producing enough of the car's they raced. Membership in
FOCA had become hugely important that year because the organization had used its collective leverage
to negotiate new starting money agreements with the various race organizers. For non-members,
starting money dropped to a level that made BRP's continued participation far less attractive.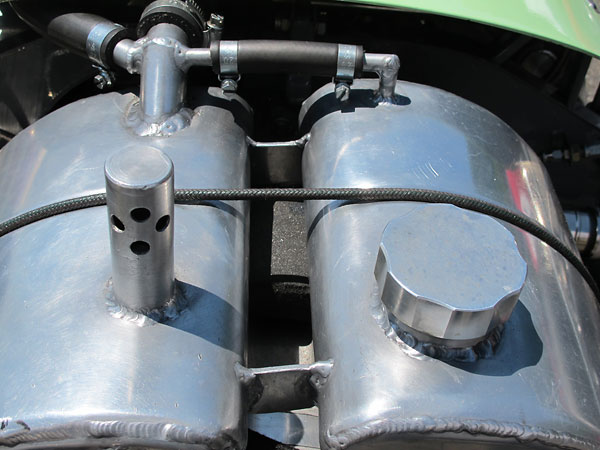 After leaving Formula One, British Racing Partnership accepted a commission to design and build
two final cars... for the Indianapolis 500! The commission came from George R. Bryant, stepfather of
driver Masten Gregory. BRP's Indy project started in February 1965 and the resulting two cars were
delivered to Indianapolis in early May. Tony Robinson deserves full credit for their design; fabrication
was assisted by Jim Chapman, George Woodward, Stan Collier, Bruce McIntosh and Peter Downie.
At Indy, Howard Gilbert & George Salih installed Ford quad cam engines and ZF 5DS-25 transaxles.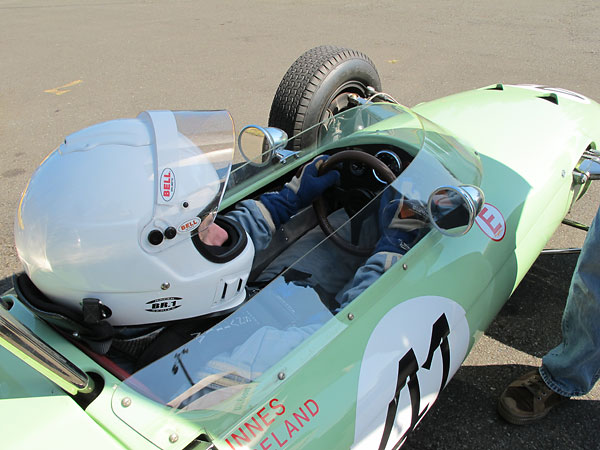 The BRP Indy cars proved competitive over a long three-year career. Poor luck in qualifying set the
stage for an exciting 1965 race: Masten Gregory started 31st of 33 in car number 41 (serial 65/1). From
the back of the pack, Gregory drove brilliantly and climbed to fourth place before a loss of oil pressure
on lap 59 of 200 forced him to retire for a 23rd-place finish. Johnny Boyd started 29th and completed
140 laps before a gearbox failure forced him to retire for a 13th-place finish. Two years later at the 1967
Indy 500, Carl Williams started the number 41 car from 23rd position, yet worked his way up through
the field and was running third on the race's final lap when he got tied up in an accident. Conclusion:
BRP didn't design or build many racecars, but their expertise in these disciplines was considerable.


Notes:
(1)
In 1963, Jim Clark won the Formula One championship easily with his Climax V8 powered Lotus 25. In addition to the ten race championship season, there were fourteen non-championship F1 races in 1963. When BRP's drivers entered these races, they used the team's Lotus 24s, with just one notable exception. Innes Ireland drove his BRP-BRM at the Solitude Grand Prix near Stuttgart on July 28. He finished third.


(2)
In 1964, John Surtees won the Formula One championship by just one point with his V8 powered Ferrari. In addition to the ten race championship season, there were also eight non-championship F1 races in 1964 and BRP contested six of these. Ireland won the first one! It was the Daily Mirror Trophy at Snetterton. Ireland had an accident in the second one: the News of the World Trophy at Goodwood. Ireland and Taylor both retired their BRPs early at the Aintree 200, Ireland with a suspension failure and Taylor with an engine problem. Ireland had a bad accident at Silverstone in the BRDC International Trophy race, and Taylor retired with low oil pressure. Ireland also had an accident at Solitude. Ireland finished third in the Mediterranean Grand Prix at Sicily, but Taylor suffered a suspension trailing link failure. (In two other non-championship F1 races, Taylor drove the team's leftover Lotus 24.)


(3)

The BRP-BRM's One Victory

Daily Mirror Trophy, Snetterton, 14 March 1964


| | | | | | | |
| --- | --- | --- | --- | --- | --- | --- |
| | Driver | Team | Constructor/Engine | Car# | Time/Retired | Grid |
| 1 | Innes Ireland | British Racing Partnership | BRP-BRM | 14 | 1.12:53.4 | 17 |
| 2 | Jo Bonnier | Rob Walker Racing Team | Cooper-Climax | 20 | +20.0s | 6 |
| 3 | Bruce McLaren | Cooper Car Company | Cooper-Climax | 9 | +1:03.0 | 4 |
| 4 | Phil Hill | BRM | Scuderia Centro Sud | 11 | +1:36.2 | 8 |
| 5 | Chris Amon | Reg Parnell Racing | Lotus-BRM | 17 | +1 lap | 9 |
| 6 | Jackie Epstein | Epstein-Eyre Racing Team | BRM | 25 | +2 laps | 14 |
| 7 | André Pilette | Equipe Scirocco Belge | Scirocco-Climax | 26 | +3 laps | 16 |
| Ret. | Peter Revson | Revson Racing (America) | Lotus-BRM | 18 | Accident | 11 |
| Ret. | Ian Raby | Ian Raby (Racing) | Brabham-BRM | 19 | Accident | 12 |
| Ret. | Peter Arundell | Team Lotus | Lotus-Climax | 2 | Gearbox | 3 |
| Ret. | Jack Brabham | Brabham Racing Org. | Brabham-Climax | 5 | Oil pump | 5 |
| Ret. | Jim Clark | Team Lotus | Lotus-Climax | 1 | Ignition | 1 |
| Ret. | Mike Hailwood | Reg Parnell (Racing) | Lotus-BRM | 16 | Engine | 18 |
| Ret. | Trevor Taylor | British Racing Partnership | Lotus-BRM | 15 | Engine | 7 |
| Ret. | Graham Hill | Owen Racing Org. (BRM) | BRM | 3 | Accident | 2 |
| Ret. | Jock Russell | Jock Russell | Lotus-Climax | 23 | Engine | 15 |
| Ret. | Bernard Collomb | Bernard Collomb | Lotus-Climax | 22 | Engine | 13 |
| DNS | Giancarlo Baghetti | Scuderia Centro Sud | BRM | 12 | Engine | 10 |
| WD | Richie Ginther | Owen Racing Org. (BRM) | BRM | 4 | | - |
| WD | Bob Anderson | DW Racing Enterprises | Brabham-Climax | 21 | | - |
| WD | Graham Eden | Graham Eden | Cooper Arden-Climax | 24 | | - |
| | | | | | | |




(4)

BRP-BRM 64/2 Results after being Rebuilt for Formula 5000

Guards F5000 Championship:


| | | | | |
| --- | --- | --- | --- | --- |
| Round | Venue | Date | Result | Notes |
| 7 | Koksijde | Aug 3, 1969 | 11th | (on lap 29 of 44 at finish) |
| 8 | Zandvoort | Aug 10, 1969 | 10th | (on lap 33 of 40 at finish) |
| 9 | Snetterton | Sept 1, 1969 | 10th | (on lap 28 of 40 at finish) |
| 10 | Hockenheim | Sept 14, 1969 | 8th | (on lap 25 of 30 at finish,) |
| 11 | Oulton Park, | Sept 20, 1969 | 19th | (retired after only 7 laps of 40) |
| 12 | Brands Hatch | Sept 28, 1969 | 14th | (retired after only 4 laps of 40) |
| | | | | |



The Tasman Series:


| | | | | |
| --- | --- | --- | --- | --- |
| Round | Venue | Date | Result | Notes |
| 1 | Levin | Jan 3, 1970 | DNQ | 11th Levin International |
| 2 | Pukekohe | Jan 10, 1970 | DNF (radiator) | 17th New Zealand Grand Prix |
| 3 | Wigram | Jan 17, 1970 | DNQ (suspension) | 19th Lady Wigram Trophy |
| 4 | Teretonga | Jan 24, 1970 | DNQ (engine) | 13th Teretonga International |
| | | | | |






Kaye Griffiths' attempt to qualify for the 19th Lady Wigram Trophy race comes to an abrupt end.
(Photographer unknown. This photo appeared in Shell Oil's "1970 New Zealand Motor Racing".)



Note: starting in 1964, the "Tasman Series" was a championship held in New Zealand and Australia that attracted top flight cars and drivers to the southern hemisphere. From 1964 through 1969, the rules were similar to contemporary Formula One rules except that larger engines were permitted. Actually, Tasman rules simply left pre-1960 Formula One engine rules in place, so the displacement limit was 2.5L instead of 1.5L. From 1970, the Tasman Series changed radically by adopting Formula 5000 rules, doubling engine displacement while reducing cost for most participants. The BRP team never traveled south to contest the Tasman Series, and the first appearance of a BRP-built racecar in the Tasman Series wasn't until 1970. By then, the BRP chassis was a dated design. After completing just eleven race laps, the car was packed up and put into storage. Interestingly, by giving a second life to Formula One racecars in the 1960s, the Tasman Series was responsible for making New Zealand and Australia great storehouses of sixties-era Formula One spares. The BRM engine shown in this article is one example, and its stroker crankshaft suggests it may have had a career of its own in Tasman Series racing.


(5)
It isn't clear exactly how or when chassis 64/2 was re-united with BRM rengine or transaxle as described by Ferris de Joux. Both he and Peter Bruin have passed away, so we were unable to check that detail.




We wish to gratefully acknowledge all the people who provided information and assistance with this article, including especially Ken Gregory and Tony Robinson who gave interviews and also Byron Sanborn of Vintage Racing Motors of Redmond Washington who walked us around the car and helped us understand what we were looking at. Thor Thorson of Vintage Racing Motors and racing writer/biographer Ian Wagstaff were also extremely generous with their assistance.

Unless otherwise noted, all photos shown here are from June 2011 when we viewed the car at The Pacific Northwest Historics at Pacific Raceways in Kent, Washington. All photos by Curtis Jacobson for BritishRaceCar.com, copyright 2011. All rights reserved.



Notice: all the articles and almost all the photos on BritishRacecar.com are by Curtis Jacobson.
(Photos that aren't by Curtis are explicitly credited.) Reproduction without prior written permission is prohibited.
Contact us to purchase images or reproduction permission. Higher resolution images are optionally available.