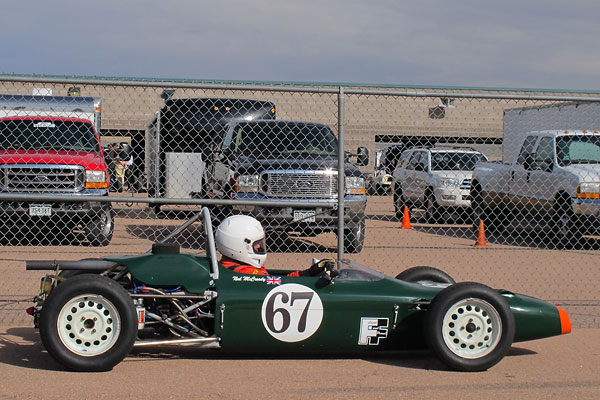 Neil McCready's Merlyn Mk20 Formula Ford Race Car
Owner: Neil McCready
City: Denver, Colorado
Chassis: Merlyn Mk20 (circa 1971)
Engine: 1.6L Ford four-cylinder
Race prepared by: owner
The Merlyn Mk20 Model
Colchester Racing Developments' highly successful 11A model was produced from 1968 through 1969. For 1970, the company's design was slightly improved and was assigned a new type designation: "17". The most significant feature change was a separately detachable nose cone which facilitated easier service and transportation but didn't make the cars any quicker. For 1971, far more significant changes were made. The new type "20" featured larger diameter lower longitudinal frame tubes and new X-shaped bracing over the driver's knees in lieu of a single diagonal brace. These two changes were evidently intended to improve chassis stiffness but they enhanced crashworthiness too. Lower control arm mounting points on the frame were entirely relocated and redesigned to achieve an anti-dive characteristic under braking. The standard location of the engine oil reservoir was relocated from the nose of the car to just behind the firewall. A new exhaust header routed up and over the rear bulkhead instead of threading through the rear suspension. In combination, these changes represented meaningful improvements to an already well-proven and winning design.

The Merlyn Mk20 was further developed during the 1971 season. Works driver Jody Scheckter raced Merlyns in both Formula Ford and Formula Three. At that time, the differences between the two classifications were small. Arguably, the most important difference was that Formula Fords raced on street tires whereas Formula Three cars rolled on specialized racing tires; to get optimal performance from the latter, CRD shifted rear suspension mounting points slightly. (Engines on Formula Three cars were very much more highly tuned, but their output was largely hampered by restrictor plates.)

A special short nosecone, developed for Jody Scheckter during the course of the 1971 season, was the most readily identifiable feature of 1972's "Mk20A" model. Various chassis and component changes were made as well, but are outside the scope of this article. The famous Jim Russell driving school was the major customer for Merlyn Mk20A racecars, and ex-school cars are typically found with type number "20AS" stamped into their chassis plates.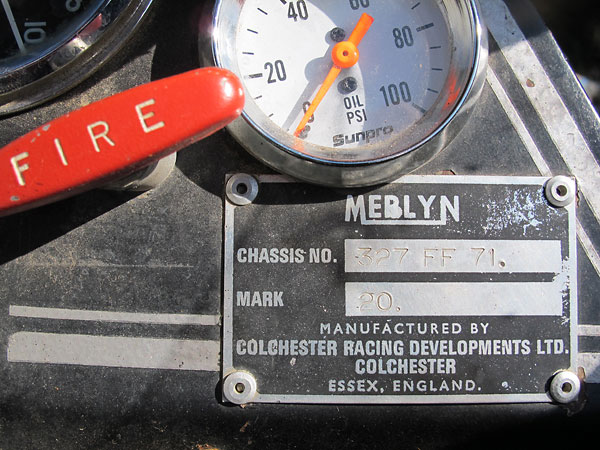 MERLYN - Chassis No. 327 FF 71. - Mark 20.
Manufactured by Colchester Racing Developments Ltd. - Colchester - Essex, England.



IMPORTANT ANNOUNCEMENT
BritishRaceCar.com will have to cut back plans for continued growth if we can't find more financial support.
If you like what you've found here, and you want to see more, please click here and follow the instructions.
Readers like you keep BritishRaceCar.com online and growing through voluntary financial contributions.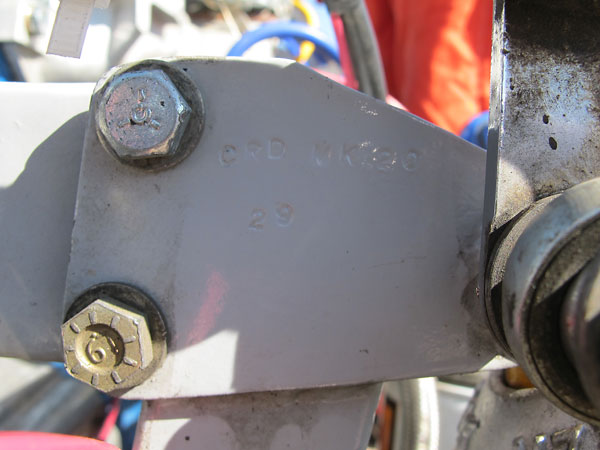 Colchester Racing Developments' frame serial number: "Mk20 29"



Features and Specifications (as currently presented)
Engine:
1.6L Ford four-cylinder engine (with 711M6015BA engine block. 9.3:1 compression ratio). Scholar cylinder head. Weber 32/36 DGV carburetor. Ramair model FF65 air filter. Motorcraft distributor. Pertronix Ignitor breakerless ignition module. Taylor Spiro Pro 8mm spark plug wires. Dry sump lubrication system. Titan oil pump. K&N HP-300L oil filter.

Cooling:
copper and brass crossflow radiator. Earl's 10-row oil cooler.

Exhaust:
custom 4-into-1 header.

Transaxle:
Hewland Mk8 4-speed. Open differential. Metalastic drive donuts. Donut Savers.

Front Susp.:
unequal length wide-based wishbones. Triumph Herald (Alford & Alder, forged) uprights. SPAX single-adjustable coilover shock absorbers. Hyperco springs. Adjustable anti-sway bar.

Rear Susp.:
inverted lower wishbones, single top links, and twin adjustable trailing links. Proprietary Merlyn magnesium uprights. SPAX single-adjustable coilover shock absorbers. Hyperco springs. Adjustable anti-sway bar.

Brakes:
(master) dual Girling master cylinders. Adjustable bias bar. Safety Brakers (front & rear).
(front) Girling 14LF calipers. Triumph Spitfire MkIV rotors.
(rear) Girling 12SP calipers. Triumph Spitfire MkIV rotors.

Wheels/Tires:
Weber Racing steel disc wheels. Dunlop Racing Formula Ford tires (135/545-13 front and 165/580-13 rear, CR82 tread compound).

Electrical:
Lucas starter. Lead/acid battery.

Instruments:
(left to right) Stewart Warner water temperature gauge (100-250F), Smiths Chronometric tachometer with tattle-tale (0-8000rpm), Sunpro oil pressure gauge (0-100psi).

Fuel System:
ATL under seat fuel cell. FF1600 fuel pump with push-on fittings.

Safety Eqmt:
Crow Enterprises safety harness. FireBottle fire suppression system.

Racing Class:
Formula Ford

Engine Installation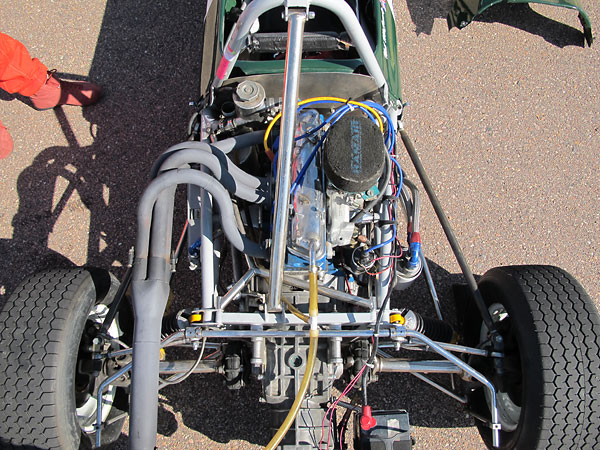 Cylinder head porting is critically important in the Formula Ford racing class, because very
specific rules limit other modifications from stock. Historically, Scholar and Minister were
Britain's two leading purveyors of cylinder heads: Neil's head is vintage Scholar. Underneath?
Neil rebuilt his own Formula Ford engine. He reports that the whole job cost less than $3K.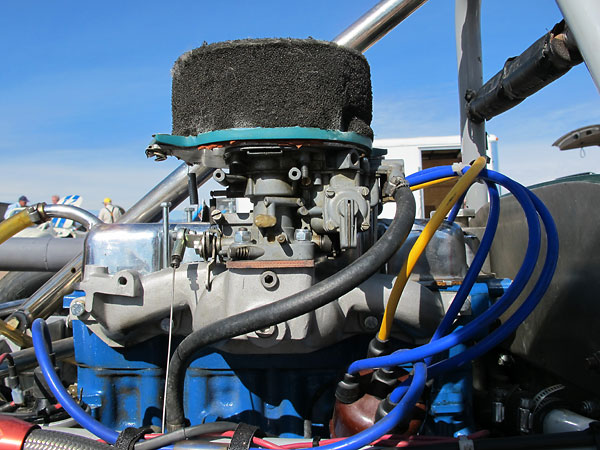 Weber 32/36 DGV carburetor. Ramair model FF65 air filter.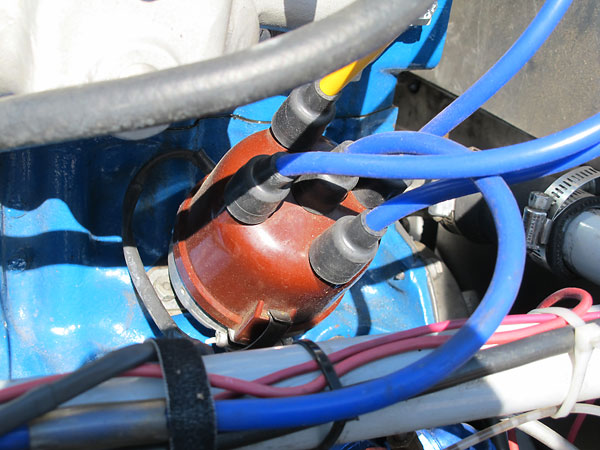 Motorcraft distributor (with Pertronix Ignitor module inside) and Taylor Spiro Pro 8mm spark plug wires.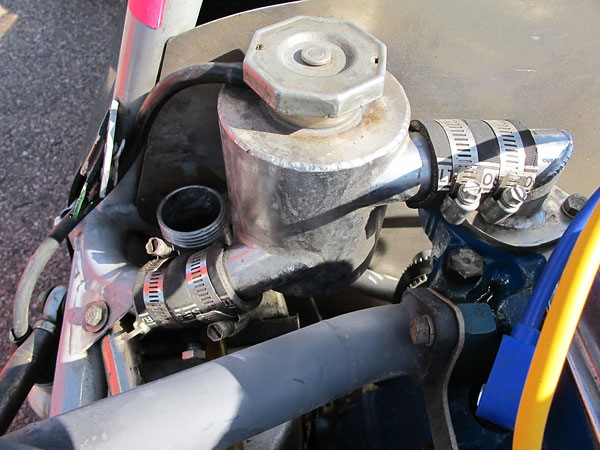 Aluminum header tank / swirl pot. Coolant routes to the nose-mounted radiator through frame tubes.
(Open filler at left is for the engine oil tank, which Neil was topping off as we were taking photos.)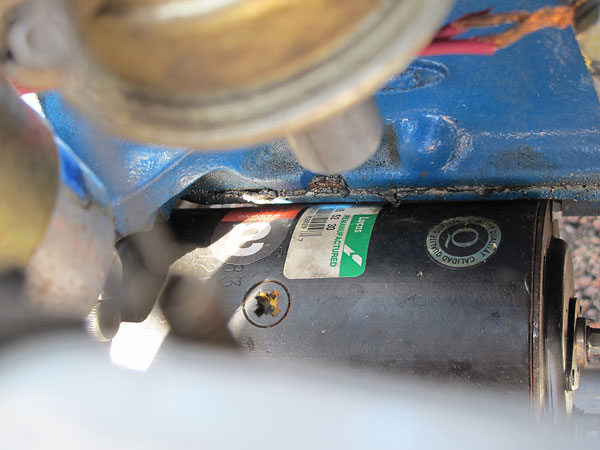 Lucas starter motor.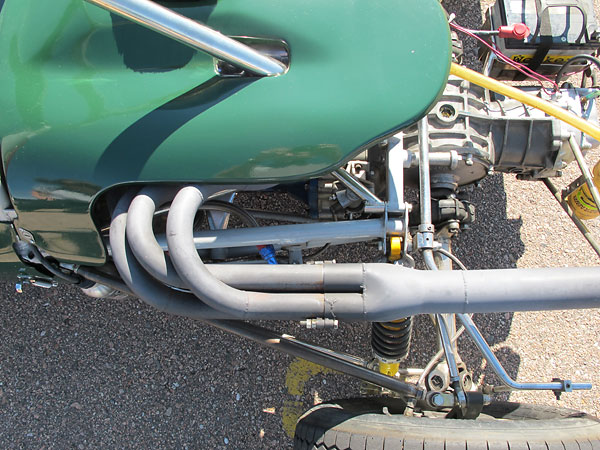 The most service-friendly color for header paint is black. Why? If a leak develops, it shows up white.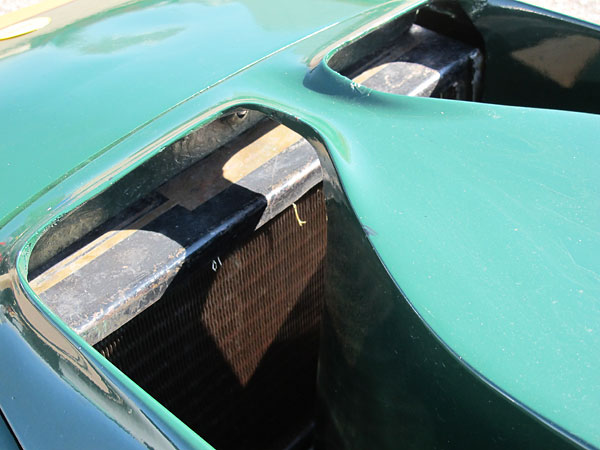 Copper and brass crossflow radiator. On the Merlyn 11 and 11A models, radiator airflow had been
vented to the sides. Starting with the Merlyn 17, airflow was vented upward as shown here.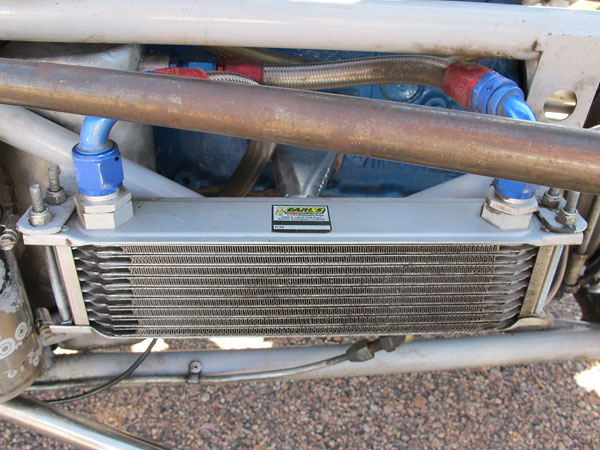 Earl's 10-row oil cooler. More interestingly, behind it you can see the engine oil reservoir.
On previous Merlyn models, oil reservoirs were mounted ahead of the front bulkhead. The rearward
location is better in terms of weight and weight distribution, plus plumbing is simpler.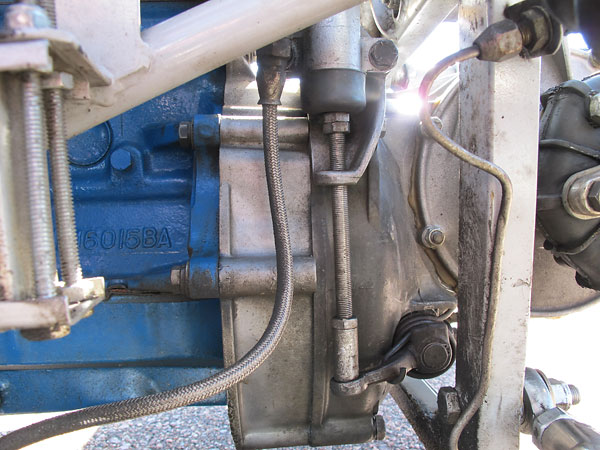 Bellhousing, clutch linkage, and Girling clutch slave cylinder.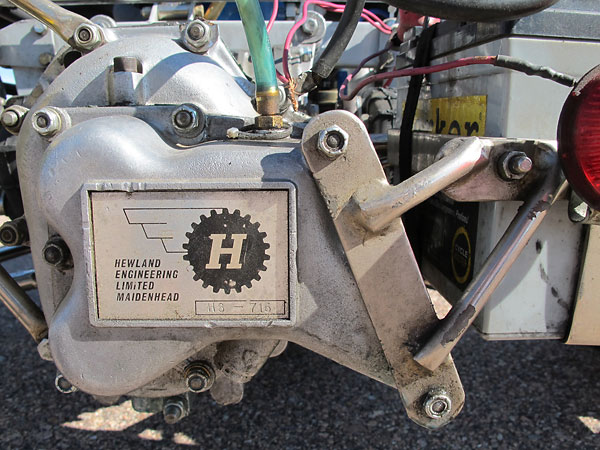 Hewland Engineering Limited, Maidenhead. Serial number: H8-716.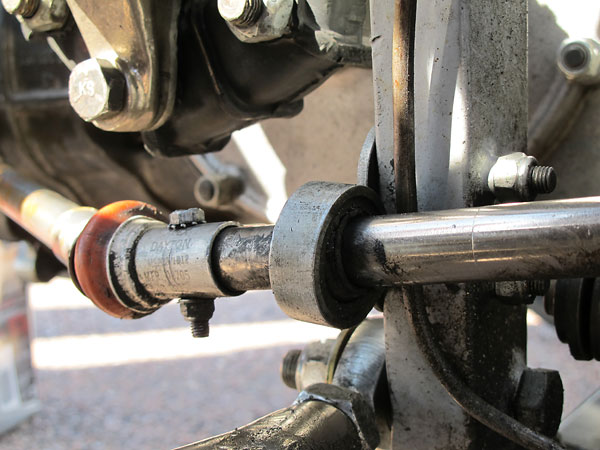 A spherical bearing locates the shifter linkage. A sealed Apex-Dayton u-joint is a significant upgrade.


Front Suspension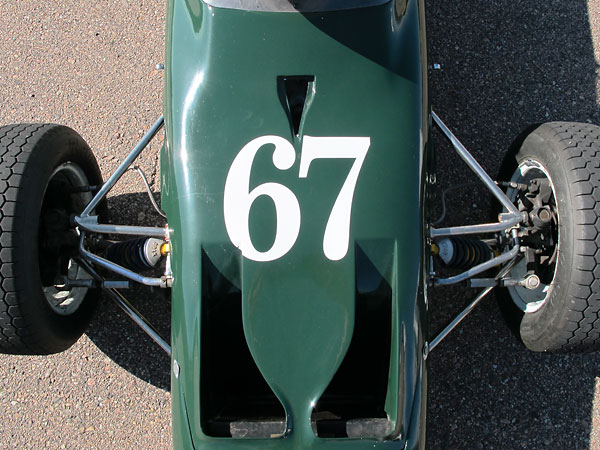 The dramatically updated anti-dive front suspension of the Merlyn Mk20 Formula Ford (circa 1971.)
Merlyn drivers placed 1st, 2nd, and 3rd place in both the 1970 and 1971 British championships.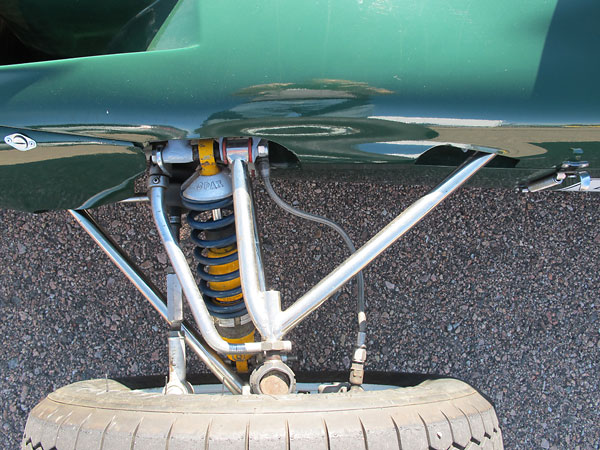 As a general rule, racetracks are smoother today than they were back in the day. Tires are
different too. For those reasons, Formula Fords usually run on stiffer than original springs.
(This car: 220#/inch front and about 180#/inch rear.)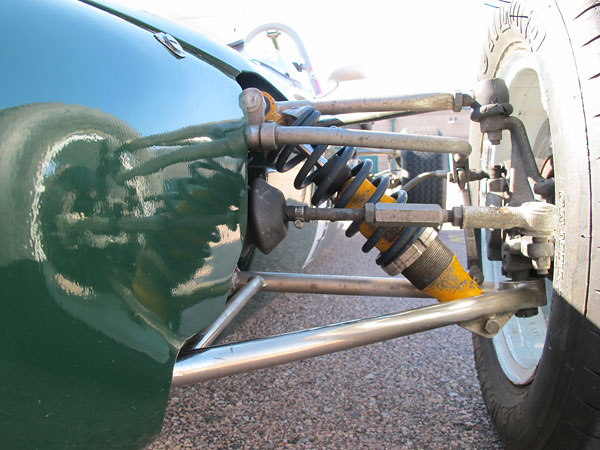 In side view with the wheel removed you would see that the A-arm mounting points on the chassis
converge to the rear. So configured, the torque reaction of braking partially cancels the
natural tendency of the front suspension to plunge downward.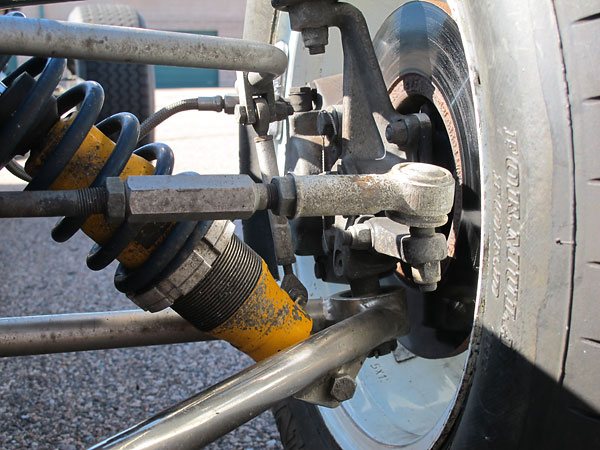 Triumph Herald (Alford & Alder) forged uprights.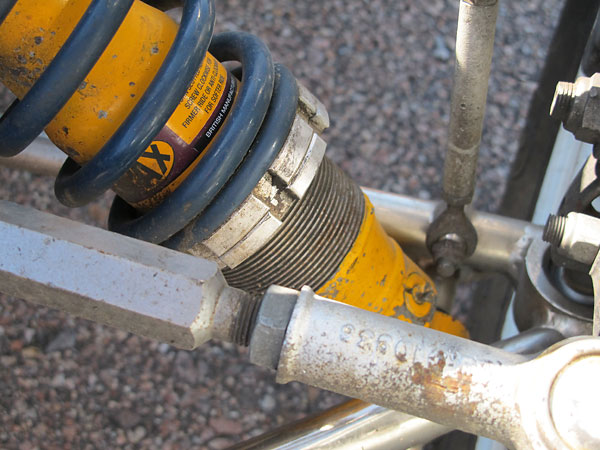 SPAX single-adjustable coilover shock absorbers. Hyperco springs.


Enjoying this article? www.BritishRaceCar.com is partially funded through generous support from readers like you!
To contribute to our operating budget, please click here and follow the instructions.
(Suggested contribution is twenty bucks per year. Feel free to give more!)
Rear Suspension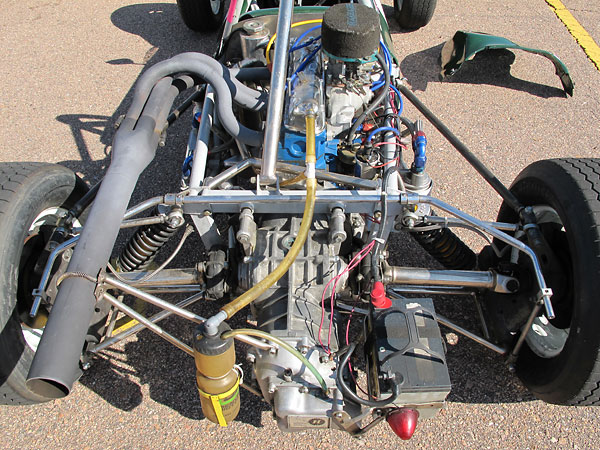 Inverted lower wishbones, single top links, and twin adjustable trailing links.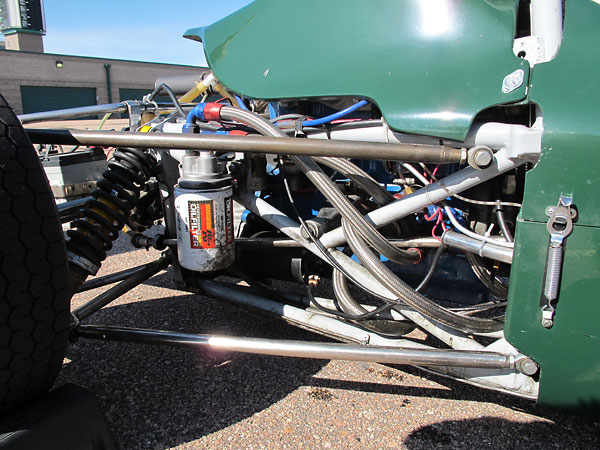 The upper trailing links have recently been replaced. The new parts haven't yet been nickel plated.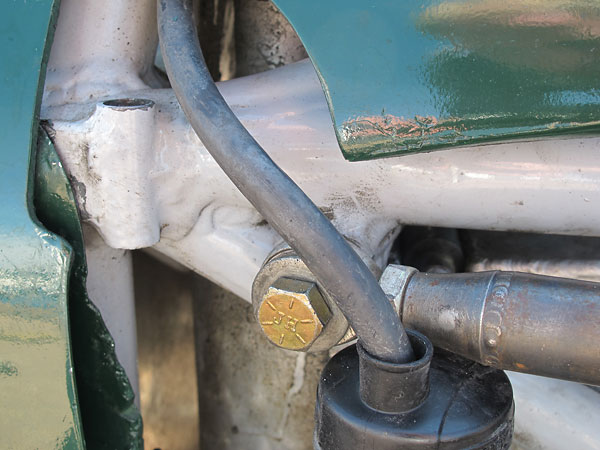 A similar frame was used for Merlyn's Formula Three cars. Alternate trailing link attachment points
were evidently used in conjunction with Formula Three spec racing slicks.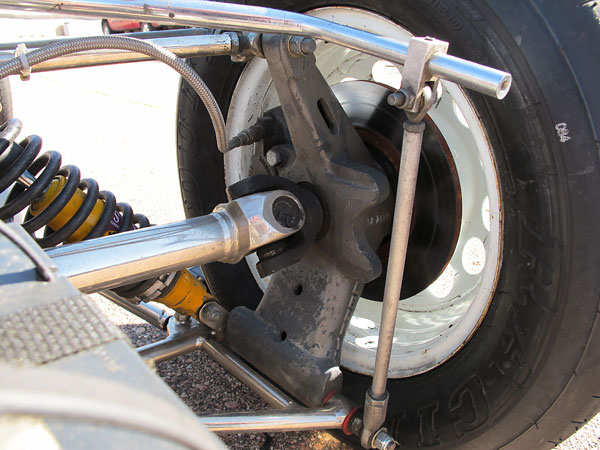 Triumph Spitfire brake rotors are used both front and rear, so replacements are readily available.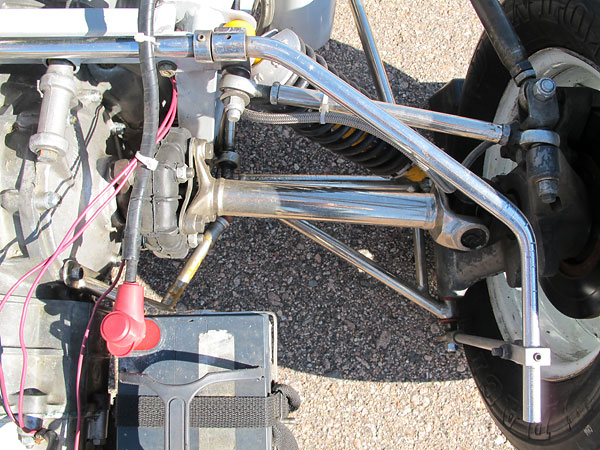 Metalastic drive donuts. Donut Savers. Battery size and location is probably original.
(For 2012 an Odyssey AGM dry cell battery has been installed, mounted under the driver's knees.)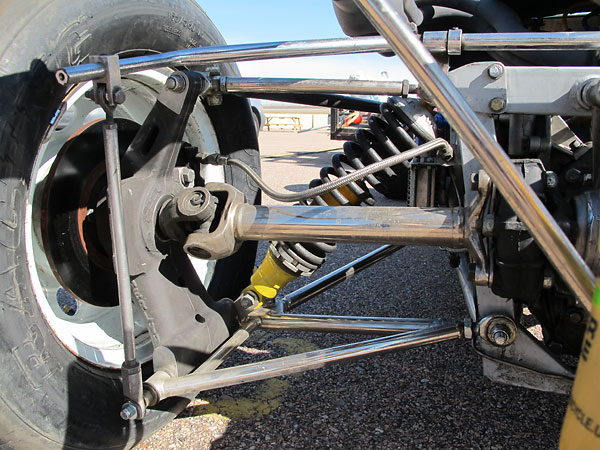 The right rear upright is original but the left one has been replaced recently. The replacement
part is aluminum instead of magnesium. Aluminum is significantly stronger, less susceptible
to corrosion, and only about half a pound heavier. Cost? About $650 each.


Interior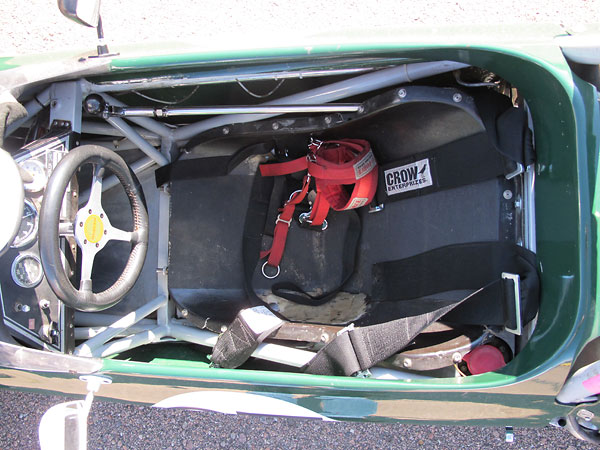 The original Merlyn fiberglass seat is in good condition, but Neil plans to set it aside next
season in favor of one that will suit his physique better. Crow Enterprises safety harness.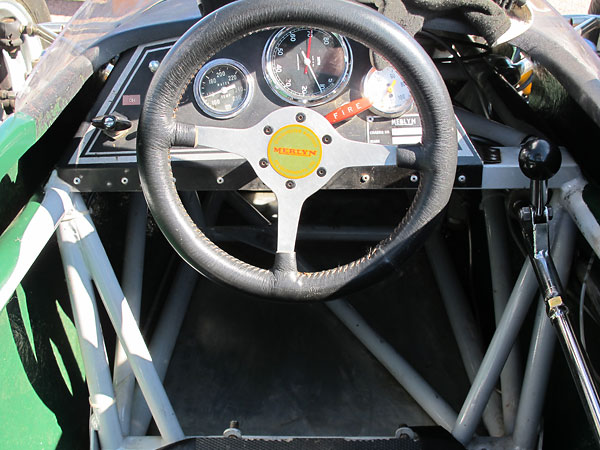 Neil has the car's original Smiths gauges, but keeps them in safe storage. Here: Stewart Warner
water temp gauge, a Smiths Chronometric tach with tattle-tale, and a Sunpro oil pressure gauge.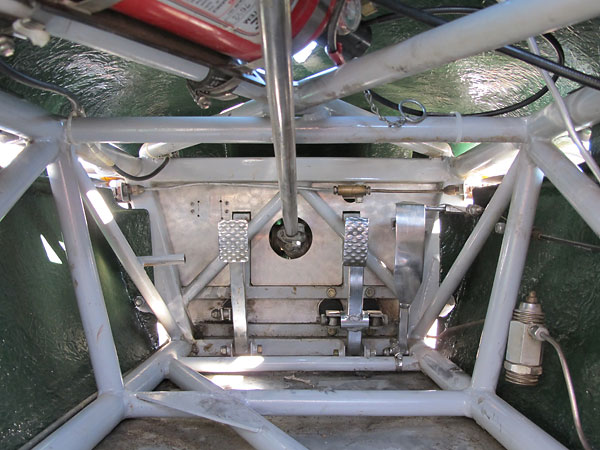 Neil has done a lot of work on the pedals to make room for wide feet. It wasn't necessary to shift
the master cylinders, but he did shift the throttle pedal over and relocated the throttle cable to the
outside of the frame. The width of the brake pedal and dead pedal have been reduced about 1" each.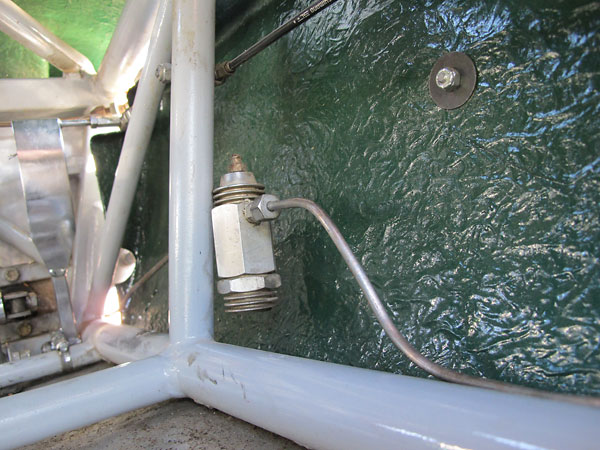 Period accessory: colorful and well-known racer Bob Booth of California used to produce and market
Safety Brakers as an anti-skid device. Taken apart, they're just a piston working against a stiff spring.
By leveling pressure spikes, they can in fact help to reduce locking of an inside wheel but the benefit
is modest and it comes with a slight increase in pedal travel. Neil tells us that his brake pedal
is hard and the Safety Brakers aren't leaking, so he hasn't been motivated to remove them.
He explained: "I'm a big believer in only changing what's necessary."


Exterior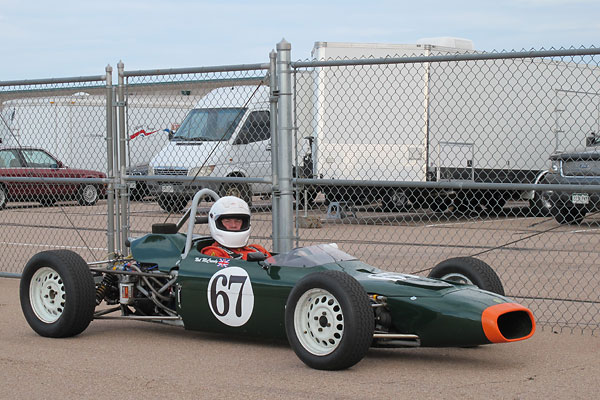 We enjoyed watching Neil race his Merlyn Mk20 at Pikes Peak International Raceway near Colorado
Springs during the Rocky Mountain Vintage Racers' Octoberfast/Spooktacular 2011 event. In Saturday
afternoon's feature race, Neil lapped the 1.400 mile circuit at 1:05.824 for an average speed of 76.6mph.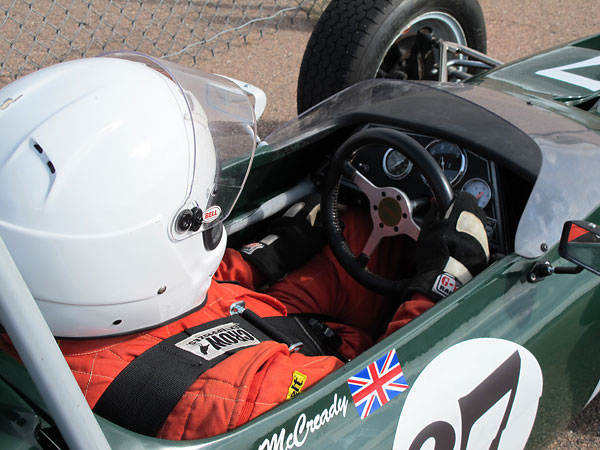 British expatriate Neil McCready, strapped in and ready to race.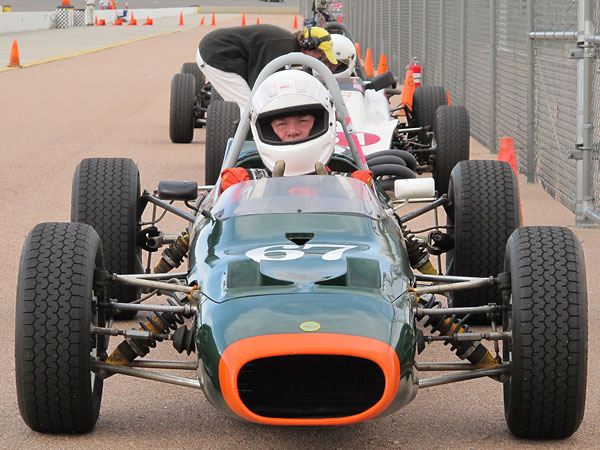 Seeking a new challenge after winning a whole lot of races in his MGB sports car, Neil went looking
for a Formula Ford. His purchase decision came down to two cars: a Royale RP3-A and this Merlyn
Mk20. For Neil, the deciding factor was that Colchester Racing Developments is still in business,
so top quality spare parts are more readily available and affordable for the Merlyn.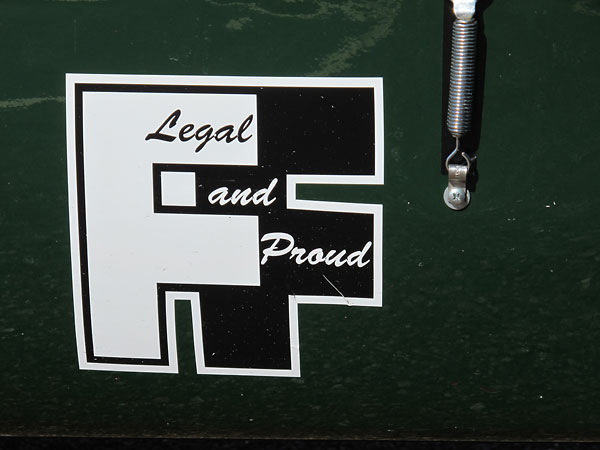 Rocky Mountain Vintage Racers created their "Formula Ford / Legal and Proud" program in 1996.
It proscribed a methodology by which approved inspectors could ascertain and certify compliance of
the cars to long-standing SCCA rules. Simple and standardized measurements are the core of the
inspection process. The program has restored Formula Ford as a home of particularly close racing.
Incidentally, RMVR welcomes Formula Fords built from 1973 through 1981 (a.k.a. "Club Fords").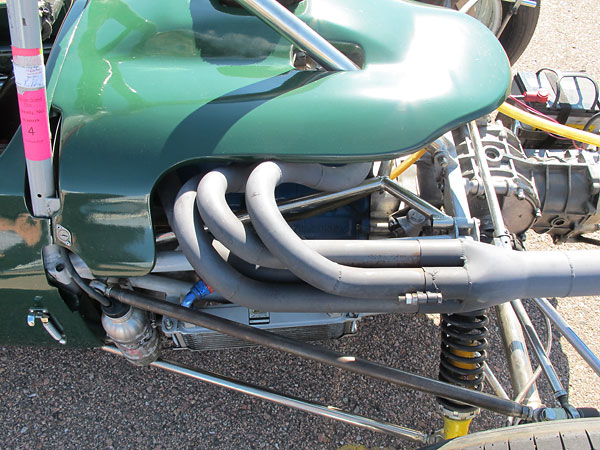 Formula Fords may race with either of two engine specifications: "Cortina" or "Uprated" (a.k.a. "Kent").
Early North American Formula Fords originally used Cortina engines, but most have since been updated
to newer Kent specifications. Two different cylinder heads. The Cortina version had combustion chambers
cast into the head and flat-top pistons whereas the Kent engines had flat cylinder heads in combination
with shaped pistons. Kent engines typically produces more power due to bigger valves and they're more
robust due to better main bearing caps. Intake manifolds and carburetors are different too.



Neil is only just getting to know this newly acquired racecar; he hasn't yet had occasion to open up its
gearbox to see what gears are inside. At Pikes Peak International Raceway he gave us this observation:
"The gearing is a little long-legged here, perfect at High Plains Raceway, and weird at Pueblo."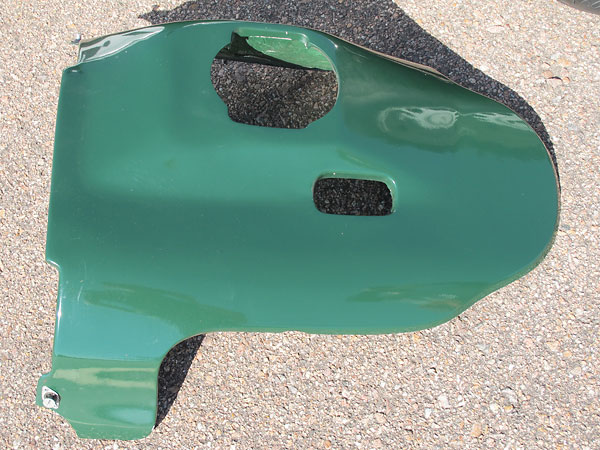 Fiberglass engine cover.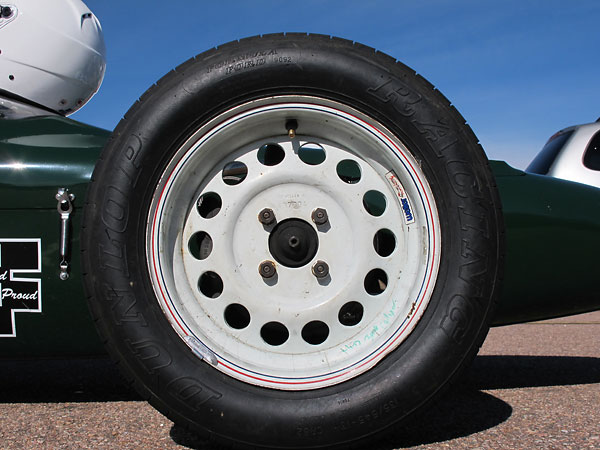 Weber Racing steel wheels.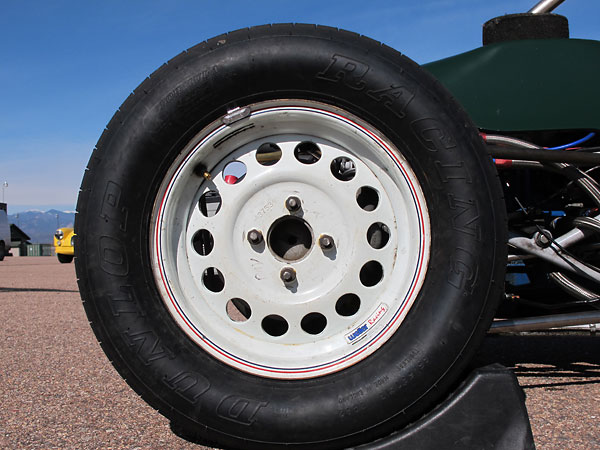 Dunlop Racing tires (135/545-13 front, 165/580-13 rear, CR82 tread).




Unless otherwise noted, all photos shown here are from October 2011 when we viewed the car at The Rocky Mountain Vintage Racers' "Spooktacular" at Pikes Peak International Raceway near Colorado Springs, Colorado. All photos by Curtis Jacobson for BritishRaceCar.com, copyright 2012. All rights reserved.



Notice: all the articles and almost all the photos on BritishRacecar.com are by Curtis Jacobson.
(Photos that aren't by Curtis are explicitly credited.) Reproduction without prior written permission is prohibited.
Contact us to purchase images or reproduction permission. Higher resolution images are optionally available.