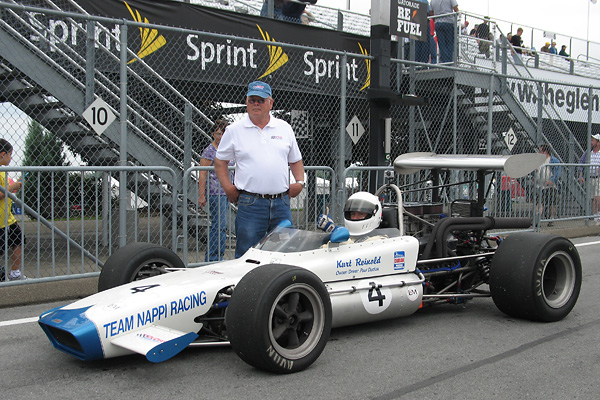 Paul Dudiak's McKee Mk12 Formula 5000 Racecar
Owner: Paul J. Dudiak
City: Peoria, Illinois
Model: McKee Mk12 (circa 1969)
Engine: Chevy 302cid V8
Race prepared by: owner.
McKee Engineering Corporation's Race Cars
Although Bob McKee is as American as the Indy 500, we can find a place for any McKee car on this "British Racecar" website. Bob is a pioneer and an innovator in so many respects that interest us. McKee Engineering Corporation was officially founded in 1961, shortly after 1959 Indy 500 winner Rodger Ward hired Bob to install a brand new Buick 215 aluminum V8 into a Cooper Monaco sports car. Ward's Cooper-Buick was the first technically successful installation of an American V8 into a rear-engined British racecar chassis. In the process, McKee solved one of the vexing challenges of the rear-engine arrangement by developing an economical transaxle that could take the stress of bigger engines and better racing tires. In short order, McKee Engineering sold about fifty transaxles to other car constructors, and among those customers was Carroll Shelby who specified the McKee transaxle into the Cooper/Shelby "King Cobra" racecars. Meanwhile, McKee Engineering was designing and building their own rear-engined racecars. As the Can-Am Series materialized, McKee cars were right in the mix.

In 1968, McKee Engineering branched out to open-wheeled single-seaters. Their first "formula car" was the Mk8 model, for SCCA's Formula A class. Formula A cars were allowed to use engines of up to 5000cc displacement, although engines had to be homologated based on production of 1000 passenger cars. They were specifically required to utilize stock engine blocks and cylinder head castings, although bore and stroke could be changed freely. Two McKee Mk8's were built: one for Mak Kronn and the other for Kurt Reinold. The Mk12 of 1969 was essentially a development of the Mk8. Three were built, for drivers Kurt Reinold, Chuck Trowbridge and Dick DeJarld respectively. Although Formula A was itself a professional series, it was ultimately eclipsed in public perception by "Formula 5000", a higher profile and higher prize-money series that utilized the same technical regulations. In 1972 McKee Engineering built one final Formula A / Formula 5000 car, the Mk18 for driver Dick DeJarld.

Bob McKee designed relatively tough, safe, and durable racecars. If you were to compare his work to more famous contemporaries, Ron Tauranac of Brabham might possibly come to mind. Like a Brabham, the Mk12 seems essentially practical and conservatively built. For example, every Heim joint seems at least one size larger than it might be if it were installed on a contemporary Lotus. (Among the advantages are that they might go a whole season without wearing out. Bob McKee wouldn't cut corners to build the lightest cars in their class.) On the other hand, McKee Engineering wasn't shy about utilizing new materials, new fabrication processes, and leading edge components. McKee preferred to use American-made components (e.g. brakes, steering rack, etc.) where feasible, and Bob McKee was particularly savvy about partnering with larger American companies to leverage their capabilities. Racing was the ideal place to demonstrate their newest technologies.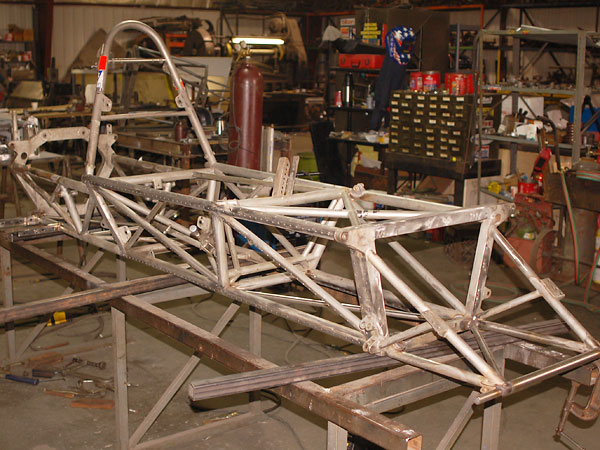 Mak Kronn's McKee Mk8 and Kurt Reinold's McKee Mk12 spaceframes were constructed of Grade 304
stainless steel, whereas other frames in these series were made of mild steel, except for the two tubes
per car which carried coolant. This photo shows Kurt Reinold's Mk12 during restoration by current owner
Paul Dudiak. Per a special request from Kurt Reinold, McKee included eight extra braces on this frame.
Which tubes are extra? Hint: they're mostly smaller (3/4") diameter. Answer: the tubes on either side of
the driver's waist (4), on either side of the drivers thighes (2), and above the driver's knees. (These
last two tubes turn a single diagonal brace into an "X" brace.) Probably superfluous, but not heavy...


In 1968 and 1969, Armco Steel Corporation¹ was a particularly important partner. This car and McKee Mk8 before it were essentially sponsored by Armco. The frames and most of the suspension components of these cars were constructed of Armco's Grade 304 stainless steel tubing, with TIG welded joints. In this time period, Armco was developing some very high strength stainless alloys. They provided all the stainless steel McKee Engineering could use - for free - and they encouraged experimentation.

McKee used stainless for many, many parts. For example, the balljoint standoffs on Mk12 front spindle were made from "17-4 PH" stainless. Also known as Grade 630, this is a very high tensile strength stainless with the composition of 17% chromium, 4% nickel, 4% copper and 0.3% niobium. The PH designation stands for "precipitation hardening." Its properties can be improved by a single, fairly low temperature heat treatment which causes no distortion of the component. Hub carrier bottom pivots were "13-8 Mo", which is another machineable and precipitation hardenable stainless steel. Its composition is 13% chromium, 8% nickel, 2% molybdenum. This is another high strength material, chosen because of its particularly high toughness and crack resistance.


Enjoying this article? www.BritishRaceCar.com is partially funded through generous support from readers like you!
To contribute to our operating budget, please click here and follow the instructions.
(Suggested contribution is twenty bucks per year. Feel free to give more!)
In exchange for free stainless steel, McKee Engineering made their brand new racecars available for various promotional purposes. Mak Kronn's Mk8 was displayed in the Armco booth at the Society of Automotive Engineers Congress in 1968. Armco removed the fiberglass bodywork, and displayed the complete chassis on specially constructed stands about forty inches off the floor. They also displayed specific example parts (such as the aforementioned hub carrier pivots) in other trade show displays. Kurt Reinold's Mk12 appeared in various Armco printed advertisements and brochures.

McKee Engineering continued building racecars for other classes besides Formula 5000. One especially big project was a one-off, Armco-sponsored, four-wheel drive, twin turbocharged, aluminum-block Olds 455 powered Can-Am car. This technological tour de force featured a monocoque chassis of very thin gauge stainless steel. The car was completed, but unfortunately the sponsorship money ran out before it could be developed to its full potential. McKee Engineering has also accepted many interesting contracts outside of racing, including construction of special electric powered and military vehicles. The company continues to provide engineering and fabrication services from their 6000 square foot facility in Lake Zurick, Illinois.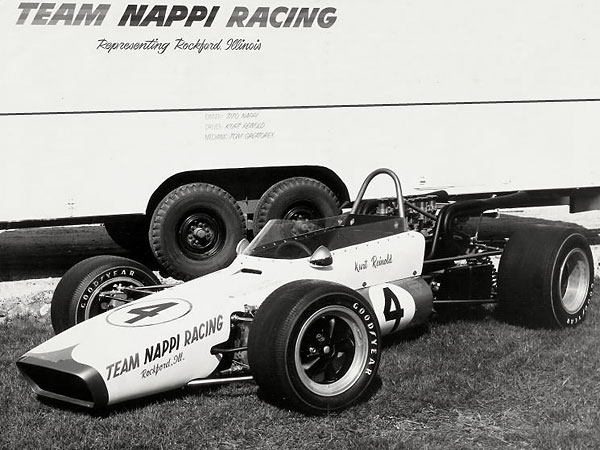 McKee Mk12c as delivered to Team Nappi Racing of Rockford, Illinois
Owner: Tito Nappi, Driver: Kurt Reinold, Mechanic: Tom Greatorex


Please support the sponsoring companies who make www.BritishRaceCar.com possible, including:

Paul Dudiak's McKee Mk12
Paul Dudiak's 1969 McKee Mk12 was originally built-to-order for Tito Nappi, who owned Team Nappi Racing of Rockford, Illinois. The team's driver was Kurt Reinold, who drove it to eight SCCA Formula A National wins between 1969 and 1971. He also won numerous SCCA Divisional races and the SCCA Central Division Championship of 1970. He won the June Sprints race at Road America in 1971, and he set Formula A lap records at eight different venues.

SCCA Formula A National Victories:
August 24, 1969
Blackhawk Farms, Illinois
September 21, 1969
Michigan International Speedway, Michigan
October 5, 1969
Indianapolis Raceway Park, Indiana
August 23, 1970
Blackhawk Farms, Illinois
October 4, 1970
Indianapolis Raceway Park, Indiana
October 11, 1970
Road Atlanta, Georgia
June 20, 1971
Road America, Wisconsin
August 22, 1971
Blackhawk Farms, Illinois
Kurt Reinold also occasionally entered Formula 5000 Championship Series races, where he raced the McKee Mk12 quite respectably against some of the more famous professional drivers of his time.

Continental Championship Series Results:
May 4, 1969
6th place, Monterey Grand Prix
July 6, 1969
accident, Seattle Grand Prix
July 20, 1969
accident, Badger 200 (Road America)
July 5, 1970
accident, Dallas Grand Prix
July 18, 1970
7th place², Road America Grand Prix
September 7, 1970
11th place, Lime Rock Grand Prix
Tito Nappi sold the McKee Mk12 to C.J. Solomone in 1972. In 1973, ownership transferred to Anthony Kestian. From 1974 through 2005 the McKee was owned by Donald De Maagd. All these owners participated in SCCA Formula A races. The car was actively raced through September 1976.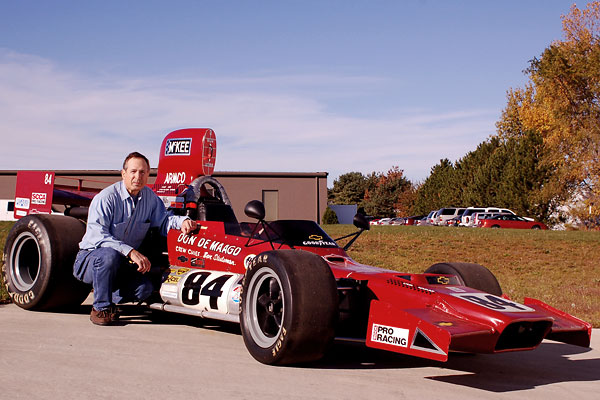 Paul Dudiak with his McKee Mk12c racecar in 2005, shortly after purchasing it from Donald De Maagd.


Paul Dudiak purchased the McKee in 2005, and completed its restoration in June 2006. Five companies assisted in the restoration: Prince Race Car Engineering of Sterling Illinois helped with the chassis and also built the wings. Mike Mullvain of Mullvain Motorsports in East Peoria rebuilt the engine. Gregg Elliff at GE Autosports of Avon Indiana rebuilt the transaxle. Hoerr Racing Products provided a multitude of parts. Carl Root repainted the bodywork.

Paul has subsequently enjoyed driving the McKee Mk12 on twenty event weekends. Formula A and Formula 5000 cars are eligible to race with various vintage racing organizations. The Formula 5000 Drivers Association in particular organizes an exciting schedule of races, typically in cooperation with the Sportscar Vintage Racing Association (SVRA) and Historic Sportscar Racing (HSR). Paul participates in those events and has also raced with the Vintage Sportscar Driver's Association (VSCDA) and with the Monoposto Racing club.

In early 2009, Paul Dudiak started an internet racing parts store called Dudiak Racing Products.


Features and Specifications
Engine:
Chevy 302cid (5.0L) V8, rebuilt by Mike Mullvain of Mullvain Motorsports. Dart Pro-1 aluminum cylinder heads. Inglese (McKay) intake manifold with 4 Weber IDA48 carburetors. K&N air cleaners. Vertex magneto ignition system. Taylor Pro Wire 8mm silicone insulated wire-core spark plug wires. Moroso dry sump oil pan. Peterson 4-stage dry sump oil pump, with gilmer drive pulleys. Peterson Fluid Systems oil reservoir (3 gallon) and oil breather tank. Fluidyne dual pass oil cooler. CM remote mount canister screen oil filter, and Fram HP4 oil filter.

Cooling:
Fluidyne custom aluminum radiator (nose-pod mounted). Harrison aluminum header tank.

Exhaust:
4-into-1 headers.

Transaxle:
Hewland LG600 6-speed, rebuilt by Gregg Elliff of GE Autosports. QuarterMaster 7.25" 3-disc clutch. Halfshafts with CV joints (inboard) and Cardan univeral joints (outboard). Stewart Warner transaxle oil cooler. Tilton clutch master cylinder.

Front Susp.:
McKee cast aluminum uprights. Gordon Schroeder (Schroeder Racing Products) steering rack. KONI 8212 double adjustable coilover shock absorbers.

Rear Susp.:
McKee cast aluminum uprights. KONI 8212 double adjustable coilover shock absorbers.

Brakes:
(master) dual Wilwood high-volume aluminum master cylinders, with bias bar. Motul fluid.
(front) 1967 Ford Mustang (Kelsey-Hayes) front calipers and (grooved) vented rotors.
(rear) 1967 Ford Mustang (Kelsey-Hayes) front calipers and vented rotors.

Wheels/Tires:
custom American Racing Torq-Thrust magnesium wheels (15x10 front, 15x15 rear). Avon tires (10.5x23.0x15 front, 15.0x26.0x15.0 rear).

Electrical:
Varley Red Top 30 racing battery. (No charging system.) Tilton Super Starter.

Instruments:
(left to right) AutoMeter coolant temperature gauge (140-280F), Stewart-Warner engine oil temperature gauge (100-270F), Stewart-Warner fuel pressure gauge (0-30psi), Jones mechanical tachometer (1000-10,000rpm), Steward-Warner oil pressure gauge (0-100psi).

Fuel System:
original dual 15 gallon Goodyear fuel cells. Dual Holley "blue" electric fuel pumps. Holley fuel pressure regulator. Dual System One billet aluminum fuel filters.

Safety Eqmt:
FireSense AFFF (foam) centralized fire suppression system. Crow Enterprises six point cam-lok safety harness. Personal steering wheel with Sweet Manufacturing quick release hub. 50 LED rain light.

Weight:
1639 pounds with ~4 gallons of oil and ~20 gallons of fuel.
Corner weights (with body removed): LF:278#, RF:277#, LR:517#, RR:532#. Front/rear = ~35/65.

Racing Class:
Formula A and Formula 5000.



Engine Installation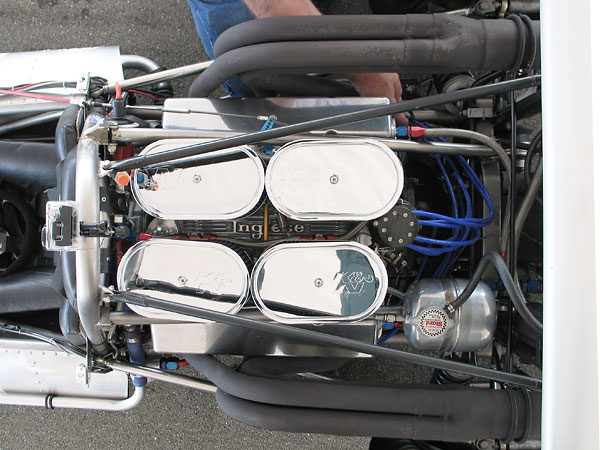 Inglese intake manifold for four Weber IDA48 downdraught carburetors.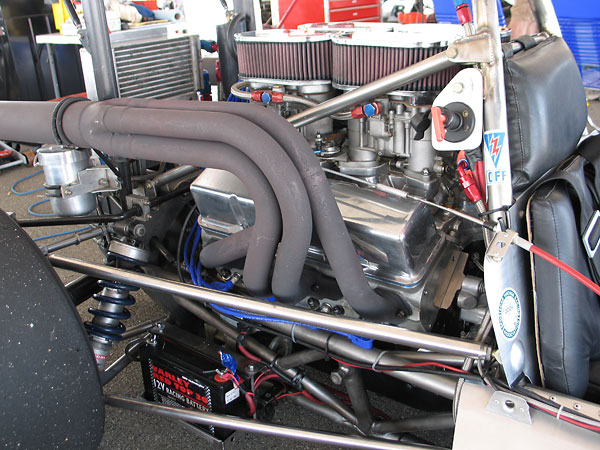 Paul's engine is rebuilt annually by Mike Mullvain of Mullvain Motorsports in East Peoria, Illinois.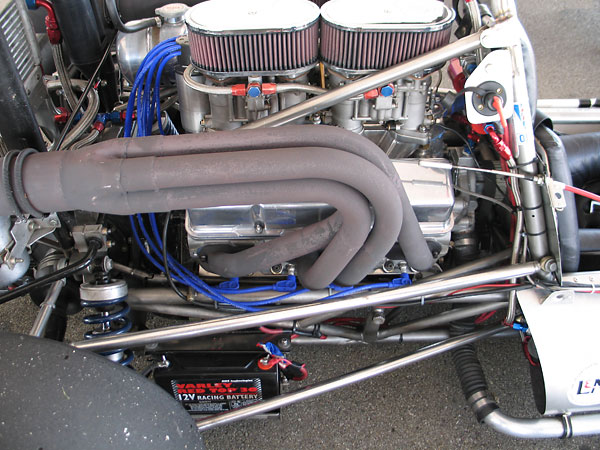 Regular small block Chevy four-into-one headers, installed upside down and reversed side-to-side.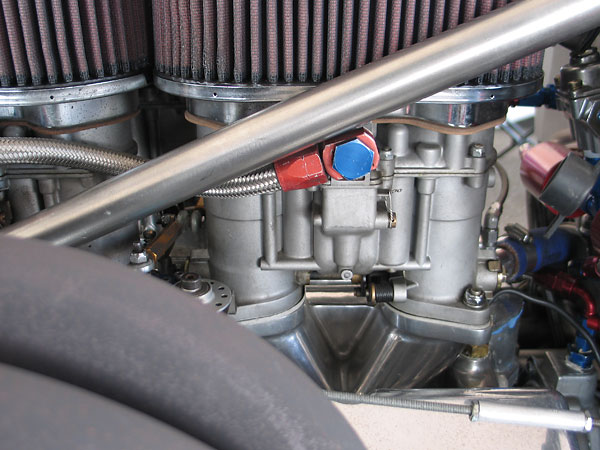 (How often do we see a photo of the back side of a Weber carburetor?)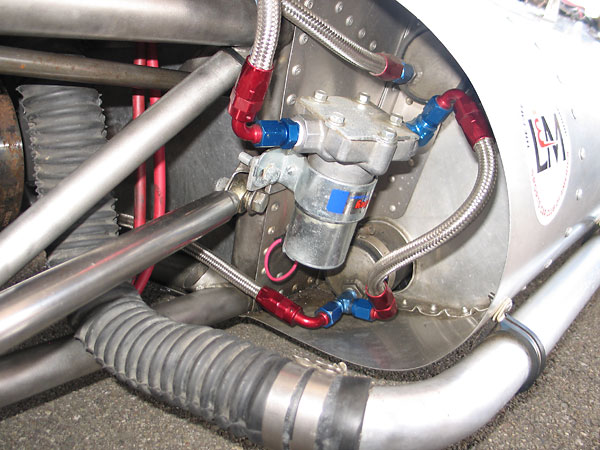 Holley "blue" electric fuel pump.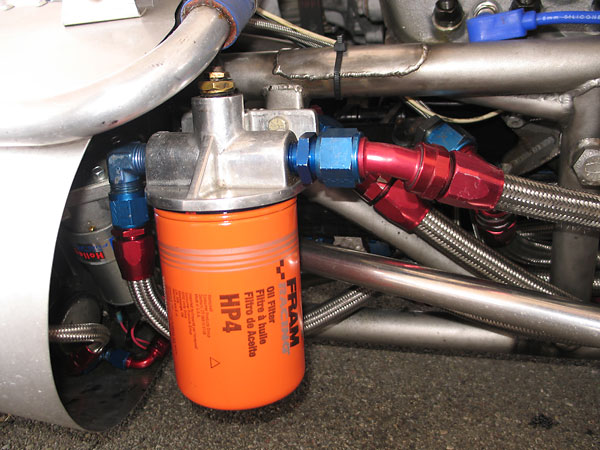 Fram HP4 oil filter on remote mount.



Dual "System One" billet aluminum fuel filters. Holley fuel pressure regulator.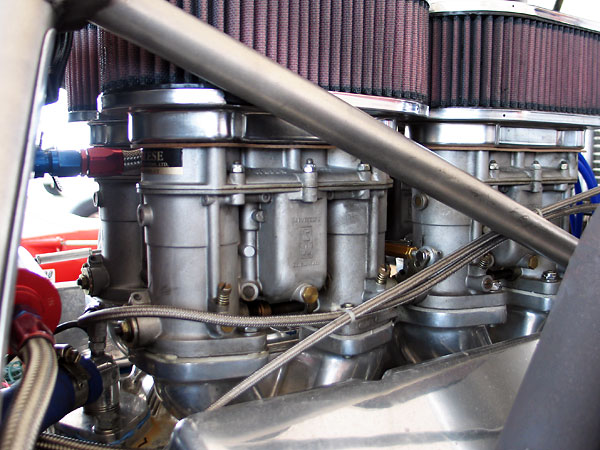 Four Weber IDA48 carburetors, with K&N gauze air filters.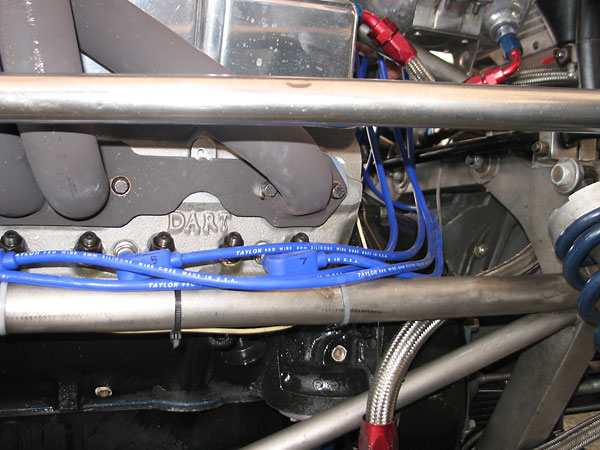 Dart Pro-1 aluminum cylinder heads.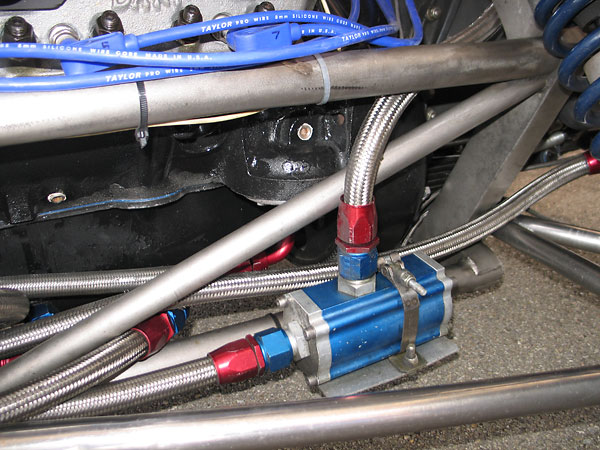 CM remote mount canister screen oil filter.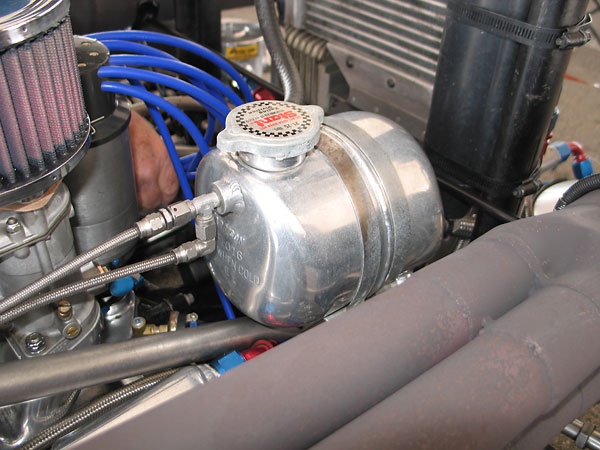 Harrison aluminum header tank.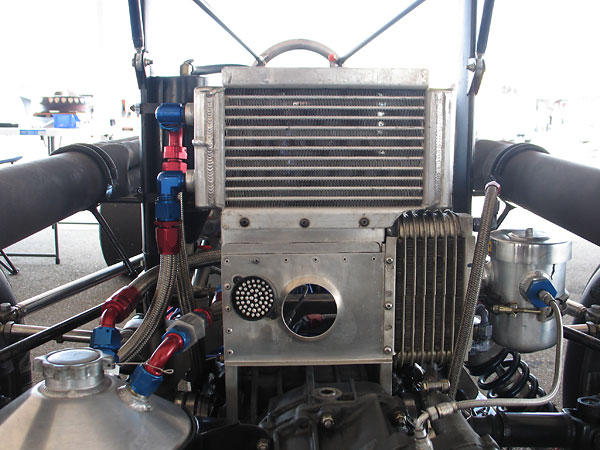 Fluidyne dual pass engine oil cooler, and vintage Stewart Warner transaxle oil cooler.



Peterson Fluid Systems oil reservoir (3 gallon).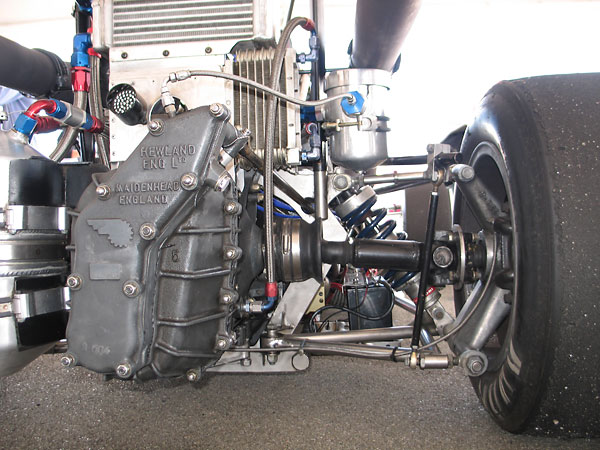 The Hewland LG600 6-speed transaxle (as shown here) was a popular choice in 1968 and '69.
After 1969, most Formula 5000 car constructors installed the lighter weight DG300 5-speed.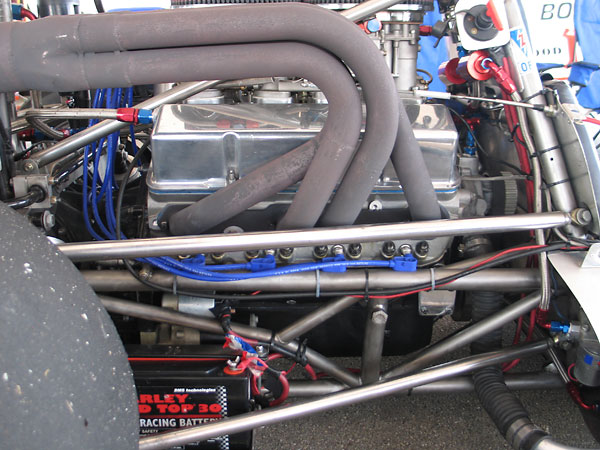 Varley Red Top 30 racing battery. Tilton Super Starter gear reduction starter.


Suspension / Etc.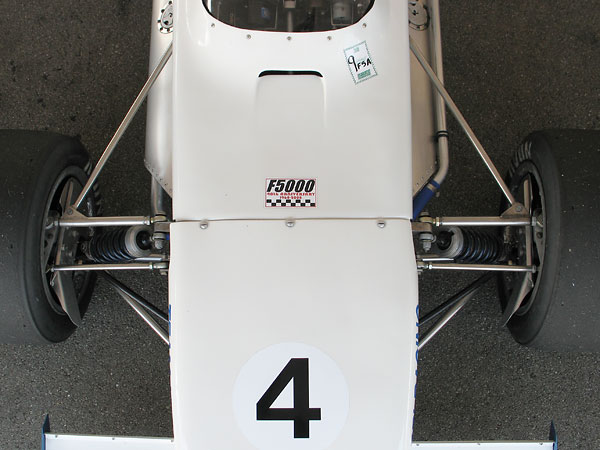 McKee Engineering found Grade 304 ("18/8") stainless steel is an excellent material for many fabricated
racecar suspension parts. Obviously it doesn't rust and it doesn't need to be painted. TIG welding 304 isn't
difficult, weldments don't need heat treatment (like Chrome Moly), and 304 isn't susceptible to hydrogen
embrittlement (like chromed parts.) Tensile strength is superior to mild steel. Possibly more importantly,
ductility is superior, so it's more fatigue resistant and less prone to cracking in minor accidents. It's easy
to inspect for cracks and to repair. Downside? Unless you're sponsored by Armco Steel, it's expensive.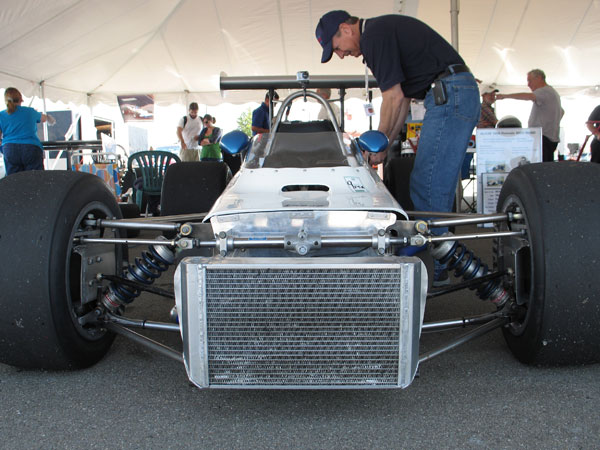 This custom aluminum radiator is a replacement. McKee Engineering made their own radiators. They bought
brass cores and then formed end tanks out of mild steel, fully-tinned on both interior and exterior surfaces.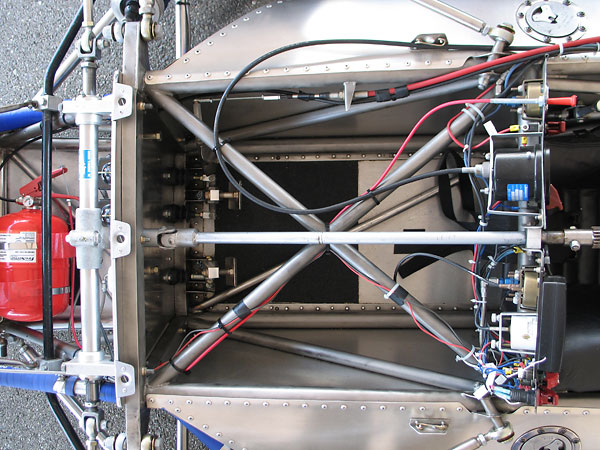 The floorpan and sides of the tub are aluminum, fully riveted to behave as stressed skins and give much of
the stiffness associated with monocoque construction. However, rather than rivet directly into main frame
longitudinal tubes, McKee tack-welded flange strips along the tubes and riveted to the flanges. Here, you
can see floorpan rivets just inboard of tubes. The trick is harder to spot along the top of the side panels.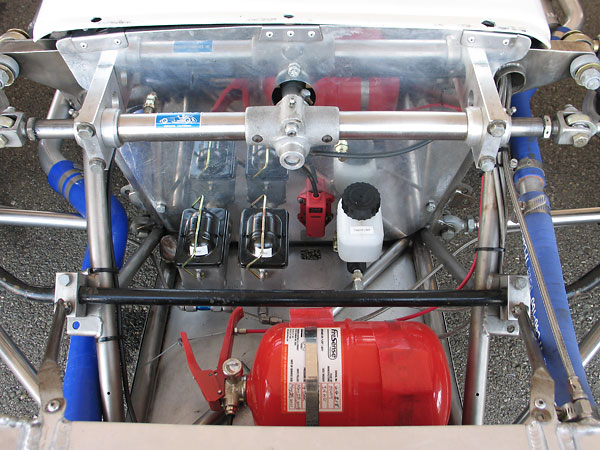 Near the upper right and lower left corners of the bulkhead, you can see where frame tubes used to carry
water to and from the radiator. (The lower tube is now capped off.) Lotus probably invented this nifty
weight-saving trick. Corrosion is an issue on old Lotus racecars that used this trick because Lotus didn't
use stainless steel frames! Kurt Reinold had external coolant plumbing added in 1969 to solve a different
problem: an unbearably warm cockpit.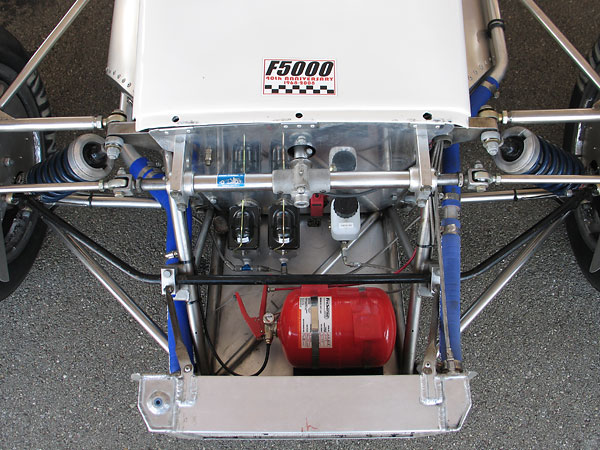 Dual Wilwood high-volume aluminum master cylinders, with bias bar. Tilton clutch master cylinder.
(The labels indicate that the brake system uses Motul brake fluid, and the clutch uses Castrol LMA.)
McKee originally installed Girling master cylinders. (On other cars they sometimes used Tiltons.)
The bulkhead they're mounted to is 0.25" magnesium. It adds a lot to the frame's torsional rigidity
The frame extends past the front bulkhead to support forward mounting points of the lower wishbones.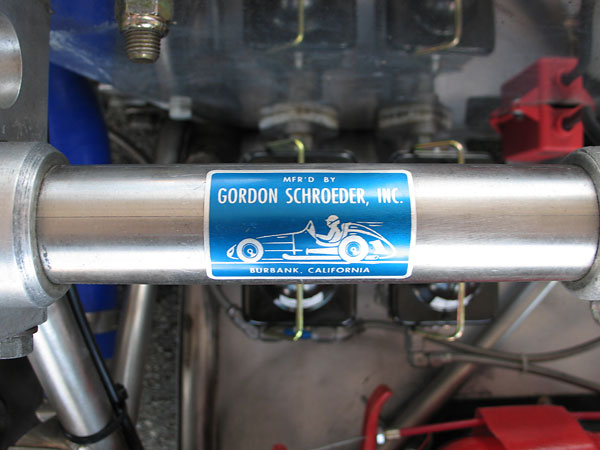 Gordon Schroeder Inc. steering rack. (The company has been renamed "Schroeder Racing Products".)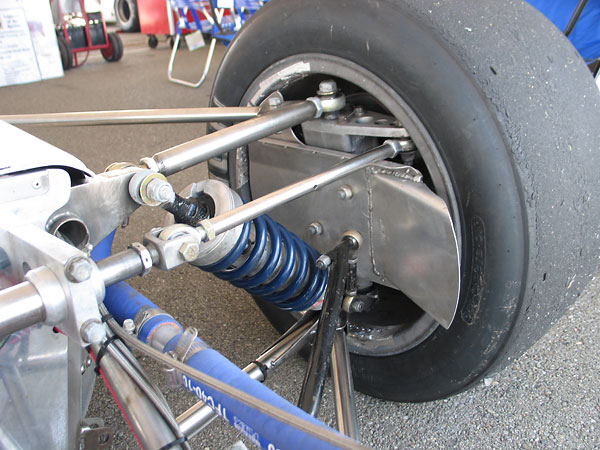 A brake cooling duct blocks our view of the Ford Mustang front brake caliper, vented rotor...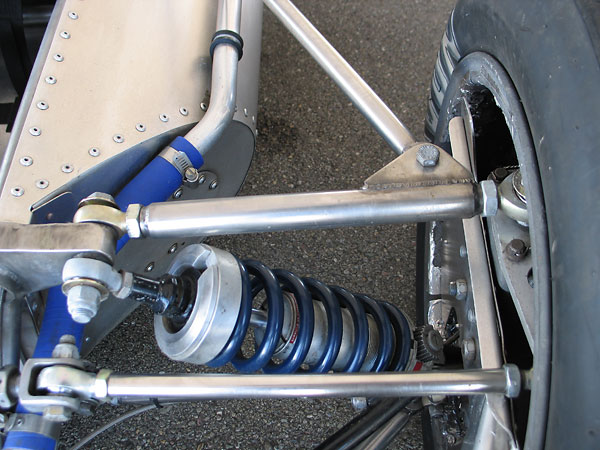 KONI 8212 double adjustable coilover shock absorbers. KONI invented the externally adjustable telescopic
shock absorber in the 1960's. KONI labeled their first adjustable model "8211". The 8211 features a steel
body. In 1967, KONI introduced the 8212 model which is similar except for its lightweight aluminum body.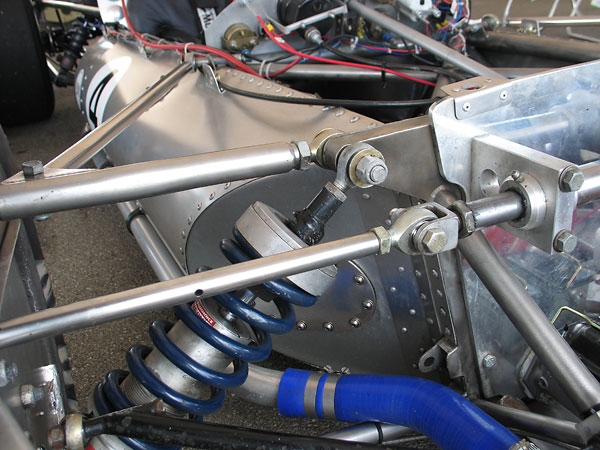 The tubular steering tie rods are simply threaded at each end to suit the Heim joints. To facilitate
tightening the jam nuts, holes have been drilled in the steering tie rods and a tool can be inserted,
but that's not the original design. (The hole is a stress riser.) Instead of a hole, the original tie
rods had hex-shaped sleeves silver-soldered to them for a crescent wrench to slip onto.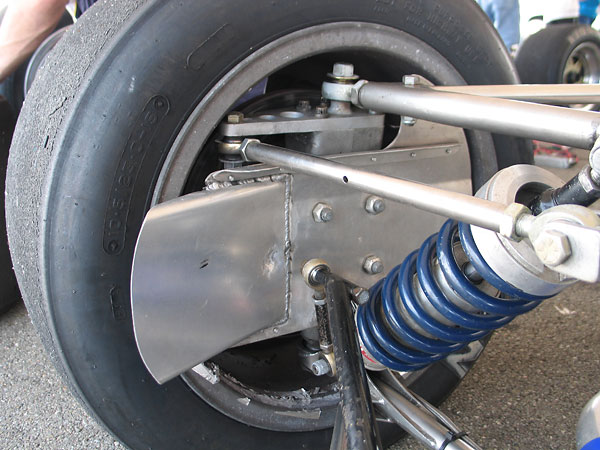 Anti-sway bar connection detail. Bob told us that if he were building these cars today, he'd probably
try heavier anti-sway bars, front and rear.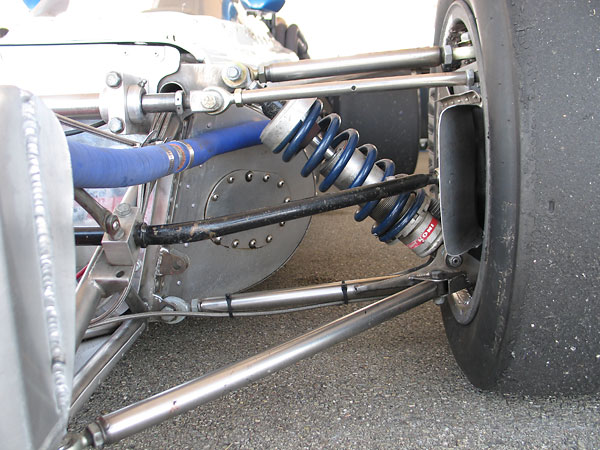 Notice the second (unused) mounting point for the rearward leg of the lower wishbone. Two positions were
provided to suit a range of driver preferences and track conditions, but the lower proved to work better.
There are a number of issues at play here: In the higher position, the suspension's roll center is higher,
which reduces the distance between roll center and center of gravity (i.e. "roll couple") and consequently
reduces body roll when cornering. Selection of the mounting position effects steering effort and steering
self-centering behavior. Most importantly, the two positions provide two different amounts of "anti-dive".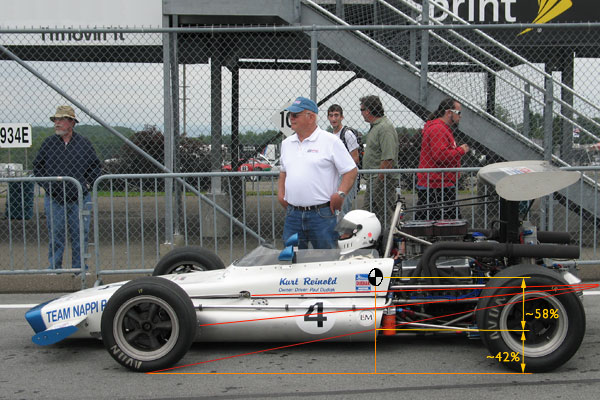 In 1969, anti-dive and anti-squat were still new concepts. After the Ford GT40, the McKee Mk12 was one
of the pioneering cars to have both anti-dive and anti-squat built in. In a nutshell, the principle of anti-dive
is that front suspension mounting points can be located strategically so the torque reaction of braking
partially cancels the suspension's tendency to plunge downward. Anti-squat is essentially the same thing,
except applied at the rear to help keep the car level under forward acceleration. Designers experimented
with anti-dive and anti-squat for better ride and to reduce camber and toe change, and their steering
effects which occur as cars take corners. But anti-dive in particular isn't something for nothing: too much
anti-dive causes cars to be "darty" and can make cars hypersensitive to bumps. It's a balance.
Modern racecars use very little anti-dive.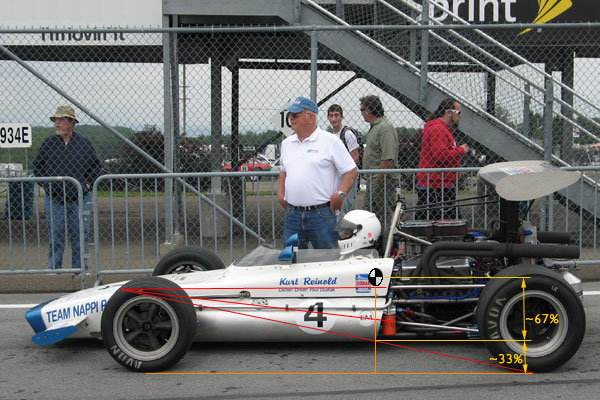 In principle, anti-dive and anti-squat effects can both be calculated by superimposing and then measuring
lines on side-view illustrations of a racecar. First, lines are drawn through suspension mounting points on the
chassis, and extended to where they converge. Then, a line is drawn back from the point of convergence to
the center of the tire contact patch. We're interested in where that line intersects the vertical plane of
the center of gravity. If it intersects exactly at the center of gravity, the suspension has 100% anti-dive
(or anti-squat) and no amount of braking (or acceleration) will cause the suspension to tilt the chassis.
With their very-powerful engines, Formula 5000 racecars could benefit from a lot of anti-squat.

Note: these two drawings show ~42% anti-dive and ~33% anti-squat respectively. Frankly, these numbers
are too large to be believable. The wheels obstructed our view of some of the suspension mounting points.
Also, our approximation of the center of gravity may be off. We would expect the anti-dive measurement to
be less than the anti-squat measurement, and both measurements should be less than 30%. We included
these sketches to show generally how you can tell by looking if a car has anti-dive and/or anti-squat built in.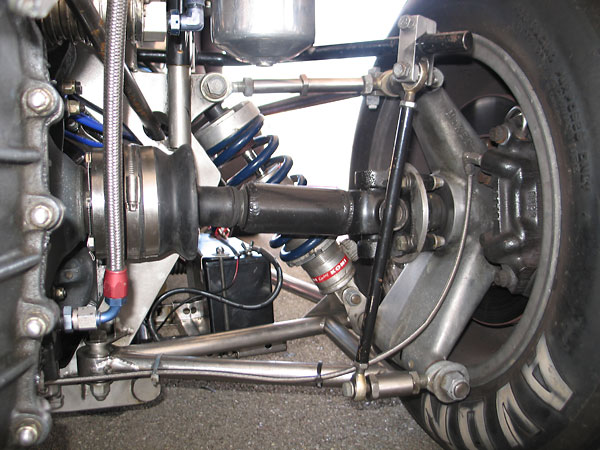 McKee cast aluminum uprights, and 1967 Ford Mustang iron brake calipers. The brake calipers aren't
as light as what other constructors put on Formula 5000 cars, but they saved customers a lot of money.
Retail replacement cost was about $18/each in 1969 dollars. Rotors were also inexpensive, and spares
could be purchased anywhere. McKee Engineering put the initial sets on their milling machine and cut
slots into them, or sometimes cross-drilled them. (Current configuration: slotted fronts & plain rears.)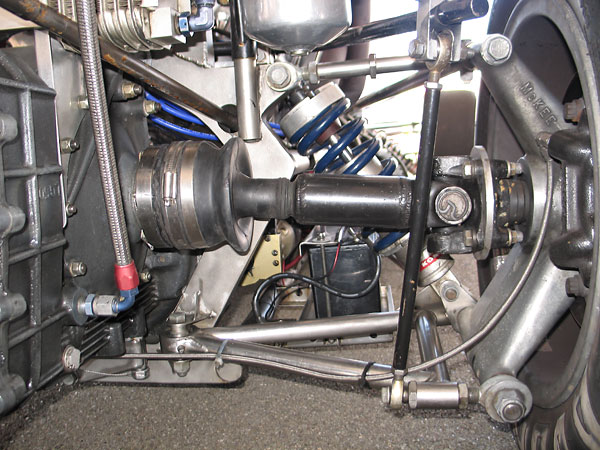 Dana (Rzeppa type) constant velocity joints on the inboard end of the halfshaft are original to the Mk12c.
They provide virtually frictionless axial plunge and true constant velocity. "Frictionless" is the key point.
Various attempts to use slip joints in the halfshafts had been unsuccessful because "stiction" makes it
difficult to smoothly apply power coming out of corners. (Binding here will cause oversteer, a.k.a. "push".)
Constant velocity? Regular universal joints cause continuously changing speed differentials between driving
and driven shafts as the angle of the joint changes. Result? Vibration caused problems elsewhere. CV
joints were a very rare feature on racecars until the 70's. They were expensive! Ford GT40 had them first.


Interior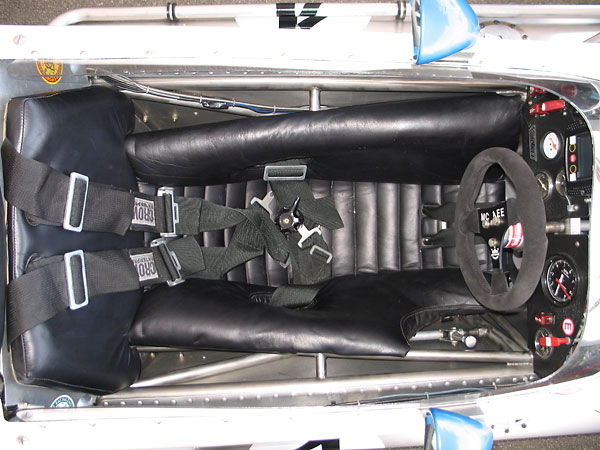 McKee Engineering custom fit each of their cars to its original driver. Kurt Reinold was pretty tall, so
Bob McKee spaced the front bulkhead forward by four inches on this particular car and also made a
custom seat for him. Since Paul Dudiak isn't so very tall, spacers have been removed to bring the front
bulkhead back to its original position. The original seat was removed and lost by a previous owner;
this one is a replacement. A Crow Enterprises six point cam-lock safety harness has been added.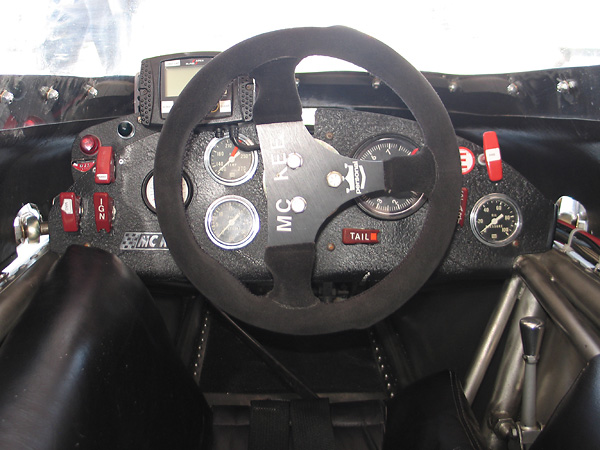 The switches are labeled: (left to right) "MAG", "TRANS", "IGN", "TAIL", "START", and "FIRE".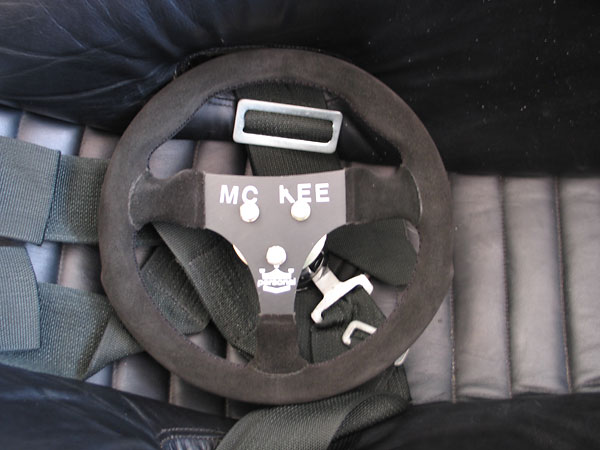 Personal steering wheel with Sweet Manufacturing quick release hub.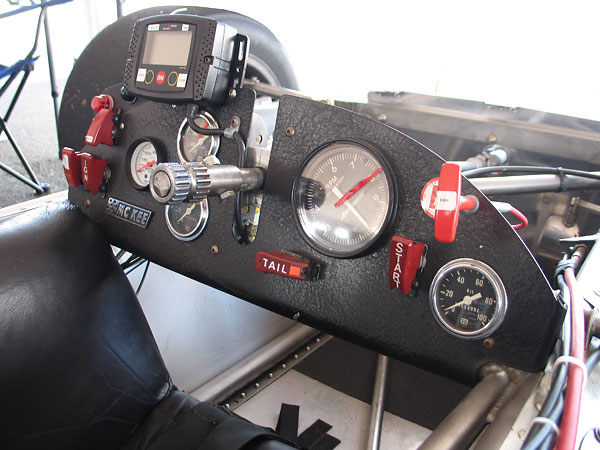 (left to right) AutoMeter coolant temperature gauge (140-280F), Stewart-Warner engine oil temperature
(100-270F), and fuel pressure gauge (0-30psi), Jones mechanical tachometer (1000-10,000rpm), and
Stewart-Warner oil pressure gauge (0-100psi).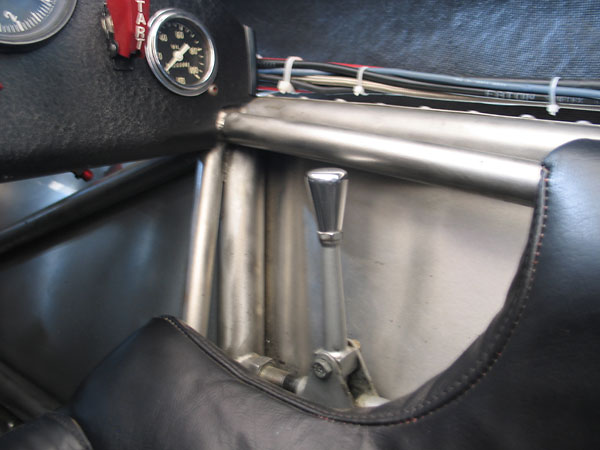 Gear selector lever, connected to the Hewland LG600 5-speed.



Back in the day, race car constructors made almost everything in-house. Even the pedals.


Exterior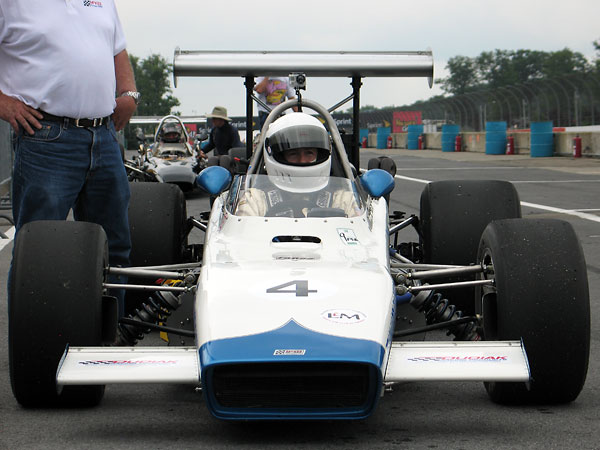 Paul Dudiak prepares for the start of the Formula 5000 feature race of the 2009 U.S. Vintage Grand Prix.
Paul finished sixth overall and second in the pre-1972 class. His best lap time was 2:04.106 (98.63mph).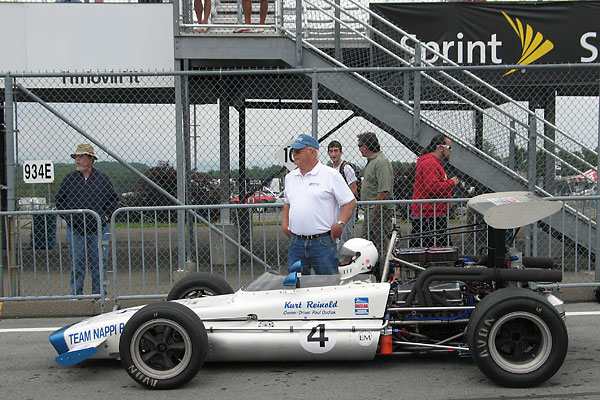 Bob McKee volunteered to serve as Crew Chief for Paul Dudiak at the 2009 U.S. Vintage Grand Prix.
Bob previously served as Crew Chief for Dick Rathman at the 1961 Indianapolis 500.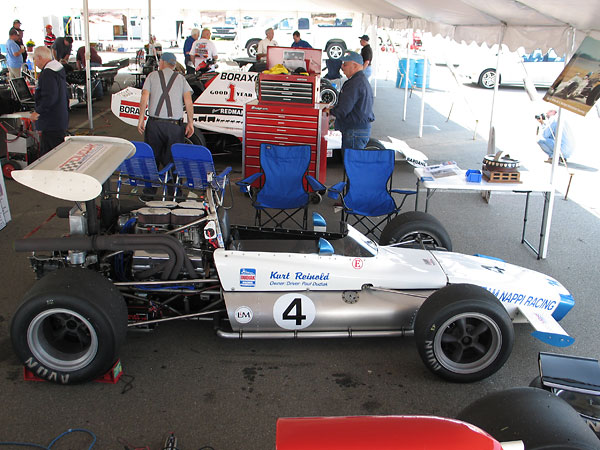 This is the second generation of front wing that Paul has installed on his McKee Mk12.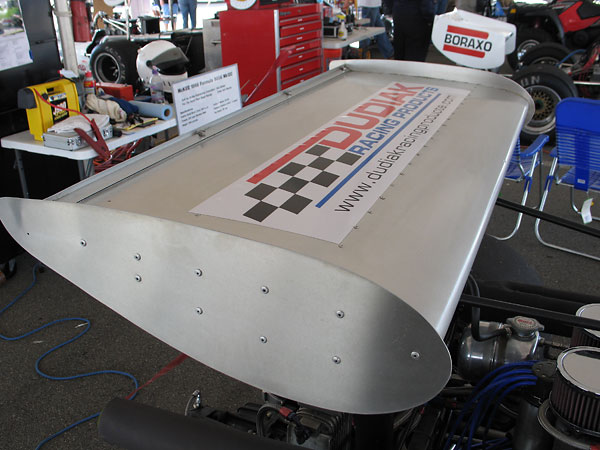 The McKee Mk12c has worn various rear wings over the years. It was originally delivered and raced without
any wings. In late 1969 the car carried a very high mounted wing. In 1970, the wing grew wider. The early
wings didn't have very aggressive profiles, they had no Gurney lips, and their end plates appeared slightly
smaller than shown here. However, by 1970 it was becoming apparent that high-mounted wings were causing
occasional accidents. A ban on high mounted rear wings started in 1970 for Canadian-hosted Formula A
races. In 1971, the ban on high mounted rear wings extended to the United States races too.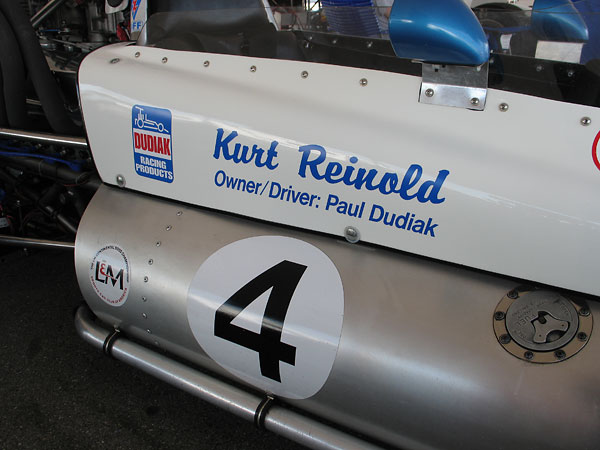 Kurt Reinold
Owner/Driver: Paul Dudiak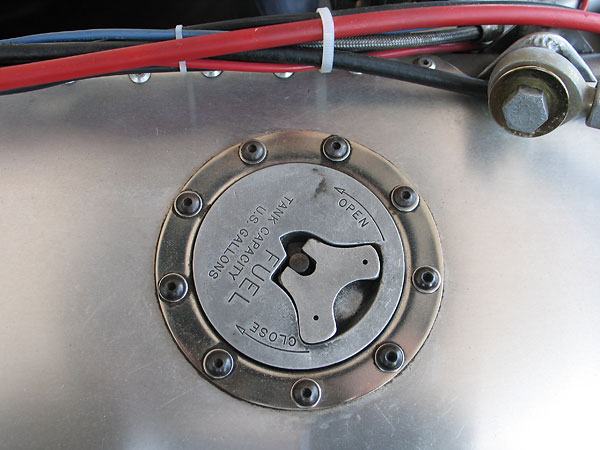 Recessed fuel filler cap... Goodyear made custom rubber fuel cell bladders for McKee Engineering,
They were interchangeable, left-to-right.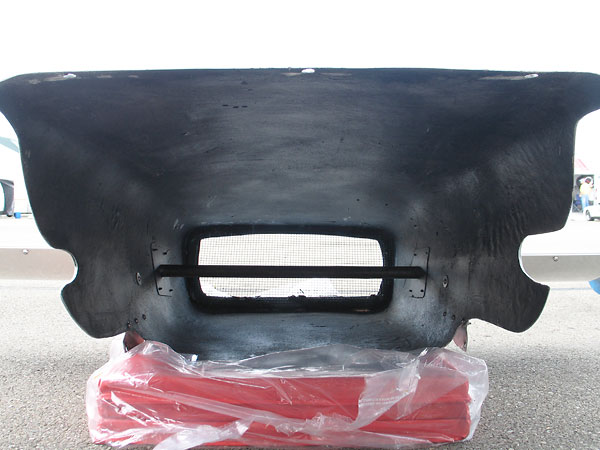 Nose cone construction details: the bar through the middle is for strength, and was added with the wings.
The nose cone mounts via three Dzus clips along the top and two forks attached low, along the sides.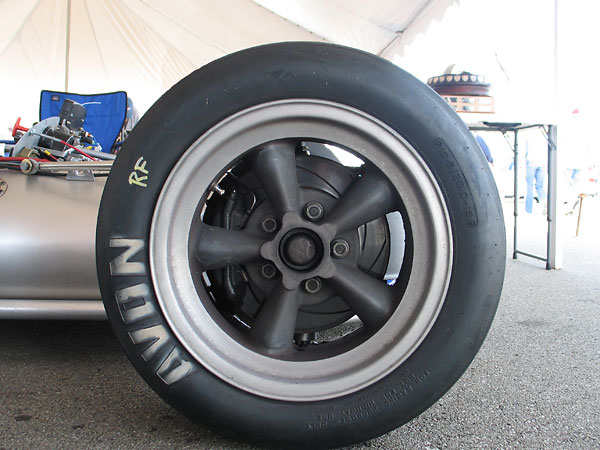 American Racing provided McKee Engineering with specially made versions of their famous Torq-Thrust
magnesium wheels (15x10 front, 15x15 rear). The front wheels had a custom backspacing (i.e. "offset"),
for a small, positive scrub radius. The rear wheels were also custom designed and made.
The only problem was that McKee Engineering had to buy their wheels in quantity.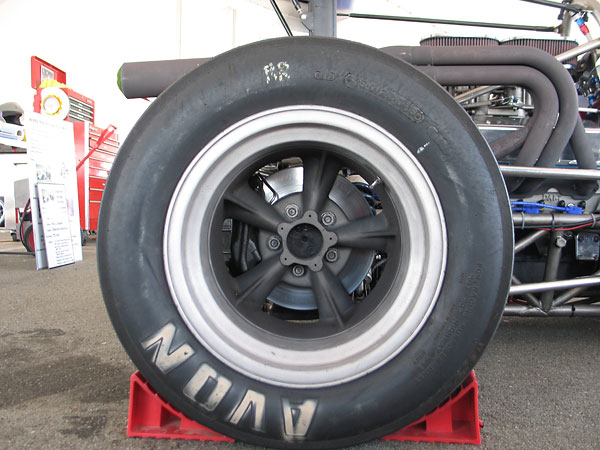 Goodyear tires were originally fitted because Goodyear provided them to McKee Engineering for free!
They apparently gambled that most teams would continue using whatever brand of tire originally came
on the car. That probably paid off, until recently... Avon tires (10.5x23.0x15 front, 15.0x26.0x15.0 rear).


Notes:
(1)
American Rolling Mill Company was founded in 1899. Their name changed to Armco Steel Corporation in 1949. In about 1994 they merged with Kawasaki Steel Corporation to become AK Steel Holding Corporation, with AK Steel Corporation as their main operating division.


(2)
Reinold's 7th place finish in 1970 earned him 4 championship points. With this score, he completed "The 1970 Continental Championship for Formula A Cars" in 27th place. This was indeed Formula 5000, but oddly the official name of the series didn't include the numeral 5000 yet. To eliminate fan confusion and improve marketing, this was corrected for 1971 and subsequent years: "1971 L&M Continental 5000 Championship", etc. Incidentally, the series' main sponsor was the Liggett and Myers cigarette company. In 1970, L&M guaranteed every race in the series would award at least $19,000 in prize money. In 1971, they raised the minimum purse to $35,000 per race...



The photos of the McKee Mk12 bare frame and of the McKee Mk12 as purchased in 2005 are both by Paul Dudiak, and are used here by exclusive permission. Copyright 2005. All rights reserved. The photo of the McKee Mk12 as received by Team Nappi is by Bob McKee, and is also used by exclusive permission. Copyright 1969. All rights reserved. All other photos are from September 2009 when the car appeared at The US Vintage Grand Prix at Watkins Glen. Photos by Curtis Jacobson and Don Moyer for BritishRaceCar.com. Copyright 2010. All rights reserved.



Notice: all the articles and almost all the photos on BritishRacecar.com are by Curtis Jacobson.
(Photos that aren't by Curtis are explicitly credited.) Reproduction without prior written permission is prohibited.
Contact us to purchase images or reproduction permission. Higher resolution images are optionally available.