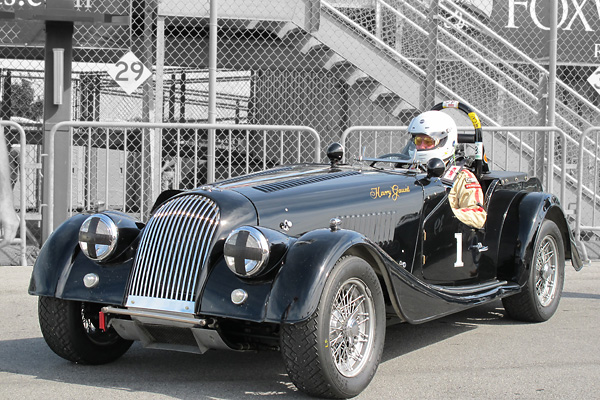 Harry Gaunt's 1956 Morgan Plus 4 Racecar
Owner: Harry Gaunt
City: Indianapolis, Indiana
Model: 1956 Morgan Plus 4
Engine: Triumph TR2 2170cc four-cylinder
Race prepared by: owner
Morgan Plus 4: from Introduction through the 1950s
Morgan introduced their Plus 4 model at the Earl's Court Motor Show in October 1950. Although it looked like the already familiar "4/4" model, the new Plus 4 body was two inches wider at the doors, six inches wider at the firewall, and two inches longer for more driver legroom. Like the 4/4 the new Plus 4 was offered as a two-seater, a four-seater, or as a drophead coupe (i.e. a four seat convertible with more rear seat headroom and more luggage space in the trunk). Plus 4 styling features evolved through the 1950s. Specifically, a variety of radiator grilles and headlight treatments were tried, but generally the Plus 4 retained a "pre-war" appearance.

The Plus 4 was both more powerful and smoother riding than its predecessors. The Morgan Motor Company still didn't build its own engines. For the Plus 4 they only offered Standard Motor Company produced engines, whereas the 4/4 model continued in production for many years with Ford engines.

Shortly before the start of Plus 4 production, Standard consolidated their engine production to a single specification. Consequently, the Plus 4 was introduced with the 2088cc Standard Vanguard engine, rated 68 brake horsepower at 4300rpm. 788 Morgan Plus 4s were built with Vanguard engines.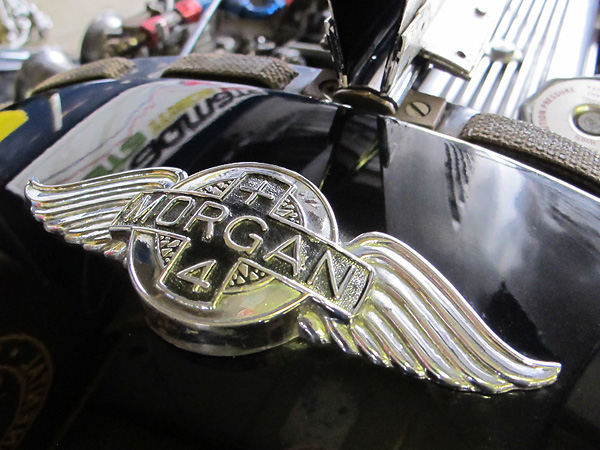 The Plus 4's front suspension was softer riding than its predecessor due to a change in geometry. The sliding pillars were simply angled slightly inward at the top, which made room for longer and softer coil springs. One quirky new feature was a foot-operated valve by which the driver could divert engine oil to the sliding pillar bushings. Lubricating these bushings was desirable because earlier Morgan front suspensions characteristically suffered friction and binding issues, which robbed handling and ride quality. The Plus 4 also featured Girling telescopic front shock absorbers and hydraulic Girling lever-arm rear shock absorbers. Brakes were hydraulically operated and nine inch drum brakes were fitted all around.

When Standard's engine range was extended to support that company's Triumph sports car division, Morgan was happy to update their cars accordingly. The new 1991cc Triumph TR2 engine was rated 90 brake horsepower at 4800rpm.

Harry Gaunt's Plus 4 is one of just 338 produced with the Triumph TR2 engine, which was first offered to customers in mid-1954. Technically the TR2 engine was available from Morgan through June 1958, but in fact it was made obsolete through concurrent availability of the even more powerful Triumph TR3 engine. 1795 TR3-powered Plus 4s were built between March 1956 and February 1964. Similarly, Morgan gradually phased in Triumph's TR4 engine in the early sixties. The sixties also brought the famous Plus 4 Super Sports model, but that's well outside the scope of this article.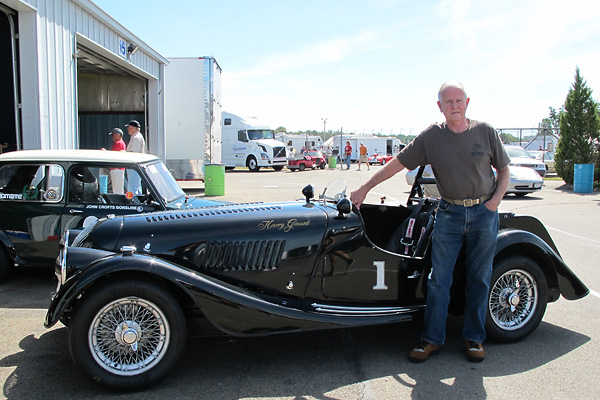 Harry Gaunt's 1956 Morgan Plus 4
Harry Gaunt bought his Morgan Plus 4 new in 1956, and he began racing it right away. He competed in Sports Car Club of America races in 1956, 1957, and 1958.

In the early 1980s, Harry decided to restore his old racecar and to enter it in vintage racing events. He has raced it frequently since 1983, and has even taken the Morgan on two trips to Europe where he raced at the Nürburgring in Germany and at Circuit Zolder in Belgium. Since 1956, Harry has completed 105 races in his trusty Morgan race car.


Enjoying this article? www.BritishRaceCar.com is partially funded through generous support from readers like you!
To contribute to our operating budget, please click here and follow the instructions.
(Suggested contribution is twenty bucks per year. Feel free to give more!)
Features and Specifications
Engine:
Triumph TR2 four-cylinder engine (2170cc). Triumph TR4 cylinder head. Ericson camshaft. Dual Weber 45DCOE carburetors with long velocity stacks. Mallory Unilite distributor. Mallory ProMaster ignition coil. Oil cooler.

Cooling:
custom aluminum ductwork around the upgraded oil cooler.

Exhaust:
custom four-into-one header.

Transmission:
stock Moss 4-speed. Cable operated clutch mechanism. Tilton clutch.

Rear Axle:
stock Salisbury axle housing, with 3.74:1 gears and limited slip differential.

Front Susp.:
sliding pillar independent front suspension. Koni double adjustable aluminum bodied telescoping shock absorbers.

Rear Susp.:
stock laminated leaf springs. Koni double adjustable aluminum bodied telescoping shock absorbers. Custom Panhard rod.

Brakes:
(master) dual Tilton master cylinders with remote reservoirs and remotely adjustable bias bar.
(front) converted to disc brakes,
(rear) stock drum brakes.

Wheels/Tires:
15x5.50 72-spoke wheels. Dunlop Racing "Sportster" (205/60R15) tires.

Electrical:
gear reduction starter. Carquest lead acid battery.

Instruments:
(left to right) stock Smiths mechanical tachometer (0-6000rpm), Smiths water temperature gauge (30-110C), stock Smiths four-way gauge (amps, oil pressure, water temp, fuel level), Racetech oil temperature gauge (40-140C).

Fuel System:
ATL 8-gallon fuel cell. Holley "Red" fuel pump. Holley adjustable fuel pressure regulator.

Safety Eqmt:
Simpson five-point cam-lock safety harness. Simpson Race Products centralized fire suppression system.

Body & Interior:
aluminum fenders in lieu of the original steel fenders. Bonnet modified for carburetor clearance. Custom ductwork added around the oil cooler. Aero Screen windscreen, in lieu of the original full-width windshield. Passenger seat removed. Blumel Brothers "Brooklands" four spoke spring-type steering wheel. Raydyot style mirrors (three places.)

Weight:
~1700 pounds.

Performance:
180hp at 6000rpm.

Racing Class:
SVRA Group 3, C-Production.



Engine Installation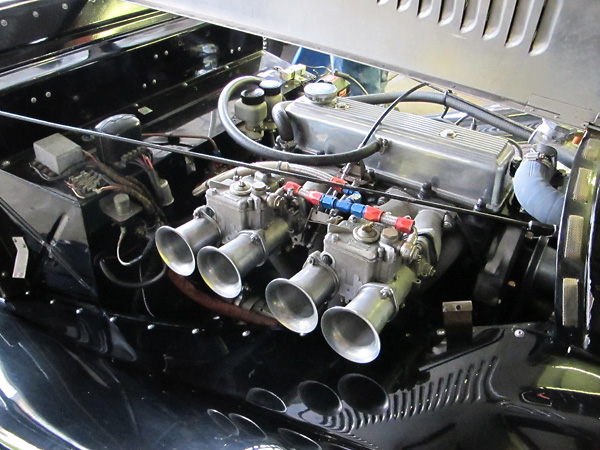 Triumph TR2 four-cylinder engine. Earlier Plus 4 Morgans used the less powerful Triumph Vanguard engine.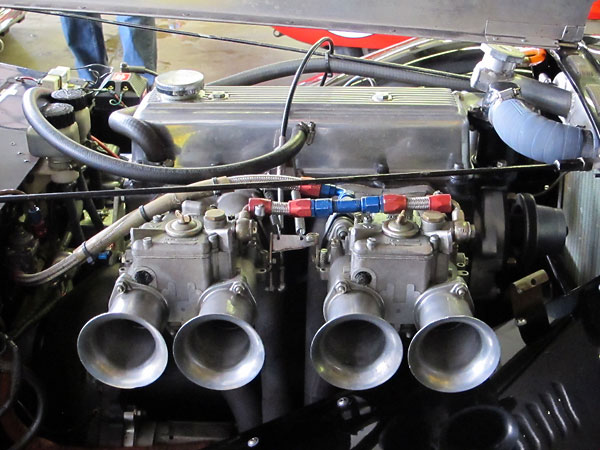 This engine is providing about twice the brake horsepower that it made in stock (1956) form. The most
obvious upgrade is that it's wearing dual Weber DCOE carburetors in lieu of original S.U. H4 (1.5") carbs.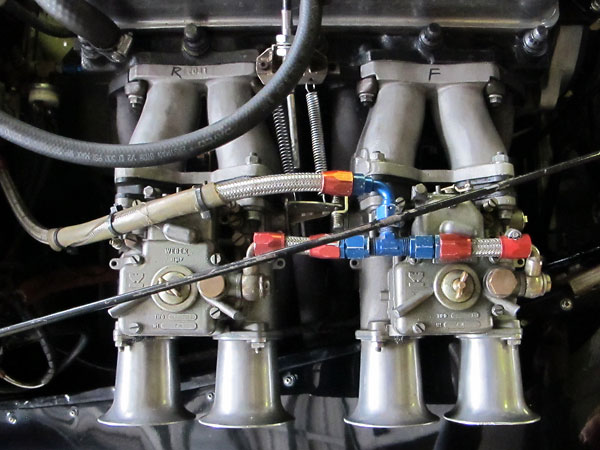 Other changes are more subtle, like installation of the better designed Triumph TR4 cylinder head. You
can spot the difference if you know where to look. Triumph TR2 heads are "boxy looking" and have their
intake ports on a relatively low plane, Triumph changed casting designs for the TR3 model to move the
intake ports higher. Note that the (black painted) iron cylinder head generally follows the same contour
as the aftermarket intake manifolds, instead of being straight across. You can further tell this is a
Triumph TR4 cylinder head by the short flat section over the number-one (right-most) intake port.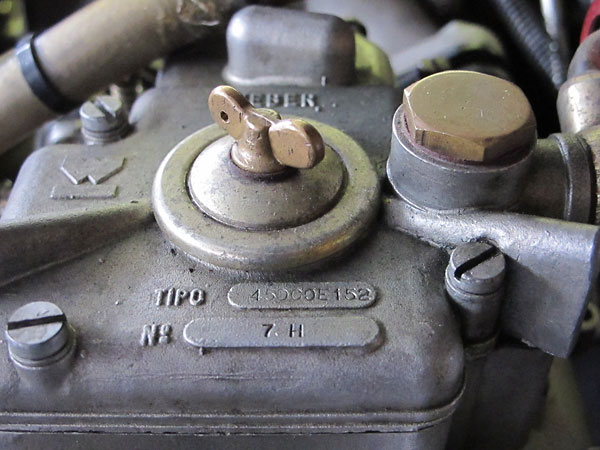 Weber carburetor... Tipo: 45DCOE152, No: 7H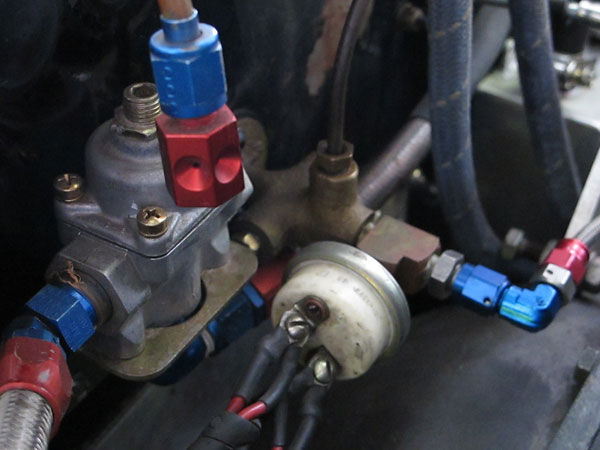 (left) Holley adjustable fuel pressure regulator. (top) Fire suppression system nozzle.
(center) Oil pressure warning light switch, and the plumbing for an oil pressure gauge.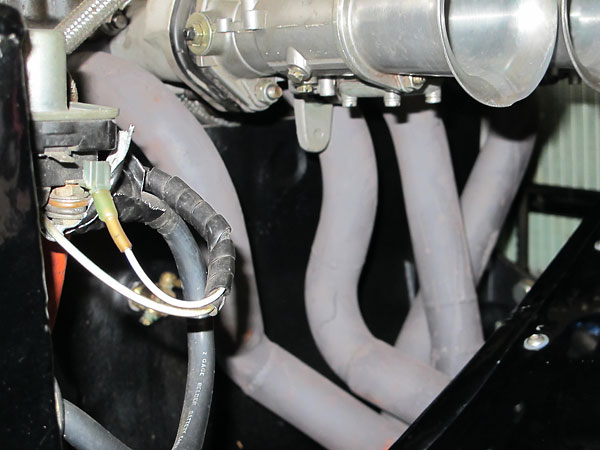 Custom four-into-one tubular exhaust header. (Morgan originally used Triumph's cast iron manifold.)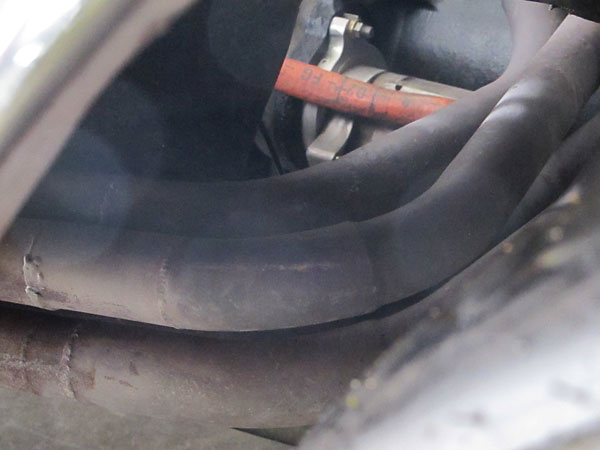 These headers feature very long primaries.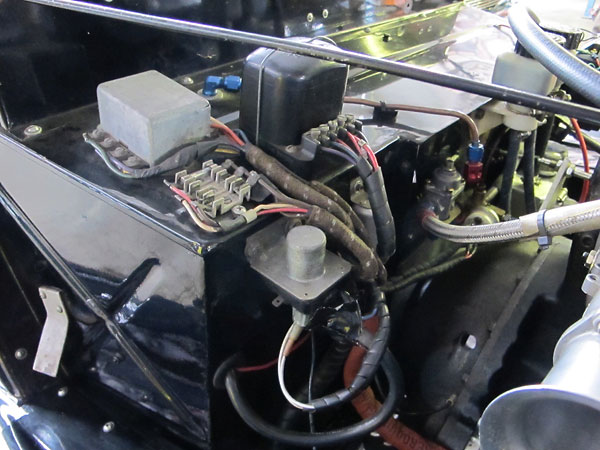 Much of the old electrical system is still in place, including the Lucas voltage regulator.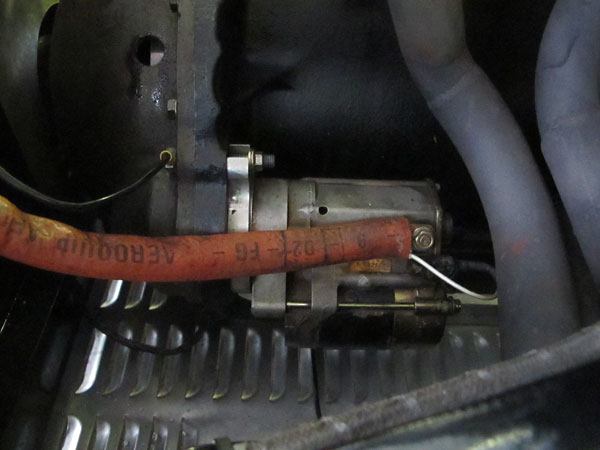 Lightweight, high torque, gear reduction starter.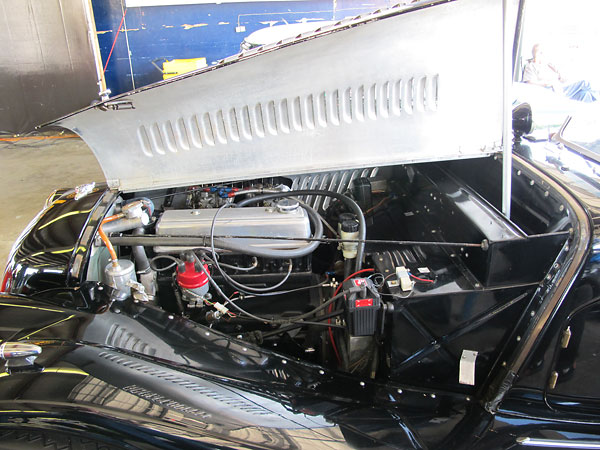 Beautifully fabricated aluminum "butterfly" hood.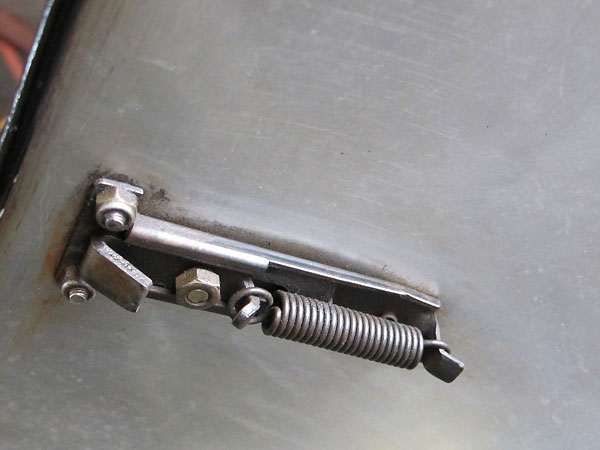 Hood latch.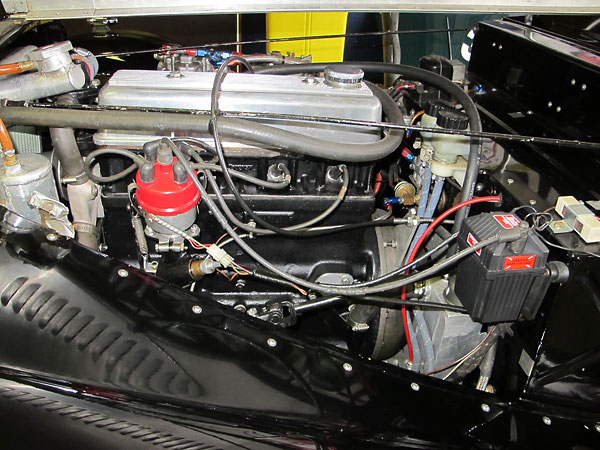 Mallory Unilite distributor.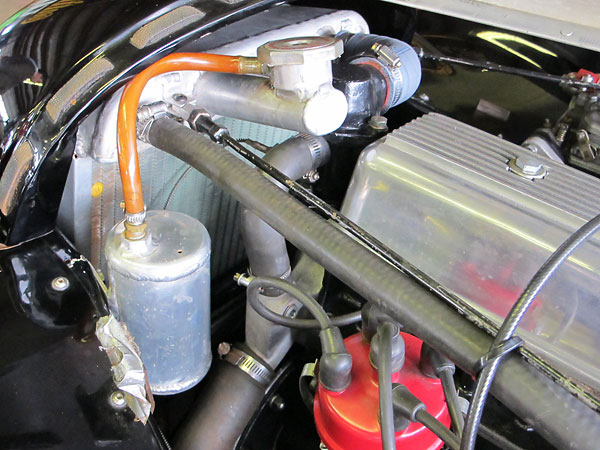 Custom aluminum downflow radiator and nifty little aluminum overflow tank.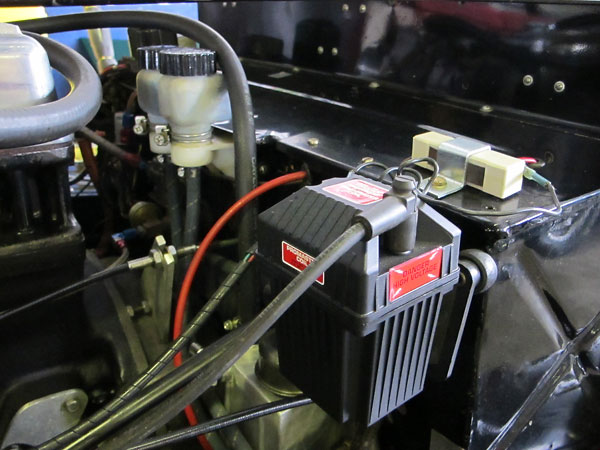 Mallory ProMaster ignition coil.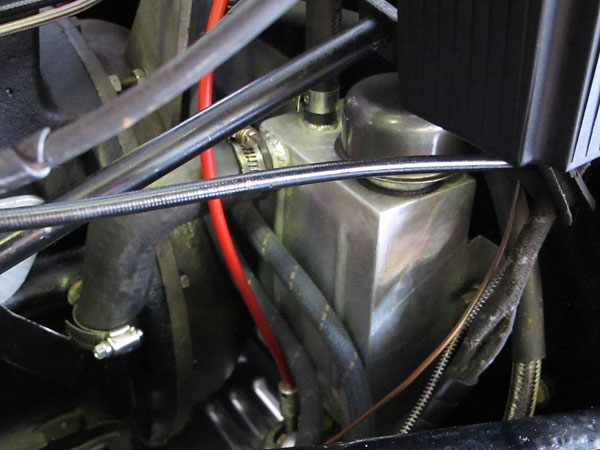 Custom fabricated aluminum crankcase breather tank.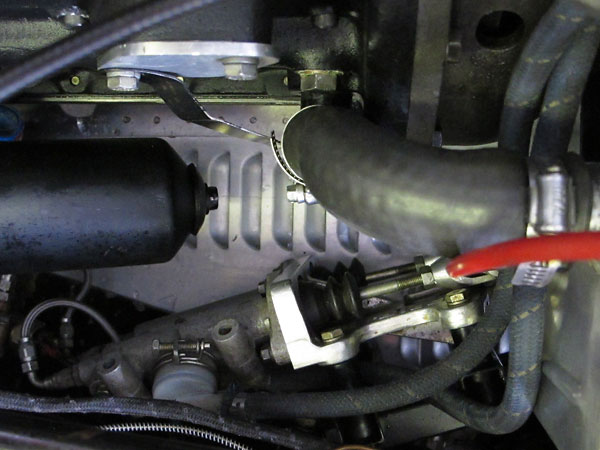 Dual Tilton brake master cylinders, with adjustable bias bar.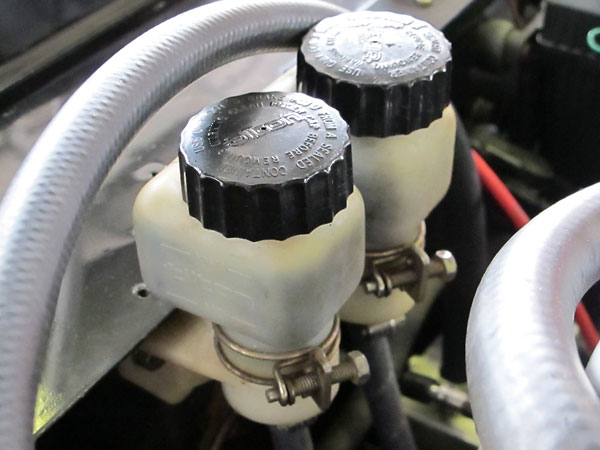 Brake fluid reservoirs.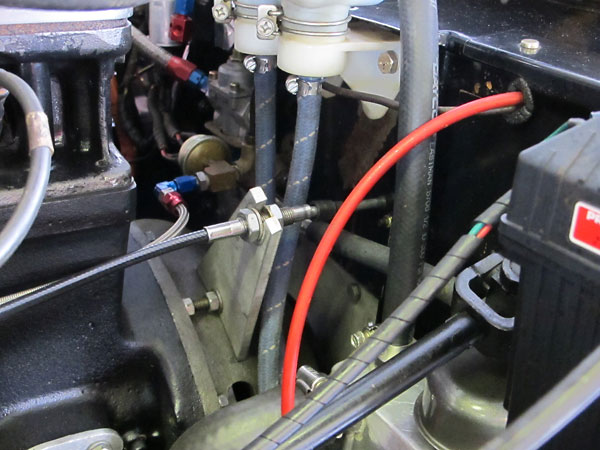 The clutch on this car is cable operated.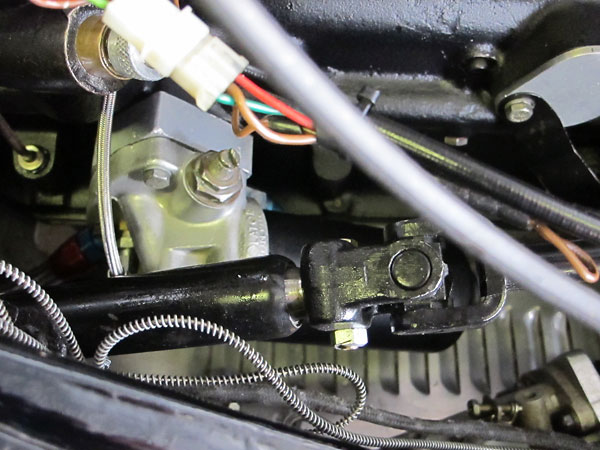 Background: oil filter mount and canister. Top: tachometer drive. Bottom: steering universal joint.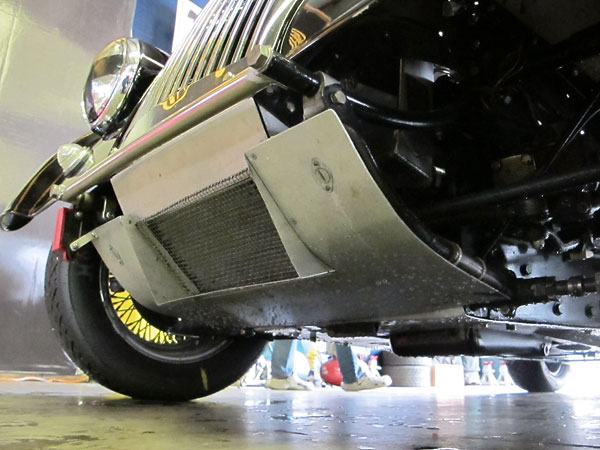 Custom aluminum ductwork around the upgraded oil cooler.


Front Suspension, etc.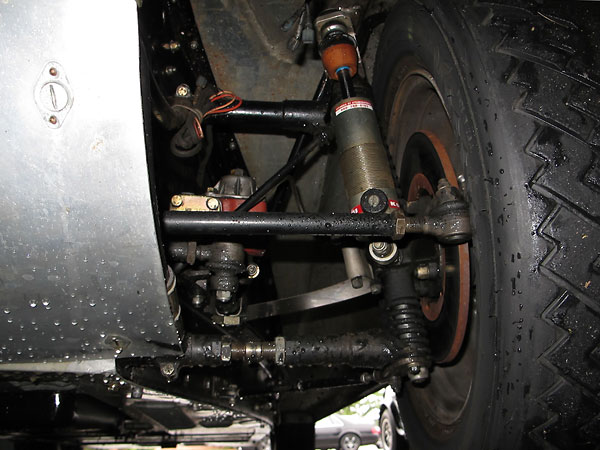 Morgans traditionally feature "sliding pillar" front suspensions. In other words, stub axles slide up and down
on a vertical shaft. With this style of independent front suspension, roll center is at ground level and wheel
camber while cornering is equal to body roll. 1950's vintage Plus 4 cars came with Girling telescopic shock
absorbers and 9" drum brakes. This one has been upgraded to Koni shock absorbers and to disc brakes.


Rear Suspension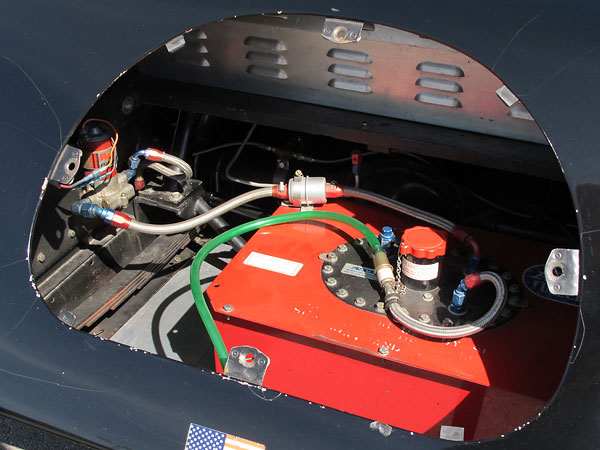 Morgan's usual Z-profile frame rails, with leaf springs installed above the lower flange.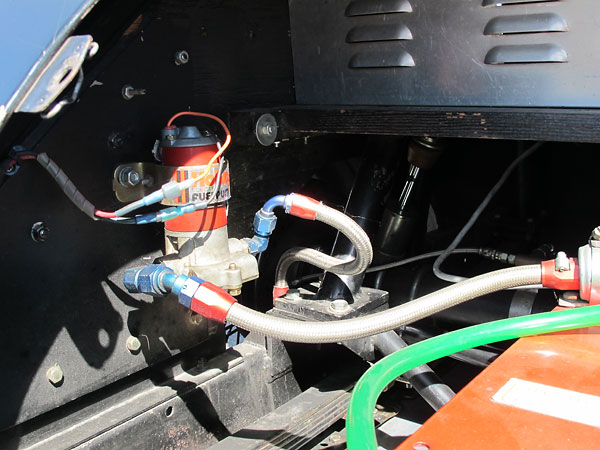 Holley "Red" electric fuel pump.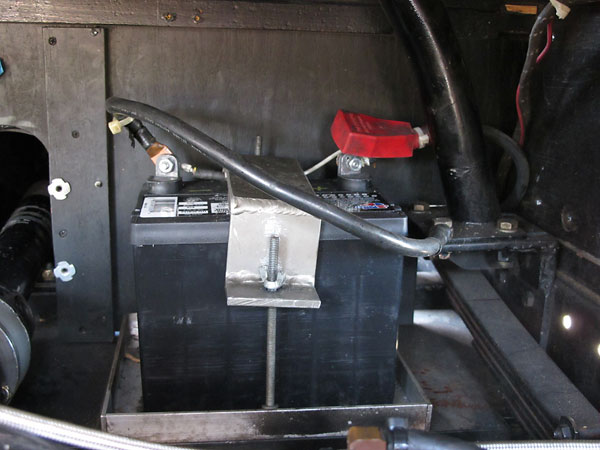 This car has been converted to one 12V battery, and from positive to negative ground.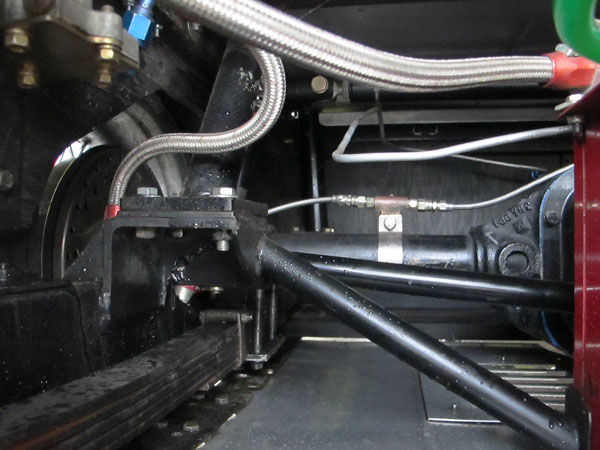 The Plus 4 came standard with a robust Salisbury axle and hypoid-bevel gears. This one has been
upgraded to a limited slip differential. It utilizes 3.74:1 gears. In the foreground, you can just
see that a Panhard rod has been installed although regretably we don't have photos of its mounts.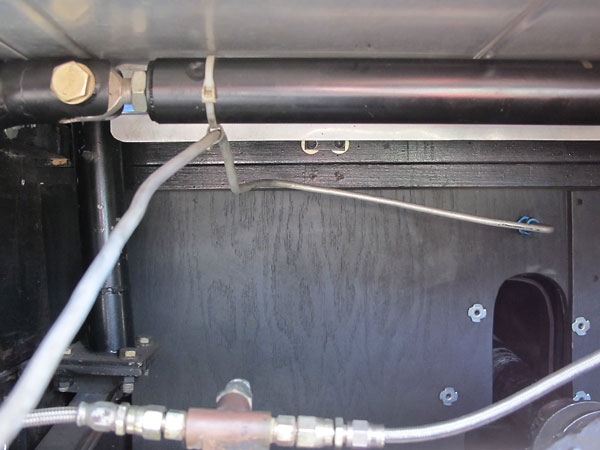 Removeable chassis strengthening brace.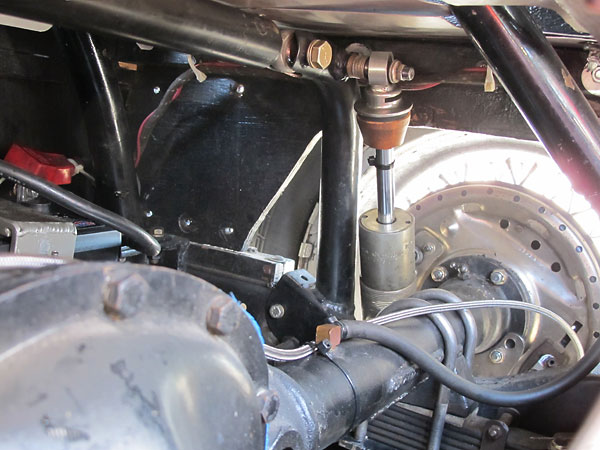 Koni double adjustable aluminum bodied telescoping shock absorbers.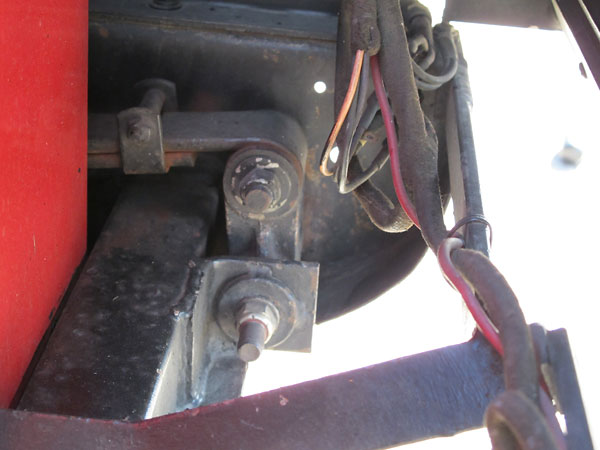 Inverted spring shackles were used on the Plus 4, whereas on some earlier Morgan models the leafsprings
slide in slots cut into a frame crossmember. (Plus 4 crossmembers were "n" shaped in cross-section and
were welded in, whereas the earlier design were tubular fabrications and were bolted-in.)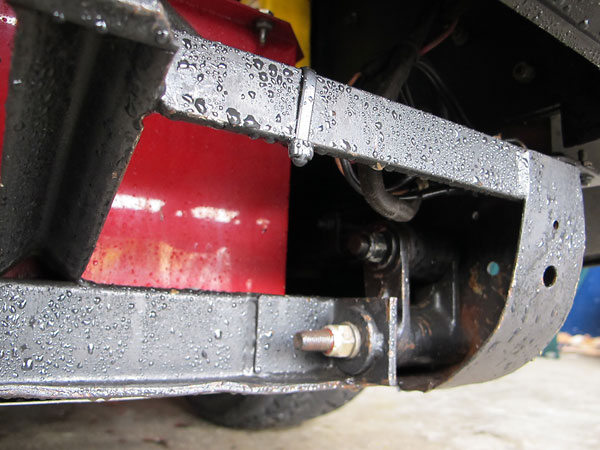 Beefy cast spring shackles.


Interior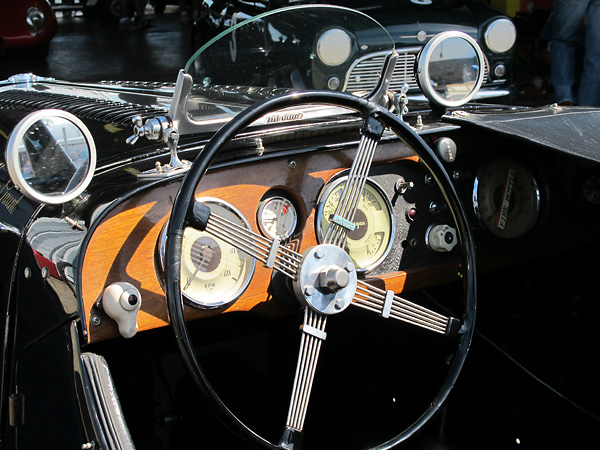 Blumel Brothers "Brooklands" four spoke, spring-type (aka "banjo") steering wheel.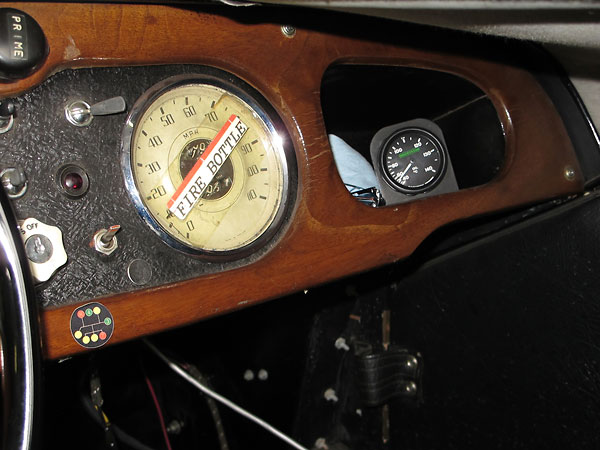 Racetech oil temperature gauge (40-140C).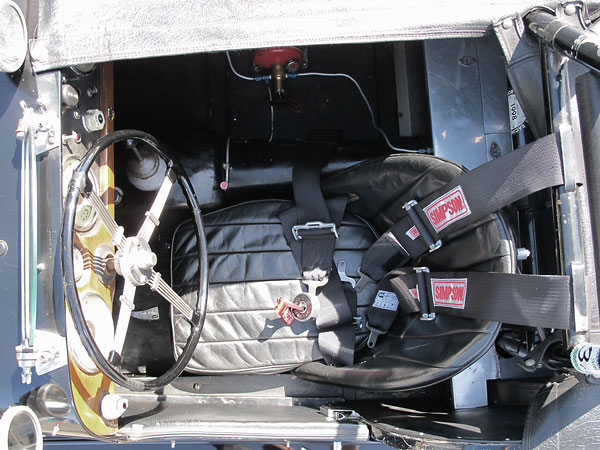 Simpson five-point cam-lock safety harness.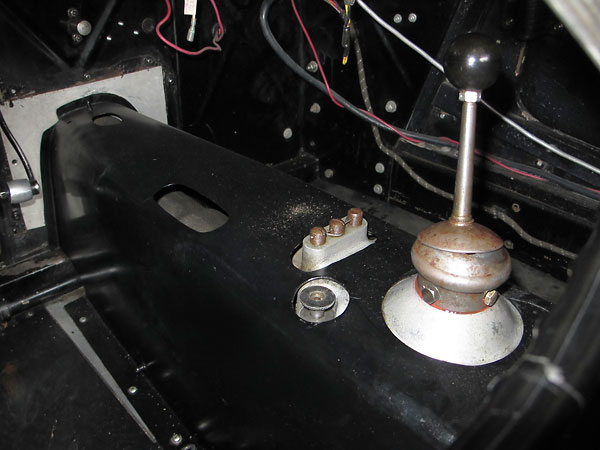 Stock Moss 4-speed transmission. The Moss gearbox is unusual in that it's mounted remotely. In other words,
there's a tubular member between bellhousing and gearbox with a high speed driveshaft spinning within it.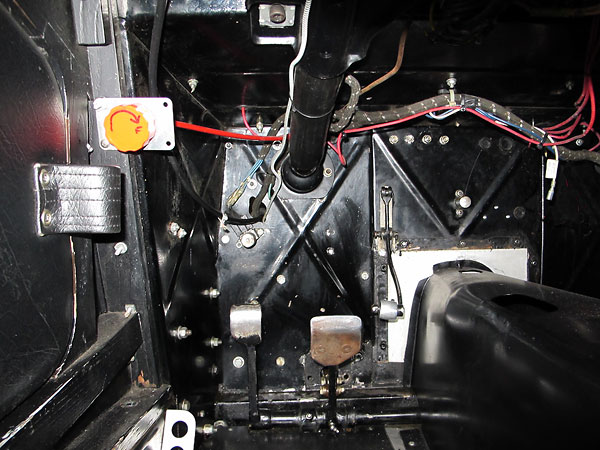 The large red knob is for adjusting front-to-rear brake bias.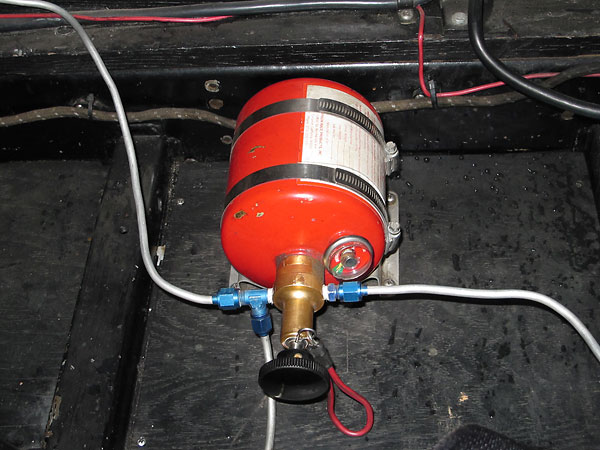 Simpson Race Products centralized fire suppression system.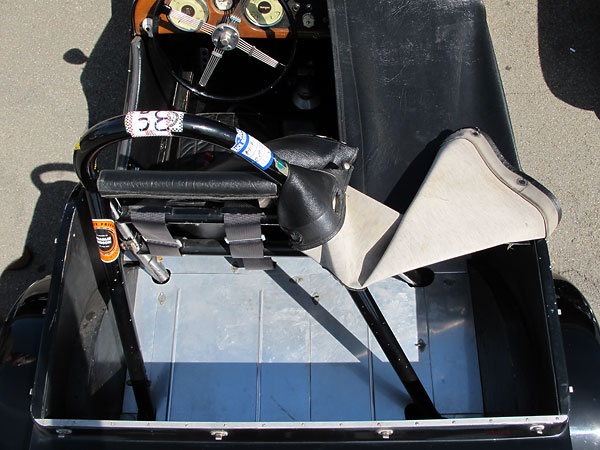 The rollhoop and its braces are required for safe racing.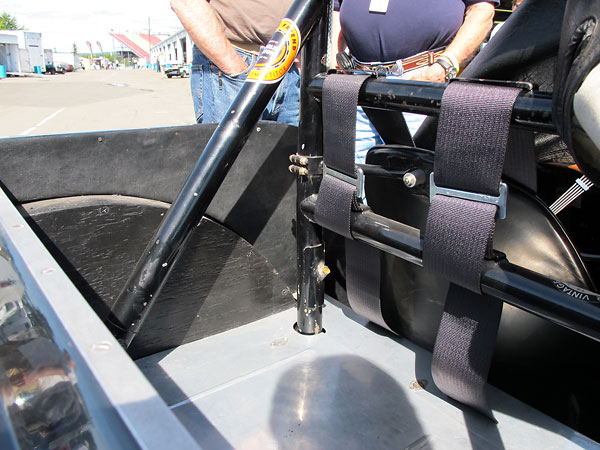 Shoulder straps are mounted close to shoulder height, so the driver's spine isn't compressed as he moves forward.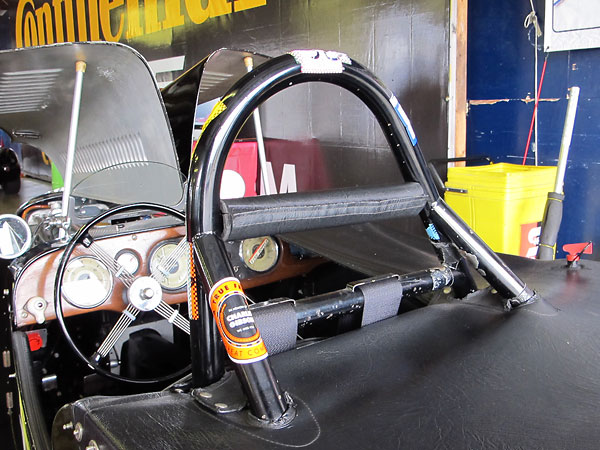 A neat custom-fitted tonneau cover smoothes airflow over the cockpit, and protects it from the elements.


Exterior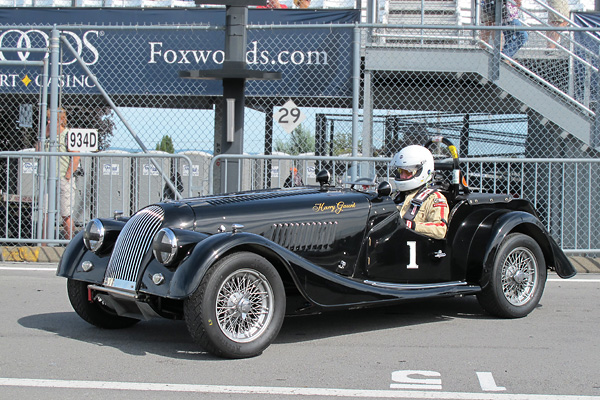 Harry Gaunt and his Morgan Plus 4 at Glenora Winery's 2010 Vintage Grand Prix of Watkins Glen.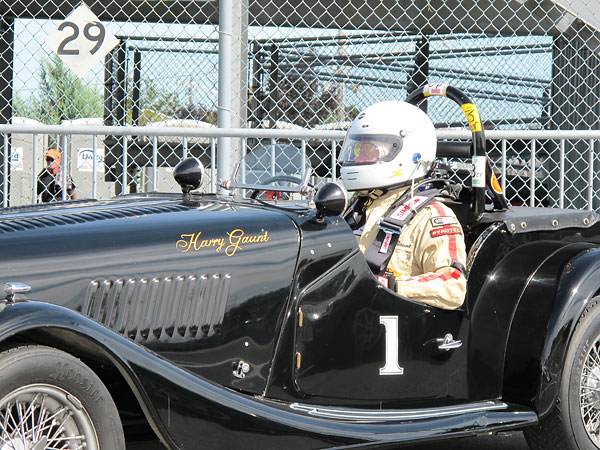 Despite a damp weekend, we enjoyed seeing Harry and the Morgan producing lap times of approximately
2 minutes, 30.5 seconds. That's an average speed of 81.31 mph over the challenging 3.4 mile circuit.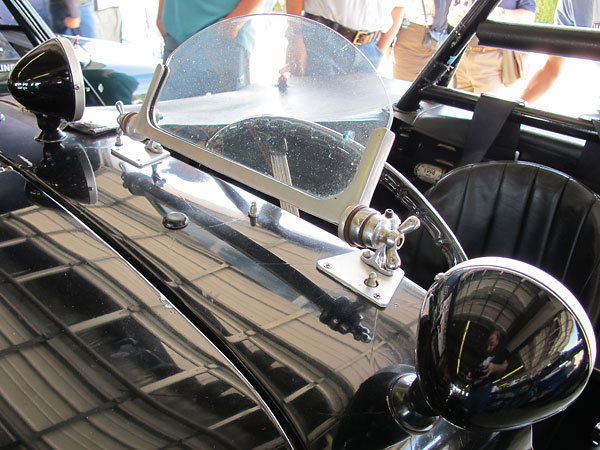 Aero Screen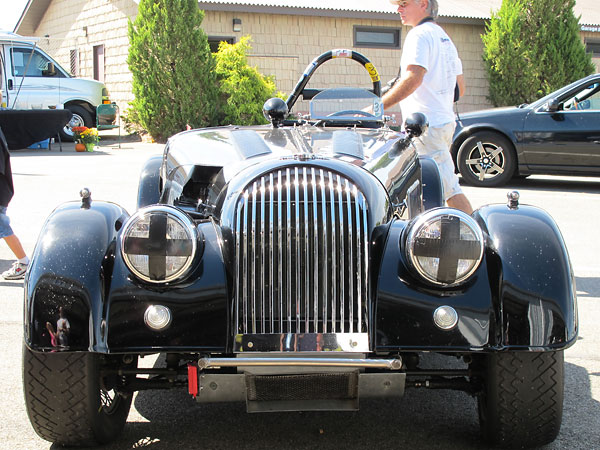 Morgan enthusiasts refer to this as a "cowled radiator". It was the third front end design offered
on the Plus 4 model. The earliest cars had flat radiators, with headlamps mounted on a horizontal bar.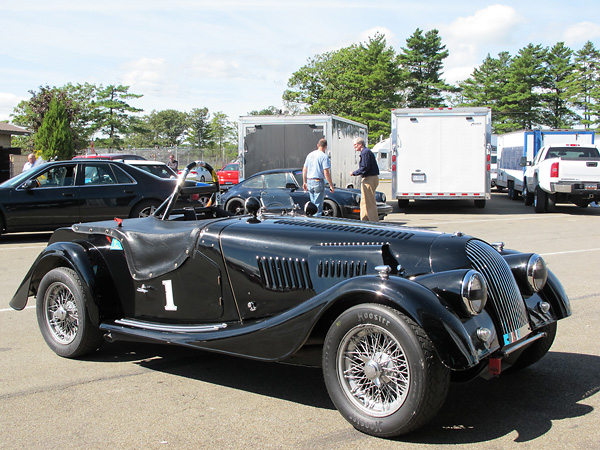 This particular Morgan came with a front bumper, but it's been removed for racing.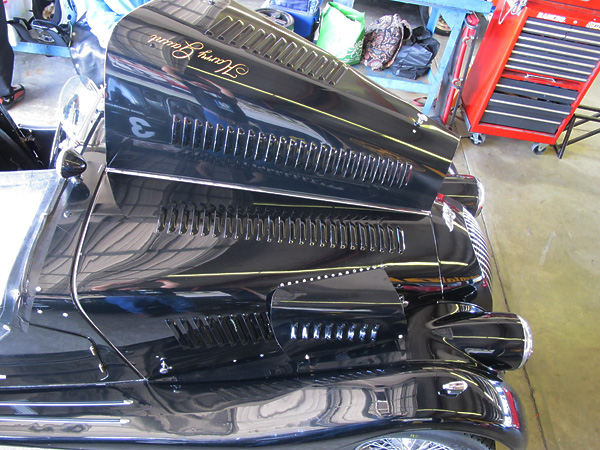 So many louvers!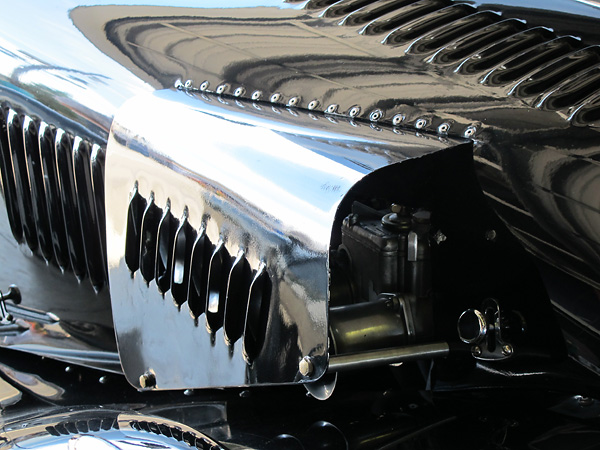 Weber carburetors wouldn't fit under the orignal bonnet contours...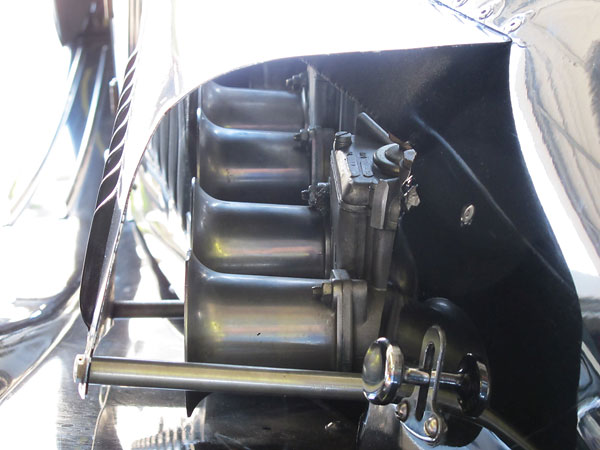 This neat and functional shield keeps things looking tidy.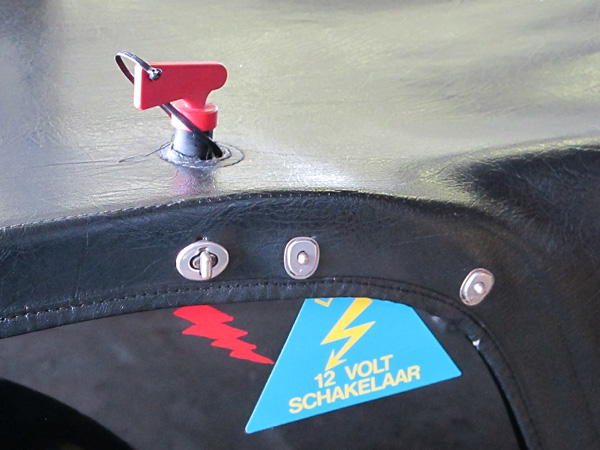 12 volt schakelaar. (That's Dutch for "switch".)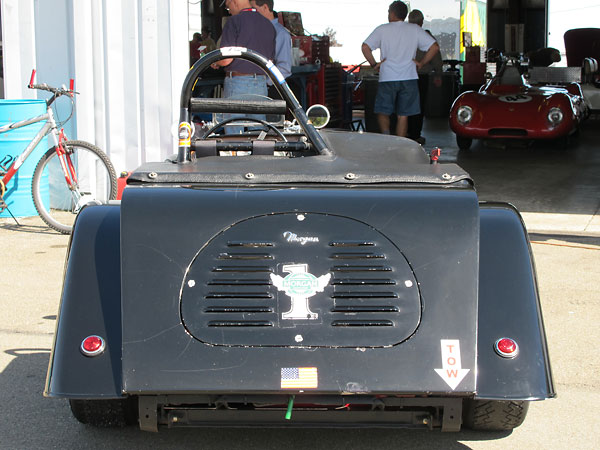 If this Morgan Plus 4 were street-driven, you might expect to see a pair of spare tires mounted here,
instead of the flat cargo compartment cover.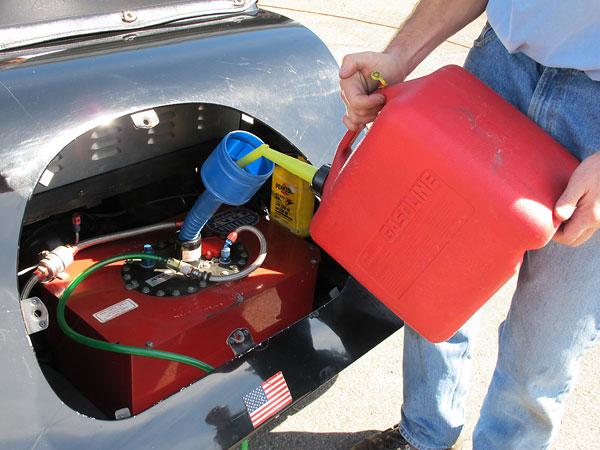 Removal of the cover facilitates refueling.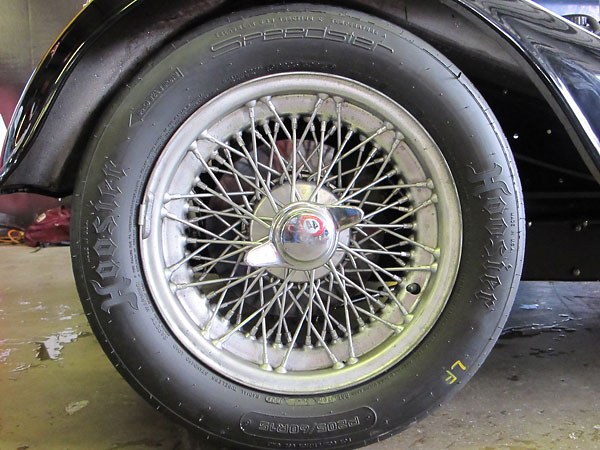 15x5.50 72-spoke wheels are a retrograde modification. TR2-engined Morgan Plus 4s came standard with
Dunlop 16x5.25 pressed steel disc wheels, mounted on four lugs each. Later model Morgan's used spoke
wheels mounted on spline-drive hubs. (Customers evidently preferred the old-fashioned appearance.)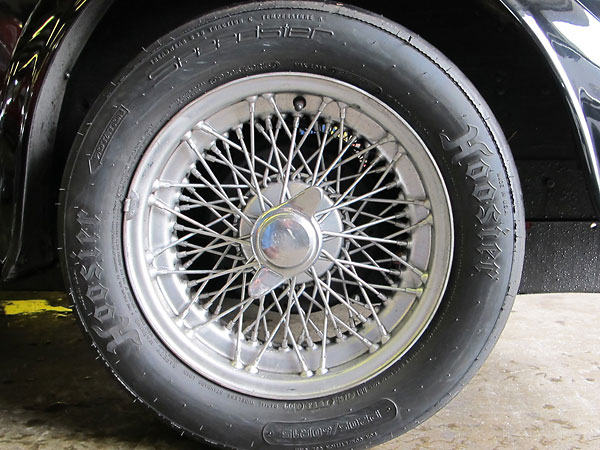 Dunlop Racing "Sportster" (205/60R15) tires.


All photos shown here are from September 2010 when we viewed the car at Glenora Winery's Vintage Grand Prix of Watkins Glen, New York. Photos by Curtis Jacobson for BritishRaceCar.com, copyright 2010. All rights reserved.



Notice: all the articles and almost all the photos on BritishRacecar.com are by Curtis Jacobson.
(Photos that aren't by Curtis are explicitly credited.) Reproduction without prior written permission is prohibited.
Contact us to purchase images or reproduction permission. Higher resolution images are optionally available.