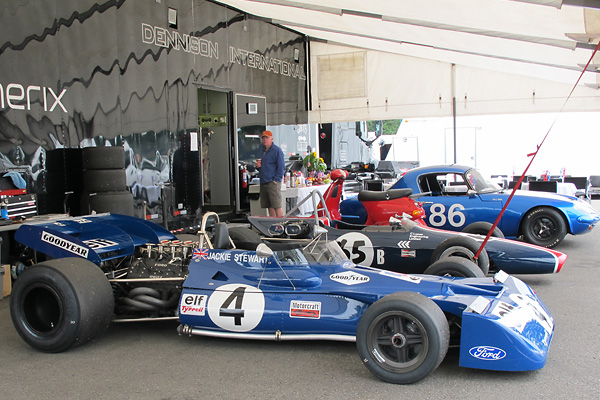 John Dimmer's 1971 Tyrrell Formula One Race Car
Owner: John Dimmer
City: Tacoma, Washington
Chassis: Tyrrell 004
Engine: Ford Cosworth DFV 3.0L V8
Race prepared by: Butch Dennison
How Tyrrell Racing Organisation Became a Constructor
Ken Tyrrell's driving career started at Goodwood in June 1952 when he contested the first heat of a Formula Three race in a second hand Cooper 500cc racecar. Although he loved racing - loved everything about the racing life - he soon began to realize that his driving skills would never match his aspirations. It occurred to Tyrrell that his greater talent might be in team management. In 1959, Ken Tyrrell signed Bruce McLaren to drive Formula Two cars. He set up a workshop and hired mechanics to provide the necessary infrastructure.

Initially, Ken Tyrrell had no intention of building racecars from scratch. That idea came over a decade later. By 1969, Ken Tyrrell was managing the Matra International Formula One racing team. That was the year Tyrrell's superstar driver Jackie Stewart won six of eleven races to clinch his first Grand Prix championship. Matra had built a terrific chassis but didn't yet have a suitable engine of their own, so they used a Ford Cosworth DFV engine. For 1970, Matra was determined to field their own V12 engine. Neither Tyrrell nor Stewart believed the Matra engine could be competitive, so the team and the chassis builder parted ways. As a stop-gap measure, Ken Tyrrell purchased two March 701 chassis, but meanwhile things were quietly happening behind closed doors at the team's Ockham Surrey workshop. In August 1970, Tyrrell unveiled his team's "Secret Project" racecar. The following season, the Tyrrell Racing Organization dominated Formula One's Constructors Championship while scoring over twice as many championship points as their toughest rival.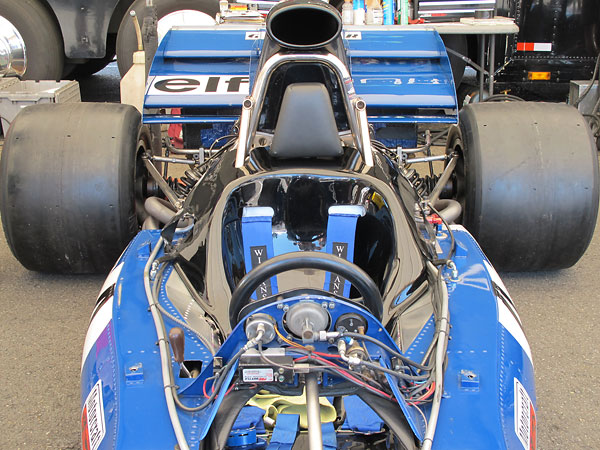 Derek Gardner designed an all-new aluminum monocoque tub for Tyrrell number 001. That first
racecar debuted in a non-championship Formula One race at Oulton Park on 22 August 1970.
Various modifications were made for cars 002 through 004. Whereas 001 had been optimized for
Jackie Stewart, the next three cars were made longer so that they could accommodate Francois
Cevert's height. According to Autocourse, the later cars were slightly narrower too.


Derek Gardner's Secret Project
Ken Tyrrell was always on the lookout for new talent, and he had a gift for finding and nurturing it. During the 1969 season, while running the Matra International Formula One team, Tyrrell had become familiar with Derek Gardner. Since 1961, Gardner had served as an engineer for Harry Ferguson Research, where he had specialized in transmission layouts for four-wheel-drive vehicles including racecars.¹ Despite having no personal experience at racecar chassis or suspension design, Derek Gardner must have impressed Ken Tyrrell quite a lot. In February 1970 he was hired to develop an entirely new racecar for the Tyrrell team. According to Gardner, Tyrrell delivered the following challenge: "It is no good coming second. People forget about second. You must win." Furthermore, Tyrrell demanded complete secrecy for the project.

Reviewing the project for an article in Motor magazine's 23 October 1971 edition, Gardner explained: "Ken's requirements were few but firm. The car had to be simple, competitive and there would be no time to develop it. It had to be right the first time. He impressed on me the need to have the car built on schedule. He said if it didn't race in the Gold Cup at Oulton Park (scheduled for 22 August 1970, less than seven months from the project's start!), the whole project would be scrapped. We might as well throw it in the Thames... It was necessary to prove to our driver and our sponsors that we would be competitive in 1971."

Working from his home on Parklands Avenue in Leamington Spa, Derek Gardner assumed the cover of a private engineering consultant so he could procure prototype parts. Gradually, a mock-up racecar began to take shape in his personal garage, although in lieu of aluminum the prototype featured a wooden cockpit. Gardner labeled his engineering drawings with the project name "Esspe", derived from the designation "SP" for "Secret Project". The designation "001" wasn't used until months later.

Gardner decided to focus on two technical priorities. First, the car should have an extremely low polar moment of inertia. In other words, components should be arranged to minimize the average distance of mass from the car's center of gravity. When everything else is equal, a car with a lower polar moment can change direction quicker while putting less demand on the tires. Secondly, Gardner believed the car's suspension should be extremely softly sprung in the interest of good road holding. Stiffly sprung cars tend to skate over road surface irregularities.

Without any personal experience or training in aerodynamic design, the Tyrrell racecar's profile was a matter of guesswork. Gardner's initial intent was to create a sleek chisel-shaped profile. However, his decision to use a conventional nose-mounted radiator didn't facilitate a really low nose. His novel approach was to extend the flat top plane of the nose cone outward to create a rudimentary wing. (Tyrrell's distinctive "sports car nose" design came later. It debuted at the 1971 French Grand Prix.) Gardner's selection of a very short wheelbase and his focus on achieving a low polar moment of inertia complicated fuel packaging options; he decided that the most pragmatic solution was to give the car's monocoque tub a pot-belly shape. At the rear, a second element (i.e. a "flap") was specified for the wing.

In our modern age, the design of a successful new Formula One car is a huge endeavor. Even if one designer gets top billing, we take for granted that a large team of experienced professionals worked feveriously behind the scenes. Derek Gardner's accomplishment: single-handedly designing a world-beating Formula One car, in just a couple months, on the drawing board in his family's spare bedroom, on his first try... It would have been a staggeringly amazing accomplishment in any era.

At some point, drawings have to be turned over to machinists and fabricators. It might be instructive to consider that throughout the 1971 season The Tyrrell Racing Organisation was comprised of just 18 employees. Six of the men who helped build the cars were also responsible for traveling to races and keeping them running. By any measure, Tyrrell was a small team. They were plucky underdogs. They worked well and hard together. And they were winners.



Tyrrell Number 004
The Tyrrell team was small, but they were capable of fielding two top-flight drivers throughout the Grand Prix season and of simultaneously developing a back-up driver. Thus, they needed at least three cars. Even when the back-up driver wasn't competing, the third car would travel to essentially every race for use in practice sessions (to save wear and tear on the front-line cars), for occasionally testing of new set-up and design ideas, and as a contingency - just in case one of the team's main racecars failed. Chassis number 004 was the Tyrrell team's back-up car throughout 1972.

Construction of chassis 004 was completed in October 1971, and it was sent to Kyalami in South Africa for testing in January 1972. The South African Grand Prix wasn't held until March, so there was lots of time for tuning and development. After South Africa, chassis 004 traveled with the team's other cars. Its best practice lap times at various circuits are noted below.

Chassis 004's first actual Formula One Championship race appearance was at the 1972 Monaco Grand Prix. Heavy rain on Saturday continued through Sunday's race. Driving chassis number 004, Jackie Stewart spun once and also suffered an apparently rain-caused misfire throughout the final laps, yet he managed to hold on to a fourth place finish behind Jean-Pierre Beltoise (BRM), Jacky Ickx (Ferrari), and Emerson Fittipaldi (Lotus).

Patrick Depailler drove Tyrrell 004 in the 1972 French Grand Prix, but suffered a tire puncture.

In practice for the 1972 German Grand Prix, Francois Cevert drove 004 to a lap time of 7:28.5. On Friday he qualified even faster (7:12.2) in his primary car, but he subsequently inflicted heavy damage when he crashed at Pflanzgarten before the end of the session. Three suspension corners and the monocoque tub of Tyrrell 002 were damaged. However, because the team wished to retain his favorable qualifying time, they made a decision to repair 002 rather than simply press 004 into service. Tyrrell 002 was stripped-down and its tub was straightened. The suspension and engine from 004 were then installed on 002 for the race. Cevert finished in tenth place.

Patrick Depailler drove Tyrrell 004 in the 1972 United States Grand Prix at Watkins Glen. He qualified 11th fastest and finished in 7th place.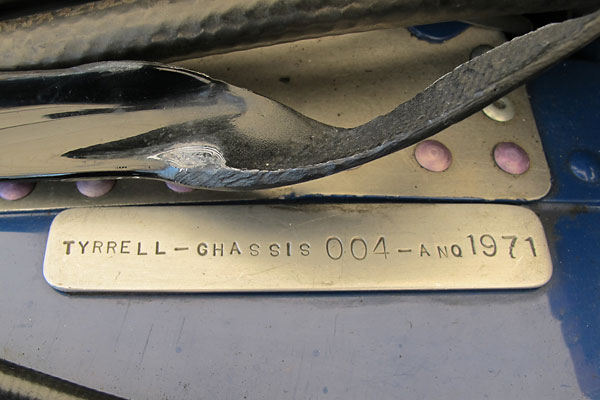 TYRRELL - CHASSIS 004 - ANO 1971


Tyrrell 004's Formula One Results

Team Tyrrell 1972 Grand Prix Championship Results
Race
Date
Jackie Stewart
003 / 005
Francois Cevert
002 / 006
Back-Up Car / Patrick Depailler
004
1
Argentine GP
Jan 23
Q2 F1
Q7 DNF
Not used.
2
S. African GP
Mar 4
Q1 DNF
Q8 F9
Stewart / practice only. Best lap: 1:18.2
3
Spanish GP
May 1
Q4 DNF
Q12 DNF
Stewart / practice only (1:19.71).
4
Monaco GP
May 14
N/A
Q12 NC
Stewart qualified 8th (1:22.9), finished 4th.
5
Belgian GP
Jun 4
(sick)
Q5 F2
Stewart / practice only. (Time not recorded.)
6
French GP
Jul 2
Q3 F1
Q7 F4
Depailler qualified 16th (2:59.6), NC (tire puncture).
7
British GP
Jul 15
Q4 F2
Q12 DNF
Not used.
8
German GP
Jul 30
Q2 F11
Q5 F10
Suspension & engine shifted to 002 for race.
9
Austrian GP
Aug 13
Q3 F7
Q20 F9
Not used.
10
Italian GP
Sept 10
Q3 DNF
Q14 DNF
Stewart 1:36.75 / Cevert 1:39.50 in practice.
11
Canadian GP
Sept 24
Q5 F1
Q6 DNF
Stewart / practice only. (1:16.6)
12
U.S. GP
Oct 8
Q1 F1
Q4 F2
Depailler qualified 11th (1:42.52), finished 7th.
Final:
2nd
6th
(Team finished 2nd in Constructors Cup.)
Eddie Keizan drove Tyrrell 004 in Two FIA Grand Prix Championship Races
| | | | | |
| --- | --- | --- | --- | --- |
| | Race | Date | Qualified | Finished |
| 1 | 1973 South African Grand Prix | March 3, 1973 | 22nd | 13th |
| 2 | 1974 South African Grand Prix | March 30, 1974 | 24nd | 14th |
| | | | | |
| | | | | |
Eddie Keizan drove Tyrrell 004 in Thirteen South African Series Formula One Races
| | | | | |
| --- | --- | --- | --- | --- |
| | Race | Date | Qualified | Finished |
| 1 | Cape South Easter Trophy | January 6, 1973 | 2nd | 2nd |
| 2 | Highveld 100 | January 27, 1973 | 2nd | DNF (broken fuel line) |
| 3 | Goldfields Autumn Trophy | March 31, 1973 | 15th | 5th (shunt in final laps) |
| 4 | 1973 Mercury 100 | April 23, 1973 | 2nd | 2nd |
| 5 | South African Republic Festival Trophy | May 26, 1973 | 2nd | 2nd |
| 6 | Bulawayo 100 | June 10, 1973 | 2nd | 1st |
| 7 | Natal Winter Trophy | July 1, 1973 | 1st | DNF (broken oil line) |
| 8 | Rand Winter Trophy | August 4, 1973 | 2nd | 2nd |
| 9 | False Bay 100 | August 25, 1973 | 1st | 2nd (set fastest lap) |
| 10 | Rhodesian Grand Prix | September 23, 1973 | 2nd | 2nd |
| 11 | Rand Spring Trophy | October 6, 1973 | 2nd | 2nd |
| 12 | Goldfields 100 | October 20, 1973 | 2nd | DNF (broken throttle) |
| 13 | 1974 Mercury 100 | April 13, 1974 | 2nd | 4th |
| | | | | |
| | | | | |
Provenance of John Dimmer's Tyrrell Racecar (chassis 004)
Tyrrell 004 was built in 1971 and retained through the 1972 FIA Formula One World Championship Season as a works racecar. It was driven in three races that season, once by Jackie Stewart and twice by Patrick Depailler.

Alex Blignaut of South Africa purchased Tyrrell 004 in 1972. South African driver Eddie Keizan drove Tyrrell 004 in fifteen races. He achieved two victories plus six second-place finishes in the 1973 and 1974 South African National Formula One Championship. He also competed in two FIA Formula One Championship races: the South African Grand Prix races of 1973 and 1974.

Stephen Griswold of Berkeley, California purchased Tyrrell 004 in 1977, but is not known to have raced it.

Robert D. Sutherland of Englewood, Colorado purchased Tyrrell 004 on March 1, 1978. He raced the car in select historic events until his death in 1999.

John B. Dimmer of Tacoma, Washington purchased Tyrrell 004 at a Christie's International Motor Cars auction in Pebble Beach on August 20, 2000. Tyrrell 004 was carefully restored by Butch Dennison (who at that time worked for Pete Lovely Racing.) John Dimmer has enjoyed racing Tyrrell 004 at various vintage events since 2001.



IMPORTANT ANNOUNCEMENT
BritishRaceCar.com will have to cut back plans for continued growth if we can't find more financial support.
If you like what you've found here, and you want to see more, please click here and follow the instructions.
Readers like you keep BritishRaceCar.com online and growing through voluntary financial contributions.


Features and Specifications (as currently presented)
Engine:
Ford Cosworth DFV V8. (2993cc. 3.373" bore x 2.555" stroke. 11.0:1 static compression ratio. Rated 470 HP at 10,500 RPM.) Lucas mechanical fuel injection. Lucas OPUS (Oscillating Pick-Up System) electronic ignition system. Lucas Capacitor Discharge Ignition System.

Cooling:
front mounted radiator. Dual rear-mounted 25-row aluminum oil coolers.

Exhaust:
custom 4-into-1 headers.

Transaxle:
Hewland FG400 5-speed. CV-jointed halfshafts.

Front Susp.:
dual wishbone front suspension. Coilover KONI model 8212 double adjustable shock absorbers. Tyrrell magnesium front uprights. Adjustable (5-position) tubular anti-sway bar.

Rear Susp.:
single top links, parallel lower links, and twin radius arms. Tyrrell magnesium rear uprights (casting# L127). Coilover KONI model 8212 double adjustable shock absorbers. Adjustable (5-position) tubular anti-sway bar.

Brakes:
(master) dual Girling master cylinders with integral reservoirs. Adjustable bias bar.
(front) Girling calipers and outboard-mounted vented rotors.
(rear) Girling calipers and inboard-mounted solid rotors.

Wheels/Tires:
Tyrrell magnesium racing wheels. Avon racing tires (10.0/20.0/13 front by 15.0/26.0/13 rear).

Instruments:
(left to right) Racetech dual oil pressure (0-100psi) and oil temperature (40-140C) gauge, Smiths tachometer (0-12000rpm) without tattletale, and Smiths dual fuel pressure (0-160psi) and water temperature (30-120C) gauge.

Safety Eqmt:
Willans six-point cam-lock safety harness. Strange Engineering quick release steering wheel hub. FireBottle centralized fire suppression system.

Dimensions:
overall length = 152.0", wheelbase = 95.7", front track = 63.0", rear track = 64.9", weight = 1224 pounds.


Engine Installation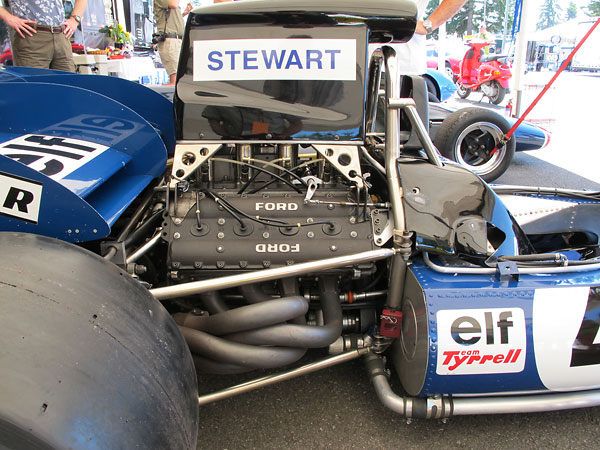 Ford Cosworth DFV V8: 2993cc, 3.373" bore x 2.555" stroke, 11.0:1 static compression.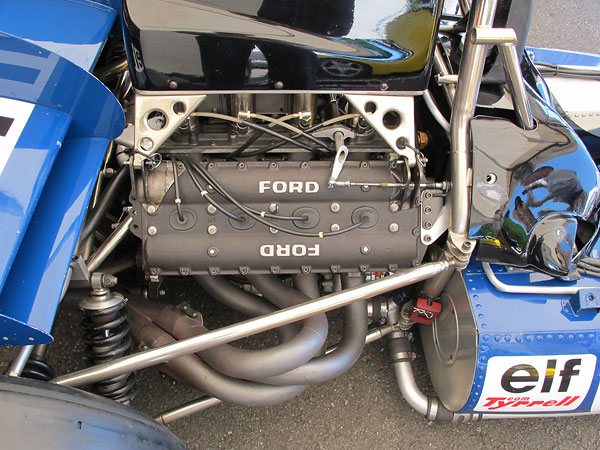 Cosworth DFV engines delivered twelve World Championships in sixteen seasons, from 1968 and 1983.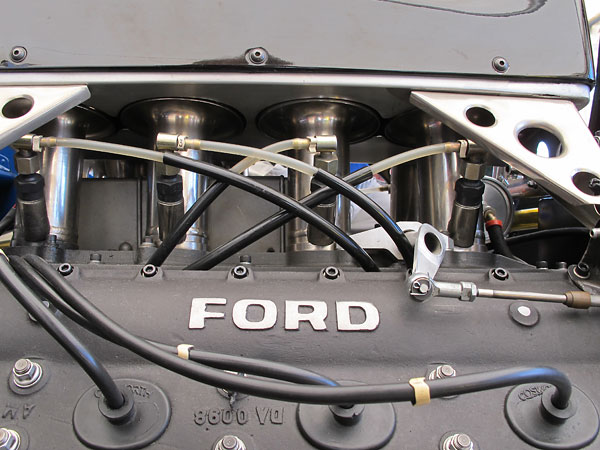 Lucas mechanical fuel injection.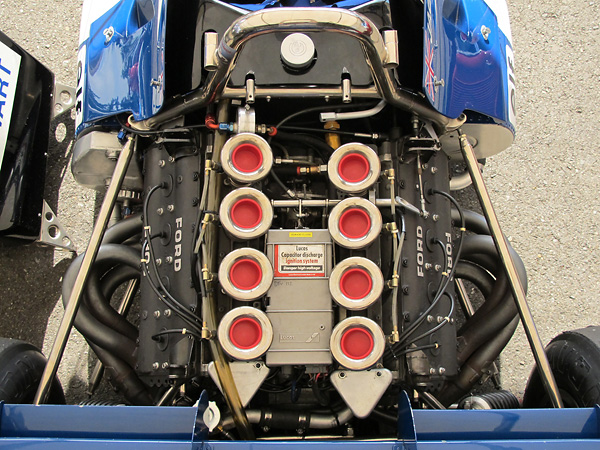 Eighteen of twenty-one teams contesting the 1971 Grand Prix championship chose Cosworth DFV engines.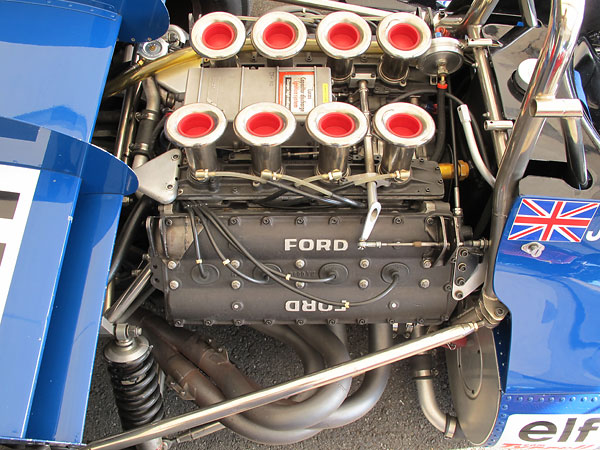 Did Tyrrell or Stewart have an unfair advantage? Claims of that came up regularly because Stewart's
DFV-powered racecar seemed to pull stronger than other DFV cars. One advantage might have been
new lubricant technologies Team Tyrrell had through their partnership with ELF. They were certainly
given special lubricants for testing. ELF was the first company to produce synthetic oils for racing.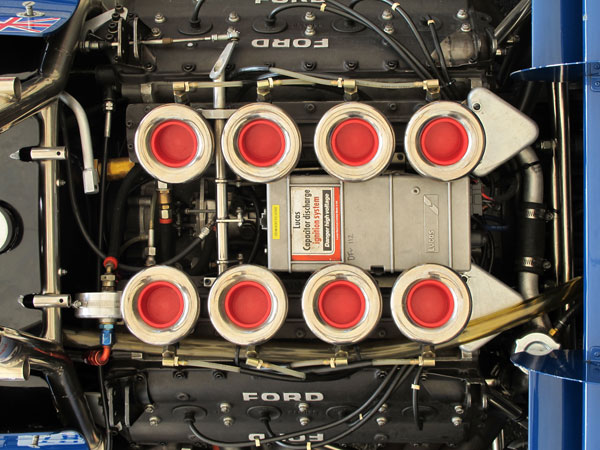 Lucas Capacitor Discharge Ignition System - Danger High Voltage. Various versions of this system
were produced for the Ford Cosworth DFV V8 engine over the years. By the housing and its sticker
we can tell that this particular ignition box was produced later in the 1970s.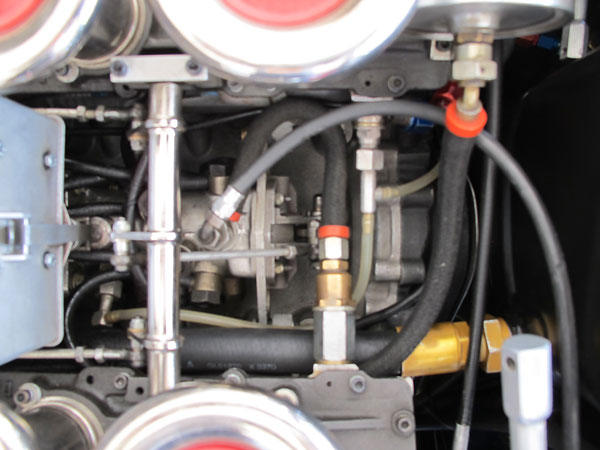 Lucas Mk1 mechanical fuel injection metering unit, gear driven off the crankshaft.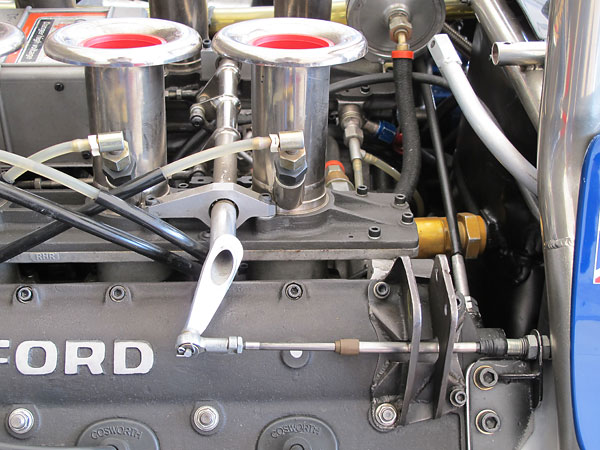 Throttle cable and linkage fabrication details.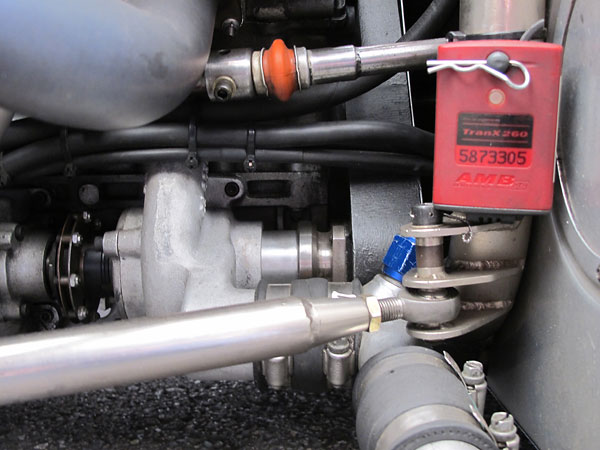 The second of two centrifugal water pumps.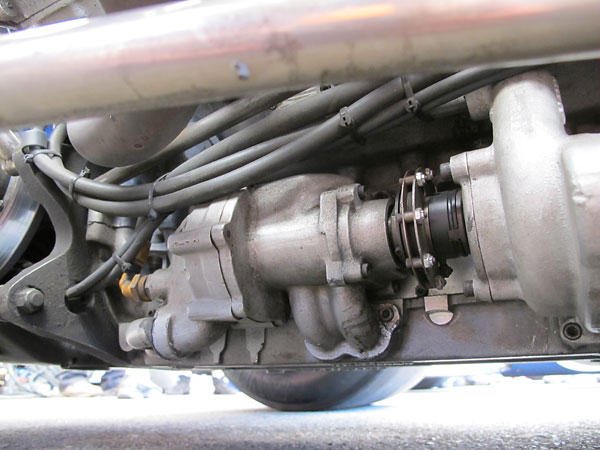 Scavenge oil pump draws oil from the shallow dry sump oil pan.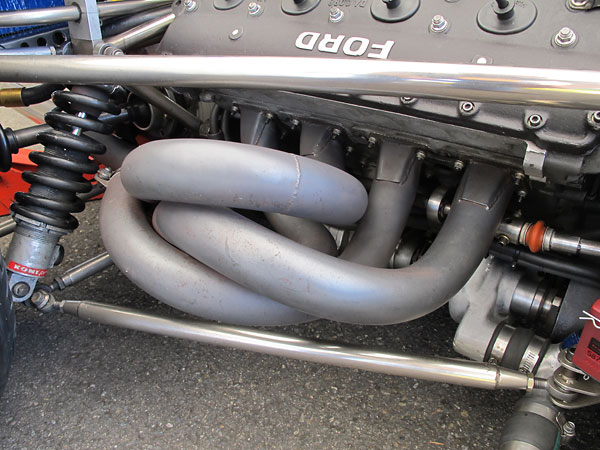 Beautifully crafted custom 4-into-1 headers. In June 1971, Cosworth determined that shortening the
length of the exhaust primary pipes from 30.5" down to 25.5" but leaving the tail pipe 27" long would
typically add at least 20 horsepower at tuned engine speed, to reach a claimed 470 HP at 10,500
RPM. New headers were installed on Jackie Stewart's racecar in time for the French Grand Prix at
the Paul Ricard circuit on July 4th. Race results show that Stewart was substantially quicker than
any other Cosworth driver, and to his delight he could now out-run Ferraris on the mile-long straight.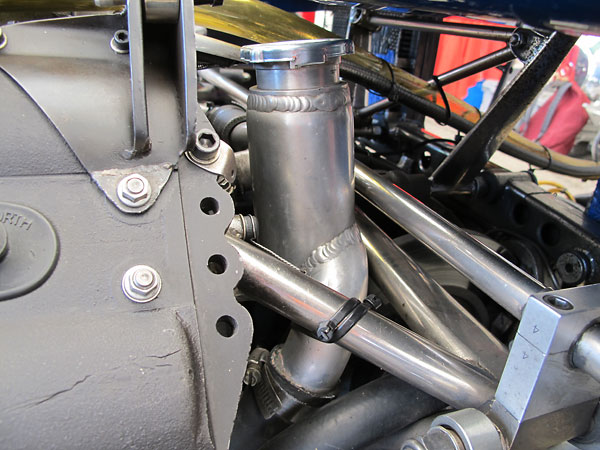 Custom fabricated coolant swirl pot.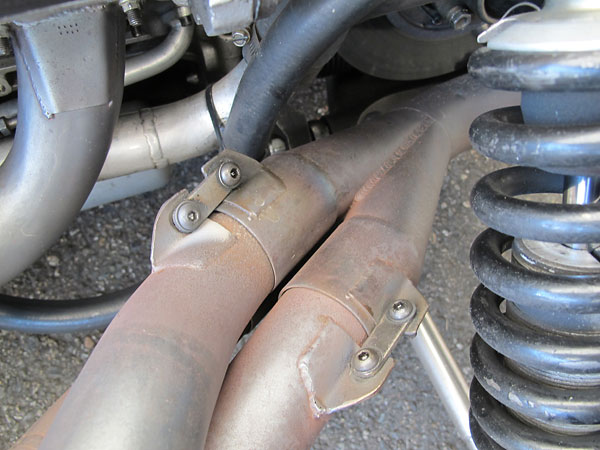 Exhaust header slip joints.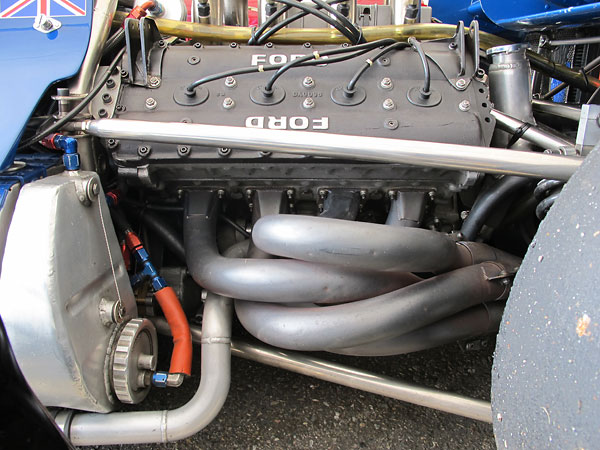 The engine oil reservoir is tucked away out-of-sight, ahead of the engine.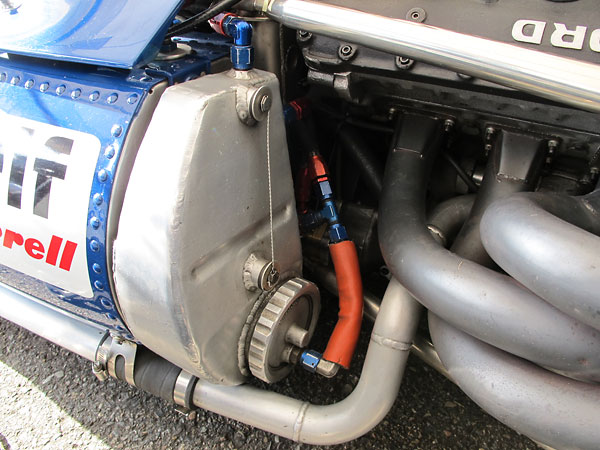 The Tyrrell racecars feature two conventional fuel cells, to the left and right of the cockpit. This
photo shows a small additional fuel "make-up tank". A low pressure electric fuel pump transfers fuel
into this tank. The high pressure pumps that supply the fuel injectors draw their supply from here.


Front Suspension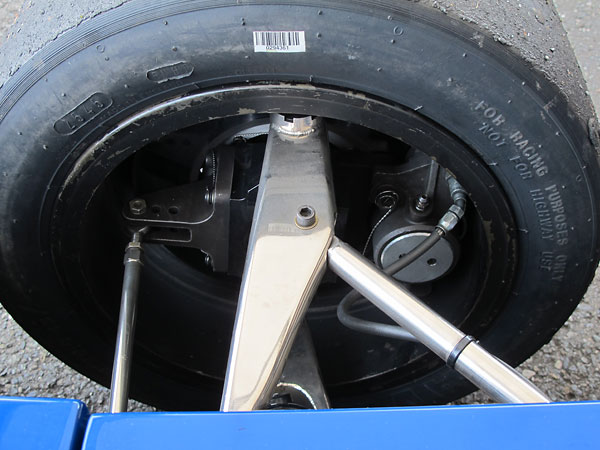 Derek Gardner designed custom magnesium uprights for the Tyrrell racecars, and they were built
by Jack Knight Developments. During Tyrrell 001's debut at the 1970 Canadian Grand Prix, after
qualifying fastest and leading the race, Jackie Steward broke a stub axle. (He had completed
31 of 90 laps.) Derek Gardner rushed back to England, redesigned the front uprights, had two
new uprights made, and he flew back across the pond in time for Watkins Glen two weeks later.



After that redesign of the front uprights, the balance of Gardner's front suspension proved robust.
It was also simple and it was easy to set-up. This was at a time when other Formula One
designers were experimenting with rising rate front suspension designs.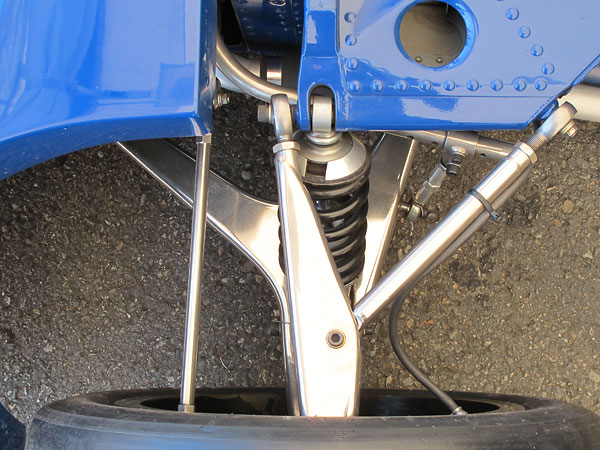 The forward members of the wide-based one-piece lower control arms are supported by the
tubular steel subframe which carries the radiator.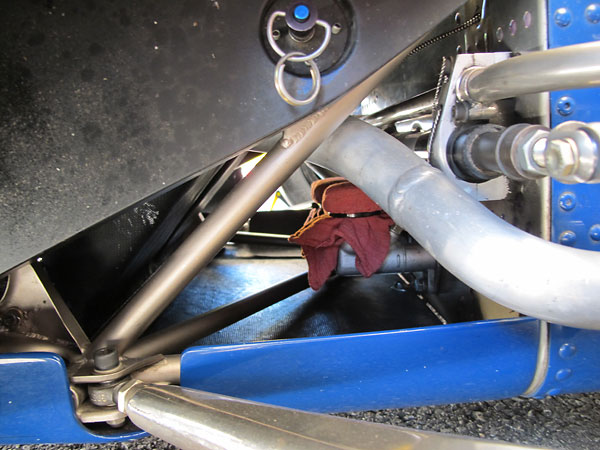 Dual Girling master cylinders with integral reservoirs.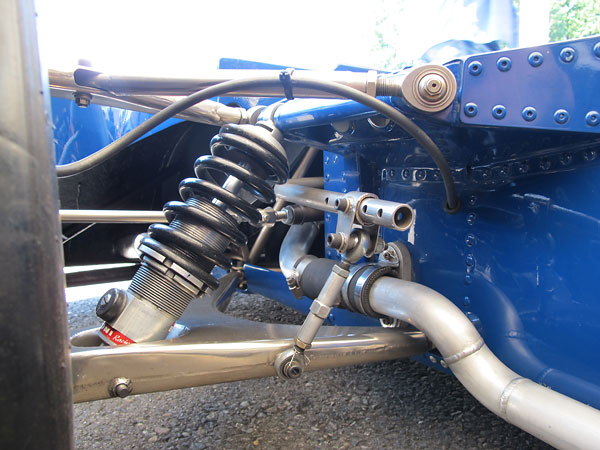 KONI 8212 double adjustable coilover shock absorbers. Adjustable (5-position) tubular anti-sway bar.


Enjoying this article? www.BritishRaceCar.com is partially funded through generous support from readers like you!
To contribute to our operating budget, please click here and follow the instructions.
(Suggested contribution is twenty bucks per year. Feel free to give more!)
Rear Suspension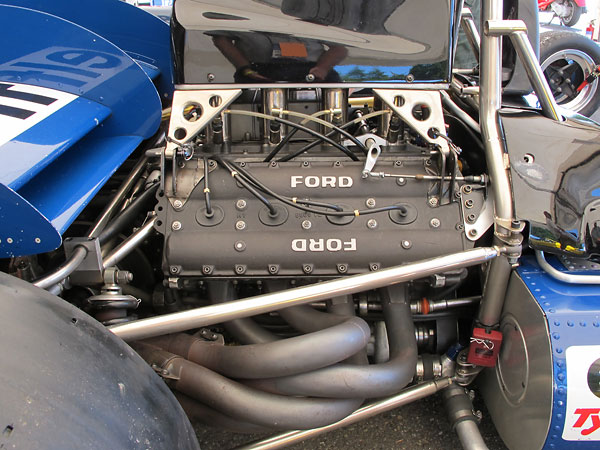 Rear suspension: single top links, parallel lower links, and twin trailing radius arms.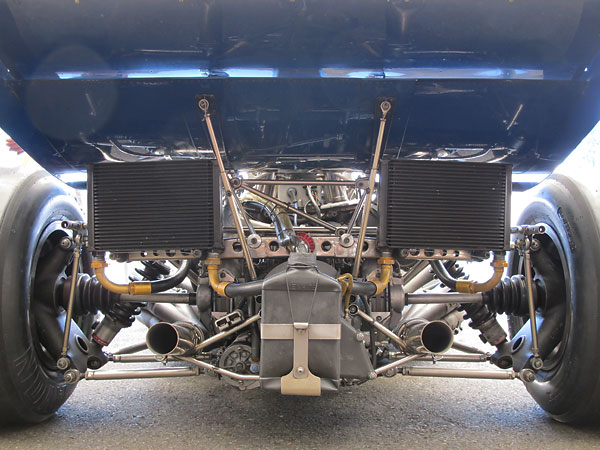 Dual 25-row oil coolers disturb and reduce airflow under the rear wing.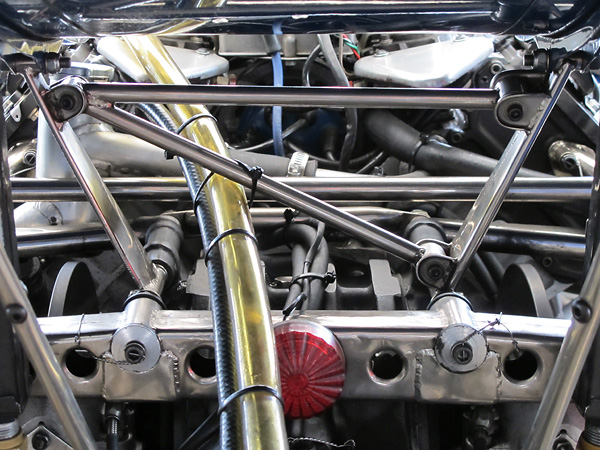 Elaborate wing support structure.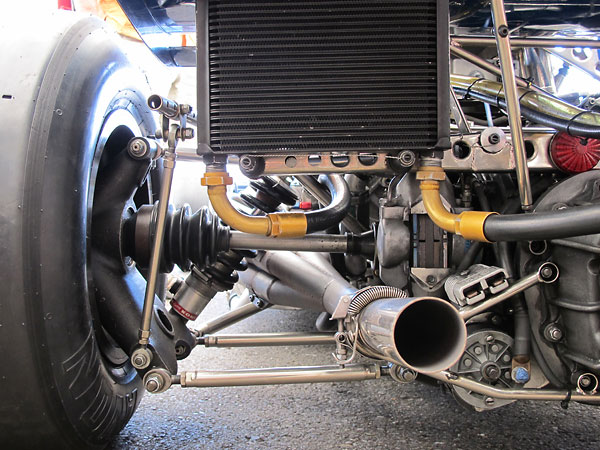 Derek Gardner specified variable coil pitch springs for the rear suspension of the Tyrrell racecars.
As variable pitch springs compress they progressively bind-up and wheel rate increases accordingly.
Now, in vintage racing trim, Tyrrell 004 is no longer fitted with a rising rate suspension.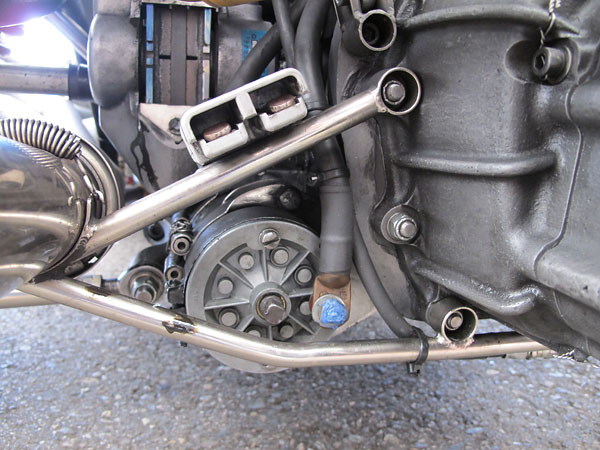 The central shaft of this starter extends out the back of its housing to facilitate mechanical jump starting.
The more familiar plastic plug above the starter motor is for regular electrical jump starts.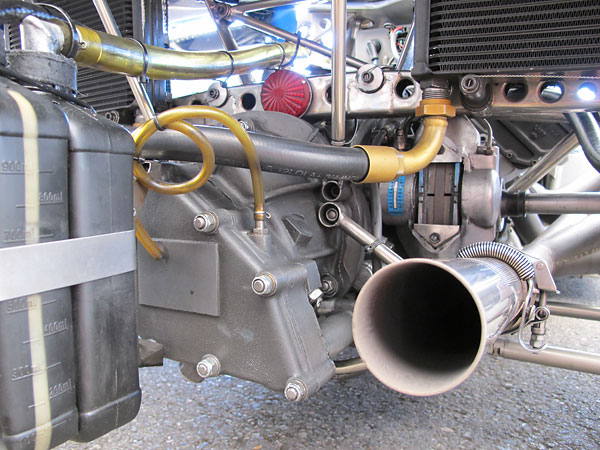 The Hewland FG400 5-speed transaxle worked reliably and was economical, but Derek Gardner complained
about its weight: 112 pounds. Furthermore, he estimated that heat and pump losses came to at least 10bhp.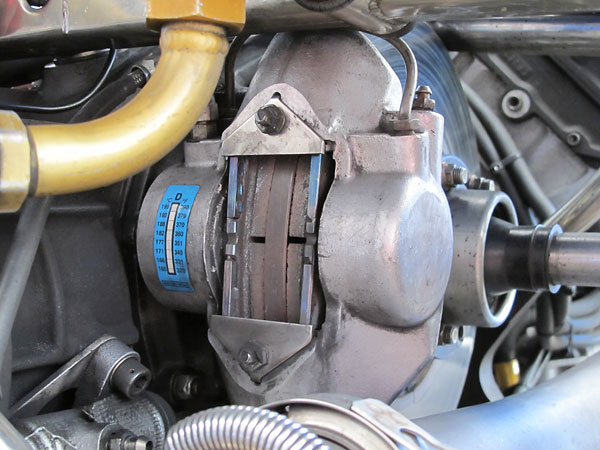 Girling brake calipers and inboard-mounted solid rotors.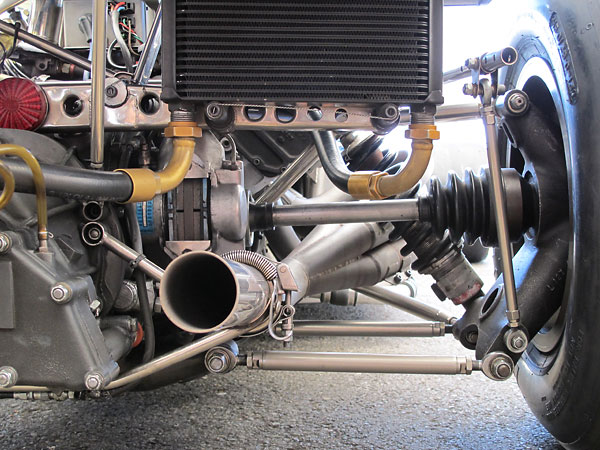 Tyrrell magnesium rear uprights (casting# L127).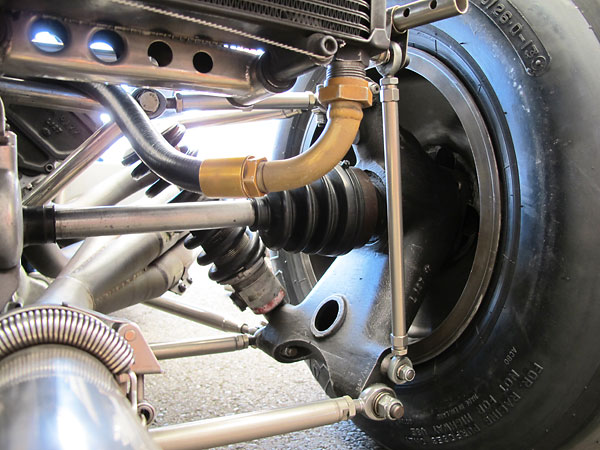 CV-jointed halfshafts.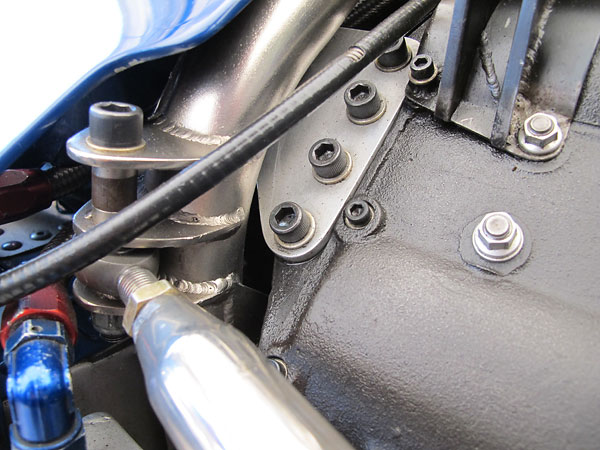 Two alternate rear suspension pick-up points.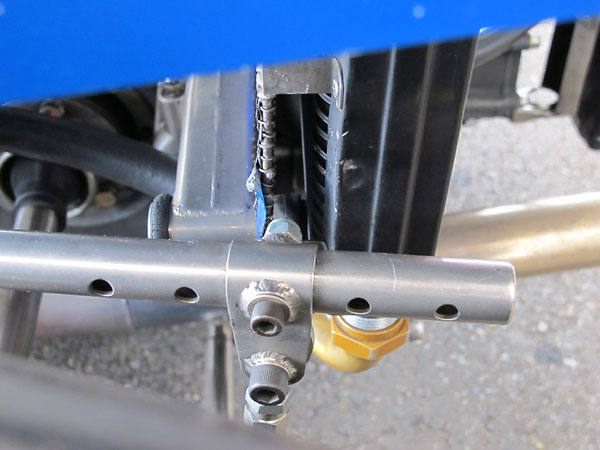 Adjustable (5-position) tubular anti-sway bar.


Interior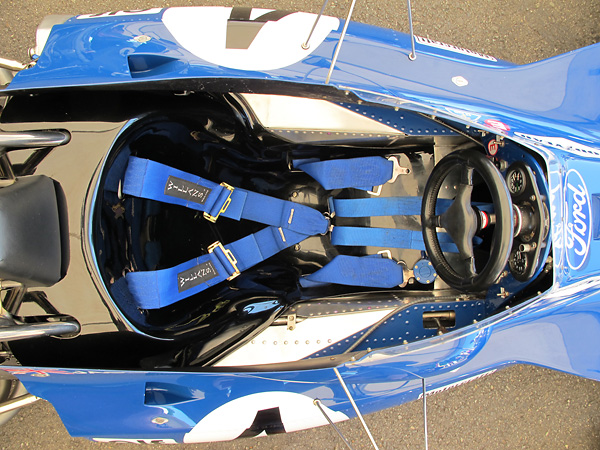 Willans six-point cam-lock safety harness.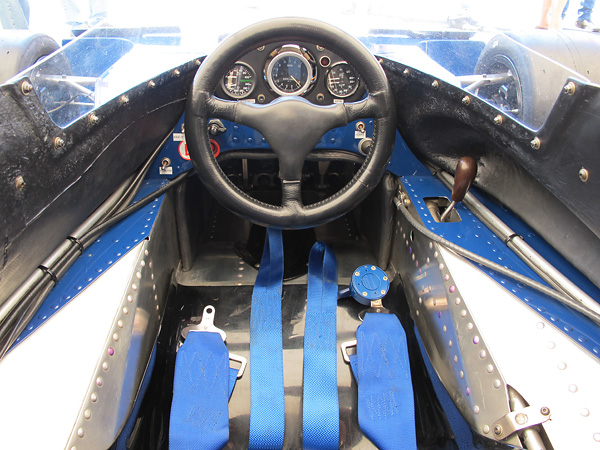 Jackie Stewart's business office, circa 1971.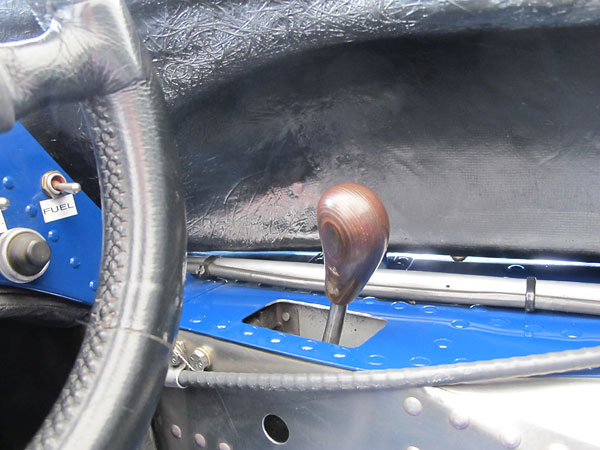 Gear shifter knob.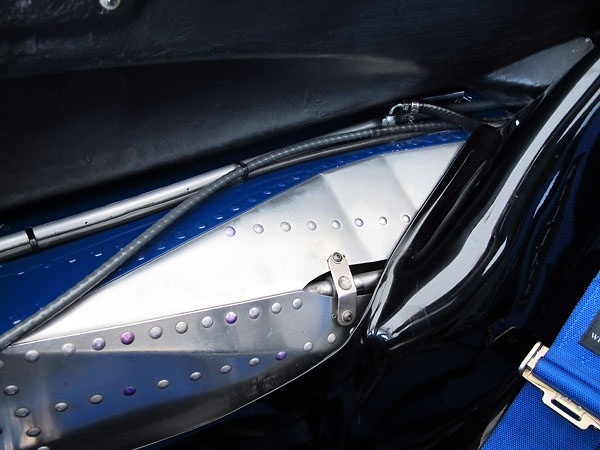 Fiberglass seat insert.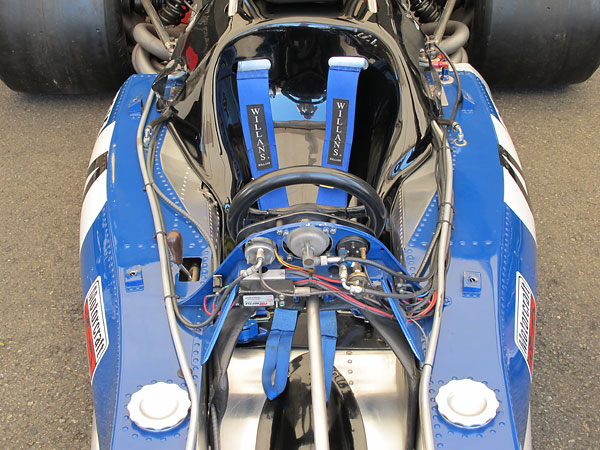 Instrument panel construction details.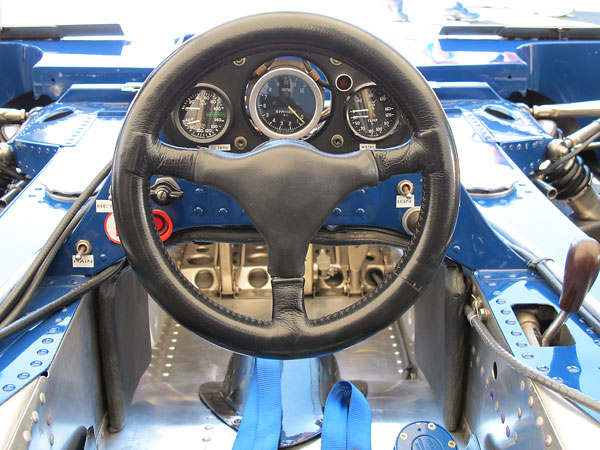 Racetech dual oil pressure & oil temperature gauge, Smiths tachometer, and Smiths
dual fuel pressure & water temperature gauge.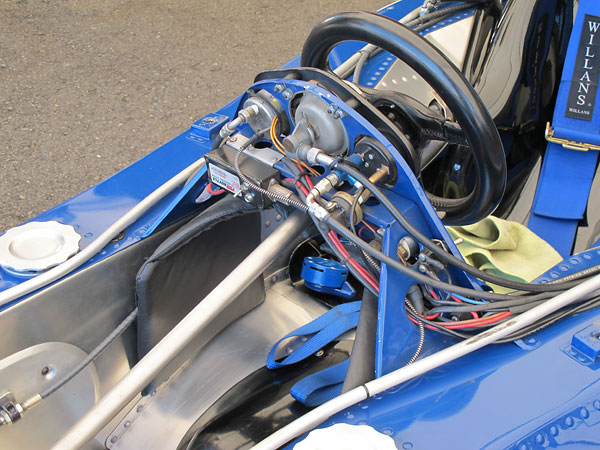 Control module for a FireBottle fire suppression system, on the back of the instrument panel.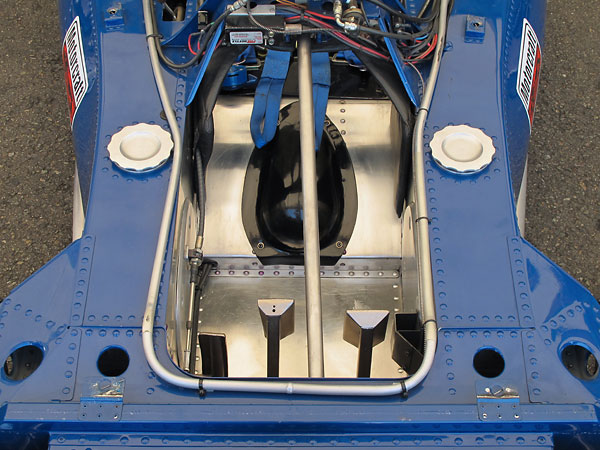 The fire suppression system's pressure bottle is mounted between and below the driver's knees.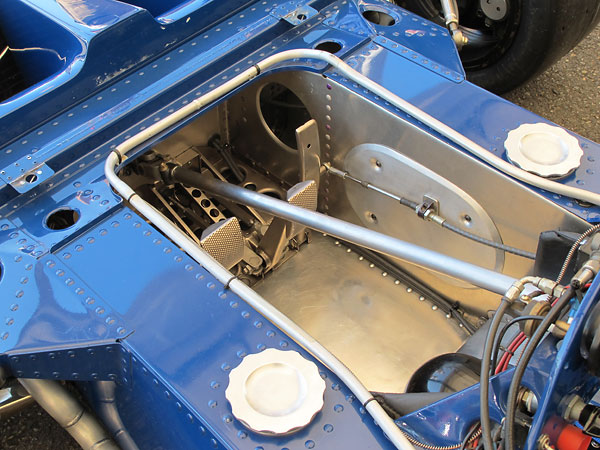 Tyrrell racecars are known for meticulous fabrication and preparation. However, few close-up photos of
the cars appeared in period publications. (That's one reason it's difficult to analyze their design now.)
Since Tyrrell never produced cars for outside customers, there was no need to divulge technical details
to the public. Cut-away drawings of racecars were popular in period magazines, but when Tyrrell racecars
were shown in cut-away view they tended to contain less detail than illustrations of rival racecars.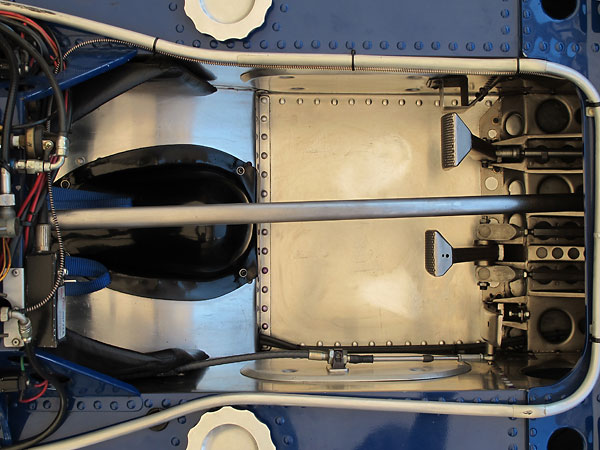 Very few outside suppliers saw the inside of Tyrrell's shop or knew what was being planned. As designer
Derek Gardner later told author Christopher Hilton: "In those days we operated a very simple principle,
and it's still the most reliable: if you don't want people to know, you don't tell them!" This approach
allowed Tyrrell to design and build 001 in secret. Even more surprisingly, it allowed Tyrrell to develop the
famous P34 six-wheeled F1 racecar for the 1976 season without a single rumour to spoil its unveiling.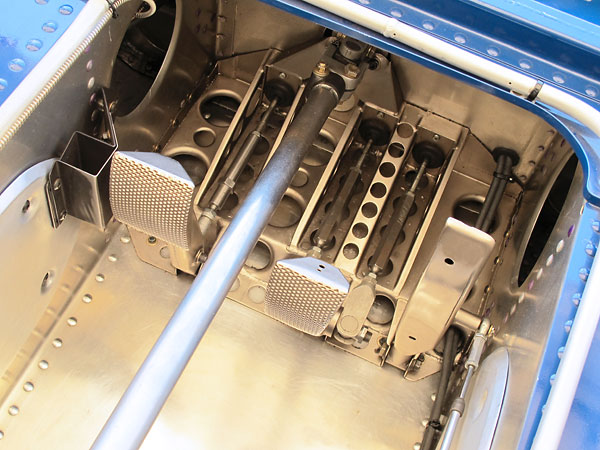 Tyrrell 004 suffered just one minor shunt in its original racing career, so it was a particularly good
candidate for restoration. Almost all of the sheetmetal tub's panels are original, although its
been taken apart and reassembled.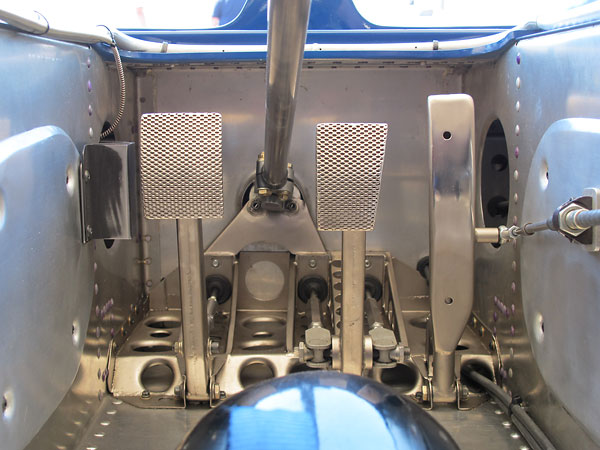 Simple, serviceable pedal assemblies.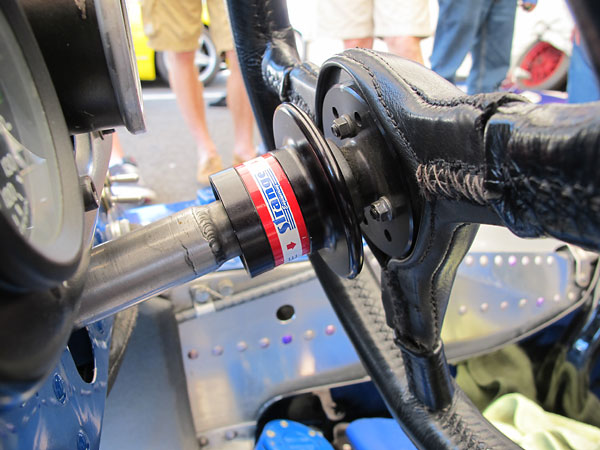 Strange Engineering quick release steering wheel hub.


Exterior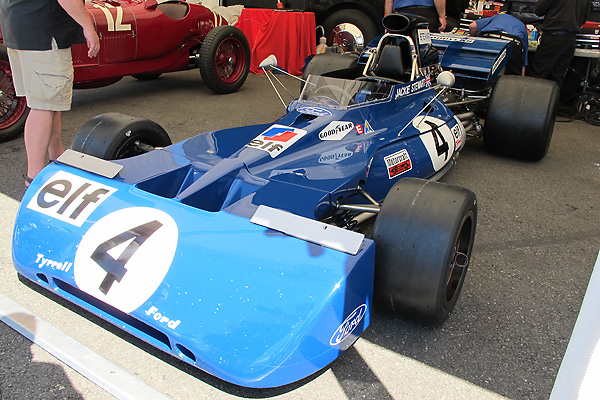 During SOVREN's 2011 Pacific Northwest Historics at Pacific Raceways in Kent Washington,
John Dimmer circled the beautiful 2.25 mile circuit with a best lap time of 1:23.424, which
averages out to 97.09mph.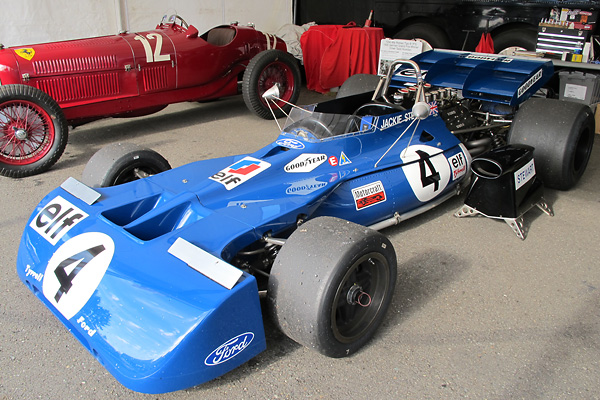 While the Gold Leaf Team was storming through the 1970 Formula One season with the new Lotus 72 -
Jochen Rindt won four in a row at mid season - Team Tyrrell was finishing up construction of their own
chassis. The two new models were strikingly different. The Lotus 72 featured inboard-mounted shocks
absorbers, torsion bar springs and front brakes. A chisel nose and dual side-pod mounted radiators
were also part of a streamlining program. The 72 was produced in number and persisted over years.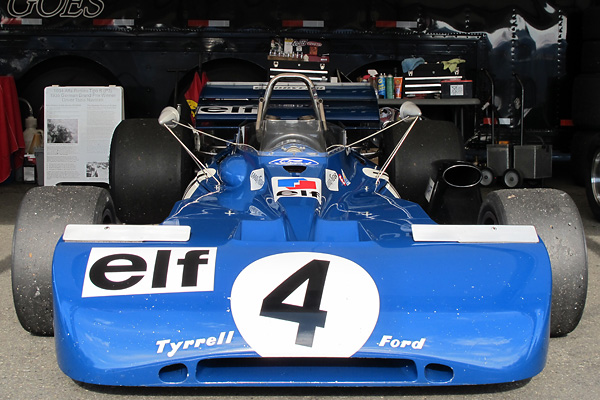 After a brief trial of placing wings to either side of a single front-mounted radiator, Tyrrell
switched to a sports car nose. This was a pragmatic design decision; the nose broke wind for
outboard mounted suspension and brake components while also serving as a partial fairing for
the tires. This paid off in 1971, when Jackie Stewart won the Formula One championship.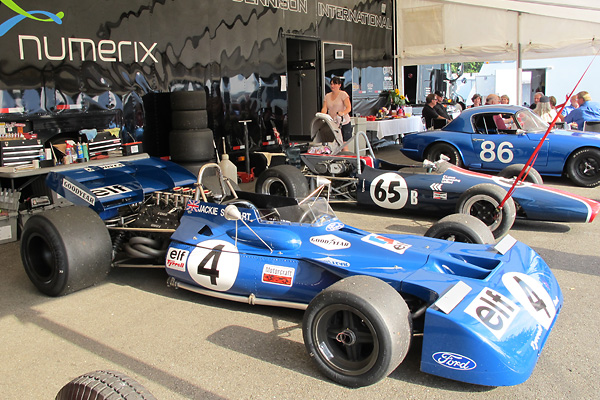 For the 1970 season, the Tyrrell Racing Organization had partnered with the Dunlop tire company.
When Dunlop exited F1, Tyrrell switched to Goodyear tires. A close and highly effective working
relationship with Goodyear's engineers gave Tyrrell a competitive edge. Meanwhile, Goodyear
gathered steam. In 1973, all Formula One championship race winners raced on Goodyear tires.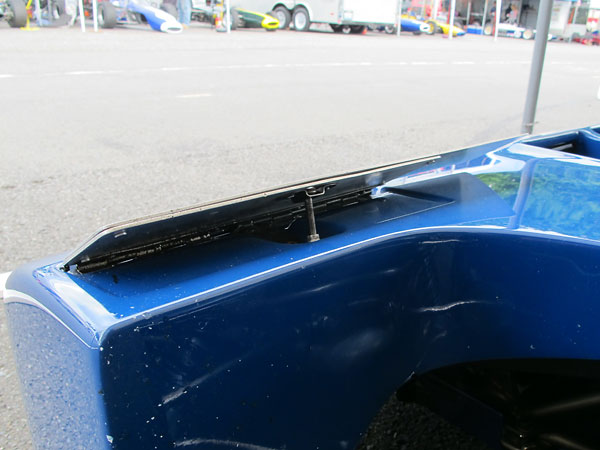 Adjustable aerodynamic flaps on the Tyrrell sports car style nose.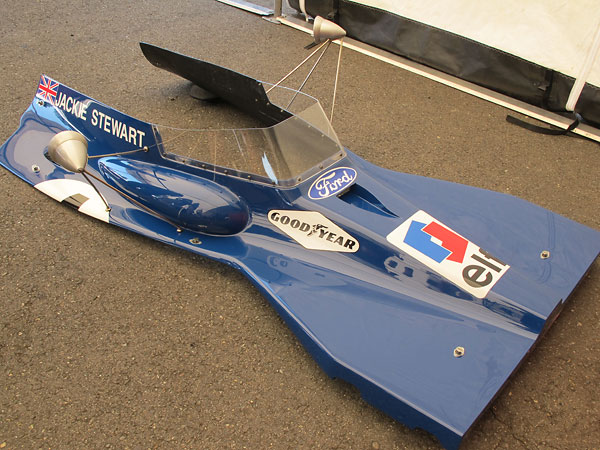 Tyrrell fabricated all their own fiberglass body parts, which helped the team maintain
secrecy throughout the development and evolution of their racecars designs. The
fiberglass panels are held down by spring-loaded Dzus quarter-turn fasteners.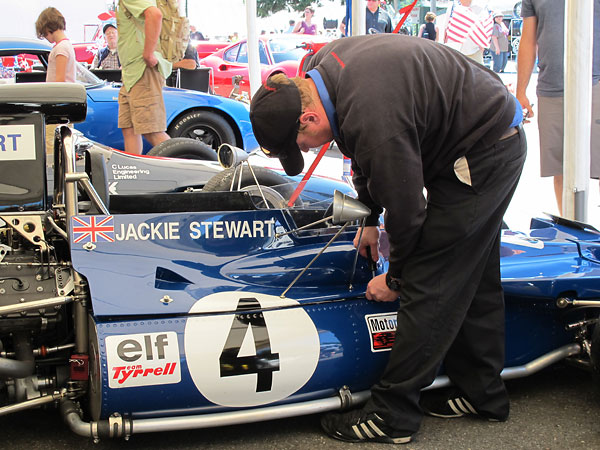 Derek Gardner originally conceived a flat-sided monocoque tub. Bulged sides were an afterthought,
which came about when he realized the car would need an additional ten gallons of fuel capacity.
The Ralph Bellamy designed McLaren M19 featured similarly shaped fuel packaging throughout
1971 and 1972. New safety rules would make this style of fuel cell packaging obsolete in 1973.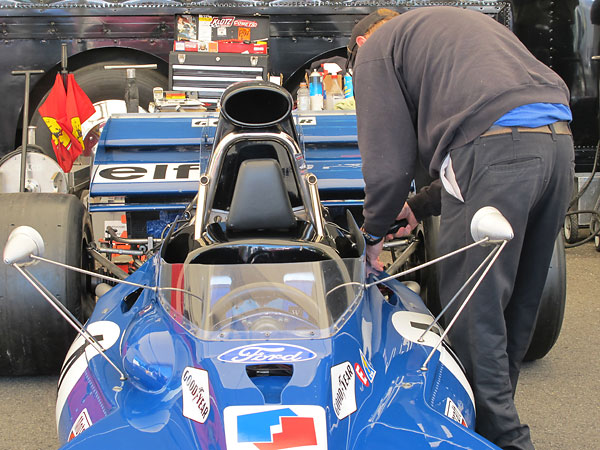 Mirrors are mounted outboard for a view around the oil coolers. (Lotus 72 mirrors are close-coupled
despite a similar rear wing installation, because Lotus mounted their oil coolers elsewhere.)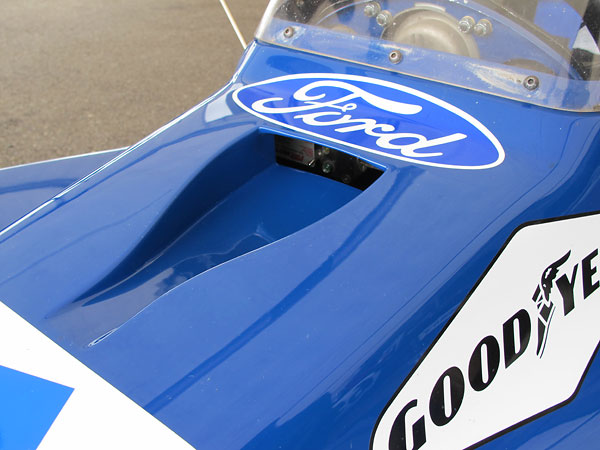 Three vents in the bodywork provide cool, fresh air to the driver. The two on the sides of the
body are NACA ducts, although not ideally formed or situated. This one is styled to look like
a NACA duct too, but it operates by a different principle. The steep, flat windscreen produces
a high pressure area, so any hole through the bodywork here would allow pressurized air to
flow into the cockpit. NACA ducts extract air from of an otherwise smoothly laminar airstream.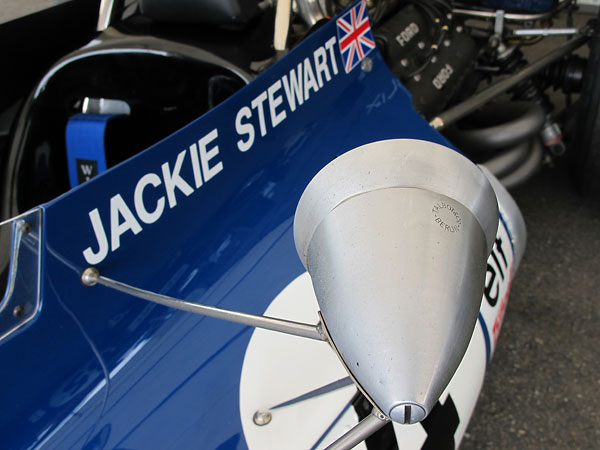 Jackie Stewart drove this Tyrrell racecar in the 1972 Monaco Grand Prix. It also served as
Stewart's practice and back-up car for at least four other races during the season.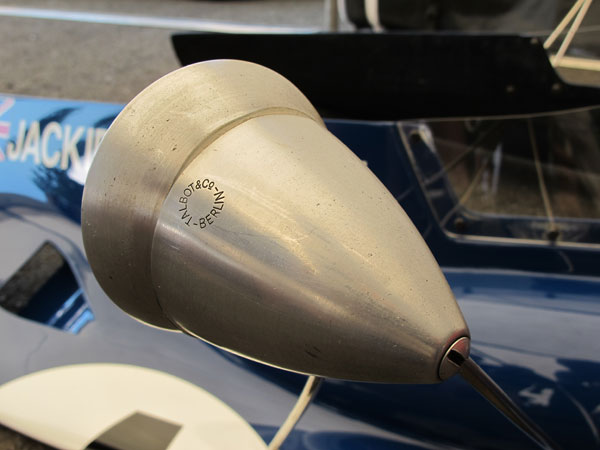 Talbot & Co., Berlin side view mirror.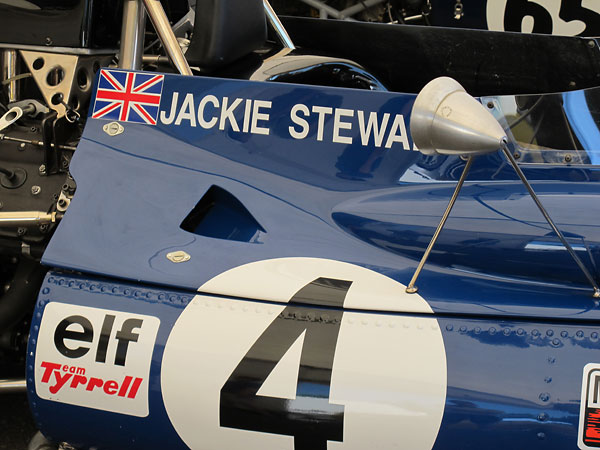 Next to Jackie Stewart's name we see the union flag of Great Britain, which frankly is a big surprise.
Tyrrell chassis number 003 undoubtedly displayed the blue-and-white Saint Andrew's cross flag of
Stewart's native Scotland. In fact, the Scottish flag still appears on 003 today. Car 003 is owned
by Jackie Stewart and it's on display at the The National Museum of Scotland in Edinburgh.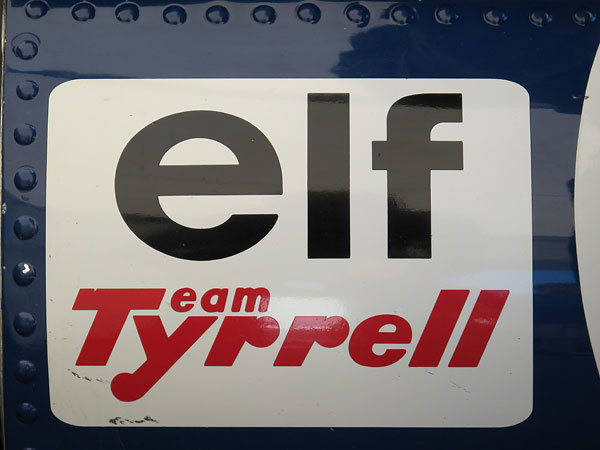 ELF Team Tyrrell decal. "Essence et Lubrifiants de France" was France's state-owned gasoline and
oil company, which enthusiastically sponsored French racing teams and drivers in the highest levels
of international motorsport. ELF's association with Ken Tyrrell and Jackie Stewart started while
those two gentlemen were involved with the Matra Formula One race team.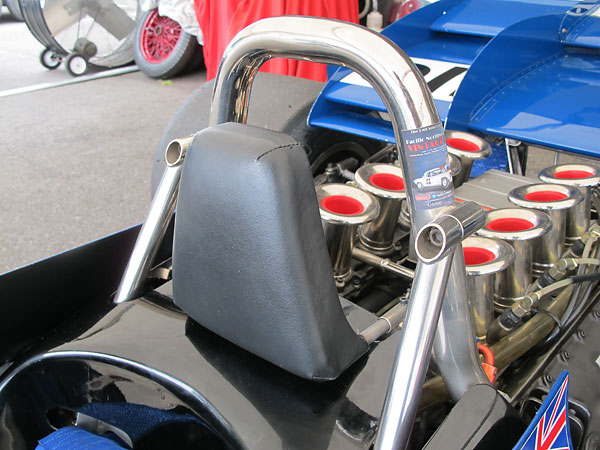 Adjustable, padded headrest assembly.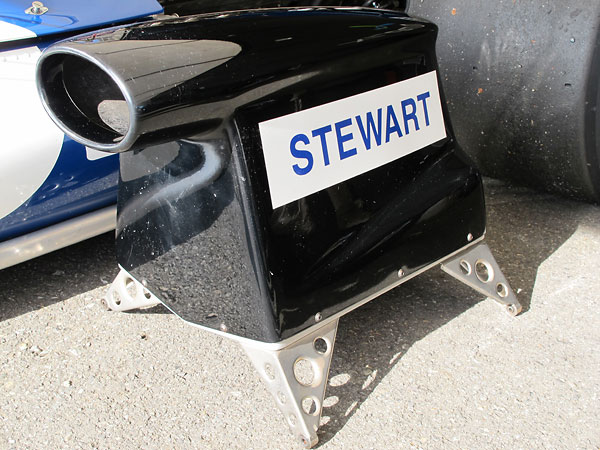 A high-mounted airbox serves at least four important functions: (1) provides smooth (i.e. non-turbulant)
and evenly distributed airflow to the engine's various induction stacks, (2) provides some ram-air
effect at high vehicle speeds, (3) draws induction air from higher off the track surface, where air
is generally cooler and therefore denser, and importantly (4) smooths airflow to the rear wing.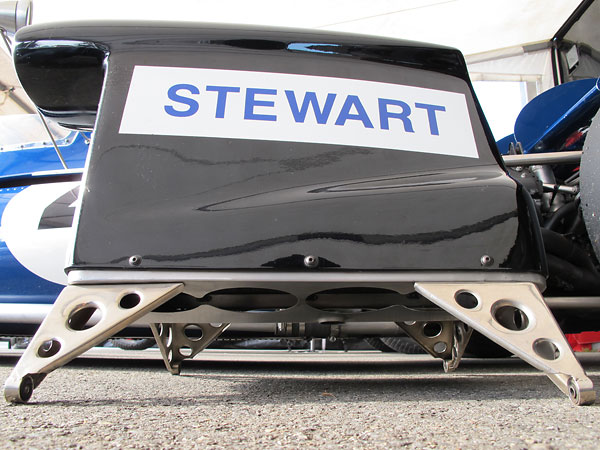 Use of high-mounted airboxes on Formula One racecars was pioneered by the innovative Lotus 72 model
which was developed for the 1970 season. By 1971, most of the Formula One field were using airboxes
too although efficacy varied widely. For most teams development was a matter of trial and error,
with lap times and driver feel their only measures of design success. Some teams experimented
with new designs in practice, then chose to run without airbox in the actual race.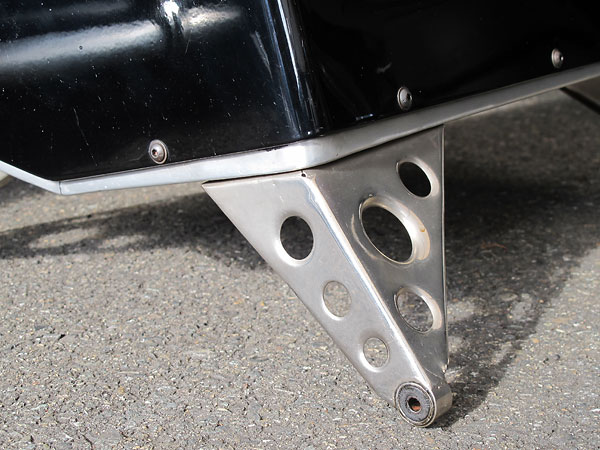 Various sources, including principally Autocourse, have cited the airboxes used on Jackie Stewart's
Tyrrell 003 and 004 racecars as a significant performance advantage. Of course, it's impossible to
quantify one factor among so many. Stewart won six of eleven championship races in 1971. The
Tyrrell team wasn't motivated to tinker with airbox design while rivals played catch up.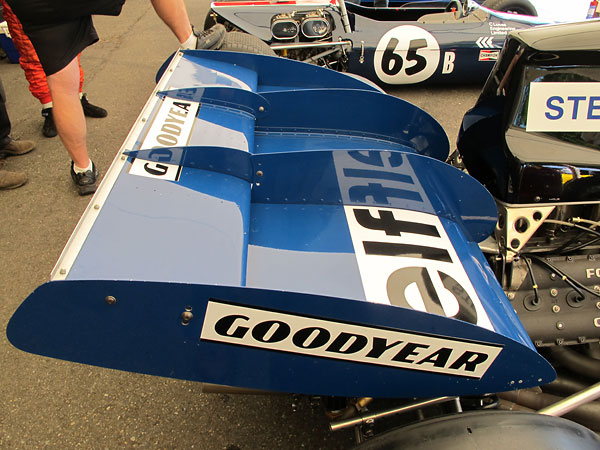 Formula One rules have at times been reactionary. After high-mounted rear wings caused two scary
accidents in practice for the 1969 Monaco Grand Prix, the FIA put tough restrictions on wing design.
One critical rule: the highest point on the wing could be no higher than 31.2" (80cm) above the
lowest point on the chassis. Gardner's use of a (basically) three element wing was innovative.
However, mounted higher and further back it could have been so very much more effective.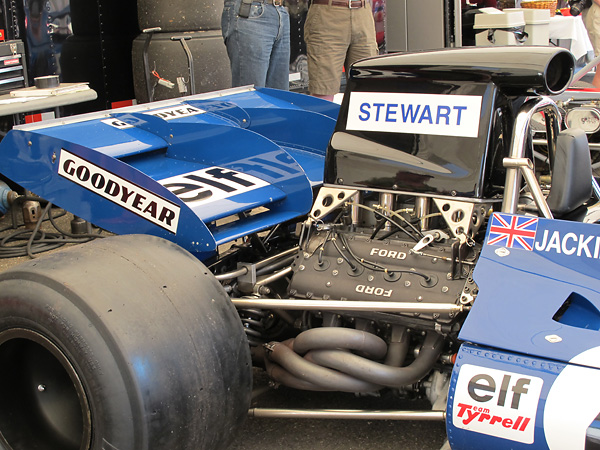 Team Tyrrell brought a new and improved racecar to the 1972 French Grand Prix at the beginning of
July. Designated 005, its performance in practice sessions was dissappointing so it was held back.
However, once it was sorted Tyrrell 005 performed spectacularly. Jackie Stewart drove Tyrrell 005
to easy victory at Mosport, and Team Tyrrell finished one-two at Watkins Glen. Jackie Stewart
qualified fastest and drove the race's quickest lap. It was a taste of things to come in 1973.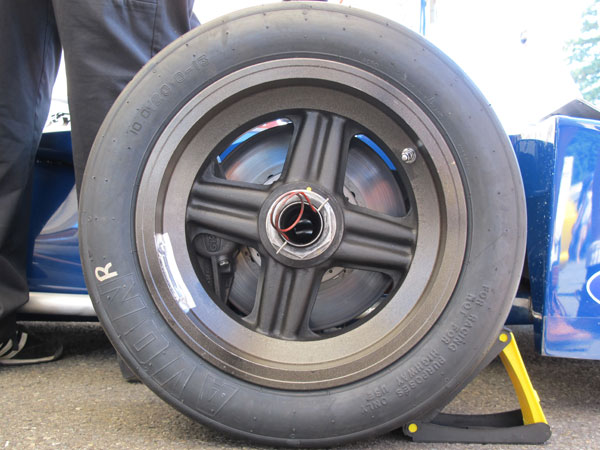 Tyrrell magnesium racing wheels.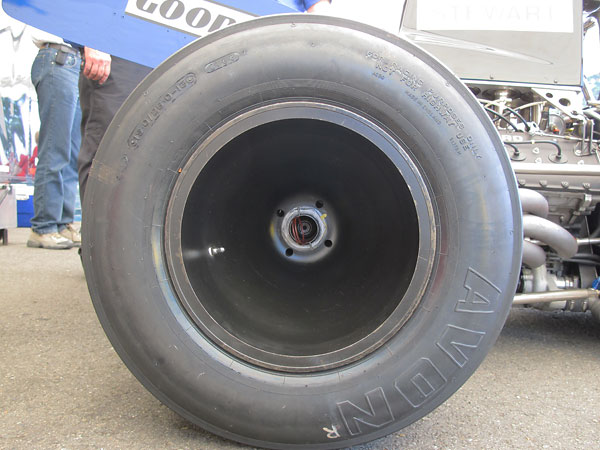 Avon racing tires (10.0/20.0/13 front by 15.0/26.0/13 rear).


Notes:
(1)
In the late sixties, many people believed four-wheel-drive (FWD) would become a dominant technology in Formula One racing. Four different constructors developed and tested FWD cars during the 1969 season. Derek Gardner worked on Matra's MS84 model; it was driven in five Formula One races but was never remotely competitive. In 1971, Lotus updated their type 56 4WD turbine-powered Indy 500 car to Formula One specs and entered it in several races, but it was also uncompetitive. In the context of rapid development of aerodynamic and tire compounding technologies 4WD was found to be uneconomical, heavy, and complex. 4WD has been banned in Formula One since 1982.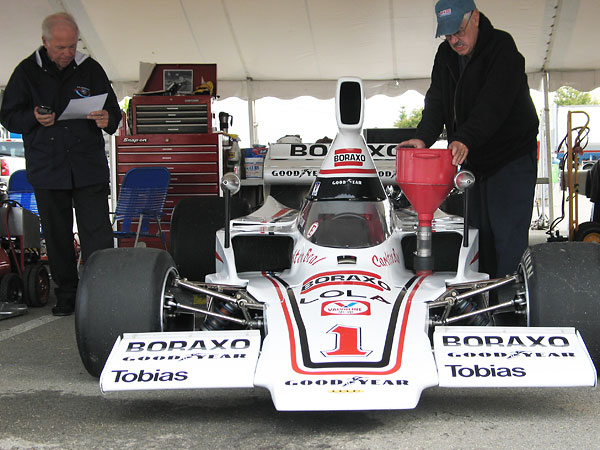 (Brian Redman's Lola T332, as photographed by Curtis Jacobson for BritishRacecar.com)

Did you enjoy this article? We currently have eighty more in process, featuring about 6000 new photos.
But it takes a lot of time and expense to turn photos into articles, and to publish them on the internet.
Please consider making a contribution. Your donation will help us publish more and better articles!




Unless otherwise noted, all photos shown here are from June 2011 when we viewed Tyrrell 004 at The Pacific Northwest Historics at Pacific Raceways in Kent, Washington. All photos by Curtis Jacobson for BritishRaceCar.com, copyright 2011. All rights reserved.



Notice: all the articles and almost all the photos on BritishRacecar.com are by Curtis Jacobson.
(Photos that aren't by Curtis are explicitly credited.) Reproduction without prior written permission is prohibited.
Contact us to purchase images or reproduction permission. Higher resolution images are optionally available.